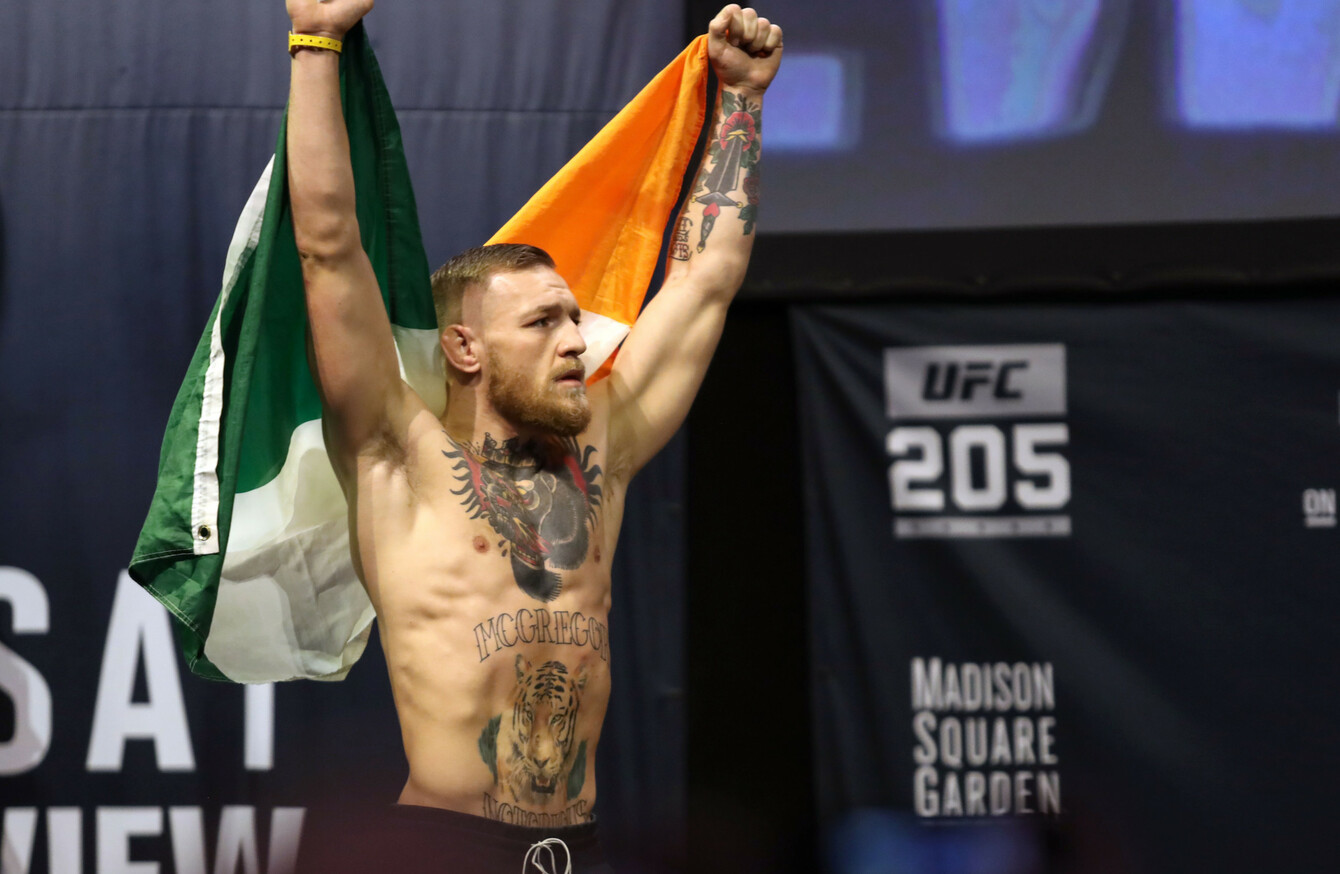 Image: Tom Hogan/INPHO
Image: Tom Hogan/INPHO
THE NEW YORK State Athletic Commission (NYSAC) has lambasted Conor McGregor for attacking a bus containing several UFC peers in the loading dock of Brooklyn's Barclays Center on Thursday evening.
McGregor and his entourage gatecrashed a UFC 223 media day sparking unsavoury scenes backstage which resulted in two fighters – lightweight contender Michael Chiesa and flyweight number three Ray Borg – being tended to in hospital.
The UFC lightweight champion threw a hand truck through the window of a bus containing the red-corner fighters from Saturday's event, smashing a window before security ultimately intervened and McGregor fled the scene along with his crew.
Chiesa suffered cuts to his face and head from the shattered glass, while later on Thursday night Borg checked into hospital due to concerns over his eye, which by then he was struggling to open.
I'm told Ray Borg was sitting next to Chiesa on the bus. Glass hit his face, too, but no cuts.

— Ariel Helwani (@arielhelwani) April 5, 2018
McGregor's SBG team-mate Artem Lobov was also involved in the incident, and has been pulled from UFC 223 by the organisation's president, Dana White.
White described McGregor and associates' attack as "the most disgusting thing that has ever happened in the history of the company", but while he admitted he didn't wish to work with nor speak with McGregor presently, left the door ajar for future collaboration.
That may not occur in the State of New York, however, where the NYPD are still seeking to make contact with McGregor to question him about the incident. At the time of writing, there is no warrant for the Irishman's arrest.
The New York State Athletic Commission has deferred to law enforcement – for now – but was heavily critical of McGregor's behaviour within its athletic jurisdiction.
An NYSAC statement issued tonight read:
Be part
of the team
Access exclusive podcasts, interviews and analysis with a monthly or annual membership.
Become a Member
"The incident that occurred today at the Barclay's Center was unacceptable and has no place in New York State sports.
Multiple published reports, including photos and video, evidently show Mr. McGregor and members of his entourage engaged in destructive, abhorrent and illegal behavior and endangered the safety of those around them. It is our understanding that local law enforcement is involved and is actively responding to the matter.
"At least one fighter scheduled to fight on Saturday was purportedly injured in the incident. Medical staff will assess any injured fighters to determine whether they are fit to compete as scheduled.
The Commission has commenced a dialogue with the UFC and Barclay's Center management in response to the incident. All parties are working together to ensure that appropriate protocols are in place for the protection of the fighters and the fans at UFC 223 and at tomorrow's weigh-in. The Commission is also conferring with the associated security staffs to ensure that heightened safeguards are implemented prior to the weigh-in and the event.
"Mr. McGregor is not licensed by the New York State Athletic Commission."
McGregor has previously held a NYSAC fighting licence, which he obtained in the lead-up to his UFC 205 lightweight fight with Eddie Alvarez in November 2016. He did not renew it, and hasn't fought there since.
A decision as to whether New York sport's governing body would prevent him from applying for a new licence has not yet been made, but any such measure would likely be recognised by all other major US fight states – including Nevada, which would prevent him from fighting in Las Vegas.
Since the introduction of the Association of Boxing and Commissions (ABC; also governs American MMA) in 2005, individual state commissions have agreed to a more uniform application of rules and punishments.
'Out of State Suspensions' are adhered to by all ABC states, of which New York and Nevada are two; hence why boxer Canelo Alvarez – currently looking at a six-month suspension for two failed drug tests – didn't simply have his now-cancelled rematch with Gennady Golovkin moved from Nevada to a different state.
Prior to McGregor taking out his New York licence for his title fight with Alvarez, the NYSAC warned that it 'expected' him to first pay his $75,000 fine to their Nevada equivalent, the NSAC, and that it would be 'monitoring the situation closely' before approving his application for UFC 205.
McGregor had been fined by the Nevada commission for throwing water bottles during a press conference with Nate Diaz earlier in 2016.