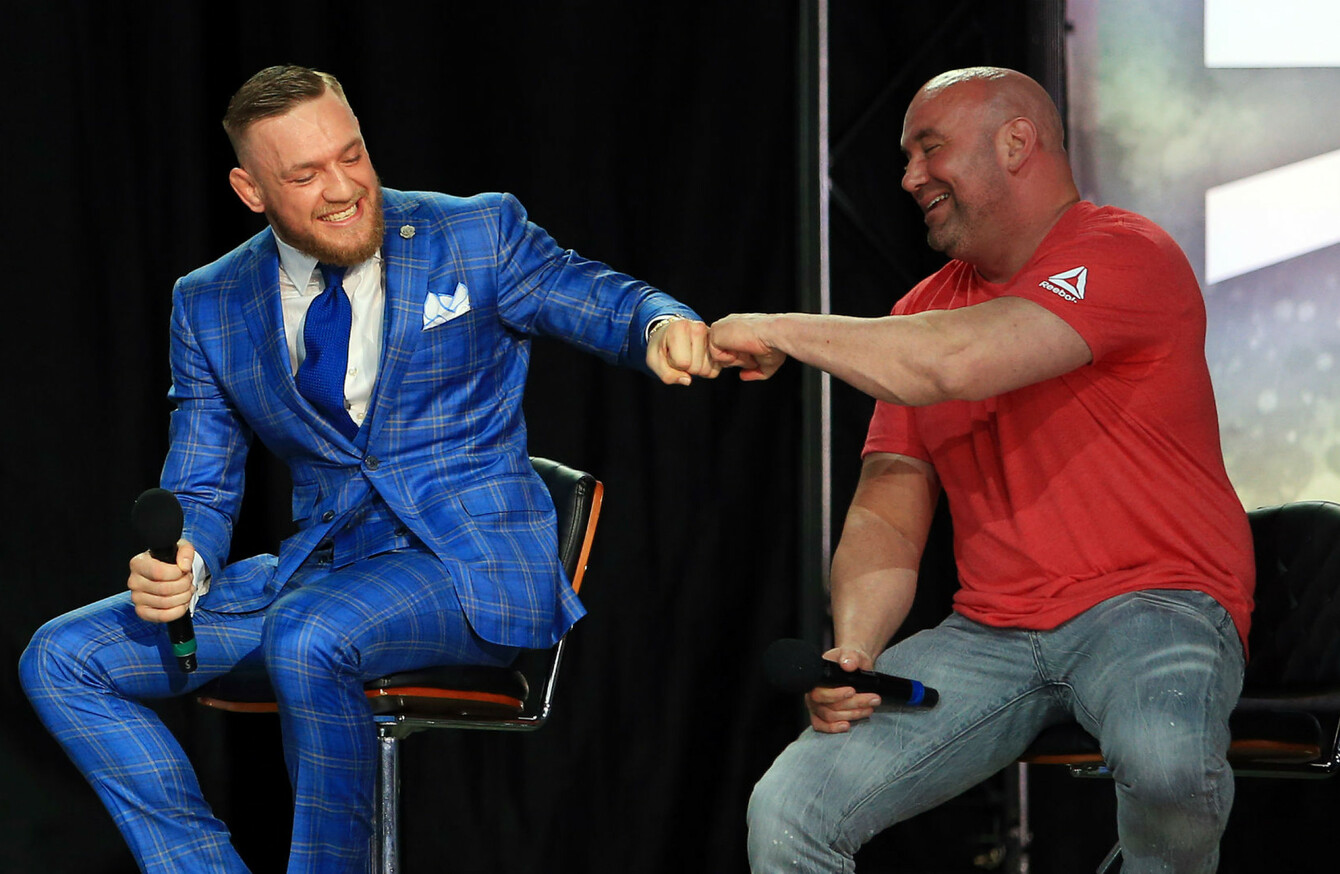 McGregor and White.
McGregor and White.
DANA WHITE IS adamant that the use of lighter gloves will swing the outcome of Conor McGregor's grudge match with Floyd Mayweather in the Dubliner's favour.
UFC star McGregor has vowed to shock the world by defeating the unbeaten Mayweather when the rivals do battle in Las Vegas on 26 August.
McGregor, considered a huge underdog in what will be his first competitive boxing bout, and Mayweather have each requested to wear 8 ounce (oz) gloves at the T-Mobile Arena.
Nevada State Athletic Commission regulations require contests over a weight limit of 147 pounds (Ibs) to use 10oz gloves, with McGregor and Mayweather slated to fight at 154Ibs.
MMA fighters generally wear 4oz mitts and McGregor regularly goaded Mayweather over seeking an advantage by only fighting in a boxing environment, but the 40-year-old seemingly yielded to the request to use lighter gloves.
A ruling will be made on it and and UFC president White says if permission is granted, McGregor has the advantage due to his power punching.
"It definitely benefits Conor," he told Sky Sports. "First of all, Floyd isn't a big puncher, he's not a knockout puncher.
"His whole game is defence, using the gloves to defend himself, and smaller gloves means Conor will have more places to hit.
We've always wanted to have smaller gloves, they didn't want it and now all of a sudden Floyd has decided that he wants smaller gloves.
"So now we have a hearing with the state commission this week and hopefully that will happen. Conor isn't concerned about Floyd's punching power at all."
Mayweather may be the overwhelming favourite to have his hand raised, but White warned that McGregor should not be underestimated.
"I stopped doubting Conor McGregor a long time ago," he added.
"Everything he's told me he's going to do, he's done, so if he says he'll beat Floyd Mayweather inside four rounds, he will. I don't think Conor underestimates him, he obviously respects him.
"He's the bigger, stronger fighter. People aren't giving him a chance and that's just crazy. This is going to be a fight and anything can happen in a fight."
Subscribe to The42 podcasts here: