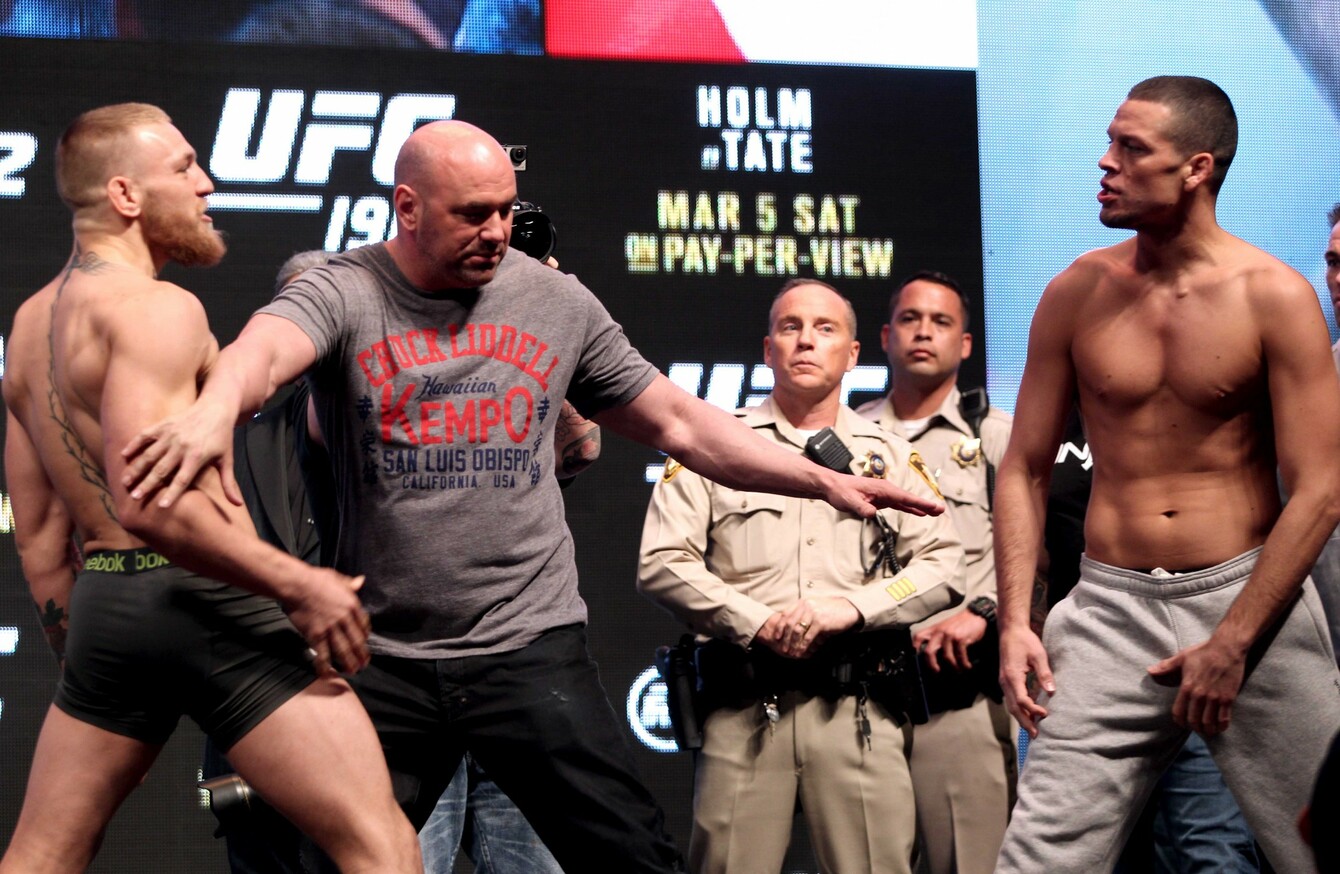 McGregor and Diaz squared up again at Friday's weigh-in in the MGM Grand Garden Arena.
Image: Raymond Spencer/INPHO
McGregor and Diaz squared up again at Friday's weigh-in in the MGM Grand Garden Arena.
Image: Raymond Spencer/INPHO
— Niall Kelly reports from Las Vegas
THE OPPONENT MAY have changed but the message from Conor McGregor's camp has stayed perfectly consistent.
You've seen their man on salads; now get ready to watch him on steaks.
That can only spell trouble for Nate Diaz when The Notorious makes his welterweight debut at UFC 196 later tonight.
"Without a doubt, he's hitting a lot harder with that extra muscle, and he's a lot faster," McGregor's striking coach Owen Roddy told The42 this week in Las Vegas.
"I said this a few weeks ago when we were doing pads back in the gym. He had a lot more energy, he's way more explosive, way more powerful. It's unbelievable.
Every fight he improves and he's done it again."
Moving up two classes and 25lbs between fights is unprecedented, but the step up to welterweight appears to have given McGregor a new lease of life.
The 170lbs limit is close to his natural 'walking around' weight, and with no draining cut, the Dubliner says he has the energy to push himself even harder.
The obvious concern is that McGregor's speed and stamina could suffer because of the added muscle mass, but Roddy's first-hand experience assures him that won't be the case.
"He's built muscle, and the strength and conditioning work he's been doing has made him faster — it's fantastic," he explained.
"He was cutting so much weight and he was on limited calories for so much time in the lead up to featherweight fights that I think he would have lost a lot more energy in those fights.
"Now he's pretty much walking around at what he walks around at. He can do hundreds of rounds. He has way more energy. He's going to be a monster in there on Saturday.
Roddy added: "It's scary for anybody in the lightweight division or in the welterweight division. I've always said that he hits harder than anybody I've ever been hit by.
"He could hang with middleweights, welterweights, lightweights. I've sparred with all those weight categories, good guys in those weight categories, and Conor hits harder than them all — and he's more accurate as well.
He moves like a flyweight and hits like a heavyweight. It's unbelievable.
Diaz, who is 18-10 but has only been stopped once as a pro, weighed in at 169lbs yesterday — a pound heavier than a smiling McGregor.
The 30-year-old Stockton native is renowned for his striking ability but trying to brawl with McGregor would be a serious mistake, warns Roddy.
"I think people want to see someone try to stand with Conor, so I think Nate will try to stand and have a back and forth with him. Like everyone else, I don't think it's a wise thing to do because you're playing with fire.
"He's good on the ground as well, he's good off his back, but I don't see it going there to be honest. I don't see him taking Conor down.
Realistically, I don't even see him trying to take Conor down. I'm sure if he gets hit very hard, like anybody no matter who you are, you get hit by Conor and you turn into a wrestler — a bad wrestler.
He added: "It takes Conor a minute or two just to work out the shots that are going to land, then he lands them, and then it's just a matter of how long the opponent can stay in there.
"In my opinion, nobody can stay in there for too long."
The42 is on Snapchat! Tap the button below on your phone to add!