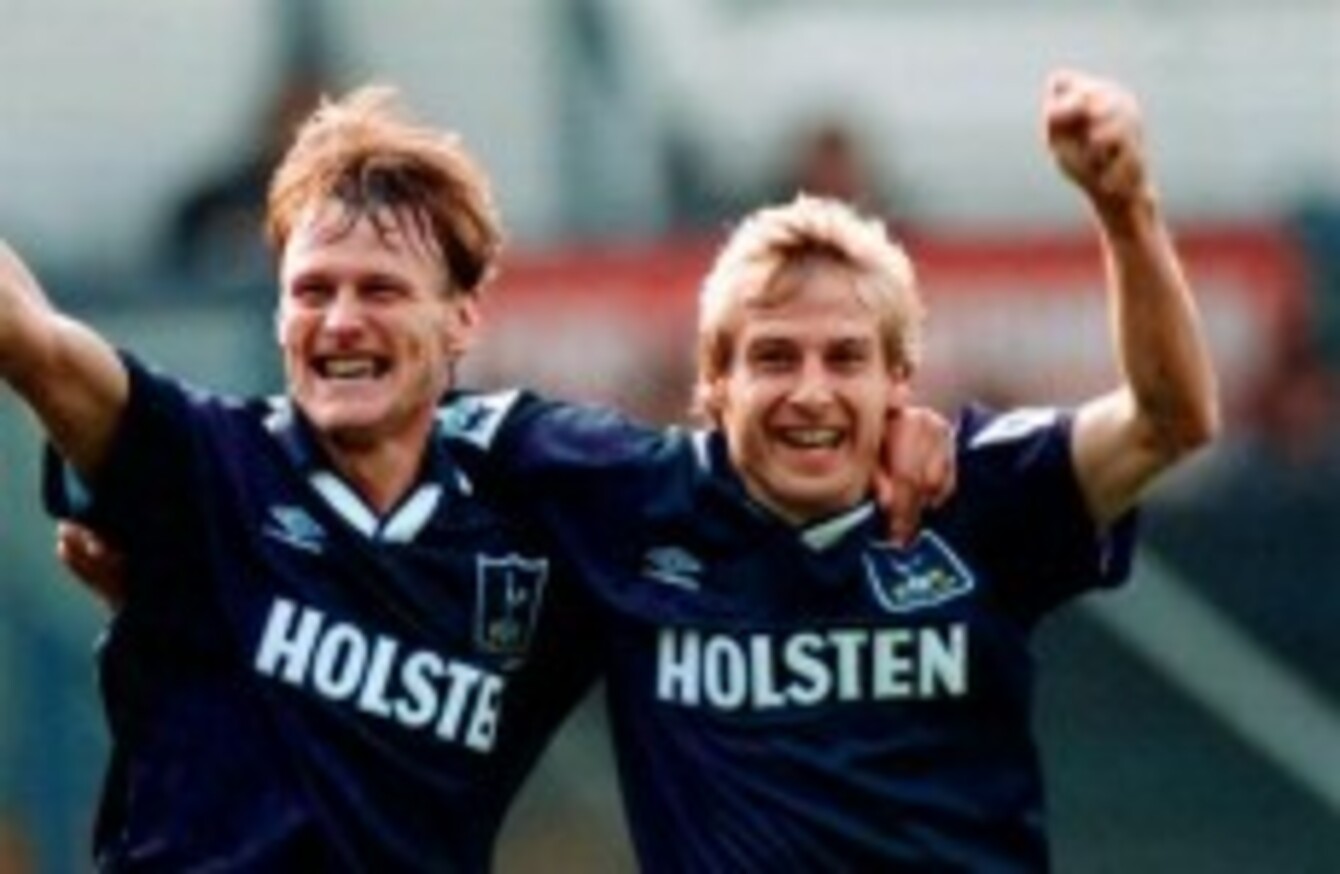 Image: Ross Kinnaird/EMPICS Sport
Image: Ross Kinnaird/EMPICS Sport
Why we loved them
An offensive tour-de-force but a defensive abomination, this Tottenham team will be remembered for Ossie Ardiles' managerial naivety. But what's forgotten is the balance introduced by Gerry Francis when he arrived as manager in late-November and how the team performed quite impressively for the remainder of the campaign.  
Inspired by Jurgen Klinsmann (though superbly assisted by the magnificent Teddy Sheringham), Tottenham managed 66 goals – the fifth-highest tally of the season. Unfortunately, they conceded 58 (only seven teams shipped more) which meant they memorably finished with a goal difference of just +8.
Klinsmann and Teddy Sheringham accounted for 38 of Spurs' goals, Nicky Barmby chipped in with nine, Darren Anderton grabbed five and Ilie Dumitrescu tallied four.
They also reached the FA Cup semi-final (knocking out Liverpool in the last-eight) only to be thumped 4-1 by eventual-winners Everton.       
The story
After the bitter final days of Terry Venables, Ossie Ardiles arrived at Tottenham as manager in the summer of 1993, desperately trying to replicate the glory days he enjoyed at White Hart Lane as a player. But his first season in charge didn't go according to plan and the club finished in 15th place – just three points off the relegation zone.
It got worse. In June 1994, the FA found Spurs to have been in breach of transfer regulations in the 1980s, with the club subsequently pleading guilty to a litany of malpractice charges. For a while, the club feared demotion to a lower tier. Their eventual suspension included a twelve-point penalty for the following campaign, a ban from participating in the FA Cup and a £600,000 fine. The club were up against it.
Tottenham's midfielder David Howells commented that that punishment amounted to 'slow torture'. "They might just as well have gone ahead and relegated us", he added. But there was something to feel good about. Ardiles had delved into the transfer market and returned with an incredible, high-profile star.
Jurgen Klinsmann was a World Cup champion, European Championship runner-up, a UEFA Cup winner and had just scored five times at the 1994 World Cup, despite Germany crashing out at the quarter-final stage. He was in demand, with three clubs wanting his signature. But, after meeting Spurs' chairman Alan Sugar in Monte Carlo, he decided on a move to North London.
Ardiles also managed to secure the services of another World Cup star – Romanian midfielder Ilie Dumitrescu – with his new manager proclaiming he would give him 'the freedom to go wherever he wants on the pitch'.  With Sheringham, Barmby and Anderton already key ingredients in the side, Ardiles had a litany of offensive players and wanted to play all of them. So, he did.
It said much about Ardiles' system that his line-up that took to the field against Sheffield Wednesday for the first game of the 1994/95 Premier League season featured internationally-renowned players as well as the likes of Stuart Nethercott and David Kerslake. There was a lack of balance but it didn't seem to matter for the first few weeks because Spurs squeezed past Wednesday in a 4-3 thriller (Klinsmann scoring on his debut, Sheringham, Anderton and Barmby on the mark too) before a more sombre 2-1 victory over Everton (Klinsmann with a brace).
But inconsistency soon reared its ugly head and Spurs picked up two wins in their next ten games. And when they got beaten, it was usually very ugly. They were thumped 4-1 at home for Nottingham Forest before Manchester City knocked five past them at Maine Road. Through it all, Klinsmann scored. The striker managed eight in his first six games but by Halloween, Ardiles was gone. The club were languishing in mid-table and not even the signing of another Romanian, centre-back Gica Popescu, could stop the rot.
Inevitably, things got worse before they got better. Sandwiched between back-to-back defeats to Blackburn and Aston Villa was the appointment of Gerry Francis as manager and the team played with a balance and greater positional awareness. Things were tightened up at the back, Dumitrescu was dropped and the team went ten games unbeaten. They racked up eye-catching results like the 4-2 victory over an impressive Newcastle (Sheringham with a brilliant hat-trick), a 1-1 draw at Anfield and successive London derby wins over Arsenal and West Ham (Klinsmann with the winner). Even during a mixed period across February and March, they managed to beat champions-elect Blackburn 3-1.
Things got better when the club's points deduction was quashed entirely (an original appeal had seen the twelve points reduced to six points) and they were allowed to compete in the FA Cup though their fine was increased.
Regardless, it complemented the new-found positivity of the Francis regime. He oversaw a dramatic upturn in Spurs' defensive performances, his side keeping ten clean-sheets between his appointment in mid-November and a scoreless draw with Liverpool in late-March. But, as they pushed for a top-six finish, old issues returned. They leaked four against Southampton – Matt Le Tissier and Klinsmann having their own personal shoot-out. They drew 3-3 away to Newcastle – five of the six goals coming in the opening 26 minutes. And on the penultimate day of the season, they were thumped 3-1 at home by Coventry.
Ultimately, Tottenham finished in seventh, eleven points from a European place. The cavalier approach by Ardiles cost the team dearly in the early part of the season but 'The Entertainers' certainly lived up to their nickname and remain a true cult Premier League side.
As a post-script, Klinsmann left at the end of the term and moved to Bayern while Barmby was sold to Middlesbrough, becoming their record signing. Dumitrescu didn't last long and was transferred to West Ham in 1996 while Popescu swapped White Hart Lane for the Camp Nou and moved to Barcelona.
The following season, Klinsmann's replacement, Chris Armstrong, grabbed fifteen league goals though Sheringham was terrific again and the pair formed a decent partnership. With Darren Anderton's injury problems forcing him to miss a large chunk of the campaign, Ruel Fox was brought in and they still finished just two points outside a European place. By November 1997, Francis left the club and was replaced by Christian Gross.
It would take them eleven years to better their seventh-placed finish from 1995.
'Stand-out player
Jurgen Klinsmann claimed Teddy Sheringham was the most intelligent strike partner he ever played with. And the English attacker's poise, vision and deftness was a joy to behold throughout this campaign. What's usually forgotten is how prolific Sheringham was during his formative years at White Hart Lane, grabbing 53 goals over his first three seasons. And as much as Klinsmann's first season in English football is (quite rightly) lauded, he scored twenty top-flight goals compared to Sheringham's eighteen. So, on paper, not much difference.
But, as many came to appreciate once he was replaced by Chris Armstrong the following season, Klinsmann was a game-changer for Tottenham. His initial spurt of goals was incredible, considering he was new to English football and should've spent at least a handful of months finding his bearings. Instead, his instinct in the box, his power and playfulness all added up to an imposing package.
Source: Mikael Thor/YouTube
His best moment in a Spurs' shirt arguably came in his second league game against Everton – his spectacular scissors-kick announced himself to the White Hart Lane faithful in superb style while the celebration that followed seemed to mean a little more when performed in front of the Tottenham fans.
Stand-out moment
Though Ardiles only lasted a few months in charge, his first game was an explosive affair. He started all his offensive players and within half an hour, they were 2-0 up. Anderton swept over a pinpoint cross for Sheringham, who took it expertly in his stride before pushing it to the far corner. Ten minutes later, Anderton played a one-two with Sheringham and stabbed it past Kevin Pressman. The gung-ho approach was working a treat.
Source: A Must Win Game/YouTube
Early in the second half, Wednesday pulled one back through Dan Petrescu and twelve minutes later, they countered on the right side, a move which ended in Colin Calderwood putting through his own net. But back came Spurs and Barmby made it 3-2 with twenty minutes to go, Sheringham supplying another glorious assist. Klinsmann powered home a brilliant header from close-range inside the last ten minutes to make it 4-2 though David Hirst's thunderous volley seconds later ensured a frantic finale.
The game captures the essence of this Spurs side (certainly until Ardiles left) – great going forward, awful at the back. Consistently entertaining.