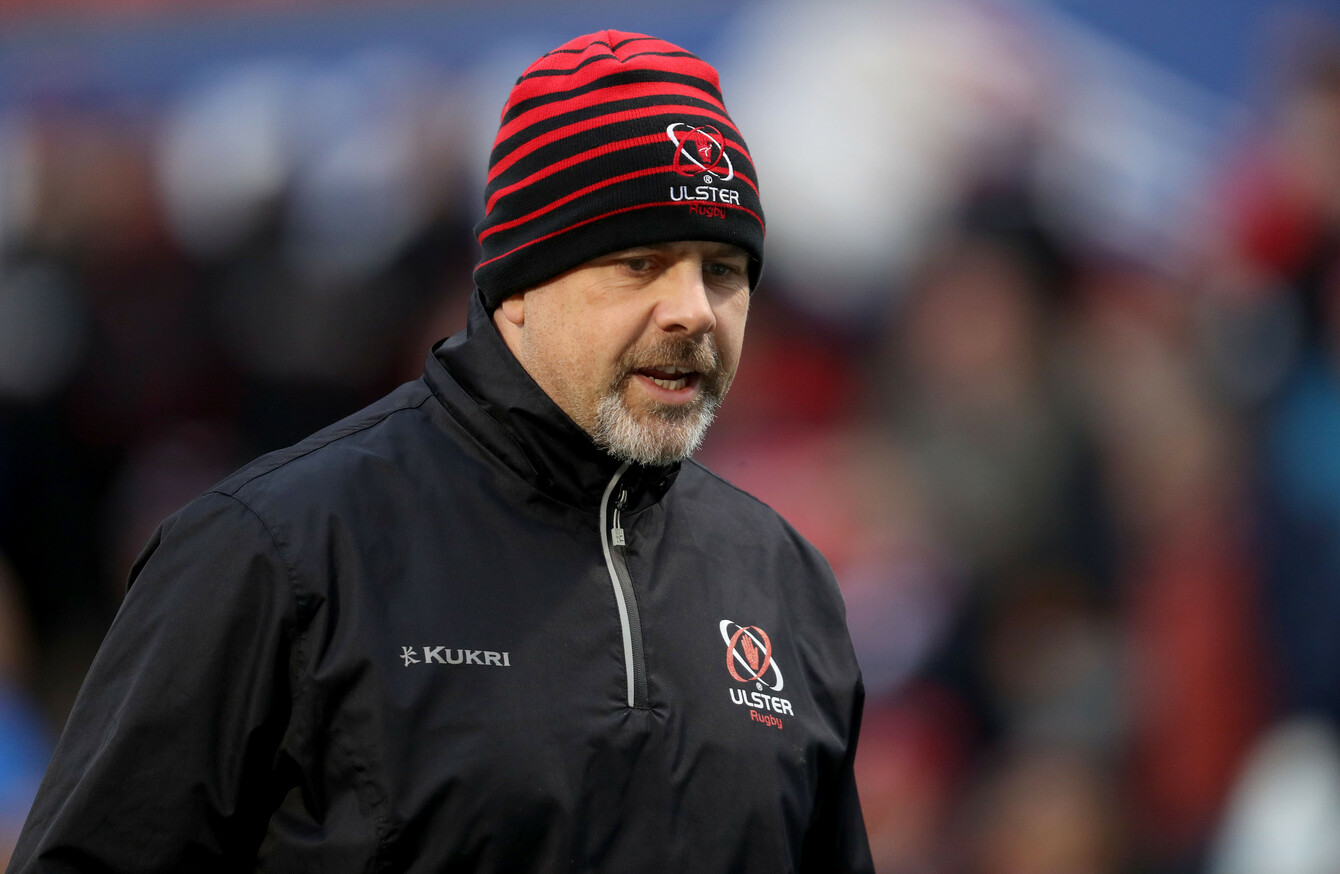 Ulster head coach Dan McFarland.
Image: Bryan Keane/INPHO
Ulster head coach Dan McFarland.
Image: Bryan Keane/INPHO
AS SOMEONE WHO has played for Connacht, coached at Connacht, moved onto the Glasgow Warriors and now joined Ulster as head coach, Dan McFarland has plenty of years invested into the Guinness Pro14.
Indeed, even in the years he wasn't in the Pro14, he was working primarily with players from the league as assistant coach to Gregor Townsend with the Scottish national team.
He's been involved with the easy on the eye championship winning squads at both Connacht and Glasgow and watched on as Leinster dominated both in Europe and domestically last season.
So forgive him when he bristles with the accusation that the Pro14 is the inferior younger sibling to that of the big brothers of the Premiership and Top 14.
"Sometimes you get the feeling that there isn't enough respect given to the Pro14," insists the Englishman who, when you tally up the years he has been working in or with the Pro14 (including those years with Scotland), has been around for the last 18 years.
"I've been involved in the league since its inception and I've watched plenty of European champions come out of this league. I've watched a lot of rugby and there's been some really good rugby played in this league.
"That's consistently been the case for as many years as I can remember. It's exciting rugby. The clubs, to a greater and lesser degree of success, have taken that into Europe. That's a massive part of the competition."
So it's rather appropriate that this week's Champions Cup clash, the first of the popular December double-headers, is an all-Pro14 affair for Ulster as they travel to Llanelli to take on the Scarlets (tomorrow, kick-off 7.45pm).
Two of the best the Pro14 has to offer, the two sides are locked on points in second in Conference B of the league and will now lock horns in Europe with plenty riding on the result.
But this is not the league. While the two sides met at Parc y Scarlets only two weeks ago, with the Scarlets thoroughly dominating in a 29-12 win, that was with two significantly different squads. Both will be much-changed tomorrow.
The stakes are different too. For Ulster, an away win would put them in an extremely good position going forward as they look to reach the knockouts for the first time since 2014. For the Scarlets, a home loss after being defeated in their opening two games would mean elimination.
It means that you're likely to see the best these two have to offer, and for McFarland, that'll be a welcome sight as his beloved Pro14 gets to showcase itself on the European stage.
"It's the biggest game of the Champions Cup so far and the Champions Cup is a massive competition," admits McFarland.
"I suppose from that way of looking at it, it probably is (the biggest game of the season). It's a cliche but we take every game as it comes. It's a cliche because it's true. We'll focus on this game, we'll get excited about it. There's a buzz about the week, everyone gets excited. We're not immune to that."
For Ulster, it's also a chance to prove some doubters wrong after a couple of shaky performances following the international break, including that tame submission in Llanelli a couple of weeks ago.
The win over Cardiff Blues at Kingspan Stadium last week, as good as it was to pick up four points, was not as convincing as hoped and saw a rather subdued Ulster struggle to break down a resolute defensive effort.
Against an expansive and free-flowing Scarlets side, it needs to be much better, and Ulster themselves aren't hiding away from it either.
"Over the last three weeks we've maybe gone into our shell a little bit," ponders McFarland, while also confessing that things have gotten off track a bit from his plan in that stretch.
"Against Treviso, Scarlets last time, there were reasons for that, some of it being our lack of discipline meaning we ended up with less possession than we should have done. But also in the fact that when we did have the ball we didn't play with the ambition that we needed to.
"We gave them access into our 22 fifteen times," he adds when reflecting on the league meeting between these two sides.
"Nine times it was through penalties and, although we defended pretty well at times, you cannot give access to a team that understands what they are doing like them, you're not going to win the game."
But one of the key things that has been a constant throughout this season is that Ulster are still working towards where they want to be, rather than they are in a position to compete at this moment.
Six Academy players have made their debuts this season, with another two frequently used as well, and the likes of Eric O'Sullivan, Robert Baloucoune and Mike Lowry making themselves at home as regulars in the senior squad.
It's a reminder that there's still a long way to go for this young team who, despite going through such a transition, are still competing, but McFarland says the recent struggles haven't disheartened him from the journey this team are on.
"For us at the moment, it's going to be difficult (to compete). We are in a process of remoulding the squad and building depth," he says. "It's a little bit of a euphemism to say we're not at the top of the curve, so that obviously makes it more difficult.
"But the process of that is an exciting one with the opportunities that arise for young fellas like James Hume who has come in the last few games and done really well. Michael Lowry obviously, Rob Baloucoune. These guys have taken their chances in the PRO14.
"But that's what I love, the journey is the reward. You come in every day, you have a smile on your face, you go home and if at the end of the day you've helped people and the team get better, jeez that's what it's about. Every day, getting on with that.
"We keep the vision of where we want to get to and the goal. They are lofty goals but one step at a time and enjoy those steps."
Still, the future has to do the business now too. O'Sullivan will be involved this week as one of the only two loosehead props fit in the squad – with Andy Warwick injured and Schalk van der Merwe back to South Africa – while Lowry is likely to feature too.
A win would set Ulster up for a very realistic shot at the quarter-finals, somewhere that, even if the focus is on a few years down the line, they would gladly be right now if given the choice.
Easier said than done against a side as good as the Scarlets, especially at their Parc y Scarlets fortress, but that won't deter Ulster from giving it a go tomorrow.
"They've put together a very talented squad, 19 internationals," praises McFarland. They are going to be a threat to anybody. Last year they managed to lose a couple of games in the pool, but ended up as semi-finalists.
"There's a lot of talent there and play an exciting brand of rugby. As is always the case with any side that wants to challenge at the thick end of competitions, they are also full of guys up front that are able do the business.
"It's not an easy place full stop, I think. Out of 30-odd games at home over the last while, they have lost at home one, maybe two, drawn two games and lost to Racing 92. Racing are a pretty good side, so that's the challenge, and that's excellent, that's what we want. We want challenges.
"But Racing are a different team to us, they are a lot bigger than us. They can afford to play in different ways; we have our style of play and I would like us to impose that on Scarlets at the weekend."
Subscribe to our new podcast, Heineken Rugby Weekly on The42, here: