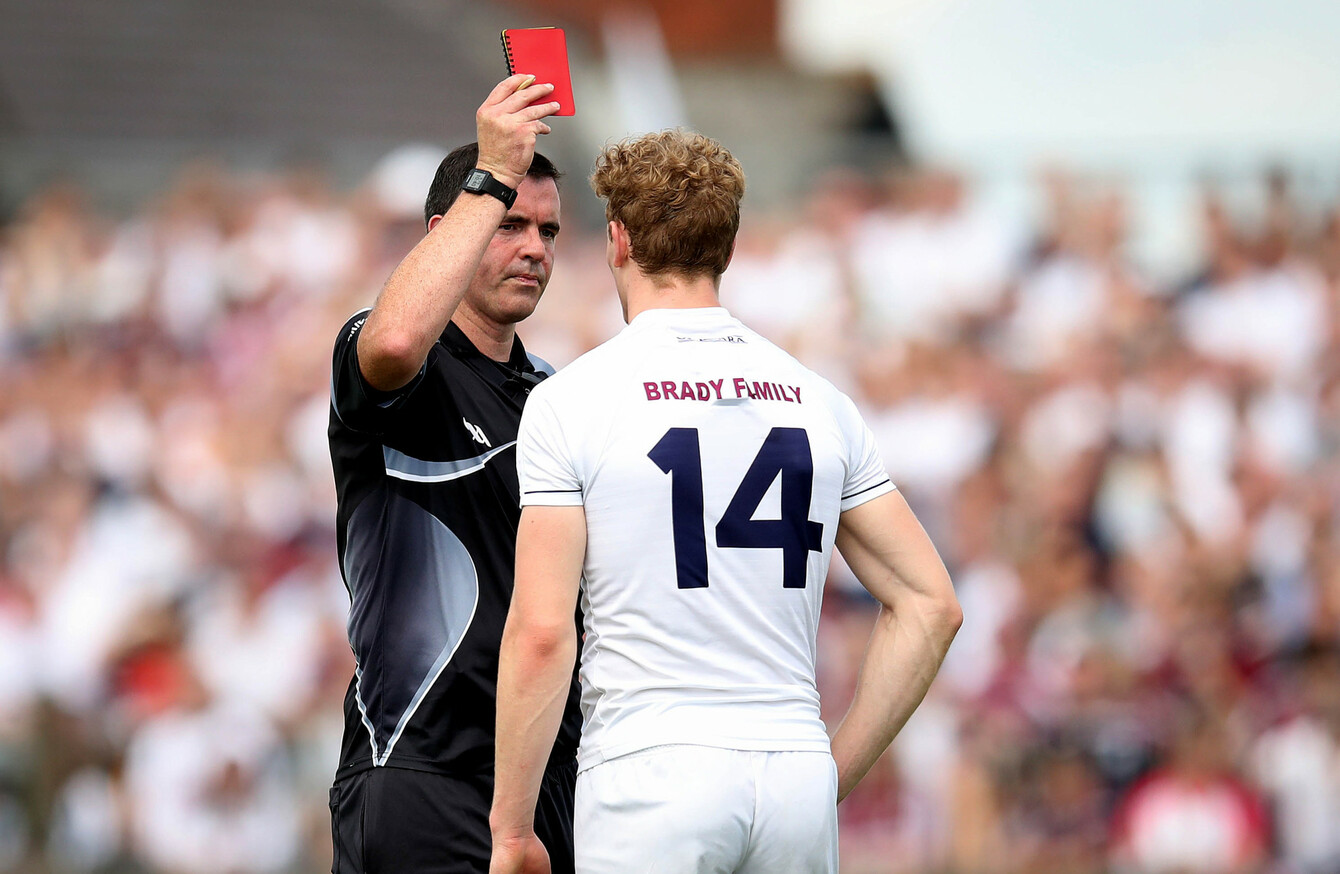 Daniel Flynn was dismissed in the second half in Newbridge yesterday.
Image: Ryan Byrne/INPHO
Daniel Flynn was dismissed in the second half in Newbridge yesterday.
Image: Ryan Byrne/INPHO
A SECOND DEFEAT in a week in the Super 8s for Kildare but it was a decision by match officials which Cian O'Neill felt was central to their latest loss at the hands of Galway yesterday in Newbridge.
The Kildare boss hit out at the decision to show Daniel Flynn a red card in the second half as the home side had to play the rest of the game with 14 men before eventually succumbing by three points.
Referee Sean Hurson sent-off the Johnstownbridge forward after consulting with his linesman and O'Neill was not happy with the call, when speaking to The Sunday Game on RTÉ afterwards.
"They won by three points. We can have no argument, the score was what the score was. I just want to play credit to my guys, they battled bravely there.
"Another shocking decision, which wasn't the referee's call to send a player off (in) what I thought was a very well-contested and hard-fought match. To lose a player for 25 minutes like that in a battle, it's just not on.
"And you really wonder why we train so hard and put the work in and then get treated like that from sideline officials, who seem to be more interested in maybe looking for something that's not there than actually assisting the referee."
O'Neill also pinpointed the squandering of scoring chances as contributing to Kildare's downfall.
"I thought the game was decided, if you want to look at it broadly in the ten minutes before half-time and the ten minutes after half-time. We had four good scoring opportunities in a row, missed every one of them.
"We got punished at the other end and similarly at the start of the second half, we'd some really good opportunities to start the second half well and we didn't. I think that's ultimately where the match was won and lost."
It's been a punishing schedule for Kildare of late, yesterday's match their fifth in five weeks.
"It's not just the physical fatigue, which is the obvious. It's the mental fatigue as well, having to get up for work on Monday morning and then train and then boom you're back into another championship match.
"It's so, so tough. We won't use that as an excuse. I think you can see that bit of fatigue creeping in at times but boy did they just battle to the end. They deserve all the credit that they get."
The42 is on Instagram! Tap the button below on your phone to follow us!