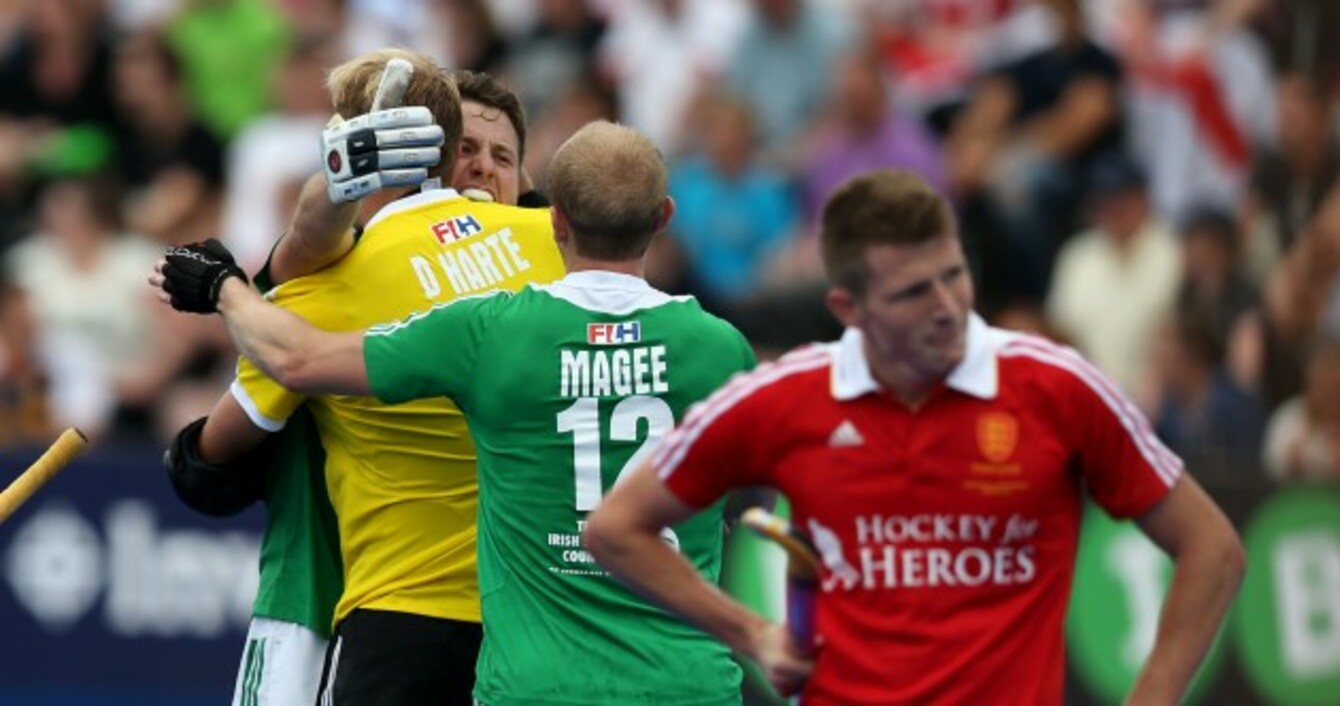 David Harte celebrates victory over England.
Image: PA Wire/PA Images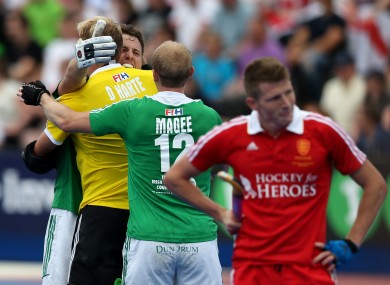 David Harte celebrates victory over England.
Image: PA Wire/PA Images
BEHIND EVERY SUCCESS story is a tale of hardship and misfortune and in the case of Irish hockey, you don't need to look very far. There have been a succession of moments in time when the flame began to flicker, when that thread of optimism threatened to snap.
For a number of years it was one step forward, two steps back as a series of stumbling blocks curbed the organisation's progress – but the lowest ebb can so often be the turning of the tide.
The heartbreak of missing out on London will naturally be pinpointed as the start of this journey but the events of later that year quite possibly served as a greater stimulant.
As the wounds of that agonising afternoon in Belfield still ran deep, the Irish Hockey Association were left to count the cost of such a near miss, both financially and on the field.
Paul Revington, the head coach, left for pastures new and long-serving manager Peter Jackson stepped down shortly after. There was a gaping hole at the top of the men's structure – and cracks were starting to appear below.
Key players opted to leave the Irish set-up to pursue greater honours with Great Britain as the future looked decidedly uncertain. Months of soul-searching within the organisation followed and there was little on the horizon to inspire confidence.
The Olympic dreams, for both the men and women, were in tatters and the fallout threatened to undermine the hard work and sacrifices of the previous years.
It all came to a boil in October 2012. The governing body were unable to fund a trip to the Champions Challenge in Argentina and abruptly withdrew the team from the competition. The players hadn't been consulted and anger reigned.
Looking back, from the outside looking in, perhaps it was the catalyst for change which was needed. Withdrawing was almost unthinkable – it would have set the team back years and undermined the steady progress made under Revington's tutelage.
So the players took it upon themselves to spearhead a fundraising campaign. The hockey fraternity who, unwilling to even consider the prospect of pulling the plug, rallied together and put their hands in their pockets.
A matter of weeks later and Ireland finished third in Quilmes. It earned them valuable ranking points and was a firm statement of intent – but those days seem an eternity ago now though.
The heartbreak of the final nine seconds in UCD is no longer the inescapable, enduring emotion hanging over the team and organisation. While time can act as a great healer, the disappointment of that day never quite abated.
But the arrival of Craig Fulton, a former Olympian with South Africa, in early 2014 changed the mindset. For the first time, the sense of frustration and anger which had been built up was channeled into something positive. They used that feeling of injustice to their advantage.
And 2015 was the year the Irish men's hockey team finally broke the glass ceiling after a prolonged gestation period – it's been 10 years in the making.
The puzzle took a while to complete but the pieces eventually fell into place, as Fulton explains.
"The guys were close in two previous qualification tournaments," the head coach tells The42. "We didn't just rock up and qualify. There has been years of hard work both on the field and behind the scenes.
"We were very close before because there are good systems in place and this is the fittest and most experienced Irish team ever.
"We worked extremely hard on conditioning because we knew we need to be physically prepared for it."
Over the last 12 months, the self-proclaimed 'Green Machine' brought three of the world's top sides to their knees, claimed bronze at the Eurohockey Championships and then sealed qualification for Rio.
It is the first time an Irish hockey team has qualified for the Olympic Games in 107 years and the first Irish team from any sport to qualify for the competition since 1948.
Fulton's side will join the game's protagonists in Rio next summer hoping to further capture minds and boost the sport's profile on this island.
It's a far cry from the low of three years ago. Ireland have jumped from 24th to 12th in the world rankings and dragged themselves from the wilderness.
While it's difficult to identify one particular reason why Ireland's fortunes have changed, they recognised their strengths and based a game plan around them.
Fulton has vast experience of the international circuit and used all his expertise to formulate a structure which utilised the resources available.
"We have a defensive style but that's not on purpose," Fulton continued. "We know where we're strong and it's been about planning around that. We're efficient and confident and we used that to our advantage.
"We've got a strong, dangerous short-corner and actually the world don't want us to go professional. We can compete and have beaten some of the top nations whilst amateur so they don't want the established order to be upset."
Ireland's preparations will intensify after the Christmas period when they head to South Africa for a training camp, which will also see them play fixtures against Argentina, Canada, Belgium and Spain.
One player who won't be available for that period is David Harte. The Ireland captain is one of a handful of full-time professionals within the set-up and will be in India to play for his franchise, Dabang Mumbai.
Depending on who you ask, Harte is the best goalkeeper in the world. His national coach certainly thinks so and it's difficult to argue otherwise. The 27-year-old is a trailblazer for Irish hockey, flying the flag at the biggest, and most lucrative, tournament in the world.
Harte was retained by Mumbai this year after being snapped up for $65,000 in last year's auction on a two-year retainer. It will be Harte's third season in India as his reputation continues to spiral.
"There was a fear of rejection going over the first time," he admits. "It was about showing complete and utter resilience. I think I was picked up as the cheapest foreign player and was essentially bought as a second choice behind the Indian number one.
"But I went over and took my chance when I got it. I played some pretty big games and was lucky to pick up a couple of man of the match awards too.
"I've always wanted to put Irish hockey on the map and that's been in the back of my mind since day one. Now, after out performances in 2015, we've caught the eye."
Harte, who has 161 caps for his country, has been central to Ireland's success. Not only does he lend invaluable experience to the side but leads from the front.
For the rest of the year, the Cork-born goalkeeper plies his trade in Holland with SV Kampong.
"A day doesn't go by when I don't recognise how lucky I am," he continued. "Don't get me wrong, it's down to hard work too but to earn a decent income from hockey is amazing.
"When I started, earning a living from hockey wasn't possible. It's never been on my mind but I've always want to play the sport at the highest level. If it was a case of just getting by then it wouldn't have mattered to me.
"It goes back to the old cliche, do what you love and it's always been hockey for me. I had the opportunity to go to Holland after I finished in DCU and it could have gone the other way but I'm now in my sixth season here.
"Hopefully it can only get better."
Harte, along with his twin brother Conor, have been mainstays of the Irish team for the last decade. The pair made their debut against France in August 2006 but a lot has changed since – and Harte has experienced the highs and endured the lows.
"Losing that final live on TV the day after St Patrick's Day in 2012 was huge," he recalls. "That stayed in our mind but when Craig came in we tackled that head on, it was no longer brushed under the carpet."
"We were always the nearly men but we ground out the results in key games and we've taken great pride in that. There's now leadership because guys got to a certain point in their career and realised this is it – the last Olympic cycle.
"This will be the pinnacle of any player's career and hopefully it will be the highlight of mine. I don't call it a job but living and playing abroad has always been for the Irish team.
"It makes me a better player and that goes towards improving the team back home."
Unfortunately the current structure doesn't allow the Irish Hockey Association to hand out professional contracts to its players and funding, even ahead of an Olympic Games, is limited.
Last year, the Irish Sports Council provided €636,000 in funding.
The schedule for the next few months has yet to be finalised with the intention of training three days during the week when the squad return from South Africa.
With a batch of younger players knocking on the door, competition for places has also contributed to the improved results. Fulton has a difficult process ahead as he tries to whittle the extended panel down to 16.
"We're hoping to put a full-time programme in place now after Christmas," Fulton added. "Mentally we need to approach it the right way and ensure we give ourselves the best chance.
"Every team will have the expectation of winning a medal and we're no different but we need to work that bit harder. There are guys with full-time jobs so there are challenges but we also need to be realistic.
"To have an Irish hockey team walking out at the opening ceremony is a great success already but knowing this group, we set ourselves higher goals.
"We'll go over there looking to claim some big scalps and do the country and shirt proud."
It's somewhat apt that Fulton's nickname, Ned, is an acronym for 'never ending dream.'
Ireland have already made their Olympic dream into a reality and it's now up to them to ensure it continues into 2016.