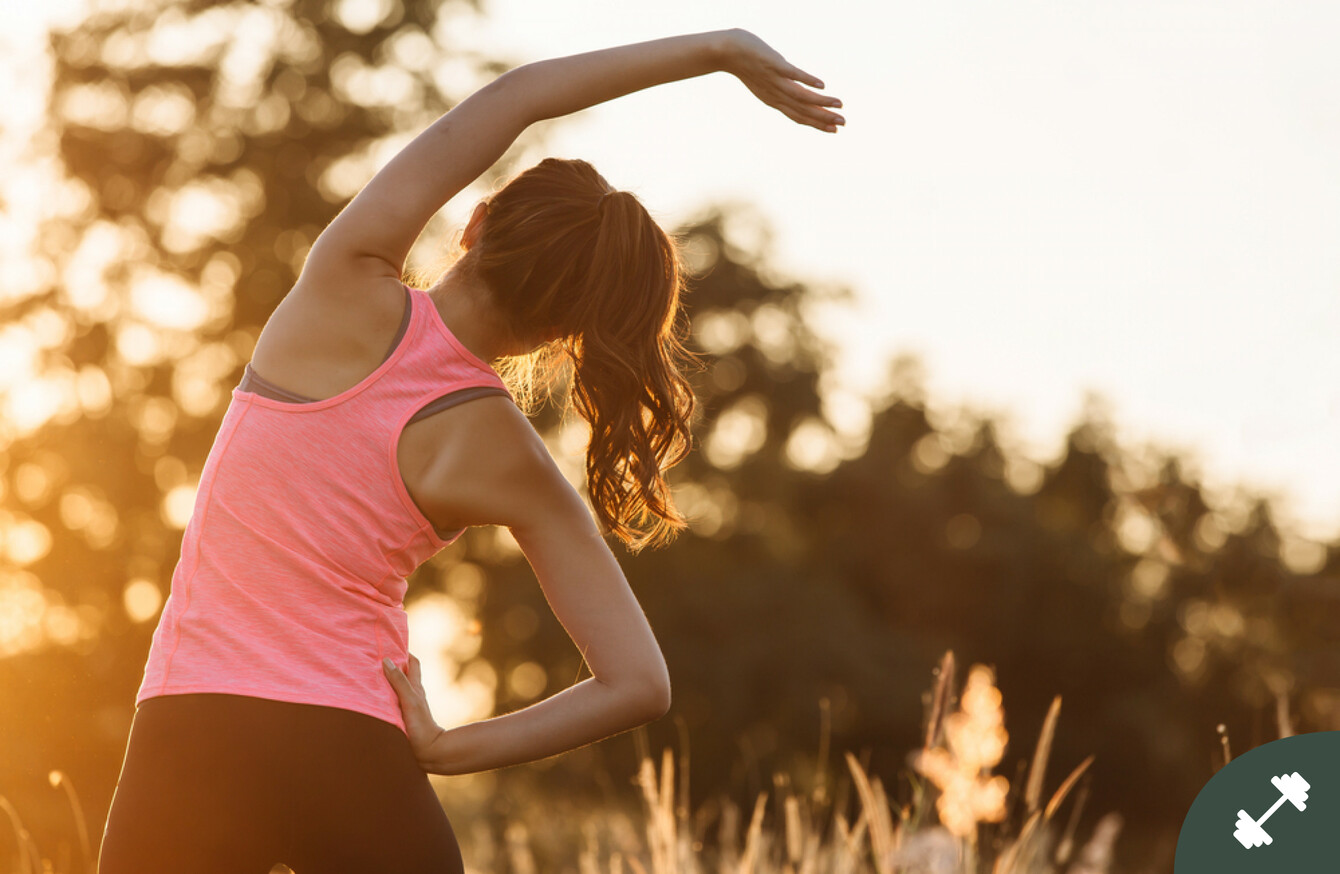 Image: Shutterstock/GP Studio
Image: Shutterstock/GP Studio
OVER THE PAST few weeks, it's nice to see the dark wintry mornings fall away and the brighter mornings creep in with the sun starting to peak its head through much earlier.
For me, having an early morning routine is key and bringing in some form of exercise into your schedule has so many benefits.
For most people, a 9-to-5 work schedule, paired with family commitments and a social life, can mean most days are fairly jam-packed and finding time in the morning to exercise is something we tend to instantly rule out.
However, if it means something to you then you will make time for what's important to you.
I used to leave my execrise until the evening and a busy day job meant I was following a routine of work, eat, exercise and sleep for five days of the week. However, with a change of career path, I have had to alter my routine to start the days at 5am in the gym with clients.
For most gyms and personal trainers the morning sessions generally can be the busiest time of the day with members and clients coming through the doors.
I feel that if you can squeeze some form of exercise into your morning routine then you're off to a great start to the day — and if gyms are the busiest at that time of the day, then there must be some benefit to getting out of bed early…
Boxes off your training for the day
Getting your session done early is great for those who have a busy day ahead. A lot of the time the last thing people want to do upon leaving the office after a hard day's work is then go to a busy gym.
Getting your workout in first thing is going to dismiss the chances of excuses and obstacles to work around as the day goes on.
As well as that your body is going to be far more energetic once you get moving after the first few minutes.
Remember a lot of the time the biggest hurdle when starting your session at 6am is the getting out of bed part. The build up is the worst part and once you do get over that initial hurdle and get moving into that warm up you're already over the hardest bit.
Starts the day with a positive accomplishment
There is no better feeling than starting the day with a win and this is exactly what an early morning workout will give you.
Completing a tough workout gives you that sense of achievement which can only improve your mood and mindset for the day ahead. Sure, the initial post-workout feeling might leave you tired but the endorphins will soon kick in.
Not only will you feel awake and have more energy after your workout, but your mind will be ready to take on whatever tasks you have lined up that day.
Brings in discipline and real focus
I don't think anyone will argue with me when I say that waking up early in the morning to exercise requires some sort of discipline. Just like any habit, developing the discipline to get up and exercise only gets easier with time.
I firmly believe that once you do keep the discipline it can only keep you on the right track and it focuses your mind towards your overall goal.
Exclusive NZ - IRE
Rugby Analysis
Get Murray Kinsella's match analysis and Garry Doyle's updates from New Zealand exclusive to members
Become a Member
As well as that, keeping disciplined with your early morning exercise routine will surely carry over into the remainder of your day when it comes to making better and healthier choices such as eating better at lunch time or perhaps aiming to get enough sleep the night before.
Better daily function and body clock
Waking up early in the morning to exercise can help you sleep better at night.
Your body will enjoy a healthy sense of fatigue at the end of the day and will be ready to sleep.
For those who struggle to sleep at night and perhaps are training later in the day you should consider switching your sessions to the mornings.
I have found after an evening session, it's difficult to switch off or slow down before bed, meaning it's harder to get to sleep.
David Last is a personal trainer based in Dublin. For more information you can follow him on Facebook, Instagram and Twitter. Or you can send him a direct message here.
You can also see some of his previous articles here.
The42 is on Instagram! Tap the button below on your phone to follow us!