"Sometimes I wake up and say to myself; how the fuck did I get here".
MICHAEL FINNEGAN DIDN'T battle depression all his life, yet it ambushed him and left him with a life that needed to be rebuilt.
These days, he is a success story; the Dubliner who escaped a choking inner-city drug culture and became a respected rugby coach.
But that chapter of his life is a new phenomenon. That one-sentence journey a diluted sample of the real struggle.
Coaching rugby certainly wasn't something that he could have even begun to imagine doing in 2009. Back then, all he could picture was an oncoming train.
The official details are easily found, Google his name and you'll soon find the stories of threatened fines and prosecution for delaying the day-to-day business of London transit.
Finnegan never suffered depression – at least not that he was aware of – until that day when he was told of a death in the family.
"I had a bit of a breakdown," he says while at an underground station as he commutes between two coaching  sessions, "I ended up in a four-hour stand-off with the police."
The patience of the police won out that day. Finnegan climbed down. However, he would never feel fully out of the woods and eight months later he made a second attempt on his own life. Another public place, another rescuer; this time a lone man compelled to let go of his dog's lead and use his strength and phone to save the life of a burly red-haired Irishman.
The thing about Finnegan, though, is that these two incidents are at incredible odds against the way he lived the rest of his life. From a young age, the Crumlin man has felt an urge to help.
"I grew up in an area that was heavily affected with drugs. Heroin, it was an epidemic in Dublin and Fatima Mansions in the late 80s up until the mid-90s. I grew up around all that, had family members who were drug dealers. As a kid growing up, I always wanted to get into that field, get people off drugs."
"I chose not to live that lifestyle. I've always – not been a soft touch, but – had a social conscience."
That conscience took him on a single path with several community outreach and charity organisations who do thankless work taking him on to aid their never-ending struggles.
"I always tried to keep myself busy. I didn't want to be hanging around street corners. I wanted a life. I could see some of the lives my mates were living weren't productive: some are dead, most are in prison… one or two are in decent jobs."
Episode
It is seven years since that longing to be busy took Finnegan across the water to a job with the Salvation Army. But his lifetime's work, a CV littered with work done for the betterment of society at street level was torn up in 2009 with a suicide attempt that brought a criminal record.
"I went from working in Whitechapel in the Salvation Army, [to where] I'd apply for a job and I'd leave that episode off my CRB [Criminal Records Bureau form], but they'd track me," he says with a mischievous laugh.
If the turning point had already been completed by Finnegan, Sky's community-focused rugby show was the moment he jammed on the accelerator and spun his wheels in a whole new direction.
By the time hundreds of hours of footage had been swept off the cutting room floor, the Dubliner without any oval ball experience wasn't exactly one of the stars of the new stand-alone School of Hard Knocks series – a show (and now a charity) with an over-arching aim of instilling self-worth and belief into the players who come through its gates.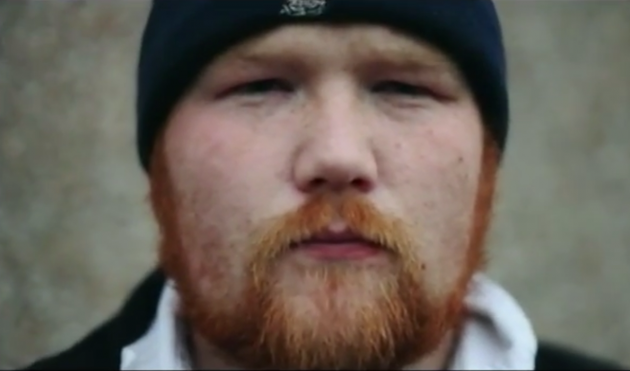 YouTube screengrab
"To be honest with you, I went to the jobs fair and I think I was the only one that didn't get a job. I got chatting to Will and Scott about coaching…"
Will and Scott? Oh, just those legends of International rugby, Greenwood and Quinnell. Finnegan isn't name-dropping, they're just men who are now within easy reach should he need a hand with coaching, charity or simply a quick chat on the phone.
"Will said; 'if you want to get into it, you can put me down as a reference'. Saracens were looking for a trainee and they basically snapped me up."
From there, the 30-year-old says it has been a whirlwind existence. Trained as a coach with Saracens, he would go onto be employed by London Irish and Premiership Rugby who sent him to Brazil as part of a grass-roots initiative to spread rugby in the country before 7s hits the 2016 Olympics.
"Because I was on the TV programme and I don't exactly fit in – I'm a big Irish fella with a big ginger beard so I stick out quite a lot – opportunities kept coming my way. I've taken them, thankfully."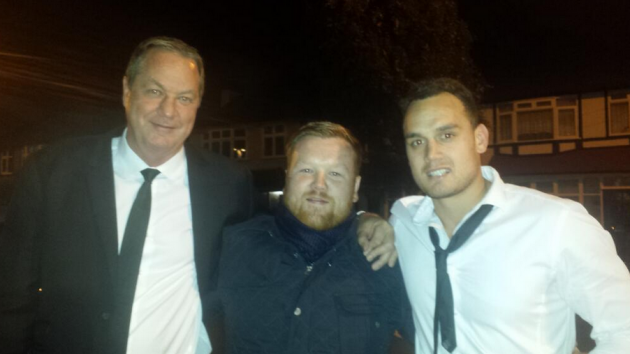 'Just a boozy night out in Twickenham' with Mick 'The Kick' Byrne and Israel Dagg Credit @Mick_Finnegan
The latest opportunity Finnegan earned himself was a full-time job coaching with the Lawrence Dallaglio Foundation, whose aim is to reach disadvantaged youths through 'street rugby' in a similar way as Hard Knocks does for adults. It's also the reason he spends half his day on the tube moving between coaching locations.
That desire to keep busy though, keeps on tugging. And as usual for this Dubliner, it goes hand-in-hand with helping others. Finnegan has set up his own charity, State of Mind, in order to provide awareness and aid for depression in amateur rugby.
"Professionals get looked after like racehorses. Amateurs go out on a Sunday, get smashed and go home and feel sorry for themselves… then end up on top of a bridge in London."
It's been a long while since Finnegan last experienced a day as dark as that. Nowadays he is able to recognise the early signs and make that crucial small call for help.
'Background explains your behaviour, it doesn't excuse it'
"Rugby saved my life, it really did. It gave me a second chance, gave me a career. It's really weird having the like of Scott and Will's support, running the State of Mind and having legends of the game just talking to me like it's just any old chat – it's surreal."
Michael Finnegan is not out of the woods, yet he's going back in to help others pull through. In his day job he's continuing the legacy passed to him by Hard Knocks on through the younger age profile sought by the Dallaglio Foundation.
"I look at people on a daily basis and I say to them: 'your background does explain your behaviour, but it doesn't excuse it'.
"There's more to life than just robbing a mobile phone or selling crack or smoking weed all day.
"A lot of the people we work with come from violent background, quite dramatic backgrounds and at times we can be the only consistent thing, nearly the only positive thing they experience on a weekly basis.

"I say to the kids; just because you're from a rough area doesn't mean you're a scumbag, doesn't mean you're a bad person, it doesn't mean you can't dream and it doesn't mean you can't have aspirations."
You can follow Mick Finnegan's exploits on Twitter, or better yet, follow State of Mind Rugby and visit their website; StateofMind.org.uk
If you have been affected by the issues discussed in this article please call Aware at 1890 303 302 or the Samaritans at 1850 60 90 90, or email jo@samaritans.org.