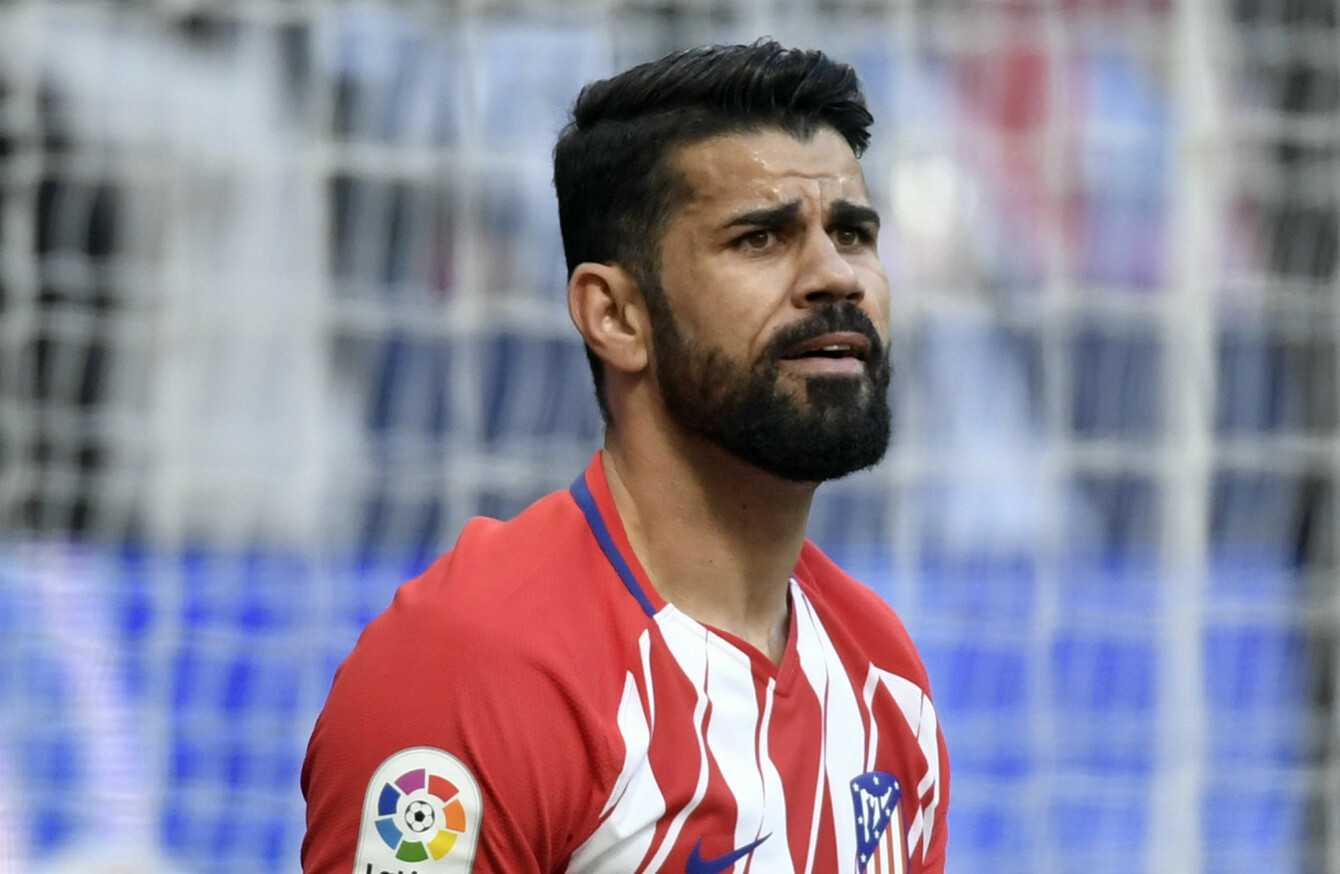 Diego Costa (file pic).
Diego Costa (file pic).
DIEGO COSTA WAS booked again in his latest outing for Atletico Madrid, but claims "officials hate me" and that he is being unfairly singled out.
The Spain international was cautioned during a 2-0 victory over Athletic Bilbao for contesting a decision.
He also saw a penalty appeal waved away in that contest – a game in which he netted his fourth goal in eight appearances since returning to Atletico.
That return gives the 29-year-old plenty to smile about, but he believes referees have made him a scapegoat and are too quick to reach for their pocket when he gives them a decision to make.
Costa, who was sent off on his La Liga return for Atletico in January, told reporters after another eventful outing on Sunday: "The officials hate me and there's nothing I can do to change that.
"Some of them book me for the smallest issue and it did not matter what it was but [against Bilbao] the referee was going to book me no matter what.
"You can look back at the replay and analyse it, but I did not overstep the mark and did not deserve it, but there is nothing I can do about it now.
"The penalty appeal? I think it is yes, I was knocked off balance by contact from the defender when I was going to shoot so I think it was!"
Costa started against Bilbao alongside Antoine Griezmann.
The Frenchman failed to find the target and has just 12 efforts to his name this season.
Transfer talk has provided an unwelcome distraction for the 26-year-old, amid links to Manchester United and Barcelona, but his strike partner insists he retains the full support of those around him at Wanda Metropolitano.
Costa added: "I think people make a lot of stuff up.
The fans are behind Griezmann. He's got quality and, every summer, a big team want him.
"It's normal for him to get angry. I get angry too at times. It's part of football. But the fans are delighted that Griezmann can be here and hopefully he's here for many more years."
The42 is on Instagram! Tap the button below on your phone to follow us!