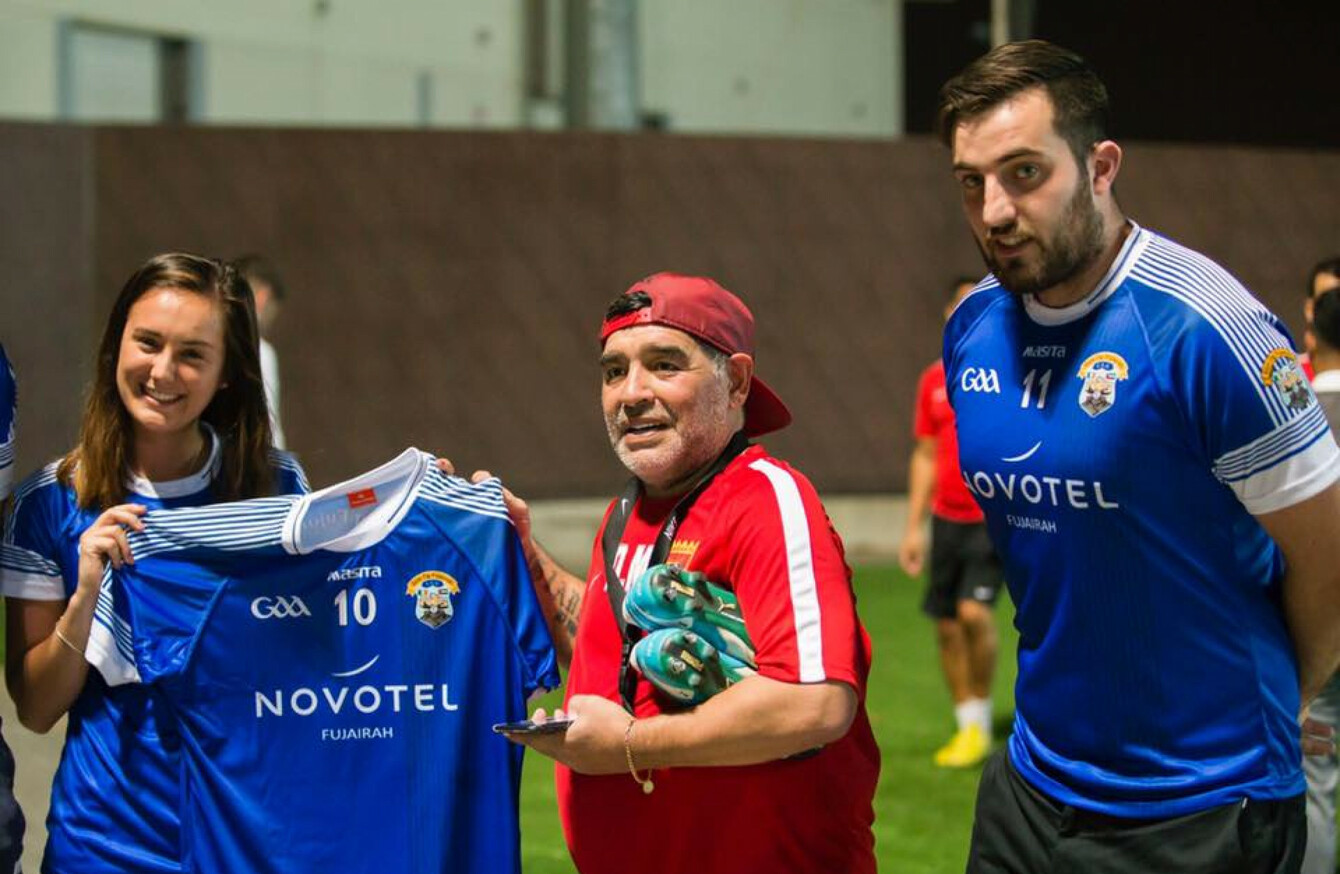 WHEN YOU DIG into the archives, there's not much linking Diego Maradona with Ireland.
He played at Lansdowne Road twice – in 1979 and again the following year. But outside of those relatively insignificant friendlies – and Jimmy Magee's famous commentary of his second goal against England at the 1986 World Cup – there's nothing of note.
Still, a group of teachers in the United Arab Emirates are hoping to change all of that.
Andrew Hogan is a member of Eire Og Fujairah, a GAA club that was only started up in the north-eastern city last autumn. But it's already attracting plenty of attention.
"We're about an hour and a half from Dubai, basically a Limerick-to-Dublin type distance," says the Sixmilebridge man.
But it was unrealistic to play up there, live up there and then travel for work. There was a big group of us – about 70 teachers – who set up here in Fujairah and decided to live here. Two of us spoke about setting up a club before we came out and then we suggested it to all the Irish lads and that's how the team started. But now we have players from all over the world: we have English, Scottish, Welsh, a Canadian. Even guys from Egypt and Sudan."
Fujairah is dwarfed in size and recognition by Sharjah, Abu Dhabi and Dubai. All three locations host a remarkable amount of Irish immigrants and, as a result, a home-from-home atmosphere is created. But Hogan admits there wasn't much of an ex-pat community in a city best known for its collection of mosques and forts.
"We've basically tried to establish a community here," he says.
"The town has a population of about 60,000 but there's not many ex-pats or English speakers. There's a few pubs but nothing spectacular. But we've made it a home and the more we've done that the nicer it's got and the easier it's been for more and more people to come here. The GAA has been the focal point for us setting up here."
Hogan and his cohorts are keen to attract as many new members as possible. Anyone they meet and who shows an interest in the club usually gets an invitation to drop by a training session.
"There's a place we go for a drink here, a sports bar," Hogan says.
"The bouncer is from Uganda and we've got him down. We said it to him one night and he just said, 'Yeah, I'll come and play'. We have Indian lads, we have everyone. Just people you meet around here, really. Because they see the group of us and see the jerseys and just ask, 'What is it? Who are ye? What do ye do?' We really needed some non-Irish lads to play at the start of the year so we brought in some English and Welsh and Scottish guys to fill in. They enjoyed it, told everyone else that it wasn't too scary and that it was a bit of craic and they should play.
The lad from Sudan has only just started to come down so he hasn't really defined a position for himself yet. But the Ugandan lad is a very good defender, though, I'll tell you that much."
There are 85 competitive GAA teams across the Middle East. There's a league, a championship and various other tournaments for Gaelic football, hurling, ladies football and camogie. Eire Og Fujairah are just concentrating on football for now and what is interesting is that Hogan never really had much of an interest in the game before moving to the Middle East.
He's grown to appreciate it more because of the purpose it's serving in his new home. And the impact it's having.
"I think I played two or three games with Cratloe back home in Clare in my life – just when they were short of numbers," he says.
But out here we just wondered what the easiest thing was to organise. And the Middle East GAA run an unbelievable setup out here. Tournaments every five or six weeks, a massive Irish influx and a great way to meet people. Everything to do with the GAA out here is very good. It's very different to the strict training sessions back home and drinking bans and all of that. It's more relaxed and more about building a community. More like what the GAA was like before it got a bit too intense. It keeps the community together and that's what we're getting out of it."
Starting a club from scratch in a city where they knew nobody was an ambitious project but Hogan and his pals found a sympathetic pair of ears and, very quickly, they had an official sponsor on board and jerseys designed.
"The hotel here – the Novotel – have been so good to us," he says.
It's an Egyptian guy called Karim who runs it but he's married to an Irish woman, Geraldine. They helped us set up, basically. They handled our kits and we had a Bahrain trip and they looked after our accommodation. I'm not sure how much Karim knew about the sport – I'm sure Geraldine pushed him a bit! But ever since he's been very good to us, very positive. Even when it comes to meeting new people, it all just helps build that community a bit more here.
It's really about getting more locals involved because if you get them on board then they're more interested in what they can do for you. But I think they're still quite confused by what we do, really. Sometimes we have lads pull up outside our training sessions and they'll sit there and look at us for 20 minutes and all we're doing is knocking a football around a 5-a-side pitch."
Finding a regular place to play has been difficult. There aren't exactly many suitable venues around. With one notable exception: the Fujairah Stadium.
With a 5,000-capacity, it hosts the local Arabian Gulf League side Al Fujairah, who play in Division 1.
And they're managed by Diego Maradona.
"The Sheikh – Hamad bin Mohammed Al Sharqi – is the owner and the club is fairly prestigious for the local area," Hogan says.
"We got some new jerseys in because we have a tournament coming up and we thought it would be a bit of craic to head down to the soccer club and present one to them as a gesture. There's a lad from Belfast – Eamon – who works for the paper here and does some media with the club. He passed the message to their business manager and we were straight in. There was a call at 5 o'clock to say we should head down because they were starting training.
Maradona led the session and seemed to have a lot of fun with the players. It seemed like he was having a great time. He spoke to us as much as he could, given there was a language barrier. But he was very friendly, very warm. He loved the jersey and the fact it had his number of the back. And he shook hands with all of us.
He can comprehend English, like he grasps what you're saying, but he spoke to us in Spanish. Luckily for us, Eamon speaks the language so he was interpreting and translating everything and that bridged the gap. Maradona made a joke about setting up a friendly against us and he was just trying to get to know more about the sport. Eamon joked with him about the Hand of God and that if he came down and did that for us week in, week out then nobody would say anything to him."
"Like, it's a small place here. Maradona lives in the hotel right next to where I live. I've seen him about 20 times at this stage but when I went up to him, it was still that feeling of, 'Wow, this is one of the best footballers ever'. He definitely has that charisma, that presence. He walks up to you with a smile. And the guys with him were the same. They had that presence in terms of what they do and who they are."
As good as the entire experience was from a PR and marketing perspective, Hogan may also have landed himself a couple of new additions to his squad.
"We were standing there in our jerseys and the players started to come up to us after they finished their session," he says.
"A lot of them would be Arabic speakers and they said 'Hello' or 'Wa-Alaikum' and shook our hands. It's a sign of respect here to walk up to somebody and shake hands. We were speaking to the media manager and they're very aware of what we're doing and how we're progressing as a club. They were asking about the sport and I was telling them how it was 3,500 years old and they were saying, 'Nobody even lived here 3,500 years ago'. The local people who worked at the club were talking about coming down. In terms of the players, they're all professionals and probably not allowed too much strenuous exercise outside of their football, but they were joking about us playing a game against them.
One of the lads – Danilo – he's Argentinean and he's looking to come down and play with us at some stage. Their season is over in about two or three weeks and then he's off for the summer. But he's played in the Argentine Premier Division."
Surely Maradona would make a perfect corner forward too?
"If we can catch him, we will," Hogan says.
"But he seems to be pretty busy. We follow him on social media and anytime he's not training the team he seems to be living a very good lifestyle!"
The important thing for Hogan is that the club is getting bigger. And that means that it gives a smaller city like Fujairah a different kind of social outlet. For anyone new to the place, it's an opportunity to meet new people and cultivate relationships.
"It's absolutely crazy," he says.
When we came out to Fujairah, there were about 10 or 15 Irish people. Now, in our club alone, we have 40 players – two mens' teams and a ladies' team. It's 9-a-side so you need 12 on a panel. But the way things are going, I think the women will have two teams next year and there might be a few more for the lads.
"I've played hurling in Sharjah a few times but it's a bit unrealistic to travel there and back. But, even still, some of the lads here do. Maybe next year we'll get a hurling team set up, if there's enough people? It just depends on how we grow. With hurling, you need people who've played for a few years. With Gaelic football, you can train someone up in three or four weeks and they can go out and play to a decent enough standard if they're fit and can kick and catch a ball. The basics are there and then it's just about fine-tuning the rules.
Fujairah can be a daunting place when you first come here but once you get to know people it becomes easier. And the GAA club is a focal point for people. Some people view us as a big gang but once you're inside the gang you're fine!"
Follow Eire Og Fujairah's progress and see whether Diego Maradona will line out as their new corner forward here.
The42 is on Instagram! Tap the button below on your phone to follow us!