Liveblog
Donegal and Meath arrive in Croke Park searching for silverware this afternoon.
The primary focus for both counties at the outset of this campaign was to secure promotion to the top-flight. Division 1 football in 2020 has already been sealed, so they're in bonus territory today.
Donegal, the reigning Ulster champions, view themselves as All-Ireland contenders but they'll face a tricky test in Andy McEntee's side, who ran Tyrone so close in the qualifiers last June.
Donegal beat Meath by 1-13 to 0-14 at Pairc Sean Mac Cumhaill back in February.
Here's how the sides are named to start. Michael Langan has since been ruled out for Donegal so he'll be replaced closer to throw-in.
Donegal
1. Shaun Patton (Noamh Adamhnain)
2. Paddy McGrath (Ard an Ratha)
3. Brendan McCole (Naomh Naille)
4. Eoghan Ban Gallagher (Na Cealla Beaga)
5. Daire Ó Baoill (Gaoth Dobhair)
6. Leo McLoone (Naomh Conaill)
7. Ryan McHugh (Cill Chartha)
8. Hugh McFadden (Na Cealla Beaga)
9. Michael Langan (Naomh Micheal)
10. Niall O'Donnell (Naomh Adhamhnain)
11. Jason McGee (Cloch Cheann Fhaola)
12. Caolan McGonagle (Buncrannacha)
13. Oisin Gallen (Sean Mac Cumhaill)
14. Michael Murphy (Gleann tSuili)
15. Jamie Brennan (Bun Dobhrain)
Meath
1. Andrew Colgan (Donaghmore Ashbourne)
2. Seamus Lavin (St Peter's, Dunboyne)
3. Conor McGill (Ratoath)
4. Shane Gallagher (Simonstown Gaels)
5. James McEntee (Curraha)
6. Donal Keogan (Rathkenny)
7. Ronan Ryan (Summerhill)
8. Bryan Menton (Donaghmore Ashbourne)
9. Shane McEntee (St Peter's, Dunboyne)
10. Cillian O'Sullivan (Moynalvey)
11. Ben Brennan (St Colmcilles)
12. Bryan McMahon (Ratoath)
13. Barry Dardis (Summerhill)
14. Michael Newman (Kilmainham)
15. Thomas O'Reilly (Wolfe Tones)
Stephen McMenamin is a late replacement for Langan on the Donegal team.
And we're underway in Croke Park.
Donegal 0-0 Meath 0-1
Brian Menton races forward and slots over to give Meath an early lead.
Donegal 0-1 Meath 0-1
Murphy is fouled and slots over the free himself.
Donegal 0-1 Meath 0-2
Good run by Cillian O'Sullivan and he feeds Michael Newman for the score.
Donegal 0-1 Meath 0-3
Brilliant point from Shane McEntee off his left.
Donegal 0-1 Meath 0-4
Mickey Newman claims an offensive mark and slots it over.
GOAL! Thomas O'Reilly hits the net for Meath against Donegal.
Donegal 0-1 Meath 1-6
Ben Brennan swings over a lovely effort off the left to stretch Meath's lead and Newman adds another. Donegal have been very poor so far.
Donegal sub: Brendan Cole is replaced by Neil McGee.
Meath 1-6 Donegal 0-4
A much-needed score from Oisin Gallen arrives for Donegal. Jamie Brennan adds a quick-fire double to reduce the gap to five.
Donegal 0-5 Meath 1-6

A good Donegal move sees Brennan set-up Niall O'Donnell for a score. Donegal have come into the game in the last few minutes.
Meath 1-7 Donegal 0-6
Bryan McMahon and Murphy (free) trade scores.
Meath 1-8 Donegal 0-8
McMahon adds his third of the game but Donegal respond immediately through midfielder Jason McGee. Moments later, Oisin Gallen pulls back another.
Michael Newman hits the net for Meath but it's disallowed for a square ball. Almost a second goal for the Royals.
Meath 1-10 Donegal 0-8
Scores from O'Sullivan and O'Reilly stretch Meath's lead to five once again.
HT – Meath 1-10 Donegal 0-8
Meath 1-10 Donegal 0-9
Fantastic score to get Donegal underway in the second-half from the boot of Oisin Gallen.
Some action from the opening-half:
Source: Oisin Keniry/INPHO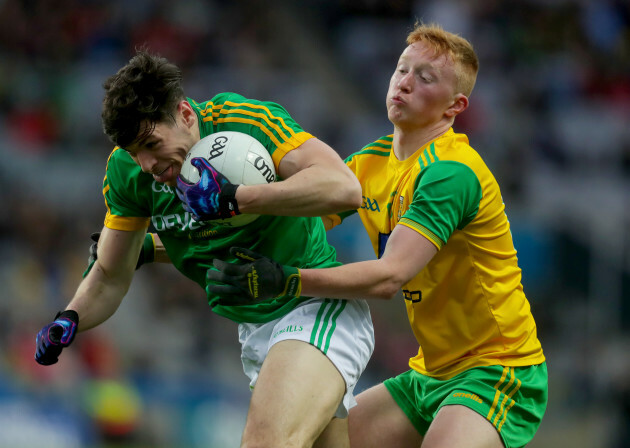 Meath 1-11 Donegal 0-10
Newman curls over a free from close range. Moments later, Barry Dardis sends a goal chance narrowly wide. Murphy responds for Donegal with a free of his own.
Meath 1-12 Donegal 0-11
McGee tags on his second score for Donegal from distance. Sub Eamonn Doherty is booked after hauling down O'Sullivan. Newman clips over the placed ball for Meath.
Meath 1-12 Donegal 0-12
Another free from Murphy.
Meath 1-12 Donegal 0-13
Eoghan Ban Gallaghr sprays a lovely crossfield ball into Murphy. The big Glenswilly man claims the mark and slots it between the posts. Donegal are back within two.
Meath 1-14 Donegal 0-13
Dardis swings over a wonderful 45 from near the sideline. One of the scores of the day so far.
Meath 1-14 Donegal 0-14
Niall O'Donnell pulls one back for Donegal with a booming effort.
Meath 1-14 Donegal 0-15
Great mark and point by Murphy for Donegal.
GOAL! Jamie Brennan bags a goal for Donegal against Meath!
Meath 1-14 Donegal 1-16
Meath hit a couple of wides in quick succession.
Meath 1-14 Donegal 1-17
Brennan is fouled and Murphy applies the finish from the free.
Meath 1-15 Donegal 1-17
O'Sullivan converts a free. We'll have four minutes of stoppage-time.
FT – Meath 1-15 Donegal 1-17
Contribute to this story: