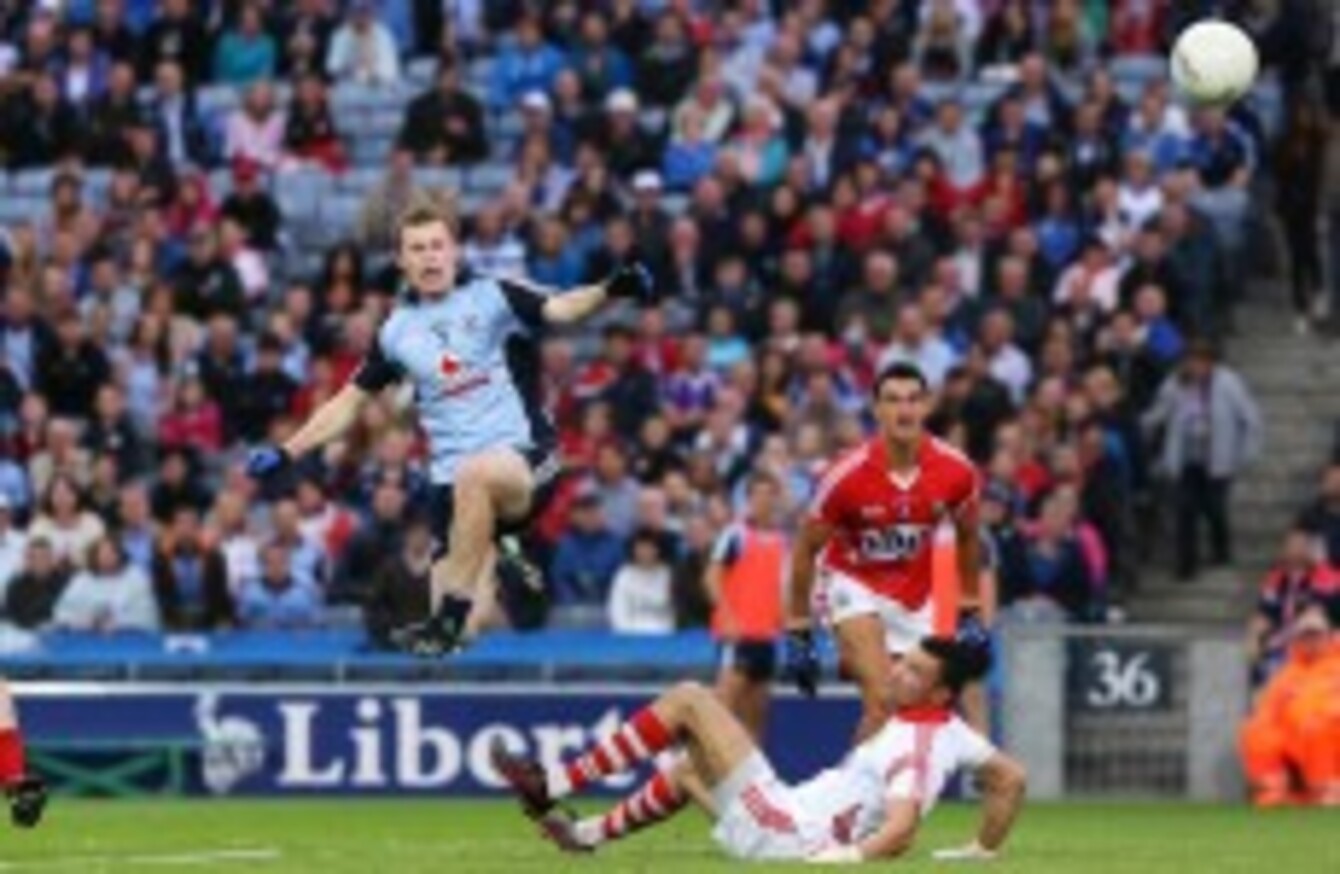 Dublin and Cork meet again tomorrow in a rematch of last year's All-Ireland quarter-final.
Image: INPHO/Cathal Noonan
Dublin and Cork meet again tomorrow in a rematch of last year's All-Ireland quarter-final.
Image: INPHO/Cathal Noonan
DUBLIN MANAGER JIM Gavin has proposed pushing the start of the National Football League back to April.
The Dubs host Cork in Croke Park tomorrow night, the first of four games on both counties' schedule in March.
Both sides come into the game with two wins from two in Division 1 and off the back of a three-week break since their last competitive outing.
Gavin has no objection to the run of games on consecutive weekends — "If you ask any player, they'd prefer to play a game than have an idle weekend" — but feels that a calendar shift would benefit everyone.
Rather than start in early February, when players are also being pulled between the third-level competitions and the inter-provincials, it could be pushed to the late spring which would also bring more continuity between league and Championship.
"I feel it needs to be managed better," he said yesterday.
"There's no need to start off the National League at the start of February when there's so many demands on players.
"There's not only the Sigerson, Trench and Fitzgibbon [Cups] but you also have the inter-provincial competition as well which I certainly support. It's one of our traditional competitions going back to the 1920s so I think, as best we can, we need to support that competition.
"I don't see any reason why we couldn't start the National League certainly after the Sigerson and the inter-pros. Some time in April would seem to make a lot of sense.
I understand from the GAA's perspective of wanting to get the games out there and that needs to be considered as well. During the months of February and March, there's probably a demand on it but I think there's plenty of exposure with the college and inter-pro competitions so I think it could be better placed.Start later and finish later. There's a big gap between the league and the Championship, especially if you finish in the regular season. That's early April, and then there's a big gap until either late May or early June for your Championship.
He added: "I would have no issue with playing games every weekend. There's plenty of time, a seven-day or six-day turnaround is plenty of time for players to recover.
"They want to play games. If you ask any player, they'd prefer to play a game than have an idle weekend for training."
The three-week break has brought a number of players back into contention for this weekend.
James McCarthy played for his club Ballymun Kickhams last week, and Bernard Brogan and Paddy Andrews are both back in training with a view to making their return before the end of the round robin games.
But Alan Brogan, who played a full game against Kerry on his return from a 16-month injury lay-off, will be rested again.
On the pitch, Gavin appears determined to stick to the gameplan that served the All-Ireland champions so well last season and gave short shrift to comments from Kerry manager Eamonn Fitzmaurice about their openness in defence.
"Whatever other players, managers and counties have to say about ourselves, we concentrate on our own game and we always have. Our focus has always been about getting ourselves right so 90 % of our work is getting our own work done.
"I can't control what other players, managers and teams do or say but what we can control for the best for our team is what our players do on the training field and in team meetings so most of our focus is on how the Dublin football team play."
Focus too on that difficult second season and defending the three major trophies they won last season: the league, Leinster and All-Ireland titles.
There's no real secret to the strategy, Gavin says. They'll just take one game at a time starting with Cork, whose transition under new manager Brian Cuthbert has been "seamless."
"For them to win their first two games against two very good sides is a testament to the work that Brian Cuthbert has put in and how much the players have accepted the change.
"It is a big challenge but in both of their games they had a freshness and a great energy about them.
"A lot of their legendary players have retired and a lot of their players have stepped up to the mark."