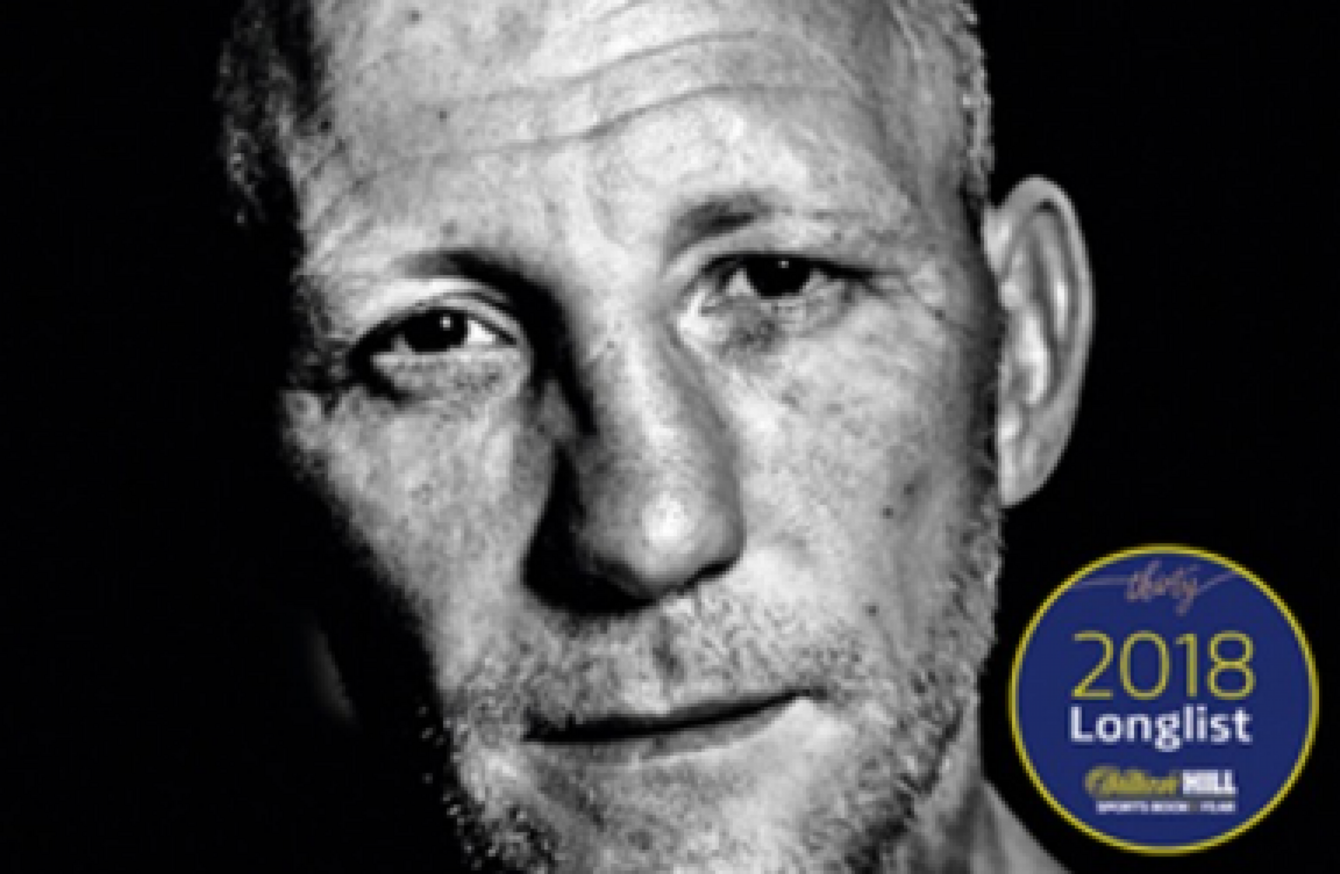 A new book on Eamonn Magee's life has received considerable acclaim.
A new book on Eamonn Magee's life has received considerable acclaim.
EAMONN MAGEE IS widely regarded as one of Ireland's most talented boxers ever, yet while often top-level athletes must live a strict, dull and uneventful existence, the opposite was regularly the case with the Belfast native.
'The Lost Soul of Eamonn Magee,' a new biography written by Paul D Gibson, features a quote on the back cover in which the fighter exclaims: "My life's not a book. It's a fucking movie script." While it may sound far-fetched to those unfamiliar with the story, such claims are backed up throughout the star's extraordinary life.
From the outset, Magee's aptitude for boxing was obvious. He was aged just five when he first walked into a gym, while his first fight took place two years later. Two of Magee's three older brothers, Terry and Noel, also boxed professionally. The latter even briefly held the Commonwealth light heavyweight title at one stage. Yet it soon became apparent that the youngest member of the family was also its most gifted athlete.
"It was not so much talent, I always treat boxing like a game of chess," he tells The42. "You always want to be two moves ahead of your opponent. I know what you're going to do before you know what you're going to do. My brain was my biggest strength.
What drove me into the boxing was my three older brothers, coming home every day and seeing their medals and seeing their certificates all sitting in front of them — there were none belonging to me. So without giving me the inspiration of getting your chin up and your arse out, it made me go: 'Obviously I'm having a go here.'"
His upbringing in the Ardoyne area of Belfast toughened him up. The Troubles were always looming in the background. Violence was pervasive at times.
It was this uncompromising backdrop that spawned a fighter to be reckoned with. As an amateur, Magee won the Irish National Senior light welterweight title in 1991 as well as picking up a silver medal at the World Junior Championships at San Juan, Puerto Rico in 1989. Despite everything he went on to achieve thereafter, he still describes the latter feat as the high point of his career, overcoming Bulgaria's Ivan Ivanov, Cuba's Josef Sanchez and local favourite Victor Perez, before eventually losing out to East Germany's Enrico Berger in front of 8,000 fans in the final.
"It was better than winning any professional fight I ever had," Magee says. "I was only the second Irishman ever to do it [after Ballymena's Eamonn Loughran won silver the previous year], and I don't think there have been too many behind me. And that was '89. It was a very difficult tournament — it was the elite. But Magee went there. Magee reached the final. And then the best man won."
Yet his amateur career was tarnished considerably by events three years later, which Magee describes as the lowest point of all his time in boxing. 
The youngster was widely expected to represent Ireland at the 1992 Olympics in Barcelona, yet a controversy that still rankles with Magee to this day prevented it from happening.
His Irish title win was expected to render him eligible for Spain, but the Irish Amateur Boxing Association requested that he fight Neil Gough — the same man he had only recently beaten for the Irish title — in order to retain his Olympic eligibility, on the basis that their original fight had been so close and it would be unfair to use it as the sole criteria for qualification.
While it was not unheard of, requiring Magee to undertake an extra trial was certainly unusual, with the fighter subsequently claiming the decision constituted "a political move by Dublin after seven out of 12 national titles ended up in the North".
An archetypal anti-authority figure, Magee felt he was being punished out of spite by those with personal animosity towards him. However, Art O'Brien, who was on the National Council at the time, continues to deny these allegations and insists ordering the box-off was the correct call.
Magee refused to fight Gough again and consequently could only watch on as his friends and similarly talented colleagues went on to excel in Spain. Of the 58 competitors who represented Ireland at the 1992 Olympics, just two came home with medals and both were boxers: Michael Carruth (gold) and Wayne McCullough (silver). Had politics not intervened, it is conceivable that Magee could have added to this haul. 
Gough ultimately did not go to the Olympics either, failing to make the Irish team after losing at a pre-qualifying tournament in Italy, and Magee is still highly animated when recalling the debacle.
How do you get [over that]? It would have been a dream come true. Starting out as an amateur and going to the Olympic Games. They can send me around the world and keep on winning and winning and winning, and then all of a sudden, they don't send me to Barcelona."
While pretending not to care when the fights were happening, Magee was deeply disappointed by the Olympics omission. Afterwards, boxing more or less took a backseat in his life for a period, and free of its emphasis on discipline and the necessary sense of routine that sport created, Magee immersed himself in a world of drink and drugs.
Around the same period when rave culture was gathering momentum, Magee tried out ecstasy for the first time shortly after his Olympics snub amid an international meet in Tenerife, or as the book describes it — an "IABA-funded holiday". He was quickly hooked and continued to indulge in the habit upon returning to Belfast.
The Irish Republican Army, however, did not take kindly to the drugs trade or anyone with links to it. Magee was targeted and the head of the Ardoyne IRA decreed that the boxer deserved a bullet for his troubles. His father, Terrence, tried to reason with them and convinced the Republicans to be somewhat lenient compared with their usual standards.
The fighter reluctantly accepted his fate — the outcome would likely have been worse were it not for his conciliatory approach. Magee waited in his mother's kitchen for the gunman, who arrived around 6pm and shot him in the calf, ripping the flesh rather than shattering the bone as the local commanding officer had promised on the condition that there would be no struggle.
The incident did not dissuade Magee from using drugs, but his days as a dealer were over. It also convinced the fighter, still in his early 20s, to return to boxing with a renewed focus. And miraculously, he recovered to the point that he was able to successfully defend his national light welterweight title a matter of months later, overcoming Billy Walsh in the final.
Surprisingly, Magee still speaks in positive terms about the IRA, maintaining he deserved the unusual form of discipline handed out to him.
I wish they were still here, because the area's not being policed proper," he says. "When the area was being policed properly, when you'd go to bed at night, you could leave your front door open. But now you can't.
"They didn't intimidate me. I was only punished once by the Irish Republican Army and I was guilty of what I was charged with. They were only doing their job, and I'll always take my hat off to them for that."
He describes the organisation seemingly as a means to an end at the time: "That's the city we grew up in and we were trying to get a united Ireland," he says.
Despite initially making a remarkable comeback after being shot, Magee's amateur career would ultimately peter out in disappointing fashion. With the frustration of the Olympics snub still nagging at him, he failed to curb his prolific alcohol and drug intake, and predictably, a number of underwhelming performances followed.
Magee spent over a year out of boxing before turning pro, with this drink and drug-fuelled downtime leading to more trouble. The IRA discovered Magee and others had stripped a derelict house and sold a fireplace belonging to one of its members, forcing the out-of-sorts boxer into exile in London.
After eventually returning to his native land at the end of 1994, Magee proceeded to go professional the following year, winning his first fight against Liverpudlian Pete Roberts in November 1995 at the Point Theatre in Dublin on a Steve Collins undercard. 
The Irish star would go on to enhance his reputation, competing against several journeymen but also a number of big names — the most high-profile bout of his career was undoubtedly the 2002 fight with Ricky Hatton in front of 20,000 fans at the Manchester Evening News Arena, with Magee narrowly losing on points.
Highlights from this time also included a 1999 victory over Paul Burke, which saw him become the first Irishman to hold the Commonwealth light welterweight title, after 16 professional fights. He also won the WBU welterweight title, having overcome Jimmy Vincent in 2003.
Yet for Magee, pro boxing was always a pragmatic career choice devoid of sentiment or romance.
"Whenever I turned professional, then it was time to go to work," he explains. "It wasn't about getting a bit of paper in your hand and a fucking medal. 
"When you're professional, you're the boss. I pay my coach. I pay my manager. I'm the CEO. It's time to go to work. Let's get as much [money] as we can. In and out as quickly as possible."
Around the time of his professional bow, away from the ring, Magee was still getting in trouble. He was charged with affray after a racial insult aimed at his friend in a pub that was showing a Celtic-Rangers game sparked a barroom brawl. He received 240 hours community service for that misdemeanour, as well as a separate incident in which he was charged with causing grievous bodily harm, after being overly aggressive while dealing with an unruly customer in an Armagh nightclub in which he was working as a security man.
Worse was to come. After his 2003 title success, Magee's career appeared to be over the next year, amid an incident stemming from a falling out with the father of his son's friend, a man who happened to have links to the IRA. As the tension between the pair rose, Magee head-butted his nemesis, but the eventual retaliation was ferocious. The boxer was attacked with a pickaxe handle and baseball bat while trying to escape in a car, and as a result, suffered injuries that included compound fractures of the tibia and fibula, a shattered knee, heavy bruising all over his body and a punctured lung.
Following the surgery, the doctor suggested he may never walk again, let alone fight. Yet five months after lying in the intensive-care unit, Magee was somehow back in the gym. Dubbed the 'Miracle Man,' by March 2005, he had returned to the area he knew best, successfully defending his WBU title against Allan Vester.
Yet along with these improbable, heroic moments, the darker elements of Magee's character cannot be overlooked. Of all the members of his family, he was always the hothead and the one who was most prone to committing violent acts. The star believes the environment he grew up in is the cause of his combustible temperament. As a young child, he can remember British troops frequently storming his house.
"I popped out of my mother's womb in 1971 and it was just the society I was growing up in," he says. "[You] couldn't get to sleep most nights, because the house was getting kicked in. The doors were getting kicked in. 
"It wasn't a young, peaceful life. Alarm bells were always ringing."
Yet Magee is keen not to exaggerate the negative aspects of his upbringing.
They weren't tough times," he insists. "I wouldn't change one thing that's happened in my life. It just made me the man that I am today — the society I had to grow up in and you have to deal with. People are still around me at the minute that were there way back then too.
"I think everybody that grew up in this area was affected by the Troubles. I was no different to anybody, I'm just able to express my feelings and get it out there loud.
"A lot of people, they've had it even worse than me, they just can't get it out and say it."
Nevertheless, Magee acknowledges that without the support and love of family members, he may not be alive today. His father, Terrence, was in many ways a tragic figure. He swore allegiance to the IRA at the height of the Troubles — while sympathising with the Republican cause, it was more of a practical decision, rather than a political one, with violence and injustice commonplace in the district in which the family were located. Moreover, it was a time when the organisation were regarded by many people as freedom fighters rather than terrorists.  
"You also have to remember it was the city my father was growing up in," Magee adds. "I wouldn't wish it on anybody. It's society and life. But don't get me wrong, I wouldn't ever change a thing. I wouldn't like to be growing up in the city now." 
Magee didn't see much of his father in those early years as a result of his commitments and eventually Terrence was interned by the British army when his son was just three years old. Eamonn can still vividly remember smuggling in contraband during visits to his father — the psychological impact of having an incarcerated parent tends to be long-lasting.
Terrence also emerged from the experience mentally scarred and struggled with alcoholism and depression after his release in 1975. Two years later, after bouncing a cheque he wrote for a few thousand pounds, like his son after him, Terrence was sent into exile by the IRA and forced to move to England, which again saw him separated from his children for years.
But despite being absent for a considerable portion of his son's childhood, the bond between the pair remained strong. When Terrence passed away of cancer in 2007, it left Eamonn devastated.
In addition, one other crucial influence on Eamonn's life has been his mother, Isobel. She emerges from the book as a key figure, who has always remained resolute, even when everything around her threatened to crumble.
"You only get one mother and she always was [a positive influence] when I was a baby. She was trying to look after me in the city we grew up in."
There is a Jekyll and Hyde element to Magee's personality. The book does not shy away from detailing his flaws: his own failings as a parent, his infidelities, his drink and drug abuse, and his violent outbursts. Positive traits are highlighted too: his willingness to stand up to bullies, his refusal to accept sectarian bigotry, his remarkable ability to cope with adversity and his continuing determination to put his body on the line if it means protecting someone close to him.
Yet the demons persist. In one of the book's most poignant passages, Isobel describes her son as a "lost soul," coining its title in the process. Magee agrees with this assessment and pays tribute to his mother, not only for her support, but ultimately for helping him survive.
I would agree 110%, because, Eamonn Magee, although he was successful in the ring in what he done, no matter what he done and no matter how you get on in this life, there is always an obstacle behind it. If I hadn't had my mother or son behind me, God knows if I'd still be around to have this conversation with you.
"My mother was always behind my back at the top of a battle, and so was my father. He was always there. He was behind me more than anything else. I remember I was [sometimes] trying to hide things from my mother, but Dad would have known."
The fact that Magee had a successful professional boxing career, winning 27 of his 33 bouts, seems a minor miracle when you consider the constant turmoil in his life as well as the recurring substance abuse.
"Did I achieve my potential? To say I did, I'd be telling you lies and to say that I didn't, I'd be telling you lies again. But I tell you what, I gave it one fucking go. Nobody else was going to do it for me." 
Now 47, Magee continues to be well regarded as a coach in the sport to which he chose to dedicate his life.
"Do I miss [competing]? To be honest, I'm actually glad that I'm out of it, because there's too much politics and too much money talking. There are too many titles now.
"I think it's all just to do with owners. I suppose they have to make a living anyway too.
"I've been coaching since I retired from my last fight for the British title in Scotland. I retired and went through to coaching, and there's not a title in this world that I haven't won with my fighters. I get as much buzz out of it from training my fighters than what I did when I was fighting. I get the same buzz."
Magee had several opportunities to write a book over the years, but it was only when he encountered Gibson, who he likens to a "brother," that he truly felt comfortable telling his life story. And he is proud of the end product, which was recently announced as one of seven nominees for the William Hill Sports Book of the Year prize.
I was able to sit and talk to him and do it [right]. No lies needed to be told, I wanted to tell the truth about the story of my life.
"One of the main things was I didn't just want it to be a boxing book. I wanted it to be the story of Eamonn Magee's life.
"It took three and a half years and I don't know how many handkerchiefs as I was telling it.
"If you want to tell the truth, it's a very difficult process. It means a lot to tell these stories. You only have one go at it. If you're going to do it right, you have to be telling the truth and do it proper.
"When I finish my words, there's no going back from it."
And for all the book's literal and figurative highs, its pages are tinged with melancholy too. Asked about the most difficult aspect of putting it together, Magee answers without hesitation.
"We were near finished the book and my son got murdered," he says.
Eamonn Magee Jr, a promising boxer as well as an engineering student and part-time personal trainer, died at the age of just 22, after suffering stab wounds to the chest and stomach during an attack in Twinbrook, west Belfast, in May 2015.
Jealously and anger had been the motives for the killing, as Turkish national Orhan Koca approached his estranged wife's home and fatally attacked her new boyfriend, who had gone outside to check for a pizza delivery.
"The sentence imposed today will never bring back my son," Magee Sr said in May of last year, after his son's killer was given 14 years in prison.
Magee was also infuriated by what he deemed to be an unduly lenient verdict. 
"I suppose that would be the toughest challenge that I had. I had to tell Paul; 'No, stop, this has to go in [to the book] too.' And I had to wait until the end of the trial to see how it went. 
I'm down and I'm up when I can [be], but I can never get over that judgement. I never will. It's absolutely disgusting.
"But this is the city we grew up in."
The tragic saga is the toughest blow Magee has taken amid a life that has been frequently brutal. In recent years, he has been diagnosed with depression, but believes the disease has been lingering beneath the surface throughout his adult life.
Yet Eamonn is nothing if not resilient, in boxing as in life. For all he has been through, the experienced fighter is determined to stay upbeat. All things considered, he insists he has no regrets.
"To be honest, I've enjoyed my life. I've so many ups and downs and in betweens. But I enjoyed it." 
'The Lost Soul of Eamonn McGee' by Paul D. Gibson is published by Mercier Press. More info here.
Subscribe to our new podcast, Heineken Rugby Weekly on The42, here: