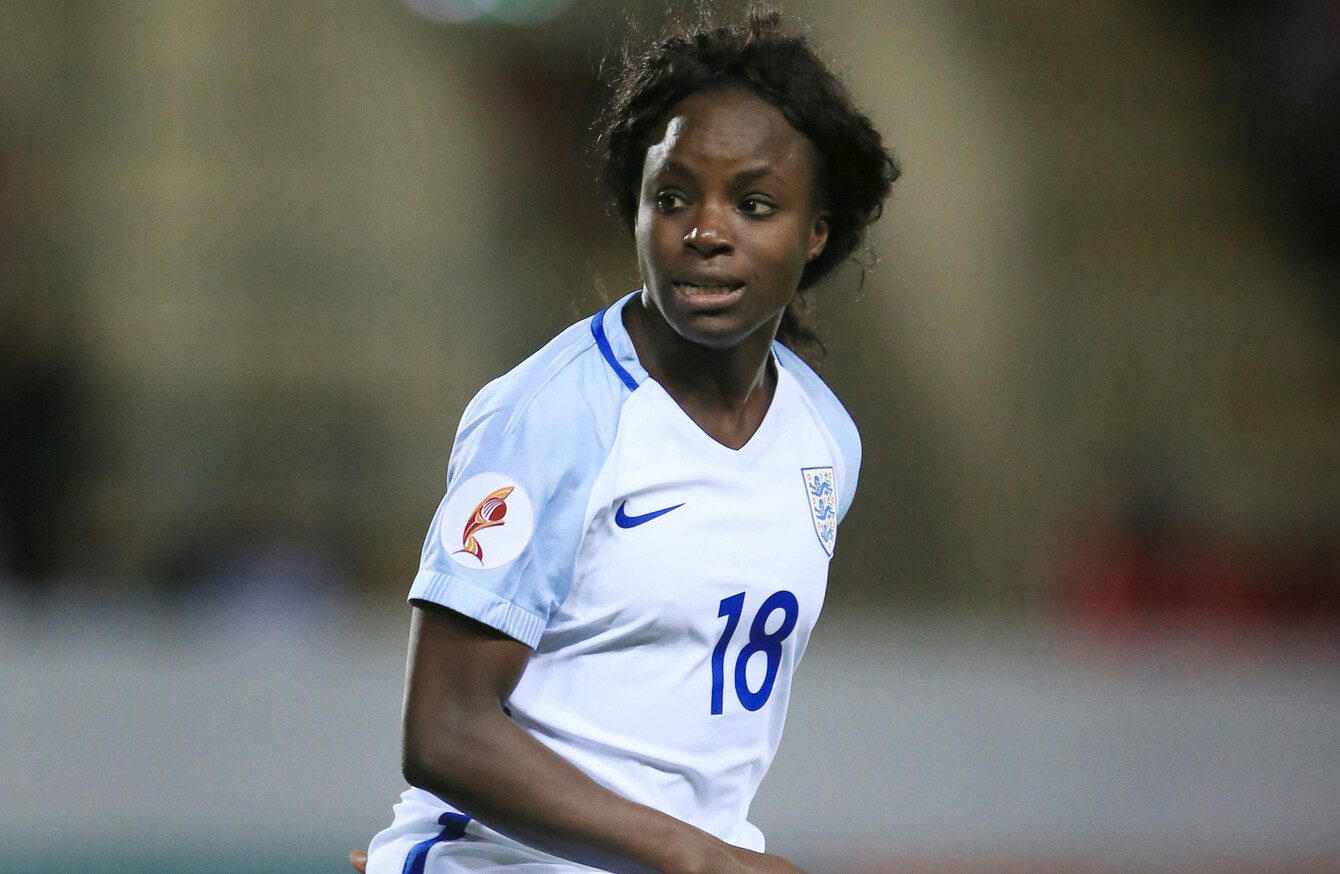 Eni Aluko.
Image: PA Wire/PA Images
Eni Aluko.
Image: PA Wire/PA Images
ENI ALUKO HAS claimed that England manager Mark Sampson told her to make sure her Nigerian relatives did not bring Ebola to a game at Wembley, in new evidence reported by The Guardian last night.
The case has been in the public eye for quite some time, but Aluko — who has 102 caps, and has scored 33 goals for her country — yesterday spoke out publicly for the first time since it was revealed she was paid 'hush-money' by the Football Association (FA).
Born in Nigeria but relocated to England with her family at a young age, Aluko was paid £80,000 by the FA to sign a confidentiality agreement — to 'avoid disruption' ahead of this summer's Euro 2017 – but has now obtained consent to share her story.
The Chelsea striker was dropped from the England squad days after sharing her experiences of bullying and harassment in what she thought was a confidential FA review about alleged racial and prejudicial remarks.
In yesterday's interview with The Guardian she alleges that Sampson made the Ebola comment before England played Germany in November 2014.
She says that the FA has known about the comment – described in a letter from the Professional Footballers' Association to the governing body as a 'racist joke' – since November 2016, but chose to ignore it despite a previous allegation that Sampson had asked a mixed-raced England player how many times she had been arrested.
"We were in the hotel," she says of the remarks made before the England and Germany game. "Everybody was excited. It was a big game. On the wall, there was a list of the family and friends who were coming to watch us and I just happened to be next to Mark.
"He asked me if I had anyone who would be there and I said I had family coming over from Nigeria. 'Oh,' he said. 'Nigeria? Make sure they don't bring Ebola with them.'
"I remember laughing but in a very nervous way. I went back to my room and I was really upset. It might have been easier to take if it was about me alone. Lots of things had been said about me over those two years but this was about my family. I called my mum and she was absolutely disgusted."
It's understood that Sampson has denied making the alleged remark, and according to the FA is not planning to comment at this time.
The FA was informed of the incident in a letter from the PFA in November 2016, which described the internal inquiry as 'not a genuine search of the truth' and 'a sham which was designed to establish the truth but intended to protect Mark Sampson'.
The governing body have confirmed that they received the letter, but says it was not a formal allegation — hence the lack of investigation.
Subscribe to The42 podcasts here: