FÁILTE. BIENVENUE. WILLKOMMEN.
It is with mild trepidation that I have agreed to contribute a weekly summer sports column to The42. To explain that trepidation: I am a professional writer, but only a recreational sports fan. My knowledge of sport is broad and reasonably deep, but in some areas also admittedly patchy.
For example, I know a great deal about soccer but zilch about golf. I can hold my own on the subject of tennis, whereas you could tell me the final score of a cricket match and I would still not know who had won. I can analyse darts or snooker with the best of them, but only when I happen to be stoned. (Which, unfortunately, I have not been since about 2003.)
That's not to say I'm merely an armchair sports fan. I was in Castlebar for Mayo v Galway two weekends ago and in the RDS for Leinster v Munster this Saturday just past. In fact, those two fixtures neatly illustrate the polar extremes of my sporting knowledge.
My knowledge of Mayo's Gaelic football team is encyclopedic. In excruciating detail, I can retrace every mishap, misstep and piece of rotten luck that has prolonged Mayo's All-Ireland purgatory in the decades I've been following the team. As Bob Dylan might have said of this burden, I can remember every face of every man, monkey and visually impaired bollocks of a linesman who put me here.
But Tom Parsons' horrific injury aside, that narrow defeat to Galway was, for me, just par for the course at this early stage in the championship. Yes, our shooting was atrocious. Yes, we were overly reliant on old stalwarts in the absence of new blood. Yes, Joe Brolly went on television and wrote his obituary for this current generation of Mayo footballers, while broadly decrying the appalling standards he sees in Connacht football more generally.
But unless you've been living in the same cave as John Waters, you'll surely have noticed that this happens every year. And Mayo keep coming back to defy their critics. The last time Mayo's Championship form peaked in Connacht was all the way back in 2013. That year, we blazed a trail of destruction through the province not seen since the likes of Cromwell or the Black and Tans.
Cathal Noonan / INPHO Cathal Noonan / INPHO / INPHO
The whole country was talking up our chances. Joe Brolly even called us 'All-Ireland champions elect.' And what did that get us? Cillian O'Connor doing TV ads and Aidan O'Shea double-marked when he went to the bathroom at half-time. Since then, we've preferred to fly under the radar, hitting our stride only in August before peaking in early September. The Joe Brollys of this world may write us off. But I remain convinced this current side still has one big, narrow, All-Ireland losing performance left in us, so help me God.
One side note from that sunny afternoon in MacHale Park, during the inordinately long interlude between the end of the junior game and the beginning of the senior fixture, I overheard a group of children in the row behind me discussing which player's performance they were most looking forward to in the main game. Galway hot-shot Damien Comer was the near unanimous choice.
Nothing unusual about that, given Comer's league form this spring. But when I turned around I was surprised to find these kids were all wearing Mayo jerseys. An ominous portend of our own side's waning star power? Maybe. But as it happened Galway's young superstar elect was marked that afternoon by Mayo fullback Chris Barrett. Less heralded, sometimes caught for pace and the wrong side of 30, the Belmullet man nonetheless kept Comer in his pocket all afternoon.
I took great comfort from that. At the end of every hard day, Mayo supporters always find some reason to believe.
Rugby, as I said, is on the opposite end of the knowledge spectrum for me. I don't know the players' names. I don't fully understand the rules. (Although neither, I suspect, do many die-hard rugby supporters.) And I don't get why a national side who've never gotten past the World Cup quarter-finals in a sport scarcely eight countries play is held in such awe and reverence by the Irish media.
This is a bugbear of mine. When the Irish rugby team defeated New Zealand in a test match a couple of years back, there were pull-out supplements printed and documentaries aired in their honour. But when our soccer team defeated World Cup champions Germany in a competitive fixture a year earlier, that side didn't receive a fraction of the acclaim, despite the exponentially greater nature of the accomplishment.
There does seem to be a fair bit of elitism and snobbery that works to rugby's advantage in the media. But I was at the RDS as the guest of a Leinster-supporting friend of mine. So I resolved to focus on the positive. For instance, they serve alcohol at rugby games. That definitely went down well with me.
A loud ovation welcomed the home side to the field. "Champions of Europe", shouted a man next to me. Now in more cynical form, I might reflect that calling Leinster rugby the champions of Europe is like calling Galway the reigning hurling champions of the Milky Way. Technically, it's true. But it's a tad misleading. Fortunately, I had a few pints down me at this point. Figuring "When in Rome…" I stood up and joined in the acclaim: All hail Leo Cullen's Celtic warriors! From the Caucasus to the Azores, and from Gibraltar to the Arctic circle, all of Europe trembles in their wake!
Exclusive Six
Nations Analysis
Get Murray Kinsella's exclusive analysis of Ireland's Six Nations campaign this spring
Become a Member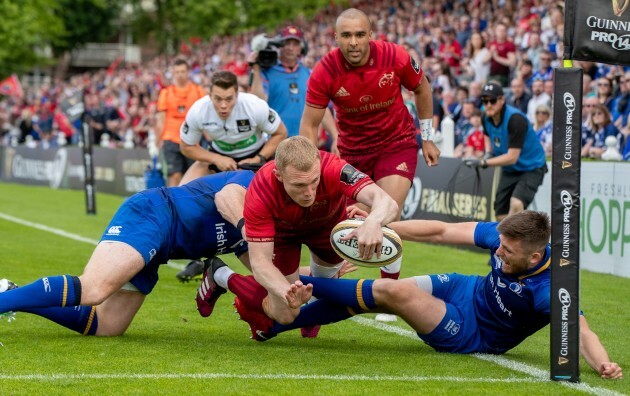 Morgan Treacy / INPHO Leinster v Munster: "Moderately entertaining". Morgan Treacy / INPHO / INPHO
The game that followed was moderately entertaining. Even when I didn't quite follow what was happening on the pitch, I certainly enjoyed the stadium announcements. The guy back in MacHale Park who announces scorers and substitutions does so gravely, like he's reading the death notices on Mid-West Radio. ("A substitution has occurred… Family flowers only.")
His counterpart in the RDS injects a lot more razzmatazz into the role. He was like a bingo caller who was always astonished by own announcements. "No. 10… JJ Hanrahan will be replaced by… wait, what's this… IAN KEATLEY!?" So props to that guy.
The final scoreline, a single-point victory for Leinster probably flattered Munster a little. Leinster seemed to have much greater strength in depth and, though my Leinster-supporting friend was on the edge of his seat, I never thought the result was in much doubt. "When's the final?" I asked, as we made our way back toward the bar afterwards.
"Next weekend," he replied. "Then that's it unfortunately. No more rugby for the summer."
Then put your wallet away, I told him. It's my round… and I'll certainly drink to that!
The42 is on Instagram! Tap the button below on your phone to follow us!