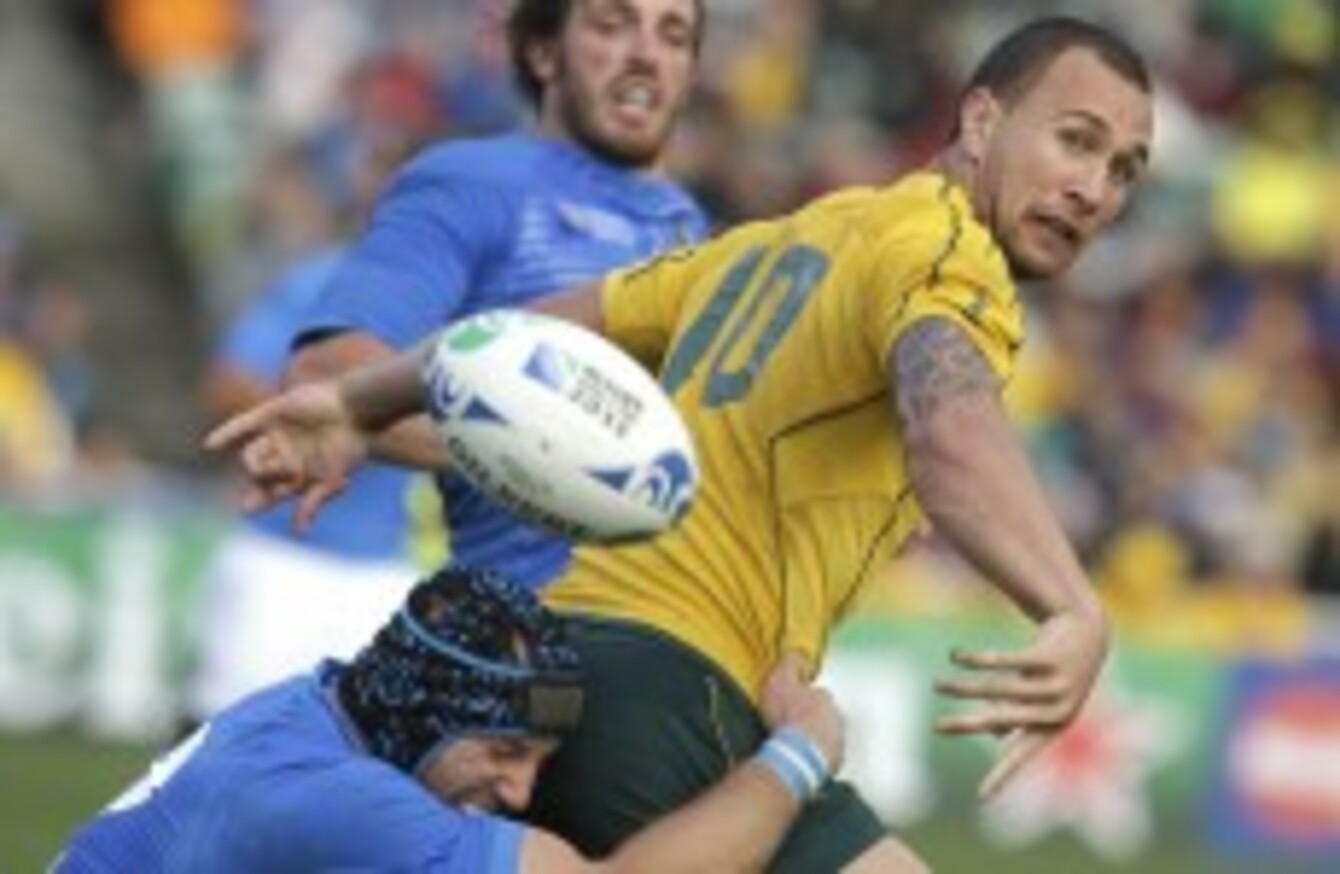 Cooper in action against Italy last weekend.
Image: Rob Griffith/AP/Press Association Images
Cooper in action against Italy last weekend.
Image: Rob Griffith/AP/Press Association Images
DON'T BE FOOLED into thinking that Australia are a one-man team. Far from it.
But in Queensland Reds out-half Quade Cooper, there is no denying that the Wallabies have a definite talent.
Just 23-years-old, Cooper has already been touted in some quarters as one of the great talents of his generation, while others see his unpredictability as a liability rather than an asset.
With Cooper, for every outrageous cross-kick or side-step, there is an equally outrageous knee to Richie McCaw's face.
So what can we expect on Saturday? Here's what the Irish camp — and some other talking heads — have had to say about Cooper.
Quade Cooper is one of the outstanding backs in the world this year.
He mixes from the superlative to the very, very ordinary. There's no doubt that he's an unbelievable talent and that he can do outrageous things, but at the end of the day, it's about winning test matches.

He's dangerous, but I think sometimes these players can be got at too. There's no denying that he's a very, very good player, but we can all be got at in our own different ways, I don't think he's any different.
– Ronan O'Gara
Top quality. He's a match winner.
– Denis Leamy
He's got exceptional skill levels, he's got fantastic vision and obviously very, very good pace. A very, very good player, world class and a very difficult player to handle.

Right across the board, the Australian back line [have] got so much potency in what they can do. So we won't be concentrating on any one particular player.
He reminds me of when I used to play with Carlos Spencer. He used to have all the same tricks up his sleeve, he did all those flashy things, but it doesn't mean it's going to win you test matches.

There are risk-and-reward situations. Sometimes it's about making sure that you keep your composure in a tight test match. If you're ten points up, you can close the door with one bit of brilliance but at the same time, you can let a team back in.

He's the kind of guy who might throw the long pass or throw the Hail Mary that you don't need to.
– Zinzan Brooke
A boofhead.
– Nick Farr-Jones