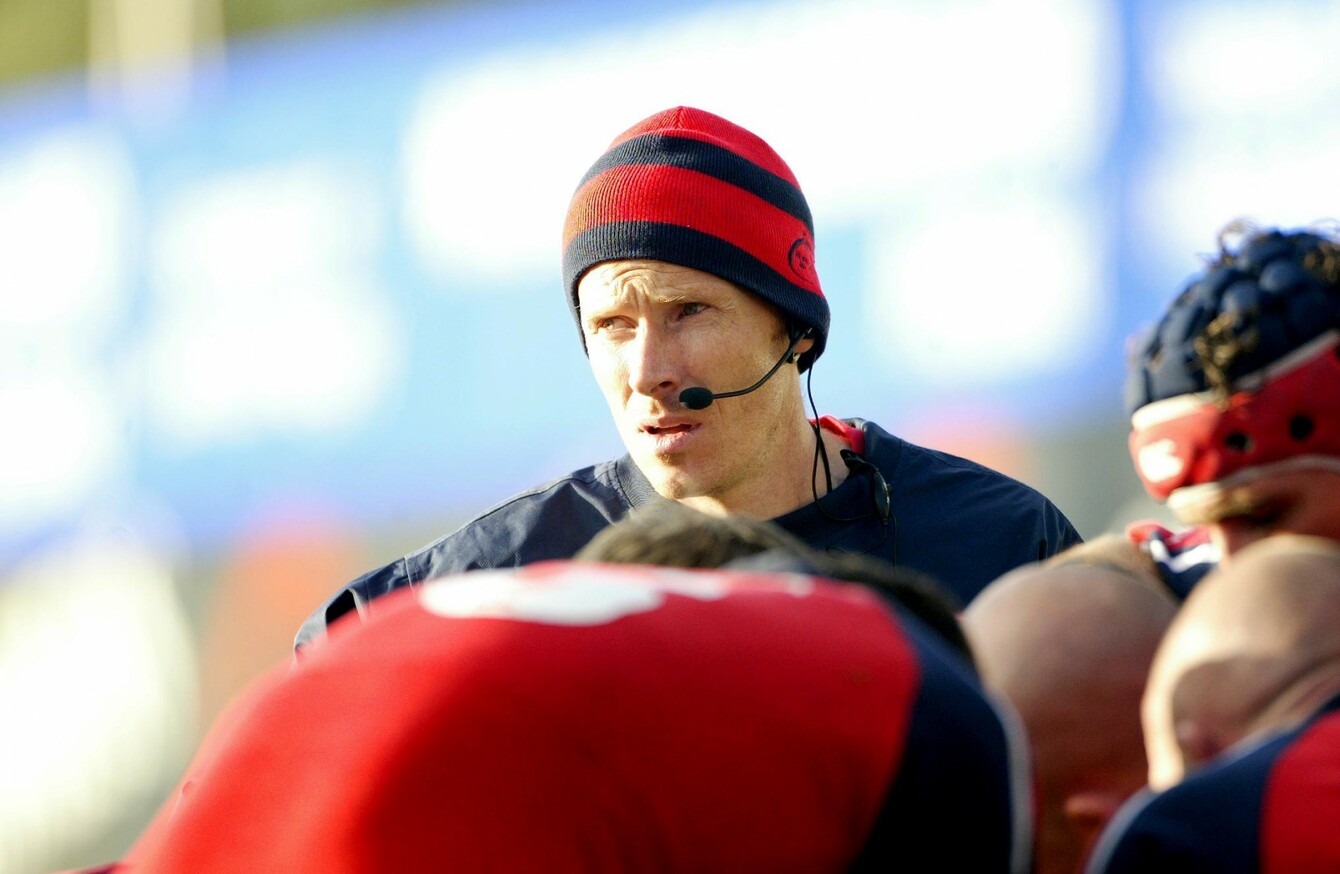 O'Callaghan has been with Munster for 17 years.
Image: ©INPHO
O'Callaghan has been with Munster for 17 years.
Image: ©INPHO
PART OF MUNSTER'S back room staff for over a decade, Fergal O'Callaghan is used to preparing the province's players for physical battles but now he's readying himself for the most gruelling of challenges.
O'Callaghan is using all his 17 years of experience to prepare for what's described as 'the toughest foot race on earth.'
On 8 April next year, Munster's academy and age grade coach, along with three friends, will line-up on the start line of the Marathon des Sables. It will be the beginning of the most exacting of physical and mental challenges.
Six consecutive days of running through the Sahara Desert is an exhausting task in itself but competitors are forced to carry their own clothes and food for the duration of the 251 kilometres.
"Before I joined Munster, I was an international rower," he explains to The42. "When I stopped rowing, I looked for something to do. I'm not a very good exerciser, I like to compete.
"I have to push myself through the pain barrier but not take it too seriously. Now that might sound a bit ridiculous when I'm preparing for something of this scale but we're not going over to win – it's purely to compete.
"A friend of mine approached me for a challenge and he wasn't sure what to do. He's climbed Mount Everest and was looking for something else. Sitting over coffee one day, we discussed it, looked into it and that's how it came about."
Now the age grade fitness coach at Thomond Park, O'Callaghan's previous role with the senior squad saw him work with some of Ireland's finest player of the modern era and his work off the pitch has been central to Munster's success.
While his weekdays are consumed with educating and enlightening the next generation of rugby players, any spare time is dedicated to building up the miles.
O'Callaghan has embarked on an intense training plan for the last three months and will spend the Christmas period focusing on attuning his body to the type of conditions he'll encounter in the desert.
It will be the 31st staging of this brutal event as 1,200 runners look to join an elite group to have safely negotiated the course and crossed the finish line.
Organisers don't disclose the routes until the race actual starts, if the challenge wasn't tough enough already.
Be part
of the team
Access exclusive podcasts, interviews and analysis with a monthly or annual membership.
Become a Member
The first and second stages are 30km runs, the third a marathon, the fourth a double-marathon and if you manage to complete those in the allocated time, you're afford the luxury of a day off. If not, you're back on the trail on the fifth day.
Each year, a local runner will cross the line first in a time of 24-25 hours. They are accustomed to the overhead and under-foot conditions and simply blow the rest of the field away.
For O'Callaghan, time isn't an issue. The aim is to complete the race, stay safe and raise money for charity.
"The training at the moment is just focusing on running," he continues. "Get used to running long distances in consecutive days and not feel sore after.
"Started off with easy stuff, one-two hour sessions on the bike and also in the gym which is to prevent injury and build up core strength.
"The weekends are dedicated to building up the miles, 30km on Saturday, 30km on Sunday. Over Christmas we'll run an ultramarathon and just generally get used to the heat.
"I'm a fair Irish lad so it will be a big thing. There is a bikram yoga studio in Limerick so we'll be approaching the owner to see if he can help us. Training in 40 degrees would help massively."
Not only will it require O'Callaghan to expend every last sinew of energy and strength but an event of this intensity requires a strategy. They need to plan what food they will bring, what to eat when and how they will go about pacing themselves.
To get an idea of what lies ahead, he'll only need to look at the documentary produced by former Olympic rower James Cracknell. The Briton took part in the foot race in the unforgiving desert in 2012.
But O'Callaghan, who has completed two Ironman races, is under no illusions of the task ahead.
"If we're going to put all this effort in, we need to make sure we perform to our best," he says. "It's €6,000 to enter this so the last thing we want is to get injured and that comes from doing silly things like over-training and no resting.
"We have to be sensible – we're not going to win this. We're going out there to give a good account of ourselves and cross that finish line in one piece."