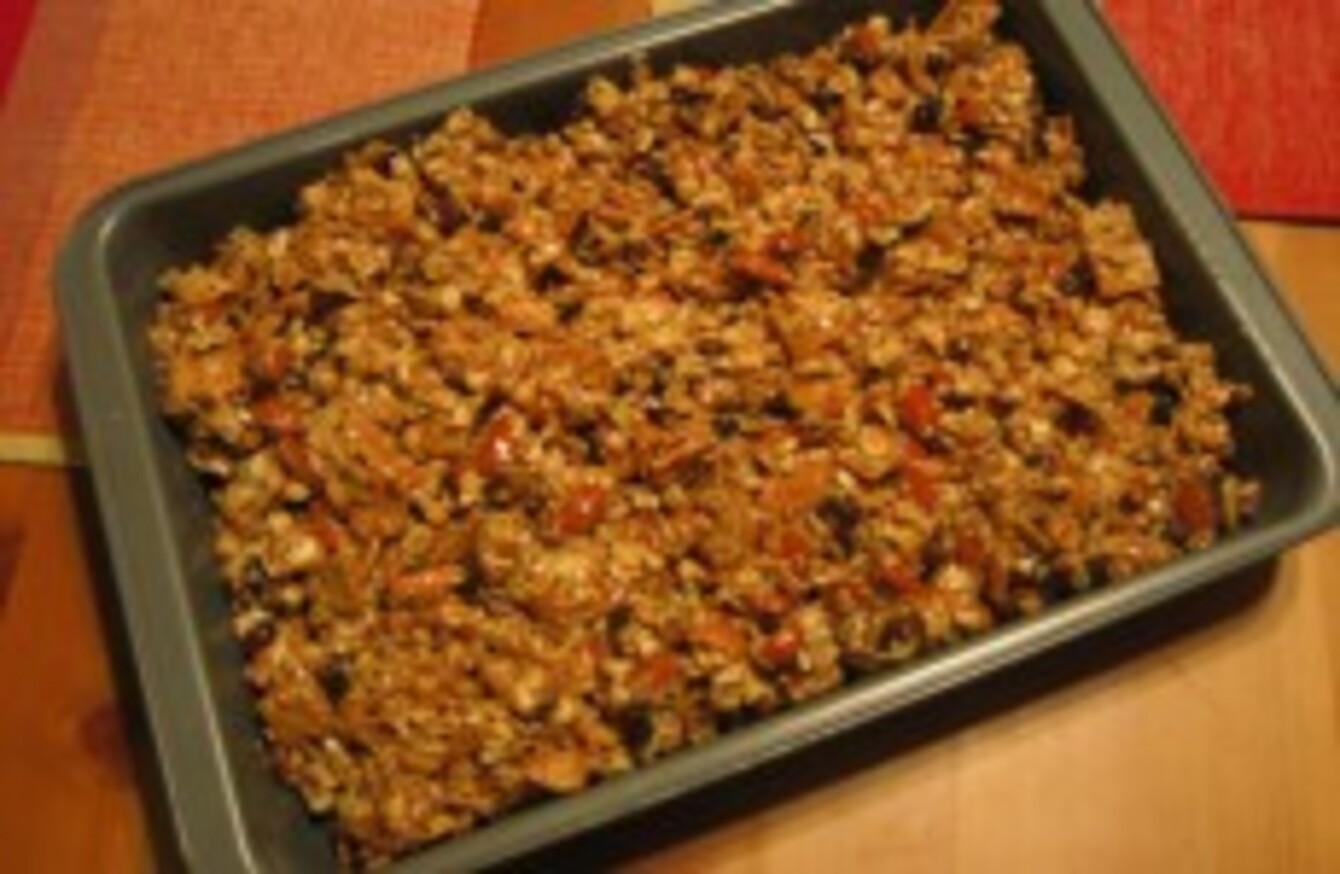 Ingredients 
Sunflower oil – 120ml/3/4 cup
Soft dark brown sugar – 200g/1 cup
Golden syrup – 2 tbsp
Peanut butter – 1 tbsp
Vanilla extract – 1/2 tsp
Oats – 225g 2/3 cup
Sesame seeds – 25g / 2 tbsp
Sunflower seeds – 25g / 2 tbsp
Flaked almonds – 50g / 1/2 cup
Sultanas – 50g / 1/2 cup
Chopped dates – 50g / 1/2 cup
THIS IS ONE of the easiest, cheapest and tastiest homemade energy bars you can make – but a warning; they are highly addictive, which means you'll probably be shamed into doing exercise afterwards.
Okay, there are over 10 ingredients required to bake these beauties but we're spoiling ourselves, because well, we like spoiling ourselves here. There are some ingredients you don't need – like the sesame and sunflower seeds – but there are those items you cannot do without, like oats and sugar, of course.
These bars are perfect for any occasion; a long train or bus ride home, before, during or after exercise or merely as a very filling morning or afternoon snack.
What's even more great about these bars is they will not melt or disintegrate in your bag and will stay 'good' long after they've come out of the oven. These actual bars are the preserve of some of the top cyclists in the professional peloton while marathon runners also swear by their energy-providing contents. So grab the baking gloves and follow these steps….
Step one
You have to make the mixture to make it all bind, so into a pan over a low heat, add the sunflower oil, soft dark brown sugar, golden syrup, peanut butter and vanilla extract until it is all mixed together.
Sunflower oil is cheap but everyone has their own preference, be it coconut or sesame oil. Olive oil is good too. The golden syrup is terribly bad for you but it sticks the bars together better than anything edible.
You then add the piece de resistance - peanut butter, which stops the energy bars being too sweet and is also a good source of protein, required for growth and repair of muscle cells.
Then add in half a teaspoon of vanilla extract and you have your base.
Step two
This is the really fun part. Add in sultanas (cheap and a great energy provider) flaked almonds (for protein), add in some dates — be sure and take the seed out of the middle — and finally the seeds. Then you add the oats, a little at a time, careful not to add in too much (or eat any!).
Step three
Grab a baking tin, lined with baking parchment to get the bars out easier. Slowly pour the mixture into the tin and really pack it down with a metal fork or spatula to compact it or else they'll disintegrate. Throw them in the oven at 180 degrees for 10-15 minutes but always keep a close eye. You want it golden brown on top; if it's under-done they'll all fall apart, overdone they'll be hard as stones.
Step five
Remove from the oven, slice them straight away, make them as big or as small as you like and wrap them in tin foil.