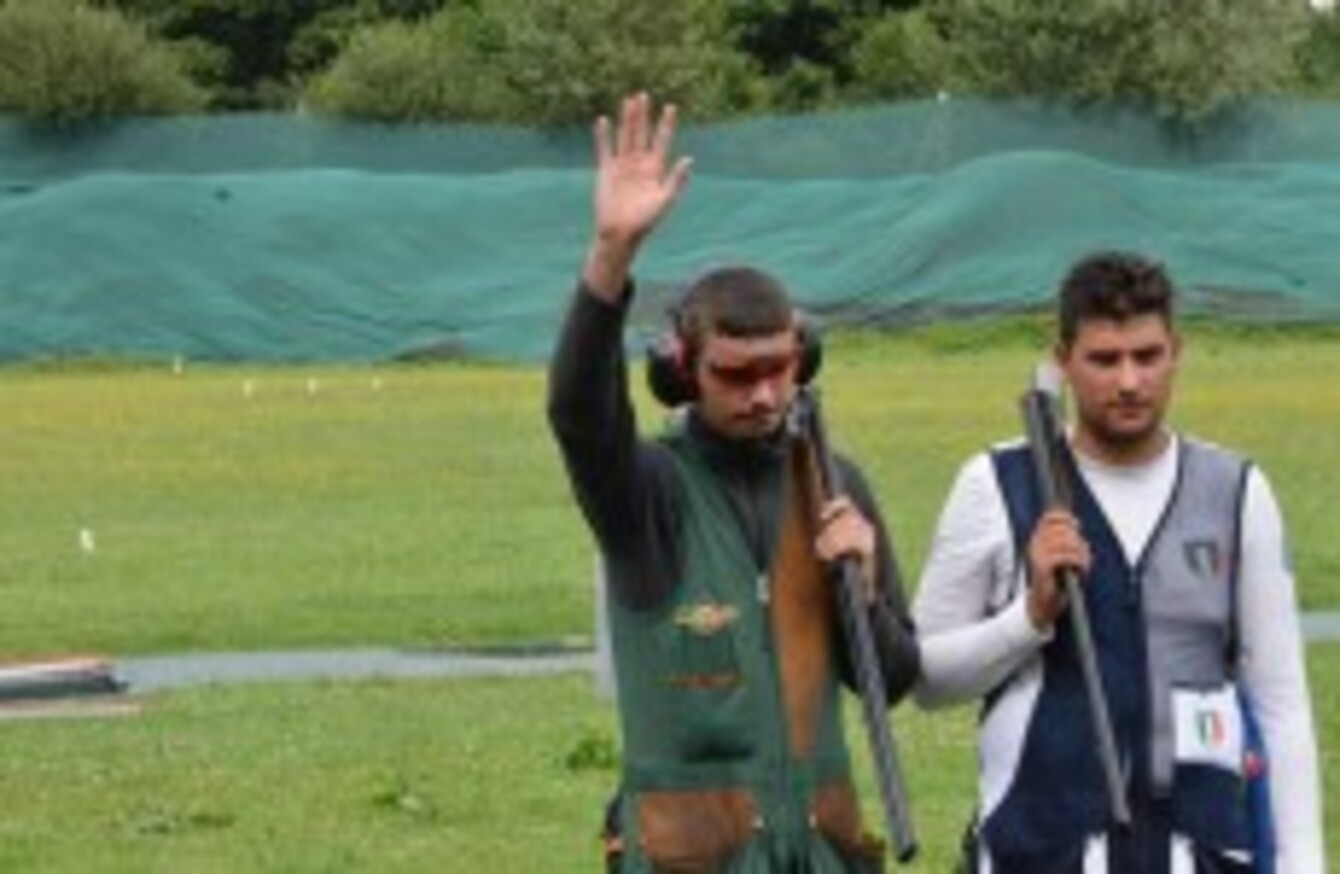 Ian O'Sullivan celebrates his medal.
Image: Ian O'Sullivan
Ian O'Sullivan celebrates his medal.
Image: Ian O'Sullivan
LIMERICK MAN IAN O'Sullivan enhanced his growing reputation as one of the country's best clay pigeon shooters last week when he claimed a bronze medal at the European shooting championships in Maribor, Slovenia.
The 19 year-old from Rathkeale belongs to three generations of competitive shooters, with his father Brian having represented Ireland for many years and being the man responsible for getting his son into the sport.
Ian, a third-year Business and Sports Management student in LIT, looks the real deal himself and, in last week's qualification round, he hit a staggering 122 of the 125 targets over the two days.
To give you an idea of how hard these targets are to hit, just imagine trying to hit a disc measuring 3.8cm by 10cm, moving at 100kph, with no idea of what submerged bunker, or trap (left, right, or centre) it will come out of.
And to make it even more difficult, the trajectory the disc is flung varies widely and it will only travel 76 metres – so to give yourself a chance of hitting it you'd better react quick.
Ian was competing in the U19 category after declining an offer to represent the senior national team.
However, had he opted for the latter he would have made the final too, such was his incredible accuracy where he shot the joint highest score.
The best six in the U19 category made it through to the final on the second day where the competition started all over again, and for Ian, it was the ultimate seat-of-the-pants experience.
"Once you get into the final everyone starts from scratch again," he told The42.
"But had they awarded medals based purely on qualification score I'd have gotten the gold as I was actually three ahead of the Slovakian who won… but they've a new system now."
That six-man play-off saw O'Sullivan tie for a place in the bronze medal match with Englishman Nathan Hayles.
"It came down to a single-barrel play-off, three clays and I won that so I was against an Italian then for the bronze medal."
Be part
of the team
Access exclusive podcasts, interviews and analysis with a monthly or annual membership.
Become a Member
He shot 14 out of 15 targets and claimed yet another medal at a major championships but this one, he argues, is as significant as the gold he won at the World Juniors in Spain last year.
"The thing about this event is it's an Olympic one and that's the goal for me, if not next year then definitely in 2020," he outlined.
It's an incredible psychological test, says O'Sullivan, "not like running where the fastest guy wins".
"Psychologically it's draining; it's not just a case of putting up the gun and shooting, you have a programme for every shot. The psychology of it is very big.
"In running, there are only so many guys who can run so fast but shooting, not always the best guys win, it's more psychological.
"The speed the clays travel at is unreal; you 'call' it and the clay can come from 15 bunkers, so you really have to react quickly, nevermind take into account the weather."
O'Sullivan won the Irish Open back in May, beating seasoned senior competitors and will travel to the World Championships in Italy in September.
After that there's a series of Olympic qualifiers but there's uncertainty around whether he'll be going there.
Funding is an issue, as it usually is for minority sports, but O'Sullivan is not getting too bothered when talk turns to Rio next year.
"Qualification isn't over for that yet; there's still World Cups and the possibility of wild card entries but I'm more looking down the line towards 2020.
"We'll take it as it comes. That would be the big aim."