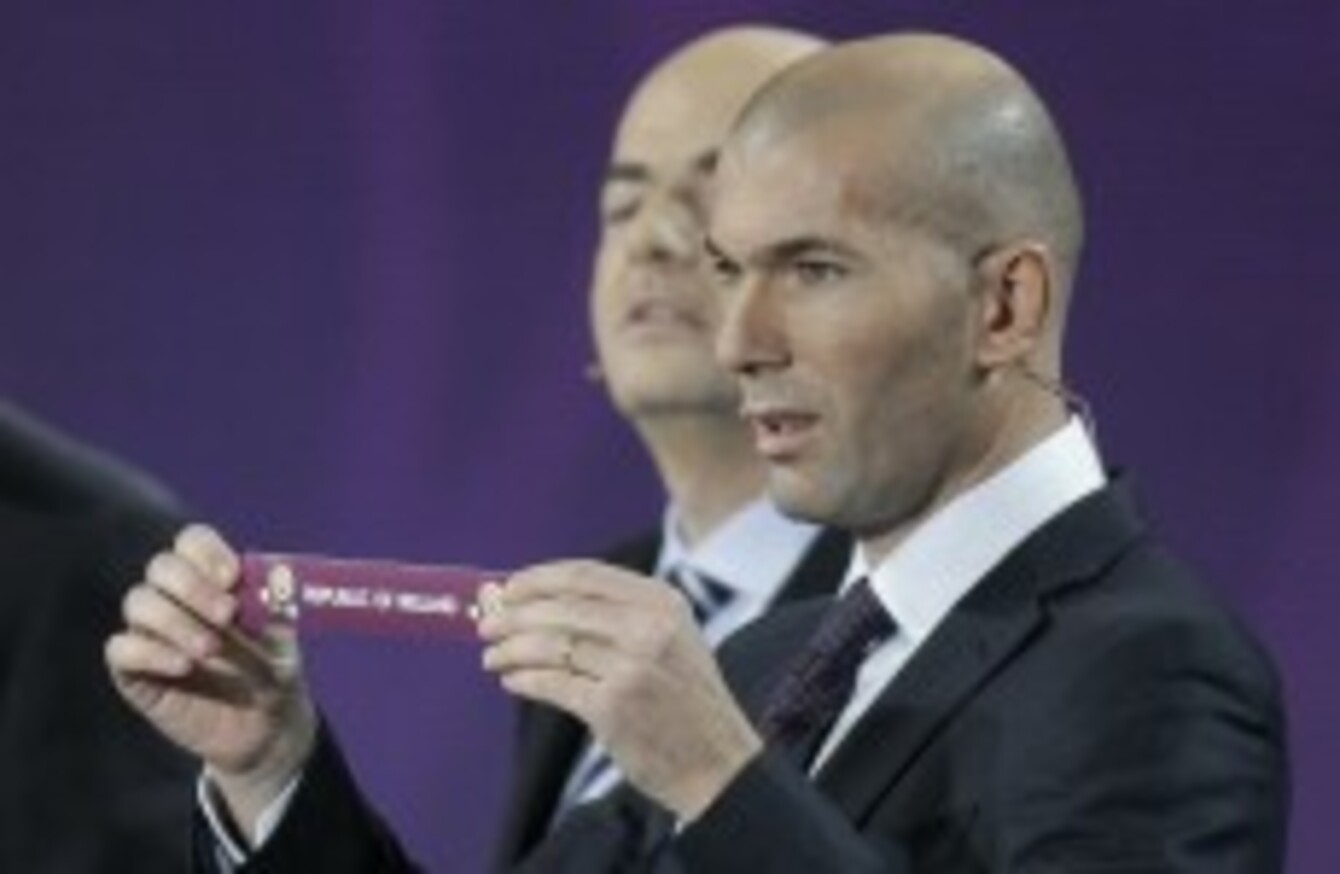 Zinedine Zidane pulls Ireland out of the draw for Euro 2012.
Image: Efrem Lukatsky/AP/Press Association Images
Zinedine Zidane pulls Ireland out of the draw for Euro 2012.
Image: Efrem Lukatsky/AP/Press Association Images
NOW THE DUST is beginning to settle on Ireland's unsuccessful bid for a place at the World Cup finals in Brazil next year, it is time we looked to the future.
With a new manager yet to be named and rumoured friendlies for next month still not pencilled in, there currently remains a degree of uncertainty around the senior team.
One thing that is certain, however, is that the country's next chance to qualify for a sixth major tournament will be hugely dependent on events in Nice on 23 February — when the draw for the Euro 2016 qualifying campaign takes place.
Held in ten venues around France, the upcoming European Championships will be a 24-team tournament for the first time. That will come as good news to several countries including our own as it means there will be eight extra places up for grabs.
Before we go any further, let's make it clear that UEFA has yet to confirm how they will break up the 54 member nations currently participating within the association so none of this is 100% certain. However, it is believed that the qualifying rounds are likely to be made up of eight groups of six teams and one with five as the hosts will earn automatic qualification.
Ireland may be ranked 59th in the FIFA rankings (their lowest position since it was set up 20 years ago)  but how the pots are seeded will be instead based on UEFA coefficient. This is determined by a nation's performance in the last three qualifying campaigns.
Heading into last night's round of fixtures, Ireland sat in 21st position in the UEFA rankings but defeats to Slovenia and Turkey (against Switzerland and the Netherlands respectively) saw the Boys in Green move into 19th.
Credit: World-results.net
At the moment, that should be enough to bag Ireland a place as second seeds alongside the likes of Belgium, the Czech Republic and Switzerland. With the play-offs still to come, however, there could yet be further developments.
For instance, Romania are one of the four unseeded teams who have made it into the two-legged play-offs along with Sweden, France and Iceland. They would need to win both of their games against one of Portugal, Greece, Croatia or Ukraine to leapfrog Ireland.
In short, we are relying on a couple of things to go our way but do stand a strong chance of making that coveted Pot 2 when the draw is made in four months.