THE SUN IS shining, the stage is set, and Ireland are hoping to finish their 2021 Six Nations Championship on a high on home soil.
In different circumstances, this one could easily be written off as a damp squib or dead rubber of sorts, but there's a lot on the line in this third/fourth place playoff.
After a week where on-field matters were far from centre stage, Adam Griggs' side are hoping to shine the spotlight on themselves in a positive manner once again, eyeing a big performance against the Italians to make it two wins from three, and seal a third-place finish to consider this tournament a success.
Kick-off in Donnybrook is 12pm, with the action live on RTÉ 2. Stay with us for all the build-up and action.
Here's the teams for this afternoon. Three changes for Ireland after last weeks heavy defeat to France — we'll delve deeper into them in the next update.
Ireland
15. Eimear Considine
14. Amee-Leigh Murphy Crowe
13. Eve Higgins
12. Sene Naoupu
11. Beibhinn Parsons
10. Stacey Flood
9. Kathryn Dane
1. Lindsay Peat
2. Cliodhna Moloney
3. Linda Djougang
4. Aoife McDermott
5. Nichola Fryday
6. Dorothy Wall
7. Brittany Hogan
8. Ciara Griffin (captain)
Replacements:
16. Neve Jones
17. Laura Feely
18. Leah Lyons
19. Grace Moore
20. Hannah O'Connor
21. Emily Lane
22. Hannah Tyrrell
23. Enya Breen
Italy
15. Vittoria Ostuni Minuzzi
14. Manuela Furlan
13. Michela Sillari
12. Beatrice Rigoni
11. Maria Magatti
10. Veronica Madia
9. Sara Barratin
1. Erika Skofca
2. Melissa Bettoni
3. Lucia Gai
4. Valeria Fedrighi
5. Giordana Duca
6. Ilaria Arrighetti
7. Francesca Sgorbini
8. Elisa Giordano.
Replacements:
16. Lucia Cammarano
17. Gaia Maris
18. Michela Merlo
19. Sarah Tounesi
20. Isabella Locatelli
21. Beatrice Veronese
22. Sofia Stefan
23. Aura Muzzo.
Stacey Flood, Amee-Leigh Murphy Crowe, and Brittany Hogan are all in for their first Test starts. The former pair are Sevens internationals, who have both recently made their 15s debuts off the bench.
Flood takes the 10 shirt from Hannah Tyrrell, with the former Dublin ladies footballer — Player of the Match against Wales on opening weekend — dropping to the bench, while flier Murphy Crowe starts on the wing.
Hogan, meanwhile, lines out at openside flanker. Former captain Claire Molloy, who started against Wales and France, is absent from the matchday 23.
Railway Union back row Grace Moore is in line to win her first cap from the bench, with Leah Lyons returning among the replacements.
Here's a few Italian players Niamh Briggs has singled out ahead of the showdown, with The42's Ciaran Kennedy also providing in-depth analysis of the opposition below.
Sarah Bartane, their nine, has 100 caps. Manuela Furlan, (Vittoria Ostuni) Minuzzi, (Beatrice) Rigoni scored two tries last weekend – they have weapons everywhere.

I actually love watching Italy play and love playing against them because you never knew what you were going to get and I don't think they know what they're going to get in terms of how they play the game.

I think it would be a brilliant win for Ireland if they could cross the line with a good victory.
We've had plenty of coverage of all things Ireland Women this week, from podcasts to news stories and features, all you have to do is have a scroll through the rugby vertical to catch up.
But here's some essential pre-match reading from Sinéad Farrell, who's at Energia Park for us:
Some interesting conversations on the RTÉ panel, with Fiona Steed and Niamh Briggs both in flying form.
It's anthem time…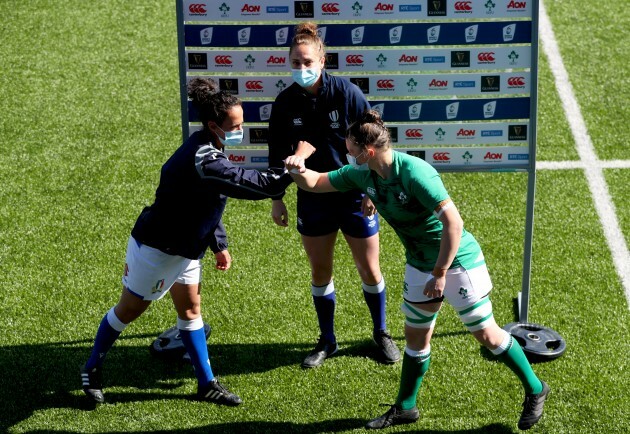 Ryan Byrne / INPHO Ryan Byrne / INPHO / INPHO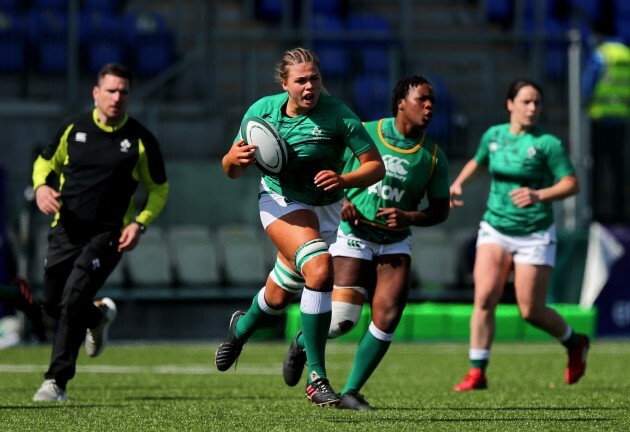 Ryan Byrne / INPHO Ryan Byrne / INPHO / INPHO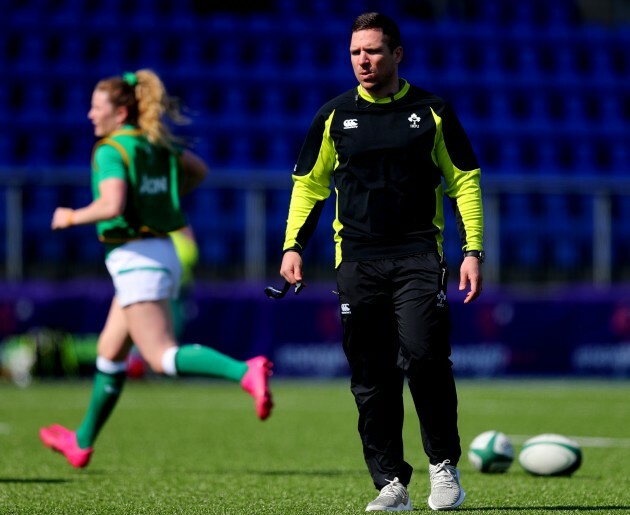 Ryan Byrne / INPHO Ryan Byrne / INPHO / INPHO
A quick reminder of the last times the side met ahead of this one, which was originally due to be played in Parma: In October, Ireland recorded a 21-7 win in Donnybrook, after tries from Lindsay Peat and the absent Claire Molloy, and a penalty try.
They've gone toe-to-toe so many times through the years, and battle it out to establish themselves as "the best of the rest" today.
While Ireland come into this one after a huge 45-0 win over Wales in Cardiff, and a 41-point defeat to semi-professional France, Italy bounced back from a hammering to all-conquering England with a 41-20 win over Scotland in Glasgow last weekend.
KICK-OFF: Italy get us underway at Donnybrook. Sarah Cox of the RFU is calling the shots in the middle.
2 mins - Scrappy from the visitors early on. Ireland win their first penalty after an offside, and some good work from Lindsay Peat. Flood finds touch, a big day for her.
6 mins - A promising period of play for Ireland, edging closer and closer to the line, driving together off the back of a Clíodhna Moloney line-out. Looking dangerous, they're almost in on several occasions, and mess up another line-out.
But Italy escape — and do so in style, on the overlap rushing up the field. A let-off.
Ireland 5-0 Italy
TRY for Ireland! Dorothy Wall (9 mins)
A superb decision from Stacey Flood to quick tap, and Dorothy Wall crashes over in the corner with a powerful finish. The sustained pressure has certainly paid off, the rewards reaped after a dominant opening few minutes.
Flood fails to add the extras, but Ireland are in the driving seat here.
Ireland 5-0 Italy
13 mins – Italy are trying to bounce back here, everything going through the ever-impressive Sara Barratin, who Wall barged through for the try.
Skipper Ciara Griffin is heading for a HIA after taking a heavy knock, Hannah O'Connor comes in.
Ireland 5-0 Italy
15 mins – Some nice play from Ireland, looking to go wide and spread the ball across the pitch but everything breaks down after Linda Djougang's pass to Beibhinn Parsons goes awry and over the line. Messy in the end, they'll be disappointed with that.
Ireland 5-0 Italy
17 mins - Italy have been foraying into the Irish half more and more, following more silly mistakes from the hosts, frustration written all over Wall's face with passing really letting them down at times. We have a scrum around the middle.
Ireland 5-0 Italy
20 mins - Not looking good for Sene Naoupu here after a high tackle, she could be in hot water. Cox is watching it back over and over.
Ireland 5-0 Italy
21 mins - YELLOW CARD for Naoupu. She gets 10 minutes in the bin, and very easily could have been red. She had taken the captain's armband after Griffin's exit.
Ireland 5-0 Italy
24 mins - Truth be told, this has been a messy enough game so far as both sides try to settle in. The unforced errors have been plentiful from both, too, so many penalties being given away.
Griffin won't return after failing the HIA, meaning Hannah O'Connor stays on the pitch.
Ireland 8-0 Italy
27 mins – Eve Higgins and Stacey Flood combine to force a turnover, and the latter takes her chance to kick at the posts. She drills it with her left foot, and adds points to the board for 14-woman Ireland after a lovely kick.
Ireland 8-0 Italy
31 mins – Naoupu comes back in after her time in the bin, surely relieved that her side has pushed on in her absence. Stacey Flood is kicking nicely despite the slight breeze, repaying the faith Griggs showed to start her.
Ireland 8-0 Italy
35 mins – The out-half uses the tap-and-go once again to keep the tempo of the game up, attacking hard and driving towards the line, with some nice carrying from Wall after. But she gives away a penalty, the Irish cavalry not arriving quick enough to support her in the ruck.
Plenty of praise coming in for Flood online…
Only first start at 10 for Stacey Flood but her potential is clear. Like the way she mixes it up. A really exciting prospect.

— Sinéad Kissane (@sineadkissane) April 24, 2021
Ireland 8-0 Italy
40 mins - The clock goes red and Italy look to use this last chance to put points on the board before the break. Parsons and Wall combined nicely down the left side shortly beforehand, but nothing came off it.
More unforced errors littered around as the clock ran down, they must be eradicated in the second half. That said, there was good defence from Italy too. Higgins is penalised for a neck roll at the breakdown, coming because of inability for a seal off the ruck.
Cox calls it a half.
HALF-TIME: Ireland 8-0 Italy
Billy Stickland / INPHO Billy Stickland / INPHO / INPHO
Competition time – It's your last opportunity to win an Ireland women's jersey with thanks to Guinness. See entry details below: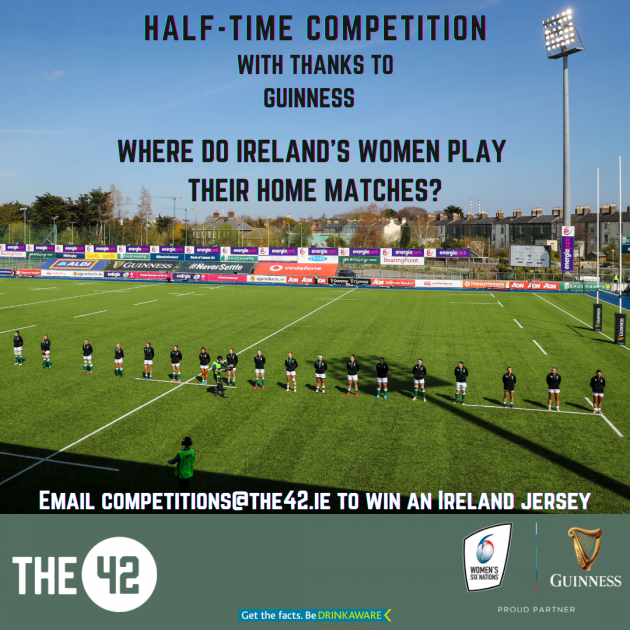 Ireland leading 8-0 at the break. Some really good play in the first half. Stacey Flood having a great game as is Linda Djougang and Dorothy Wall.

— Sinead Farrell (@sinead_farrell7) April 24, 2021
There's definitely positives to take from that half, Ireland showing glimpses of brilliance and bright moments as they hold an 8-0 advantage, having gone down to 14 for a period.
But there have been so many unforced errors and penalties given away, their ruck protection in particular an area of concern. Ireland will surely hope to cut loose and get the job done in the second half in perfect conditions, the Italians looking shaky at times.
Ireland 8-0 Italy
SECOND-HALF: We're back underway.
Ireland 8-0 Italy
42 mins – No changes for either side here. Flood has found touch as Ireland attack the other end.
Ireland 13-0 Italy
TRY for Ireland! Amee-Leigh Murphy Crowe (44 mins)
Excellent from Ireland off Moloney's line-out, Hogan getting things going and Sevens sensation Murphy Crow showing lightening speed and a clean pair of heels to beat two Italy defenders and get over for her first 15s try.
Ireland 15-0 Italy
Flood adds the extras with the conversion this time.
Ireland 15-0 Italy
48 mins - Things are looking up for Ireland here, the Italian defence very poor for that try but Murphy Crowe did very well, weaving in and out before bagging the second of the afternoon.
A high tackle on Eimear Considine shortly after the restart sees Ireland win a penalty out around the middle, Flood finds touch, but the subsequent line-out breaks down.
Ireland 15-0 Italy
49 mins - Italian scrum-half Sara Barratin comes off, the Italian stalwarts departure compounding Ireland's good start. Ireland are finding their feet more and more here, driving on from their superb start to the second half with Beibhinn Parsons showing her speed down the left.
Ireland 20-0 Italy
TRY for Ireland! Clíodhna Moloney (52 mins)
Try number three for Ireland after yet another tap-and-go. Italy really took their eye of the ball there, giving the Wasps hooker plenty of room to crash over. Flood misses the conversion.
Ireland 20-0 Italy
54 mins - Moloney's try came after a hectic period in which the TMO was called into play once again, the question whether Italy had a deliberate knock-on as Ireland tried to spin the ball out wide. Cox decided against a yellow card, though.
Ireland 20-0 Italy
59 mins – The stop-start, scrappy nature of this game is tough for all involved, neither side gathering much momentum due to unforced errors — particularly knock-ons under zero pressure. Italy have strung a few phases together of late, hoping to get themselves on the scoreboard.
Hannah Tyrrell comes in for Beibhinn Parsons, taking her position on the wing having played 10 more recently.
Ireland 20-0 Italy
62 mins - Italy enter the Irish 22 for the first time in the game off the back of another solid scrum. Another unforced error stops them in their tracks, though, frustration all over their faces.
Ireland 20-0 Italy
64 mins - Azzuri joy after another really dominant scrum and they opt to go for touch. Off the back of the line-out, they win another penalty — and go for the 5-metre scrum, as expected, going in search of their first points.
A raft of replacements in for Ireland, we'll have them in the next update…
Ireland 20-0 Italy
65 mins - Italy thought Melissa Bettoni was over for their first try, Cox's on-field decision is it's held up — and the TMO confirms just that, with Leah Lyons, one of the replacements, keeping them out after good work from Murphy Crowe.
Ireland 20-0 Italy
66 mins – Ireland work hard and eventually get a chance to clear, Considine finding touch just outside the 22 after a strong carry from O'Connor off the back of the scrum.
A delayed note on all the recent Ireland replacements — an entire new front row of Neve Jones, Laura Feely and Lyons are in. Grace Moore has also come on for her Ireland debut, with Emily Lane also off the bench,
Ireland 20-5 Italy
TRY for Italy! (Melissa Bettoni, 69 mins)
After a period of sustained pressure and pick-and-gos, Italy finally get some points on the board after Melissa Bettoni powers over. A just reward after a purple patch, but no extras from the conversion with 10 minutes or so to go.
Ireland 20-5 Ireland
73 mins - Italy look to push on down the home straight, but are shooting themselves in the foot and failing to gather any momentum. Unforced error after unforced error. Ireland holding firm, all the same, Considine with another good clearance.
Ireland 20-5 Italy
76 mins - Enya Breen is in for Hannah O'Connor, Italy have also brought in fresh legs. Shortly after her first touch, Solari is penalised for a wrap-around tackle. Flood finds touch and Ireland set up a dummy maul off the line-out, Wall powering on, but it all breaks down after a knock-on from Flood.
That said, she's named Player of the Match by Fiona Coughlan on RTÉ after a really promising first 15s start at 10.
Ireland 20-5 Italy
79 mins - Some more unforced errors from both ends as the clock runs down, a knock-on stopping Ireland in their tracks as they look to cut loose and bag a fourth try. But they'll be happy enough with three, finishing on a high.
Considine looks to be in trouble on the ground. A sorry sight towards the end of the game.
Ireland 20-5 Italy
79 mins - Considine is back on her feet, assisted by the medical team. Blood coming from the nose, possibly broken. She's clapped off by her team-mates, looks to be heading for a HIA. 30 seconds to go, and that will be that.
Ireland 20-5 Italy
81 mins – With the clock in the red, Ireland are driving on and looking for four.
Ireland 25-5 Italy
TRY for Ireland! (Amee-Leigh Murphy Crowe, 83 mins)
It looked like Italy had cleared their lines, but no, Murphy Crowe grabs her second try of the day, the Sevens star showing more insane pace and power to ensure Ireland finish on a high. Flood fails to add the extras, but that won't matter now.
FULL-TIME: Ireland 25-5 Italy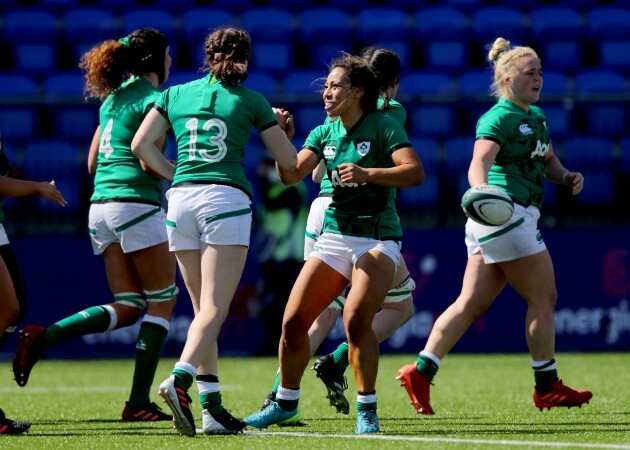 Ryan Byrne / INPHO Ryan Byrne / INPHO / INPHO
So, that's that. Ireland finish third in the 2021 Six Nations Champions, eking out the win over Italy and laying down a marker ahead of the World Cup qualifiers.
It wasn't pretty by any means or manner, but Adam Griggs' side got the job done — and showed glimpses of brilliance along the way. Player of the Match, Stacey Flood, was excellent at 10 in her first 15s start, while her fellow Sevens star, Amee-Leigh Murphy Crowe, dotted down two spectacular tries. Dorothy Wall and Clíodhna Moloney bagged the others; Ireland making it two wins from three and bouncing back from last weekend's heavy defeat at the hands of France to finish on a high.
Have a read of Sinéad Farrell's on-the-whistle report below, with reaction and analysis to follow over the coming hours and days, as always:
Anyone who's kept RTÉ Two on, it's switched to England v France, the Six Nations powerhouses battling it out for top spot at The Stoop. It's 0-0 with 25 minutes played, but shaping up to be an interesting battle.
Having established themselves as "the best of the rest" with a third-place finish today, Ireland's focus is well and truly on closing the gap now.
Ireland can certainly consider a third-place finish in the Six Nations a success, as Griggs told The42 this week:
"If we can manage to perform this weekend and get that third-place, we've won two from three games. You can't ask for much more than two from three."
The New Zealander will likely echo those sentiments in his post-match media, with the focus now firmly on the future and the bigger picture of women's rugby in Ireland.
We'll keep you up to date each and every step of the way, like we have done today. Thanks so much for joining us, enjoy the rest of this lovely, sunny Saturday!