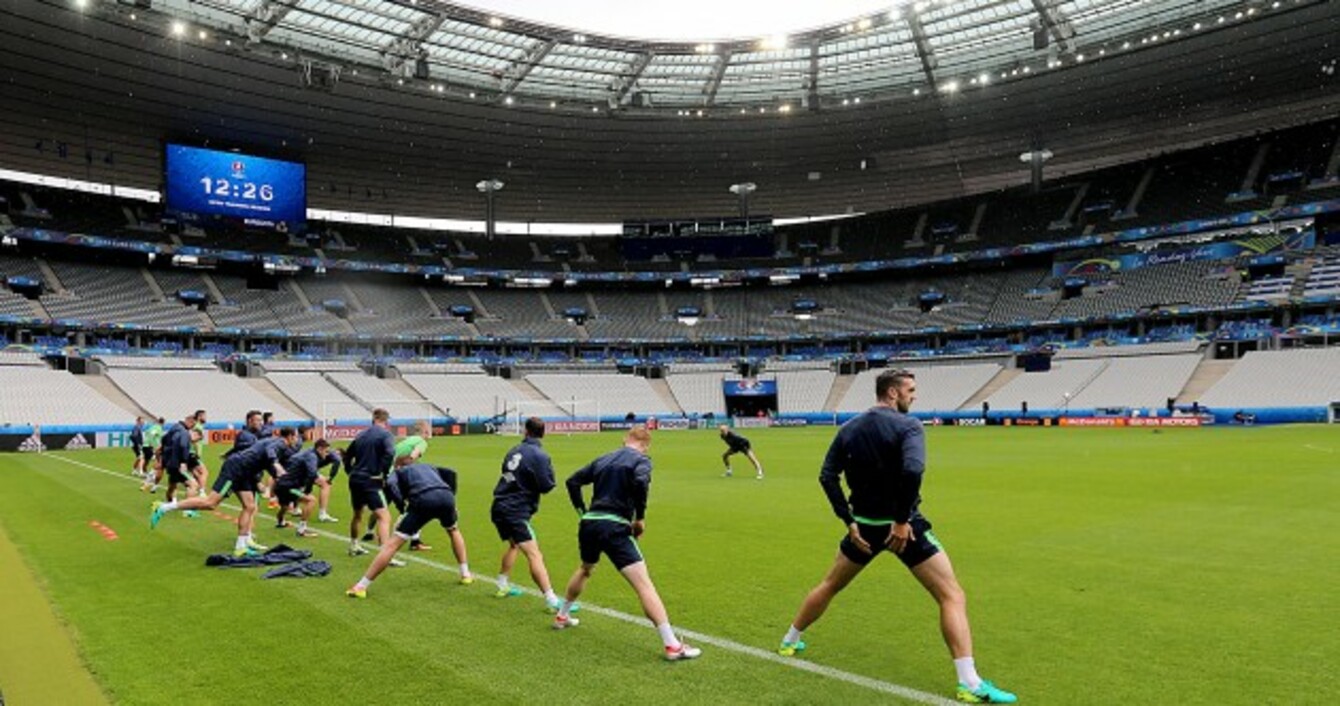 Image: Donall Farmer/INPHO
Image: Donall Farmer/INPHO
– Niall Kelly reports from the Stade de France, Saint-Denis
THIS TIME IT will be different.
That seems to be the overriding attitude in the Ireland camp as they prepare to kick off their Euro 2016 adventure against Sweden in the Stade de France this evening (5pm Irish time).
The ghosts of four years ago barely merit a mention. Outmatched and outclassed, Giovanni Trapattoni's tactics were ruthlessly exposed at Euro 2012, the whole house of cards crumbling inside three minutes when Mario Mandzukic scored Croatia's opening goal.
This time it will be different.
That was Ireland back at the big dance, a lost generation of fans finally getting a chance to embrace the major tournament experience that they had only heard about from wistful mams and dads and aunts and uncles, or watched on Reeling in the Years.
Off the pitch Trap's Army brought colour and craic that thrilled and delighted Europe, but it jarred with the real business as it unfolded.
Three games, three defeats, nine goals conceded, first team on the plane home.
Roy Keane — then an ITV pundit — was famously unsparing in his criticism. "Let's not just go for the sing-song every now and again," he implored.
This time it will be different. It already is.
Even Keane, with his unrelenting standards of perfection, couldn't find fault with the squad's base at the Trianon Palace in Versailles or the training facilities at the nearby Stade de Montbauron.
There have been none of the snafus of Sopot — accommodation arranged for players' families over strip clubs or the players themselves having to beg the manager for a day off.
And while Ireland would not have even qualified for Euro 2016 but for the tournament's expanded numbers, there is a steely determination that they are not just here to make them up.
"We've made it and now what we want to do is try to make a mark," Martin O'Neill said at yesterday's pre-match press conference.
"This is what you're playing for. Outside of the World Cup, it's the second biggest tournament going and we deserve to be here.
Let's do something about it.
The Stade de France offers the perfect setting, and how fitting it would be if they could exorcise another demon and erase the memory of the 2009 night that must not been named.
And when better to start than when the eyes of the footballing world are on a man who commands attention like few others.
Yesterday, Zlatan Ibrahimovic painted himself in many forms: a Parisian icon, ready for one last tango in the city that he has taken into his heart for the last four years; a legend, but one who is getting better at the age of 34 rather than fading into the twilight; a father figure, nurturing his young team-mates until they are ready to take his place (as if anyone could).
Strip back those many layers though and what you are left with is one supremely talented footballer. A born goalscorer who has found the net 62 times in 113 international appearances, closing in on Robbie Keane's 67 mark with each passing game.
A goal tonight would see him distinguish himself from some of the game's greats and become the first player to score at four consecutive European Championships. He hardly needs to be reminded that if he fails to do so, Cristiano Ronaldo might just beat him to the punch when Portugal take on Iceland on Tuesday.
Not too bad for a man once described by O'Neill as "overrated."
"I remember feeling for a period of time that Henrik Larsson was overrated," the Ireland manager rather sheepishly explained yesterday. "After about three and a half minutes, I changed my mind.
"(Ibrahimovic) is a top-class player. He's one of the best in Europe, if not the world. He's Sweden's talisman and he will be hard to keep quiet during the course of the game."
The trick for Swedish boss Erik Hamren is to assemble the right supporting cast behind his 6'5″ superstar. Six of his squad were part of the side which won the U21 European Championships last summer, including Benfica defender Victor Lindelof and former Celtic striker John Guidetti.
Guidetti might have to make do with a place on the bench this evening, with a suggestion that Hamren might opt instead for the experienced Marcus Berg as Ibrahimovic's main foil.
It was Berg who suggested this week that Ireland's "slow" centre-halves might offer Sweden their best chance of success
"Are you sure they weren't talking about the Swedish centre-halves?" Roy Keane bit back. "They're not exactly really lightning either."
One fact that can't be contested is that, on paper, Sweden have the tallest squad in the tournament and with it bring a clear set-piece threat.
Little wonder then that O'Neill wanted to "walk through" set pieces and positioning, or whatever it was the players did behind closed doors in Versailles on Friday after it was announced that training had been cancelled.
Maybe that need to combat Sweden's aerial threat is one of the main reasons why Shane Duffy is under strong consideration for a start at centre-half. Six foot four and perfectly capable of using every one of those inches, it would be a remarkable show of faith in the Blackburn defender, handing him just his fourth senior cap on the big stage.
O'Neill's decisions elsewhere will be guided by the last lingering fitness concerns as well the knowledge than any number of permutations over the next 10 days could see Ireland progress to the last 16 as one of the best third-placed teams.
"I don't think it's a must-win," O'Neill said. "It's very very important of course and it would be great to get off to a good start.
I'm sure that Sweden will be targeting us in the sense that they feel that if they could win this game against us it gives them a great chance, but we must feel the same way.
By last night, he had his starting XI virtually nailed down in his head, "hopeful" that Jon Walters will be fit for selection after coming through training on Saturday and Sunday unscathed.
"I think the competition will get better and better," he said, rejecting the suggestion that the tournament's opening days have been dominated by edgy conservative games.
"I think teams eventually will throw off the shackles and go for it. I haven't seen a game too conservative. I think that teams have attempted in the matches that I've seen to try to go and win the games."
If that philosophy carries over into his own team selection, Wes Hoolahan and his creative spark will get the nod in behind Shane Long, a man whose club renaissance in the second half of the season has seen him charged with carrying the brunt of a nation's hopes and dreams.
Long, a man who made just two substitute appearances four years ago and Hoolahan, a man who didn't even make it into the squad.
This time it will be different? Let's hope so.
The42 is on Snapchat! Tap the button below on your phone to add!