PADDY MADDEN TAKES off his flip flops and begins rummaging through dozens of darts that are on a small black table in the corner of Stockport County's training ground on the outskirts of Manchester.
This is the former home of Sale Sharks, the Premiership rugby union team, who have since moved next door to Manchester City's old base. Just a mile or so further down the road is United's Carrington complex.
All of the darts belong to Madden. He brought them to the club 18 months ago, when his daughter was born. The games room at his home, where he sometimes played until the early hours, briefly considering the prospect of joining the circuit to try and turn professional, was needed for a more important purpose then. 
There are 10 couches in a lounge area for staff and players, it resembles a Harvey Norman showroom.
In the adjacent canteen the club chefs have finished the breakfast serving, with lunch soon to be ready after the final session of the week.
A wheel of fortune will be set up for the losing team in the seven-a-side game with forfeits ranging from raving to a silent disco to a pool challenge which requires a player to clear the table in 15 shots, with a fiver penalty for each additional effort.
Four of the ground staff are tucking into a choice of chicken or fish after a 5am start to help clear snow from the first-team training pitch.
They've counted the days – 28 – of consecutive rain that they have had to contend with. And just when that stopped, England's northwest was covered in frost and snow.
"I hate these months, wet and dark," Madden laughs.
But this is a great place to work, and Stockport have called it home since multi-millionaire local property developer Mark Stott took control just a few months before the Covid-19 pandemic in early 2020.
He has returned a proud club – formerly of the Championship – to the Football League after an 11-year absence.
Madden, capped once for Ireland at senior level during a friendly with Wales under Giovanni Trapattoni in 2013, is the club captain, their scorer supreme who turns 33 in March and joined from Fleetwood Town in League One at a time when his 113 goals for clubs like Carlisle United, Yeovil Town, Scunthorpe United and Fleetwood left him just 10 shy of the record for that division.
They knew he would deliver goals – he has over 200 in his career – but his popularity is down to much more than that.
Paddy Madden takes aim for the bullseye.
Matt Jansen is the club's player welfare officer, a role he carries out with care and consideration given his own experiences. The former Blackburn Rovers star takes a seat and asks about old teammates from this part of the world, like Damien Duff and Steven Reid.
"What about Paddy! Great fella, great person, what a player," he beams.
Jansen almost died after a motorcycle accident in Italy during the summer of 2002 left him in a coma. It happened after just missing out on a place in England's World Cup squad.
His story is an extreme example of how life – and football – is so precarious.
Madden, the youngest of six children from Coolock on Dublin's northside, was born when his parents were both 40.
He credits "brilliant people" like Pat Fenlon, Owen Heary, Jason Byrne, Glen Crowe and Neale Fenn at Bohemians for instilling the kind of professionalism that has served as the bedrock for a career across the water which began when he chose to sign for Carlisle United rather than Celtic 12 years ago.
"I'm not fussy but I know my worth," Madden says. "Everyone is out there to make as much money for their family as they can. I'm not saying it's all down to that but it helps.
Football could be gone before you know it, I'm always in that frame of mind. It's football or nothing for me. I had to know my worth."
He has constantly proved it, too, although when metatarsal and ankle injuries ravaged his early days at Carlisle he considered returning home to St Patrick's Athletic.
Instead, a loan move to Yeovil Town some 330 miles away revitalised him, ending the season as their top scorer and netting in a play-off final win at Wembley to earn promotion to the Championship.
That was the highest level he reached, but that year of his life encapsulates the drastic change in fortunes for a footballer. It's a season he has spoken about with young Kerry striker Daniel Okwute after the 19-year-old joined the club late last year.
"I told him, don't let how bad things get make you think you are done. My head was a mess, I thought I was finished, but I was able to keep going.
"There is more good than bad in this game, definitely," he says, adding a kind of mantra that has stuck with him.
"If you come at me, I'll come at you, but I will never start an argument with you. Never."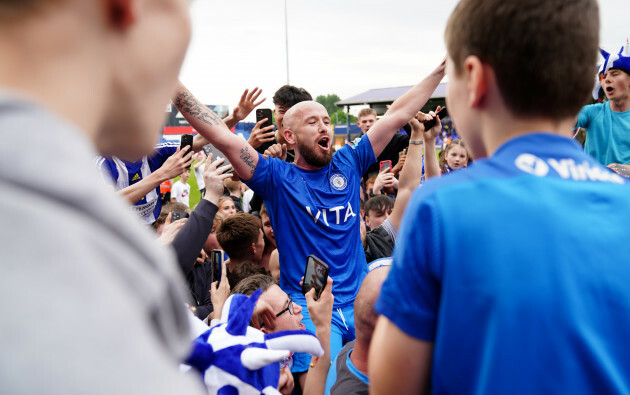 PA Madden is mobbed by delighted Stockport fans. PA
There have been promotions from the National League, League Two and League One, yet another cruel twist of fate denied Madden the chance to become more than a one-cap wonder for Ireland.
Having been called into the squad for the first two games of Ireland's 2014 World Cup qualifying campaign with Sweden and Austria, a medial knee ligament injury sustained in training just before meeting up meant he had to withdraw.
"I remember looking to the sky (while) on the ground and was close to crying. I haven't been able to get back near it since," he says. 
Madden hits the bullseye on his sixth attempt but now has his sights set on returning to League One and regaining that scoring record.
He's still throwing darts with other staff members as The42 departs, heading north on the M60 towards Burnley for their 8pm kick off with West Brom.
*****
The phone rings and Chris McCann answers, he's some 35 miles south driving back to Knutsford, where his wife and three young children live in the home that was built thanks to a career which began at Turf Moor.
The central midfielder helped the Clarets gain promotion to the Premier League in 2009, only for a cruciate injury to end his season inside the first month.
There was a spell with Wigan Athletic, a loan with Coventry City, and a taste of glory while at Atlanta United when he won the MLS Cup in 2018.
A year with Oldham Athletic was followed by two seasons with Shamrock Rovers from 2021. That is when his young family remained in England and he returned to the bedroom in his parents' home in Ashbourne, Co Meath, which he had left as a teenager.
Now 35, McCann had a week training with one League Two club but has since been in with a side in League One hoping to earn a contract until the end of this season.
"If I can get a few months to keep me going, great, then maybe one more year after that," he says.
McCann is travelling home after being in training again, waiting for movement in the January transfer window to potentially open up a place for an elder statesman like him in the squad.
There are no guarantees, only hope.
"I'm not ready to give it up, I will know when I can't do it and I won't be flogging a dead horse," he says. 
"It's sadistic, maybe, but I'm not ready to give up that feeling of pain, of my body being tired after a game. I'm lucky that I don't have to keep going, I just want to."
By the time The42 has come off the motorway and weaved a sturdy, snow white Volkswagen Polo rental car through the even snowier hills to Burnley town centre, McCann's former Rovers teammate Andy Lyons has settled back into the apartment he shares with his girlfriend in Blackpool.
The two men are at contrasting stages of their career but still navigating the same unforgiving path.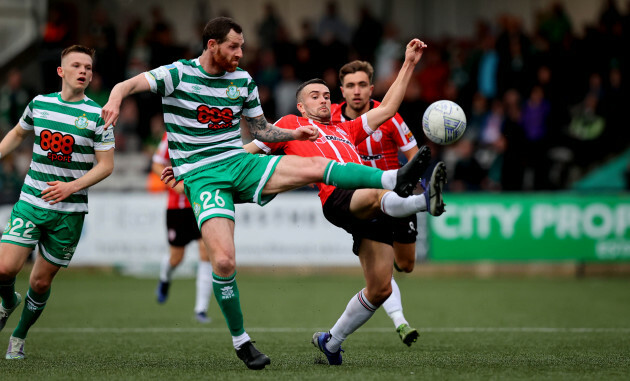 Ryan Byrne / INPHO Former Rovers teammates Chris McCann and Andy Lyons (left) now face different futures. Ryan Byrne / INPHO / INPHO
Lyons, from Blackrock in Dublin, is 22 and earned a move to the Championship side following a fine campaign as the Hoops won their third SSE Airtricity League Premier Division in a row.
The left full-back was signed by Michael Appleton and made his debut in a stirring 4-1 win over Nottingham Forest in the third round of the FA Cup on 7 January.
A 2-0 defat to Watford in the league a week later led to Appleton being sacked – it happened on a day off for the players so there were no goodbyes.
Less than 24 hours later Mick McCarthy was appointed on a short-term deal to try and help the club avoid relegation – they are second bottom, three points from safety after their game at the weekend was postponed because of a frozen pitch.
"Longevity is the big thing for me, I want to stay over here for as long as possible and get to as high a level as I can," Lyons says.
After confirming that it is definitely him on the phone – he is renowned for impersonations according to teammates and can do a pitch perfect John O'Shea from their time together with Ireland U-21s – the Dubliner continues.
"It's the first time I have been involved when a manager has left a club. All you can do is be adaptable and ready to change for what the new manager wants," he says. 
Mick McCarthy, with his history with Ireland and the work he has done in the game, it is brilliant. I have to understand as quickly as possible what he wants from me and make sure I perform to get near the team.
"As a player, all you want is that honesty and everyone I've spoken to speaks so highly of him in terms of that."
Lyons is barely in the country a month and is already on his second new start.
All part of the ride.
*****
That is some of the reason why Burnley is such a fascinating destination right now. Not only is Ireland's men's player of the year, Josh Cullen, a key figure in the club's resurgence under Vincent Kompany, they are leading the Championship with a new-found swagger.
But a steeliness and never-say-die attitude continues to underpin the success.
Remnants of pride in the not-so-distant past still evident on the short walk to the stadium.
The Royal Dyche Pub, complete with a large, framed painting of former manager Sean Dyche in Henry VII regalia hanging outside, welcomes only home fans through its doors before the meeting with an in-form West Brom side, who have shot from the bottom of the table in October to play-off contenders by the middle of January.
The Baggies are another team with burgeoning Irish talent, their 23-year-old captain Dara O'Shea and talismanic midfielder Jayson Molumby, interviewed by The42 this month, impressing on what is ultimately a disappointing defeat after taking an early lead.
A delightful Scott Twine free kick in the 87th minute seals a 2-1 comeback win with Cullen the driving force.
The celebrations at full-time will continue during the weekend, Cullen and his teammates departing the the dressing rooms in double quick time so they could enjoy a belated Christmas party in London.
The Royal Dyche pub is a one-minute walk from Turf Moor.
Kompany hangs around though. At the end of a long night, his eyes almost light up at the mention of the midfielder's name.
"The best way to describe Josh is that he came to Anderlecht from Charlton, you know he was really going to be a squad player and he became the most important player in my squad," Kompany tells The42 of their time together in Belgium, before the Manchester City legend ensured the 26-year-old followed him back to England.
"And again he became one of the most important players in my team. The best way to describe him is, if you set up a session, from that first pass Josh will perform to the highest possible standard. The last tackle he will make in the session will be at the highest standard that he can do it at too.
Johan Eyckens Vincent Kompany and Josh Cullen (right) during their time together with Anderlecht. Johan Eyckens
"He is an example for other players as well because some players with extreme talent would have tremendous careers with half of what he has in terms of personality and attitude.
"It's hard to ever predict how far these types of players will go because he has a resilience and an attitude of a top athlete. Any limitations that he has, he just seems to be able to overcome them and go above.
"He is the ultimate player to put the team before himself. Football is naturally always driving you towards being selfish, and there are only very few players who, despite all of that, decide to make a conscious choice for the team above themselves. You can't really scout that, you know when you work with players."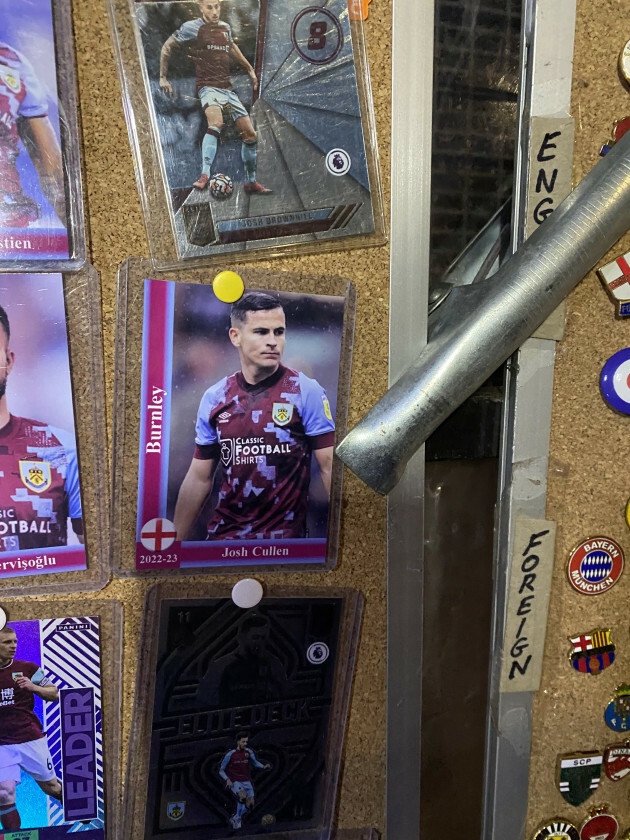 One Burnley swag seller outside the ground was refusing to accept Josh Cullen's allegiances.
The Premier League beckons for Kompany, Cullen, and Burnley.
They are top on 62 points, 18 clear of Watford who are outside the automatic places in third, and may even confirm promotion in the 10 games before Ireland's opening Euro 2024 qualifier against France on 27 March.
For others this weekend, that Ireland senior squad ranges from a distant dream to a realistic target.
For Stephen Kenny, it shapes most of his waking moments, as is illustrated outside Stoke City's Bet365 Stadium shortly before the Ireland manager watches their Championship clash with Reading.
*****
There was a time when Stoke v Reading was a Premier League clash between two relatively stable clubs.
Not anymore.
The visitors to the Potteries, 40 miles south of Manchester, are currently under a transfer embargo for breaching the EFL's profit and sustainability rules.
Paul Ince is the man in charge and has them relatively safe from the threat of relegation, 11 points clear of the drop zone in 14th.
Stoke will end the day moving up two places to 18th following a comprehensive 4-0 win, a victory which is inspired by former Ireland U21 international Will Smallbone's opening goal.
Recently called up – but not used – for the senior friendlies with Norway and Malta in November, the on-loan Southampton midfielder is back in the team after injury.
But such is the contrasting fortunes of peers, fellow U21 graduate and on-loan Bournemouth man Gavin Kilkenny does not make the matchday squad after being left out by manager Alex Neil.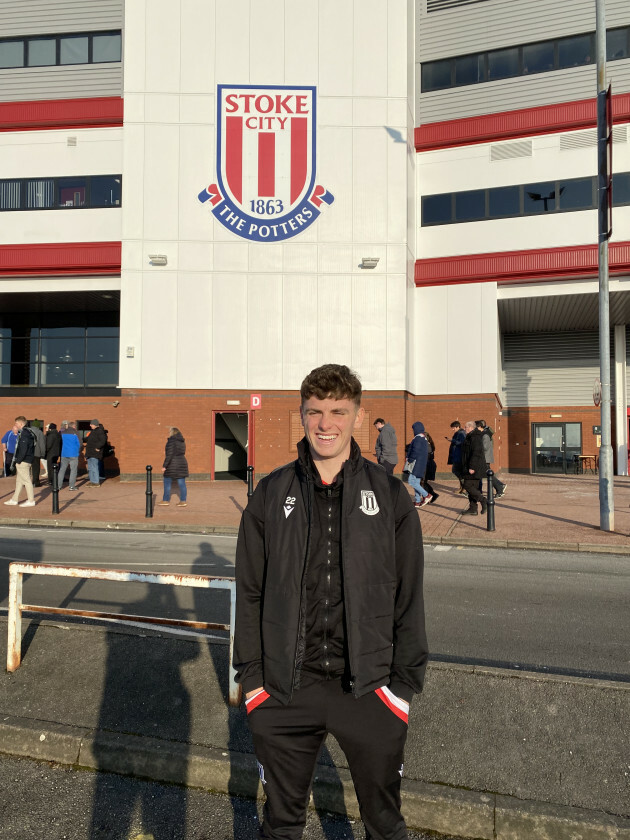 Gavin Kilkenny has had a frustrating time on loan at Stoke.
A combination of a hip injury, followed by a torn medial knee ligament on one of the new manager's first days after replacing Michael O'Neill, means the young Dubliner knows his time in this part of the world is likely to soon come to an end.
A message to meet him outside main reception pings less than an hour before kick-off. En route, Kenny approaches through the crowd before taking his place in the stands.
He agrees to chat, and Kilkenny is happy to wait.
It's been a busy week for the Ireland manager, even before he arrived in England for a weekend of appointments.
"I was at Burnley to see Josh [Cullen] and Jayson [Molumby]. Jayson physically imposed himself on the game. His development, he has done terrific. He has become a permanent fixture in that midfield," Kenny says. 
"Earlier this season, and last season, he was in and out. Now he is an important part. Dara O'Shea is captain there at just 23 years of age. That show his leadership qualities and speaks volumes for him as a person."
The words of Kompany about Cullen are still ringing in the ears, with Kenny adding: "He is integral for us, he has an exemplary attitude and for every single minute you get everything from him. He is a terrific man and professional."
This trip means Kenny missed out on watching his son, Eoin, make his debut for Dundalk in a friendly against Finn Harps as well as representing the Ireland schoolboys team against Australia.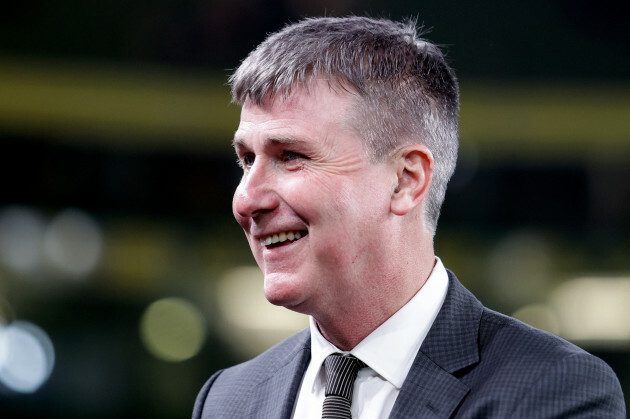 Laszlo Geczo / INPHO Stephen Kenny was in the north of England last weekend running the rule over players. Laszlo Geczo / INPHO / INPHO
There have been other matters on his mind over the past few days, with news of chief scout and opposition analyst Stephen Rice emerging as a target for the vacant Swindon Town job.
Rice, though, is still on duty, taking in Bristol City's game, while No 2 Keith Andrews watches Coventry City play Norwich City.
There is a confidence the current set up won't be disrupted, with an additional coach for the staff a distinct possibility.
The emergence of Evan Ferguson with Brighton has also excited everyone, and Kenny will be buoyed later on by news of the 18-year-old's late goal off the bench against Leicester City.
"There is lots for us to do, this is going to be a really busy time and we will make sure we will be ready for France. We will be covering everything," Kenny adds.
For Kilkenny, he knows he now just has to play football for a very basic reason. "I don't want to be forgotten about," the midfielder, who was a regular for the first half of last term with Bournemouth as they got promoted to the Premier League, says.
"It can happen very quickly and very easily. I'm not stupid, I'm nearly 23. I have to get back playing and reminding people what I am capable of. I just need to show people I am still here, you know."
That is what Smallbone does with his goal, although one of his first thoughts after the game is whether former Southampton teammate Shane Long, a 66th minute substitute for Reading, is still around to swap shirts.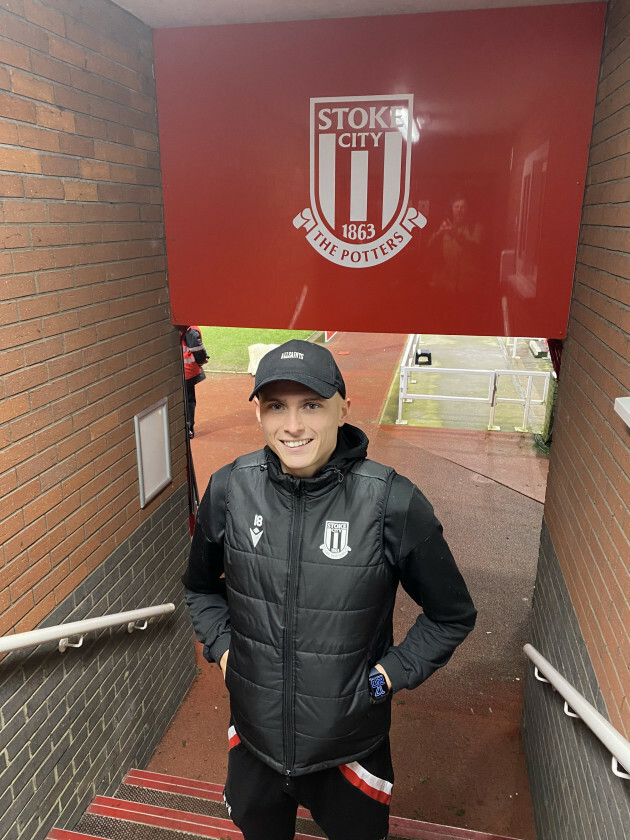 A delighted Will Smallbone after his goal.
Like his teammate Jeff Hendrick, who Smallbone explains was a major help in settling in to the senior ranks for the first time, a swift exit was made after a sobering performance which left Ince declaring he wished he could have made 11 substitutions at half-time.
News of Ferguson scoring for Brighton also elicits an instinctive reaction. "Did he? He's flying! Let's goooooo!"
Joining him in the squad in March is now at the forefront of Smallbone's thoughts.
I can only try to keep showing on the pitch why I should get called up. Hopefully this [goal] can help and if I can put a run of performances together it can give Stephen a good chance to have a look and have a think if I am in his plans.
"This is the first proper taste of playing week in, week out, especially since my knee [injury], and I think it has taken me more time than I thought to get used to. I've learned a lot about what I need to do to get myself ready for games and what I need to do to keep myself fit."
O'Shea, the first-team coach initially brought in as part of Michael O'Neill's staff and who was retained by his replacement, has also played a key role by going through specific clips with Smallbone looking for improvements.
And as heavy fog continues to descend visibility is poor by 6pm. The42 waits for a lift with the former Ireland and Manchester United defender back to Altrincham, on the outskirts of the city.
A shout is heard through the haze to jump in. It is from either Andy Lyons or O'Shea.
Exclusive Six
Nations Analysis
Get Murray Kinsella's exclusive analysis of Ireland's Six Nations campaign this spring
Become a Member
It's hard to tell in this weather.
Thankfully it is indeed the latter.
O'Shea moved back to Manchester with his wife and three children a year ago, having spent 13 years in the city before leaving United for Sunderland.
His playing career actually finished with Reading, where he took his first steps into coaching, and the role with Stoke is combined with a similar one on Jim Crawford's Ireland U21 staff – the ink now dry on a new contract with the FAI.
The journey back from Stoke takes around 40 minutes, time enough for the Ireland centurion, with five Premier League titles, one European Cup and one FA Cup among his honours at Old Trafford, to reflect on why he actually wants to remain in the game.
"That has definitely has crossed mind. Do I really need this? Do I really want this? And I do. That's why I have taken my time to make sure it is definitely what I want," he begins.
"Ultimately, I want to give the management side of things a crack. That experience so far, seeing how they go about it, how they manage the team, those not in the team. The tactics, preparation for games. All that, alongside 21s with Ireland working with Jim [Crawford] and Rennie (Alan Reynolds) has been really great to learn more about that side of game."
As a player, the insight garnered from working under Alex Ferguson is obvious. But there was a still a detachment from the inner workings, the mechanics of why, and how, decisions are made.
"They can be for short term or long-term gains. Moving players on, players getting contracts or not, how a club is organised, everything that is happening around it, the pressures and the different influences. You could do all your amazing preparation in the week but it could be gone out the window after two minutes in a game.
That is when you have to be able to be decisive, make sure players have the information they need so they can adapt on the pitch quickly. They want that information and you have to be really bang on with it."
O'Shea, like everyone else on the coaching courses, has been reminded time again to prepare for the sack.
As well as the abuse that comes with defeat and fleeting praise for success, losing a job is inevitable in an industry that waits for nobody.
Some of his peers from his United days, like Wayne Rooney at Derby County and Michael Carrick at Middlesbrough, are on the managerial trail.
Former Ireland teammate Jon Walters has gone down a slightly different route, taking on a dual position as technical director of sister clubs Fleetwood Town and Waterford, O'Shea's local team.
"I was on to him straight away, he's going to be under pressure with the Blues," O'Shea laughs.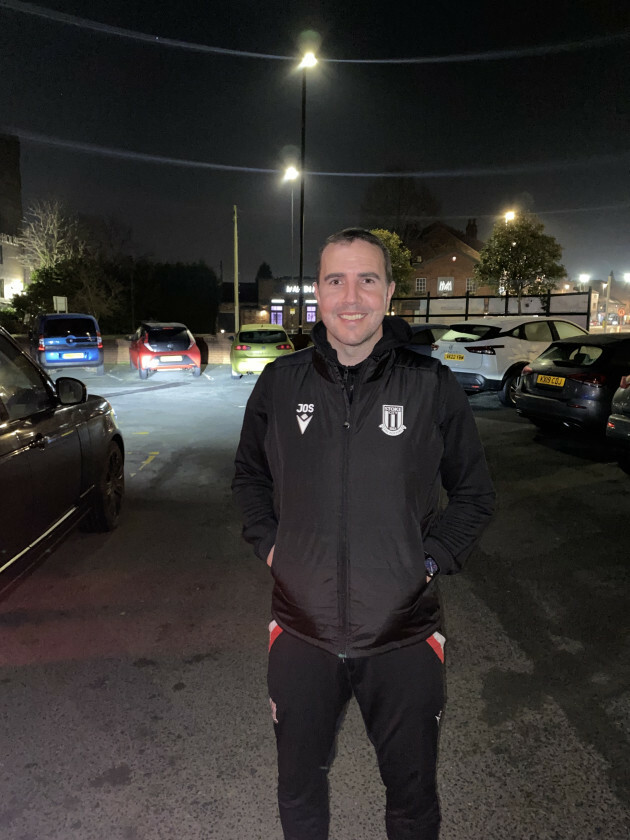 Opportunities in the League of Ireland, as well as League One, have been presented but the 41-year-old is happy to continue this form of education in coaching.
"Ultimately as manager you want to have the trust of people around you. Trust in staff is so important at any level."
So is another basic requirement to continue.
"It still makes me happy, if it didn't and you were still running yourself into the ground for it, that's going to be detrimental for your family. That's the choice you have to make.
"I still love the game, yeah, I do. I've had options to go and do other things in life but this is what I want."
*****       
Just after 10am on the morning of Manchester City's home game with Wolverhampton Wanderers, Gavin Hodge meets The42 for a coffee.
His son, Joe, has just signed a new long-term deal with the Premier League club having made his full debut under new manager Julen Lopetegui in a 2-1 win away to Everton earlier in the month.
But the Hodge family received another bit of news this week that serves as a brutal reminder of the game's harsh nature.
Joe's sister, 15-year-old Emma who plays in the City academy, has just been told she faces a lengthy recovery from injury.
The Hodge family know all about the need to be present through tough times given Joe had a back problem that ruled him out for the guts of a year while he was still a City player.
"All you want to do is be there for them and give them every bit of support you can," Gavin says.
"I still find it odd when I am asked if we are proud of Joe. Aren't we all proud of our kids no matter what they do? I'm proud of Joe and Emma because they are good people, not because of football."
A project manager by profession, as his son began to emerge through City's system from the age of 7, Gavin went back to college to get a post-graduate diploma in Sporting Directorship from Salford University to try and best understand the mechanisms of the sport.
Just like O'Shea, he felt he needed the strongest skillset to go with the best of intentions.
Ryan Byrne / INPHO Joe Hodge in action for the Ireland U21s in their Euro playoff last year. Ryan Byrne / INPHO / INPHO
"I never tell them what to do, it will always be their decision what they want to do, it is their life and they should have the final say in what is best for them. I will be there to offer help if I can and provide support, but I don't want to impose and tell them what to do and then have that backfire," he says. 
Gavin's mother – Joe's grandmother – is from just off Clanbrassil Street in Dublin city centre. It is a place of the world that remains close to all the family's heart, and just part of the reason why Joe was firm that he will not follow Declan Rice or Jack Grealish and switch allegiance to England should club success follow.
When Joe did eventually leave City for Wolves, having played in the heart of midfield when the club won the FA Youth Cup in 2020, he did so fully prepared for the next stage in his life.
Tragically, one of his close friends, Jeremy Wisten, died by suicide in 2021 after he had been released.
"I used to think they could always just go and get another job," Gavin explains. "But that changed my mind. It's not just as easy as that. You can move on and do something else but you need a massive of support to do so, once you are in that system it is hard."
It is part of the reason why Gavin has a list of names on his phone which he keeps as a reminder of those who have helped his son's progress and provided support in the smallest of ways, with the aim of repaying them.
There are coaches from City, Wolves, Ireland and Derry City (where he was on loan but unable to play due to injury), while support staff from the same places make up the fair share of names.
The Hodges are largely a family of City fans. That new four-and-a-half year contract for Joe signifies Wolves' trust in his future, yet he is not in the matchday squad to face the team he grew up supporting.
Had he been, Gavin would have taken a seat in the away end cheering on Wolves instead of using his season ticket at the Etihad Stadium.
This is where one of Ireland's great hopes, Nathan Collins, still manages to impress despite Erling Haaland netting a hat-trick and Wolves losing 3-0. 
A delayed flight from Dublin on the morning of the game means the defender's father, David, will only just make kick-off in time.
Afterwards, Nathan speaks with the kind of authority that is a product of the fast progress he has made in this most exacting and precarious of professions.
"I don't just see football as a job. I go out there and I want to play against the best, I want to play against the best in the world, I want to try and be the best in the world," the 21-year-old begins.
"In the game, you're switched on, you're enjoying it, but looking at it afterwards [when you've lost] it's annoying, it's frustrating. You get down, your head could be gone. But in that moment it is what you want to do, you have to enjoy it.
"I just think, the harder I work throughout the week I play better on the weekend. If I'm dedicated on the pitch and dedicated off the pitch, eating right, drinking water, if I do everything right, I think it shows on a Saturday. But, then again, there is only so much you can do individually, it's a team sport so you need everyone to help."
PA Nathan Collins (right) with Erling Haaland during Sunday's game. PA
That is where support networks inside the dressing room are just as important as the ones who help maintain a semblance of perspective off it.
Collins is a rising Premier League star who also looks set to be the cornerstone of any Ireland team for the next decade, and beyond.
The money, the pressure, the expectation and demands are all part of the package of being an elite footballer, but whether it is the League Two striker or the on-loan player trying to rebuild their career, they all have their own pressures.
"I just want it to be normal. I just want it to be normal that I'm playing at the best, that I'm playing the best football I can, playing against the best at the highest standard of the game," Collins continues.
"I just want that to be normal. I still think I have a long way to go, I'm still young, but I think if I keep working hard and keep dedicated to the game, I think I will give myself a chance. But you need to do things right, you need the people around you to be right, you need people in your ear telling you when you're right and when you're wrong, what you can improved on.
"At the end of the day it's down to yourself. It's whether you take it or not."
Originally published at 19.00