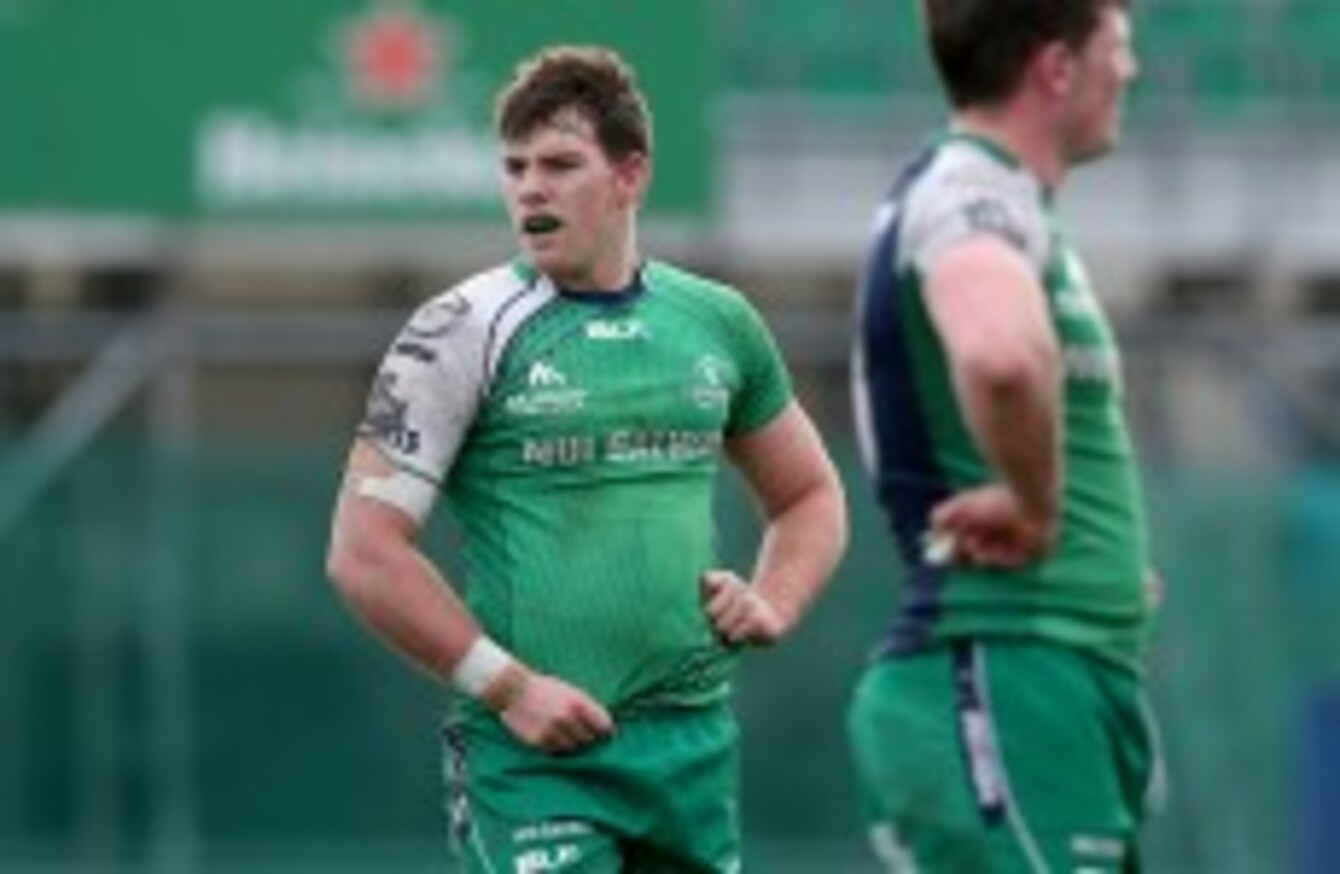 Image: Donall Farmer/INPHO
Image: Donall Farmer/INPHO
SOME PEOPLE REFUSE to believe that you can come back from injury a better player. Connacht's Jake Heenan can't afford to indulge such pessimism.
This weekend, the 22-year-old adds his freshly repaired shoulder to the western province's ongoing shove towards a place in next season's Champions Cup.
The Kiwi openside is feeling fresh: heavier, fitter and even a bit more experienced having had a year to think about his game.
The weight gain is not dramatic. Heenan has upped his lean fighting weight from 102 to 105 kilos. A sustainable increase that won't curtail his instinctive movement from ruck to ruck.
The reason the Connacht star has had this time to rebuild is that, much like Ireland's current first-choice openside, he underwent two shoulder surgeries in 2014.
The first cut was to re-attach ligaments after his dislocated his shoulder in the Heineken Cup defeat to Saracens
Five months after the second operation, a bone graft after the injury flared up on his comeback against the Dragons this season, he's most certainly ready to play rugby again. Yet he doesn't have the arrogance in him to ignore the men who have brought Connacht to a position where they can seal qualification for the Champions Cup by right.
He name-checks Willie Faloon (whose own dislocated shoulder will pave the way for Heenan's return), Eoin McKeon, George Nauopu and John Muldoon as the ones who deserve the credit:
"It's not as if  I felt like I needed to be out there so much — obviously I wanted to and I want to play — but there wasn't that feeling that anyone was struggling without me or that sort of thing.
"I was very happy to take it day-by-day and make sure that every day was a bit better than the day before."
That daily toil was effort spent under the guise of Connacht's physio team. Before he could rebuild the "emotional attachment" to the team by travelling with them and running water as a way of taking part in the matchday, he had to reforge the muscle fibres around his shoulder.
In his typically gruff north island accent, Heenan allows no room for self-sympathy despite the extended absence and the prolonged rehab. He embraced every step, not just following the orders of the physio team but ensuring that he understood what was happening underneath his skin and within his joints.
"We've got a really good injury programme here and you're probably training more than you would if you're playing — I was kept extremely busy. At the same time you get to a point where you can only do so much and you have to let it rest."
Be part
of the team
Access exclusive podcasts, interviews and analysis with a monthly or annual membership.
Become a Member
"I hit my [full shoulder movement] range a bit early and I was able to run within about three weeks of the op, which was really good because I was able to keep my lungs ticking over a lot better than last time.
"[Rehab] was a lot of building those small muscles around the joint. A lot of external rotation and just static holds to fatigue or test those muscles.
At the later stage it's about putting it in that vulnerable position where you've got your hand up and above your head where a lot of shoulder dislocations can get out there. It works the muscle out there, so when it is in that position it can hold too.
"Even now I'm still  working on that strength and it can still get stronger, but that's basically where I'm at."
Listening to Heenan, there's no doubt that the flanker feels that he is in prime position to reignite his Connacht career. So how did he get to that point? Boxing and bear crawls, he tells The42.
"The punching bag's a good one," explains the Mazda rugby roadshow ambassador, "because you've got to take the impact of the bag pushing it back.
"The other one is being down in that low push-up position and moving side to side and backwards and forward.
"[The shoulder is] in quite a stressed position it's gotta work: backwards and forwards and you've got to have that scapular control because you're not using your traps and other muscles, it gets the smaller muscles strong enough to hold your shoulder."
After coming through two Connacht Eagles fixtures unscathed, Heenan can now move thoughts away from the strength and conditioning required for his shoulder and onto how to fortify Connacht's place in the top half of the Pro12.
Today, Heenan will be named in the team to face Scarlets in Llanelli on Sunday. The first of three trips to Wales in the next four weeks is arguably the most important of them all. Win, and Connacht can extend their advantage over the region up to 10 points. Lose and… well, there's not much to be gained from pessimism.
"Three away trips to Wales which can be quite tricky," Heenan says as he looks ahead undaunted.
"Personally, I've been able to come back a bit heavier, in a bit better shape than last time and I've been doing my own skill work and I see no reason why I can't come back a better player than when I left off.
"I am fresh and pretty keen around training, so I'm hoping I can add an element to the squad. We understand how important it is. A lot of teams picked up their game in the last month or so of rugby and we're targeting it pretty heavily."
Jake Heenan was part of Connacht's Mazda Rugby Roadshow last weekend, keep an eye out for more upcoming Roahshows here.