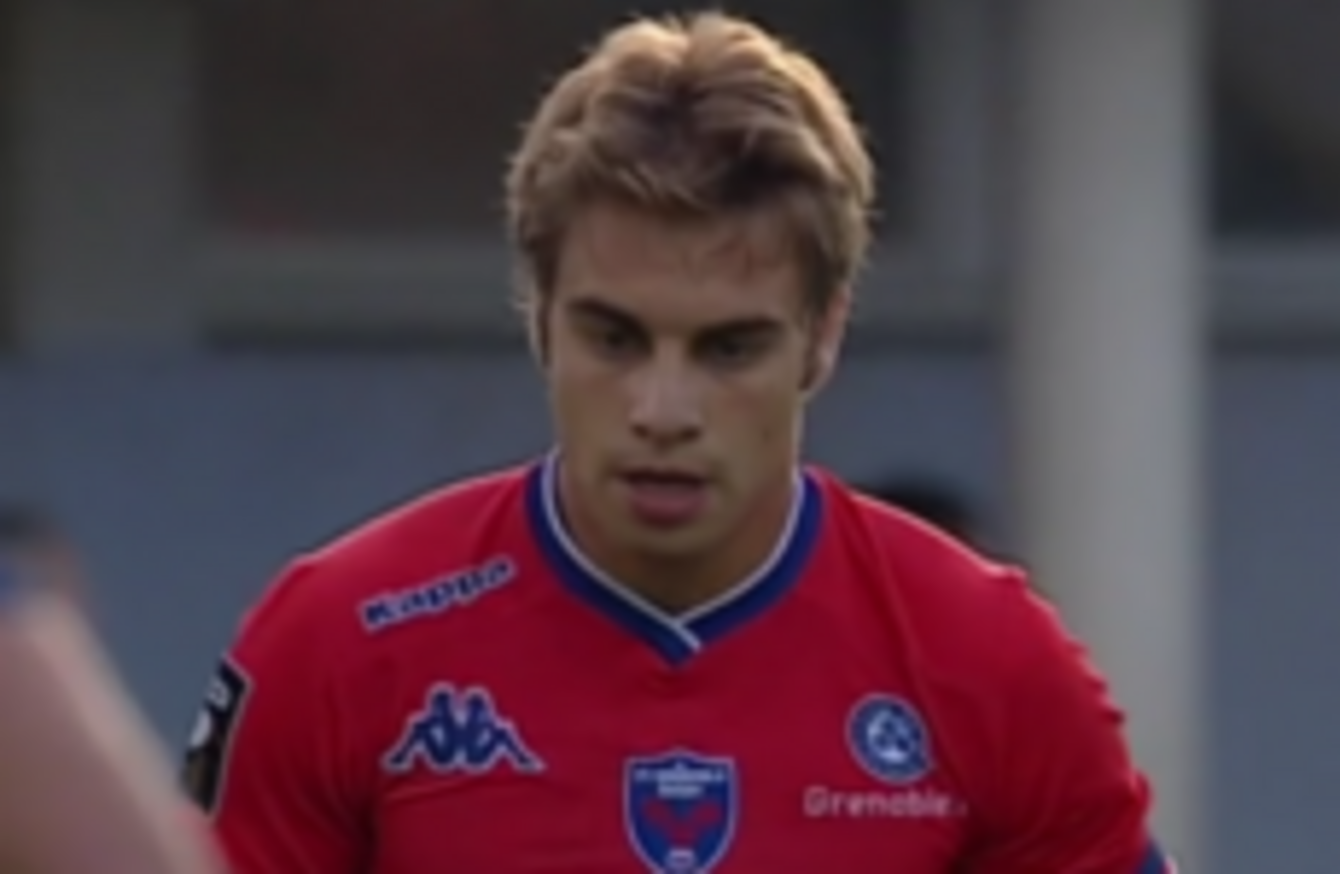 James Hart is holding down a regular starting role at Grenoble.
Image: Grenoble Rugby
James Hart is holding down a regular starting role at Grenoble.
Image: Grenoble Rugby
JAMES HART'S PERFORMANCES with Grenoble this season have elevated him to the role of star player at the Isère-based club.
The goal-kicking scrum-half is now sought out for interviews and comments by the French media after each Top 14 game. So was the case on Friday night as the Dubliner expressed his team's disappointment at falling 23-6 to Stade Francais. Hart kicked two penalties for Grenoble but that was as good as it got.
Since breaking into the Grenoble starting XV earlier in the season, the former Clontarf U20 has been most impressive in the 9 jersey. He has played crucial roles in league wins over Racing Métro and Toulouse as Grenoble attempt to breach the top six.
"There is quite a bit of extra media stuff to do now," Hart told TheScore.ie. "The French are gas. One minute you are a nobody and the next they are telling you that you're a superstar. I've had a lot of comparisons so far with Jonathan Pélissié [France international now with Montpellier] but it is mainly because I have replaced him at scrum-half."
One question that may be resolved is what country Hart will play for. The 22-year-old was born in Dublin but qualifies to play for France through his mother. Three years at the Grenoble academy would also see him French-qualified with or without the maternal connection.
In a recent  Evening Herald interview, Ireland team manager Mick Kearney commented that there was no rush to cap Hart as it may make life difficult for him at Grenoble. Kearney also mentioned six other scrumhalves that head coach Joe Schmidt could choose from but added that he was being monitored.
Hart commented, "I spoke to Mick Kearney about that article. He rang me that day [it was published] to say his words were taken out of context. He was saying some really nice things to me — 'you're really going places, keep it up'. It's flattering to be told they [Ireland] are keeping their eye on me. It's dream stuff for me.
I'm trying to concentrate on my game in the Top 14. International rugby is not a priority at the moment. To get an Irish 'A' cap or get a call-up for the training camp would be great because I'd love to play for my country.
"To get capped one day would be a dream but it is still far away. Apart from Conor Murray you have Eoin Reddan and Isaac Boss. People are saying they are coming to the end of their careers but I think they still have a lot to give. Kieran Marmion and Paul Marshall and not far away from call-ups too."
Hart has been likened to French international scrum-half Jonathan Pélissié. AP Photo/Christophe Ena
Hart is contracted with Grenoble until 2017 but admits he would like to return to an Irish province in the future. "I'm really enjoying my rugby here. Some people I know came over for the Toulouse game and said it was one of the best atmospheres they ever experienced. I don't know if you'd get that week-in, week-out at home.
The immediate goal for Hart, and Grenoble, is to get back on a winning track. Castres [home] and Toulon [away] are next on the fixture list. The latter of the games should see the Irishman square-off against his rugby hero, Jonny Wilkinson.
"Hopefully I'll get the chance to play against Jonny. That would be incredible. I didn't play against him last time as I was on the bench. For me, as a kicker, I don't think there is anyone I can look up to more. There is no-one else quite like him. Morné Steyn, Toby Flood, and Jonny Sexton may be better ball players but no-one, not even Dan Carter, can match his kicking stats and his all-round game."