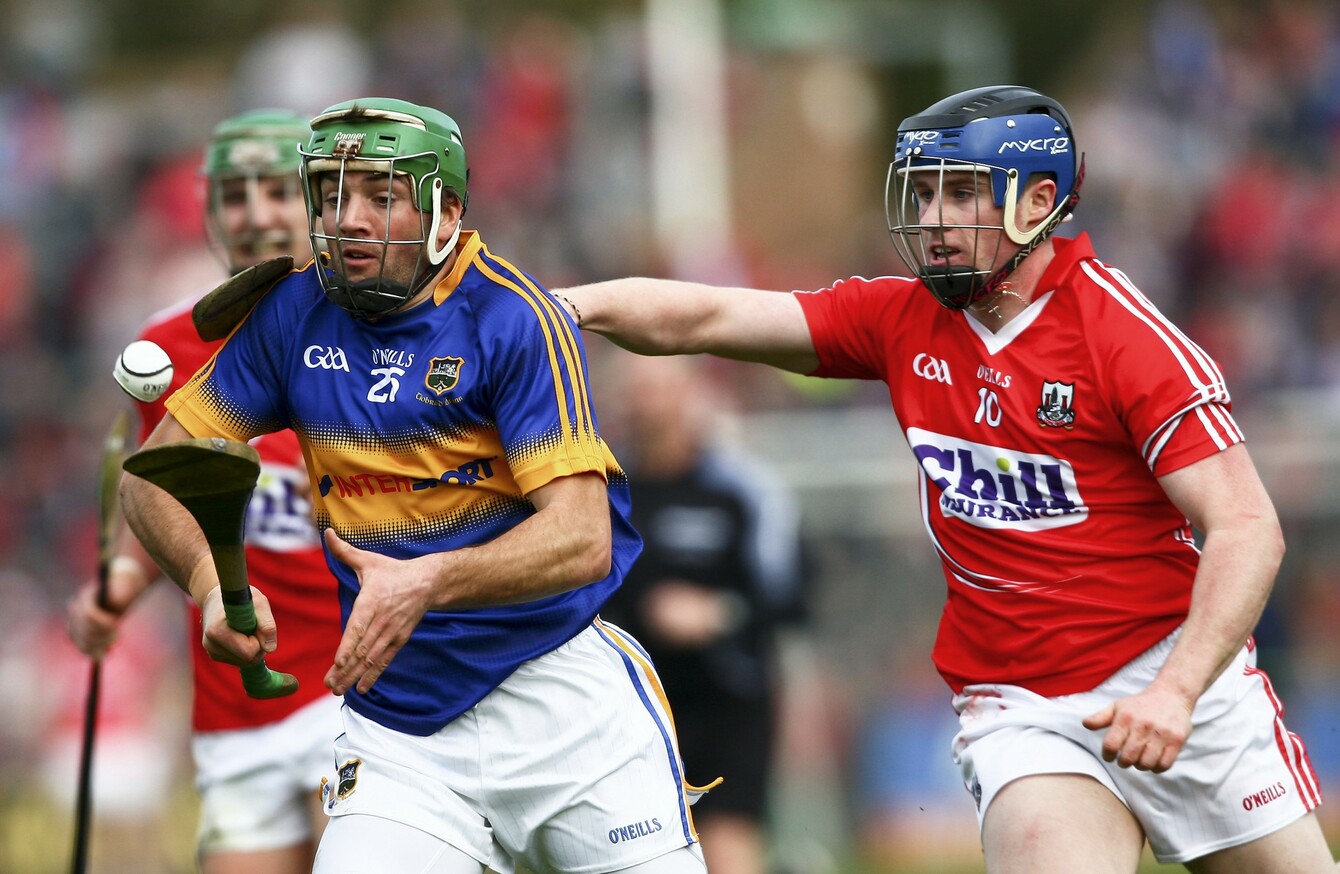 James Woodlock in action against Cork's Conor Lehane in 2015.
Image: Ken Sutton/INPHO
James Woodlock in action against Cork's Conor Lehane in 2015.
Image: Ken Sutton/INPHO
FORMER TIPPERARY STAR James Woodlock is "100%" convinced that the Premier County can bounce back from Sunday's shock defeat to Cork and end the season as All-Ireland champions.
Tipp coughed up their provincial crown at Semple Stadium but Woodlock is backing manager Michael Ryan and his players to regroup quickly and launch a successful Liam MacCarthy Cup defence.
But Woodlock is concerned that Tipp's squad depth isn't as strong as had been touted, and he'd like to see a 'bolter' emerge from the existing squad or from the local club scene to make an impact.
Woodlock admits that he never felt comfortable throughout the Cork game and lamented a lack of energy from Tipp.
And while he suspects that the Tipp full-backs may come in for some criticism, he says that they were facing a losing battle with so much space in front of them in which Cork could operate.
Woodlock was recovering from a broken leg when Tipp lost to Cork in 2010 in the Munster quarter-final, but still very much part of the squad as they recovered to lift the big September prize.
And he believes that players and management will get together this week for clear-the-air talks, ahead of a back-door assault.
Woodlock said last night: "They'll have woken up this morning hurting so bad.
The players will have a real open discussion. They know where they are but they'll realise that all is not lost.
"So what's our focus? Back-to-back All-Irelands and can that be done? 100% yes.
"Tipp scored 1-26 without playing well, they were only at 60% but that was because Cork were so good.
"Tipp never imposed themselves and so there's room for massive improvement.
"Tipp couldn't put a hand on them (Cork) but we don't have the strength in depth that we thought we did have.
"If we did, the bench would been unloaded but we couldn't do it.
"I made it that we had four goal chances in the first half and if we'd taken even two of them, it would have been a different story.
But they probably need to add in a fresh player or two. Yes, John O'Keeffe and Sean Curran got their chance but I'm talking about somebody nobody's heard tell of, coming from the club scene or a lad on the panel who feels he's not getting a chance.
"There should be absolutely no panic but we have a savage mountain to climb.
"We're back at the bottom of the pile but in the back of the players' minds, they'll know they can work their way back, by showing aggression and ball-winning in the half forward line, quick deliveries inside and tightening up at the back.
"People will slaughter the full-back line but there was too much space in front of them. We need to get our midfielders to play deeper, and we need space up front for our top-class forwards.
"I'm still 100% convinced that Tipp can win the All-Ireland but they'll need to go back to the drawing board and start again.
"It was just one of those days when I never felt that could have a go at winning the game. Cork dictated it from the start, we lacked energy all over, lacked the confidence and aggression. Cork had their homework done."
The42 is on Instagram! Tap the button below on your phone to follow us!