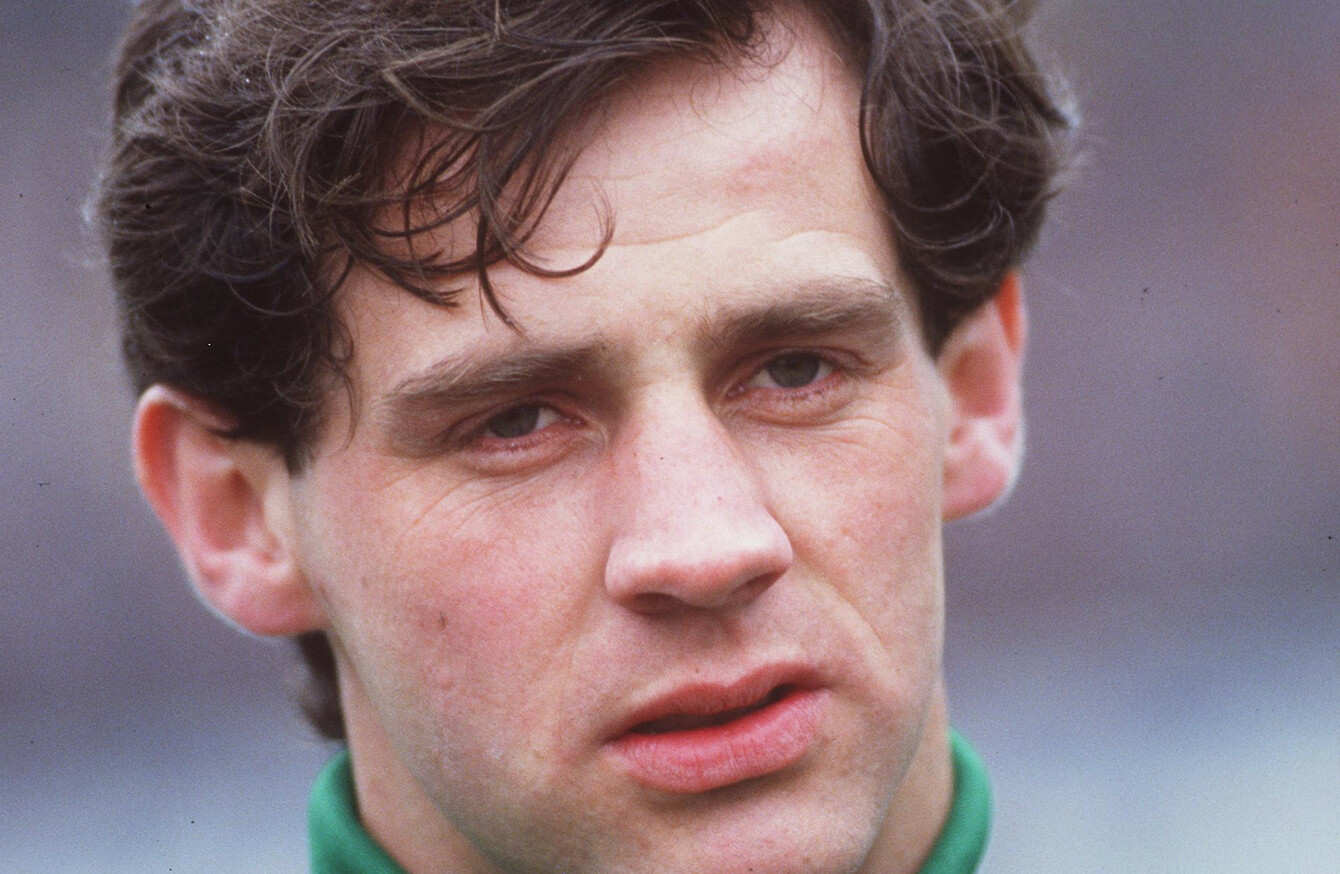 Jim Beglin won 15 caps with Ireland and also was a key part of Liverpool's 1985-86 double-winning team.
Jim Beglin won 15 caps with Ireland and also was a key part of Liverpool's 1985-86 double-winning team.
JIM BEGLIN LOVES football.
With a media career that began around the time he was finishing up playing, he has analysed countless games at this stage.
Yet at 54, his passion remains undimmed and it comes through when I ask him about the big game on Saturday, which takes place 33 years on from when Beglin himself appeared for Liverpool in the European Cup final.
"I can't disagree with the consensus of opinion where it could be 3-2, 4-3, simply because I can't see either side compromising their styles of play," he tells The42. "And if that is the case, then we really could be in for a thriller.
"I remember, 2011 was the 30th anniversary of the '81 final, which was obviously Real Madrid-Liverpool in Paris, when Alan Kennedy got the winner. We all sat in the function room in Liverpool and the match was boring, nothing happened. Even all the lads that played were saying 'this is terrible'. We were watching it again on the big screen during the function. So I think [the upcoming game is] going to be very different to that.
I think Liverpool have a very good chance of beating Real Madrid, simply because of Madrid's issues with teams that press — what Juventus and Tottenham did to them, Bayern Munich over two legs in the semi-final were the better team. [Bayern] just weren't clinical enough, they didn't take their chances. Had they done so, I think Real Madrid would be out.
"The Liverpool press can make life very hard for the technicians in the Madrid side – Isco, Modric, Kroos. It's very hard for any team to cope with that gegenpressing.
"If Real Madrid can do that, all credit to them. They do have wonderfully gifted players and some superb individuals."
1. A sporting life
Rather than simply being a football aficionado though, Beglin is an innately competitive man with a love of sport in general. After the interview, he heads off to a charity golf event to help raise funds for the Walton Neurological Centre, where Liverpool fan Sean Cox is being treated after he was viciously assaulted by Roma supporters prior to the Champions League semi-final at Anfield. The event is being organised by another former Liverpool star David Fairclough, whose playing career at the Reds was ending as Beglin's began.
In addition, golf and soccer are by no means the only sports Beglin has enjoyed.
"When I was young I tried everything. I played hurling, Gaelic football, squash, tennis," he recalls.
He grew up in a family "steeped in sport". His father, who played in the League of Ireland with Waterford and Sligo, was a Liverpool fan, but he was the only one in the family who supported the Reds.
"My older brother was a Man United fan. My younger brother was an Everton fan. And I was a Chelsea fan. So we all got on awfully," Beglin jokes.
2. Learning his trade
Success did not come easily to Beglin. Like many Irish stars past and present, he spent his early years playing football domestically before getting the big move to England.
"Things were mapped out and without ever saying 'I want to be a professional footballer,' it was almost as if it was there all the time — that was the goal," he remembers.
A teenage Beglin won "lots and lots of titles" with Waterford Bohemians, before catching the eye of two of his future RTÉ colleagues.
"I went with the Irish U17s to Cannes in France then to play in a tournament just before I did my Leaving Cert funnily enough, which didn't go down great with my parents.
"John Giles and Eamon Dunphy were looking after that team. I'll always remember John had to leave early as he had other business ongoing. But on the way back from Cannes, I was sat down in the airport by Eamon and I was offered terms with Shamrock Rovers, and that's how it all came about."
Beglin joined Shamrock Rovers in 1980. Giles was the manager and he had ambitious plans for the club. The Hoops were being turned into a professional outfit and the ultimate aim was to get them to compete domestically as well as in Europe. Promising youngsters like Beglin were brought in and combined with a few experienced pros returning from England, such as ex-Ireland international Ray Treacy.
Rovers never did fulfill those grand ambitions under Giles, nevertheless for Beglin, the experience proved invaluable.
So many Irish lads had made the jump across the Irish Sea and ended up at big clubs, lost and homesick. I experienced all that in Dublin — from doing my Leaving Cert, two weeks later, I was doing pre-season at Shamrock Rovers.
"There were a lot of young men there at the time, but I was in a man's world. It was really tough. I was supposed to keep going with my schooling, going to Pearse College and re-sitting my Leaving Cert, aiming for an honours Leaving Cert.
"I found trying to combine everything — the toughness of the training, the study, it was just too much. So I just dropped the study — I thought it was all-consuming, the football side of it. So I just got stuck into being a better footballer and being able to cope on that stage.
"And I was lucky, because if I needed a hug from my mam or reassurance from my dad, I could just sneak on the train. Nobody knew, I'd just jump on the train and go back to Waterford, that was great for me. Whereas if you were in England, it's a different ball game trying to do that.
"So I was able to tough it out and cope, and in those three years I spent at Shamrock Rovers, I just learned a huge amount. I was hardened by John Giles in the main — he was fair, but very tough on you. He improved my game, he gave me a very different mindset as to how to approach the game. I always had that determination and I was ready to see where it would take me."
3. Rovers revolution
Giles' time at Rovers is sometimes spoken of in negative terms on account of the lack of silverware the team accrued during that period, however the former Ireland boss at the very least laid the foundations for the famous 'four in a row' side that followed, in addition to helping to develop talented youngsters such as Beglin.
"I admired their ambition — himself and the Kilcoyne family, because it was a big task to take on," Beglin recalls. "Nobody was really trying to take the league to another level in Ireland at the time. And yet, Rovers invested in trying to get all the best young talent and maybe sell them on to England at a higher price.
When you look back at that, I ended up going to Liverpool, Pierce O'Leary went to Celtic, he was at Vancouver Whitecaps as well, Liam Buckley went to Waregem in Belgium, Alan Campbell went to Santander in Spain, Jacko McDonagh went to Nîmes Olympique in France, John Coady went to Chelsea, there were a lot of very talented players in that team. We played lovely football, we played John Giles football, but the Athlones and the Dundalks always had that bit of experience, that bit of nous, that physical edge and they always seemed to pip us to the post at the time.
"Jim McLoughlin took over thereafter, and won successive doubles. You have to attribute some of that certainly to what was done beforehand and the players and the core of talent that was at the club."
In three years at Rovers, Beglin regularly impressed at left-back. Newspaper rumours began circulating that certain clubs were watching him. Initially, it seemed he was set to end up at Arsenal.
"I got wind of Arsenal interest," he recalls. "And I remember playing in my hometown for Rovers against Waterford one particular Sunday and I was going straight back to Dublin on the coach to get a flight to London.
"And on the way back, [the then-Rovers owner] Louis Kilcoyne sat me down and said we don't quite know what's happened, but Arsenal don't want you to come over. I thought 'fair enough,' I was very disappointed, but I started a commercial course with Aer Lingus, just kind of a learning course with a view to getting me employment down the line — I was not necessarily going to work for Aer Lingus."
In 1983, the professional set-up at Rovers was beginning to disintegrate. John Giles had stepped down as manager and went to coach the Vancouver Whitecaps full-time. Noel Campbell had taken over as caretaker boss and the Hoops were going back to being just another part-time League of Ireland club without particularly extravagant plans for the future.
4. A dream come true
Amid all the turmoil and uncertainty, Beglin — who was a week into his Aer Lingus course — was offered a month's trial at Liverpool.
"You always get nervous before any kind of big occasion," he says. "Especially if you're going into the unknown and you're kind of wondering what's going to happen — that creates a nervousness. But my nervousness was always underpinned by a determination — even if my confidence was down, I always had it.
"I don't know where it comes from, maybe my dad, but I was never willing to back down. I knew I was never going to be the greatest player in the world. But at the same time, I always had this willingness to keep going no matter what, and that was always something that stood me in good stead."
The stakes felt impossibly high. Beglin faced a crucial couple of weeks that would likely play a large part in determining his future.
I remember thinking 'this is it'. It's either stay at Rovers, get a job, or go back to Waterford. And I never wanted to go back to Waterford, because I didn't want to be deemed a failure. You go back to your own town and everyone says 'ah, he didn't make it'. I'm not having that.
"And having arrived at Anfield, I was very apprehensive, because I'm going into a completely different world — this is the best club in Europe. At the time, I remember thinking, 'this is a hell of a jump'. I played a couple of reserve games in the first 10 days, which went really well for me, and out of the blue one day, it was the end of the tax year, I [was offered a permanent deal]."
5. End of an era
Beglin ultimately joined Liverpool in May 1983 for £20,000. The signing was especially notable for being Bob Paisley's last as manager of the club before retiring.
"It was funny, because there was a lad called David West, who I ended up sharing a house with. Westy was from down south in Dorset.
"He had all the cameras on him and all his family sitting around the telly to watch Sportsnight thinking he was the final signing for Bob Paisley — I came walking out of the office and they were all gutted.
"It was tremendous for me. My dad passed away that summer — he didn't get to see me play for Liverpool but at least he got to see me sign for Liverpool, he came over that particular weekend. We watched Liverpool lift the league trophy. I think they'd played Aston Villa, and we sat in the stands. I was there thinking 'oh my God, I now have a chance of a crack at this'.
"I go back to that word 'determination' — I was determined not waste the opportunity."
For Beglin, he was in many ways fulfilling a childhood dream, as he became part of the fantastical world he once viewed from afar.
My father was always a Liverpool fan, he was a fan of football. He would regularly make trips across to Anfield. I remember my older brother being taken. I ended up getting a trip across the water once to Old Trafford — we went to see Manchester United beat Derby 3-0 when I was quite young. But I loved all that — anything to do with the game was right up my street. Those little trips when my dad would take us over were fantastic. They just kind of fuelled our appetite to play football."
6. Biding his time
After the ecstasy of being offered a Liverpool contract, the next few months required considerable patience. The Irish youngster had to be content with reserve-team football, as experienced left-back Alan Kennedy was proving difficult to displace.
That situation meant that Beglin was not involved in 1984, when Liverpool beat Roma to lift the European Cup for a fourth time.
"I remember being on the bench at Benfica earlier in that run and I travelled to Bucharest for the second leg of the semi-final — myself and Paul Jewell were the only two that didn't strip off.
"As happens when it comes to a big game, everybody suddenly declare themselves fit. Joe Fagan pulled me over at Melwood, because I was training with the first team then. He said 'listen son, you go off to the Kirin Cup with Ireland, you go to Japan'. [The tournament was] a mixture of club, international and university sides. He said 'you go out and play in that'. So I made my Irish debut.
"I remember being in Tokyo and the lads telling me the next morning that Liverpool had won the European Cup on penalties and I was delighted."
7. Taking his chance
It was the following season when Beglin would make his long-awaited debut, featuring in a November 1984 1-1 draw against Southampton at Anfield and gradually making the left-back slot his own thereafter.
He was an important member of the Reds' European Cup run and scored his first senior goal for the club in a 4-0 semi-final win over Panathinaikos.
"That was lovely, because we went through it on the training ground. They were very good, the Liverpool coaching staff, at spotting little details. I was at other clubs as well and you'd never get that attention to detail.
"They'd picked out the fact that the Greek lads would just follow the runners — they weren't that bothered about the ball, sometimes they'd just get drawn.
I had to make out I was uninterested and just kind of loitering outside the box. Everybody would make the run to the front post, hopefully drag the whole Panathanaikos team with them. And then it was my job to suddenly sprout into life and get into the back.
"I always remember, little Sammy Lee ran over. Kenny [Dalglish] was on free-kick duty. Kenny could deliver a free kick, he could do most things. Kenny just got the perfect depth, because at the last minute, one of them realised that they'd fallen for it. [The Panathinaikos player] tried to kind of backpedal and get there, but Kenny had played it absolutely inch-perfect for me.
"Luckily, I was able to come on to it and get a good strong header behind it. It was a moment I'll cherish forever, because it was my only goal at the Kop end. That was very special, to do that on a European night.
"The following night, I went into my local chippy. The guy behind the counter, an Italian bloke, was refusing to serve me. He had 100 quid on 3-0, I had popped up and got the fourth [with five minutes remaining]."
Source: Άλκιμος/YouTube
8. Heysel
Despite this goal, Beglin was not guaranteed a place in the starting XI for the final. His rival for the left-back slot was battling to get back to full fitness after being out injured.
"I think Alan Kennedy was nearing fitness and was trying to make the final lineup in Brussels, Heysel against Juventus. But I think Joe Fagan was set on going with me then."
The Irish defender was ultimately picked in the team and completed 90 minutes, in the process becoming the second-youngest player to represent the Reds in a European Cup final after David Fairclough (though that feat will likely be surpassed by Trent Alexander-Arnold this evening) as Liverpool were beaten 1-0 by Juventus.
The action on the pitch, however, was completely overshadowed by what was happening off it. A riot occurred and a retaining wall collapsed in the stadium, which tragically led to the death of 39 Juventus supporters.
"One or two of the senior pros maybe had a better idea of exactly what was happening. I didn't know and I was the youngest player at the time.
"It was kind of kept from me. I wasn't informed as to the extent of what was happening. I knew there was a lot of trouble. The kick-off was delayed by an hour and a half.
I'd heard maybe two or three people had been killed, but I knew no more than that. The wives were experiencing nightmares, because they were actually watching bodies piling up from where they were near in the stand.
"So I knew nothing about this when we took to the field. It was still the European Cup final and we tried to win it. It was only afterwards that it hit home. We were then told the full extent and all of us took a walk up to where the wall had collapsed and it was horrific.
"The remnants of people's lives were there — clothes and baggage. It was shocking. We were all devastated. It was an incredibly sombre mood. Normally, when you'd lose a final, you could have a few drinks and find a way to smile eventually later on that night. But that particular evening was the quietest I've ever known. There were no celebrations, no smiles. It was just a horror night when we realised the true extent, it was dreadful and I'll never forget it."
9. A season to remember
It took a long time to come to terms with the trauma of the Heysel Stadium Disaster, nonetheless Liverpool managed to do the city proud the following season. With Beglin a regular member of the side and Kenny Dalglish having taken over as player-manager following Joe Fagan's resignation, they won both the league and FA Cup, pipping local rivals Everton in each of the competitions.
"It was a big year for the club because of Heysel. We did a documentary for LFC TV about the importance of that season.
"We were tentative at times, we were a little unsure. And I always say it about that team and about Liverpool FC in general, there was always that spirit. Back then, the standards were set so highly and Kenny wouldn't let anything drop.
"And of course, it's Kenny Dalglish that's taking over, Kenny had that aura about him. Everybody respected him. And you were always willing to go the extra mile for somebody like him, and we did.
"We might have been a little hesitant in the way we went about it at times, but come the end of the season and come the pressure, that team just soared. The run we went on, it was just a magical time for me, particularly with what happened a few months later.
I look back on that now and I cherish it hugely, because there were no more medals coming my way, and it should have been a domestic treble. We messed up against QPR in the semi-final of the League Cup. We had a shocking night at home, everything that could have gone wrong did go wrong in the second leg of the semi-final — we blew that, so that also increased our desire and commitment to make sure we were going to get the job done.
"And once we won the league [by two points], there was almost a satisfaction that: 'Well, we've got one of them, and maybe Everton will get the other. We didn't play especially well for about an hour at Wembley, but once we clicked into gear and Everton just collapsed [Liverpool won 3-1] — and that was a hell of a good Everton team.
"In terms of what I'd aspired to try to do — from playing for Bohemians of Waterford and going through Shamrock Rovers, to hit that kind of level, it was the best, I was extremely proud."
10. Wembley euphoria
The FA Cup final ended with Liverpool and Everton fans chanting 'Merseyside' in unison. The importance of the moment was apparent, after the tragedy that had occurred only 12 months previously.
"I don't think you really get that these days. They used to call it 'the friendly derby,' Liverpool-Everton, but I think that title has gone as well — it's not quite the same. I think it was special in that 85-86 final. I always like to think that that's the biggest derby ever. I know they met again in the FA Cup final in '89 and that was after Hillsborough and that was obviously very special for Liverpool.
"But the 85-86 one, I remember them risking their lives trying to get into the stadium. You see the footage of Wembley at the time and it's absolutely mad. The official attendance was given as 98,000, but you can add another 10, 15 or 20.
I had guests that ended up sitting round the track, because it was so crowded. But that was a very special time, because either Liverpool or Everton were winning the league once you got to the mid-80s.
"So Merseyside was the place to be, it was as good as it got. I think there were two very good sides fighting it out. And credit to the Evertonians that day too, they were still very proud of their team and what Merseyside was achieving at the time.
"It was after Heysel and I know a lot of Evertonians are upset, because they never got a crack at the European Cup because of the ban [on English clubs competing in Europe], and some of them will never let that go. But that day, they did themselves proud too."
11. Injury hell
It didn't get any better for Beglin, in fact it got a whole lot worse. The following season featured an equally significant moment in his career during another Everton-Liverpool clash, just seven months on from the double triumph.
Beglin can still list off the exact date of the moment his life changed — it was a League Cup tie on 21 January 1987, when Gary Stevens' poor challenge left the Irishman with a broken leg.
Commenting on the incident, former Liverpool boss Bob Paisley was quoted as saying: "The injury he suffered… Was as ill-timed, as it was painful. It was painful to look at, never mind to experience. I've seen one or two broken legs in going on 50 years in the game, but not one made me really wince, [but] Jim's did."
"My leg break was fairly horrific, it was car crash material," the former full-back adds.
Having retired shortly after Beglin arrived at the club, Paisley did not have too many dealings with the Irish international, but that fateful night, the legendary coach — who tended to hang around the club even after stepping down as manager — was by his side.
"For me, it was like, Bob Paisley, manager of Liverpool, three European Cups, countless leagues.
"I remember the day they wanted to sign me — they felt they'd seen enough and wanted to get it done before the end of the tax year. I spent a bit of time with him that particular day, but very little was said really. He didn't engage in small talk and I was playing the 'shy' role.
"And then later on, he was there when Kenny [Dalglish] was in charge. If Kenny needed any advice, Bob was always at hand, keeping an eye over things.
"The night I broke my leg, Bob was the one who travelled with me to Walton hospital in the ambulance. I always laugh about that, because I remember when I was carried off, they'd obviously pumped me full of morphine and facing the wall, still on the stretcher in the position they put me. I heard a door open, and there was Doctor Irvine, who I've spoken to since about that night.
I heard another voice. I was kind of wondering: 'Who's that?' But I didn't look. I needed oxygen, so I had the mask on my face. The next minute, somebody's grabbed my arm and they're pulling my arm all over the place. I was like: 'What's going on?'
"I pulled the mask off, looked up and it was Bob. He said: 'You've got to keep the circulation going.' I'm thinking 'my leg's hanging off here,' so I pulled my arm away from him. I thought: 'I don't need this, I'm in a bad enough state.'
"You've got to remember though, Bob was a physio himself and he felt that I needed to keep the circulation going. But when he said it in his Geordie accent that night, I just remember thinking: 'What are you doing?' It's not often I'd question the great man."
12. Hard times 
The next couple of years were to prove immensely frustrating for Beglin following this deeply unfortunate setback. And to make matters worse, the Irish star suffered a knee cartilage injury while lining out for the reserves in October 1988 during an attempted comeback. He would never play for Liverpool again after that incident.
"I was always up against it with [the initial leg break] and I knew pretty quickly that I would have to fight hard to overcome that. The surgeon that operated on my broken leg did an incredible job piecing it all together.
"The problem for me was coming back from that, I injured my right knee, so it was a weight-bearing thing. Unfortunately, they had to take about 80% of my lateral cartilage out on the first operation. So I'm pretty much now bone on bone, from the top of my tib to the bottom of my femur. I ended up paying after that.
"I hated myself thereafter. I got terribly down and lost my confidence, not just as a footballer but as a person.
Football was my life. Football gave me my confidence. And all of a sudden, it was gone.
"I hated that whole period. I knew I got caught in a downward spiral and I knew I wasn't going to get out of it, I wasn't going to suddenly get a miracle cure.
"I ended up training and playing in pain, stupidly. But I went on probably for a year or 18 months too long when I should have retired. But back then, it was all about being a man, about not quitting. I just kind of got wrapped up in that whole world and stupidly, I kept going, hoping that things might improve injury-wise. But that was never going to happen.
"It was my knee that retired me in the end, and I've now ended up with an osteoarthritic knee.
"But it's not the worst thing in the world. Of course, the one thing I would change in my career is going in for that tackle at Goodison. But what I will say is I won the ball. The guy who caught me didn't. And that's what obviously ended what could have been a great run.
"I'd like to think I could have gone on to win a lot more with a club like Liverpool. My attitude was never going to change."
13. A new beginning
Beglin did not accept his career was over even after leaving Liverpool. In the summer of 1989, he joined Leeds United, but would make just 19 appearances in two years with the club while also undergoing brief loan stints at Plymouth Argle and Blackburn Rovers. Despite all his determination to prove he could still compete at a high level, it was clear Beglin would never be the same player again. In 1991, at the age of 27, he announced his retirement from the sport.
By this stage, he had already started his media career. Having won 15 Ireland caps, it was tough watching on as Jack Charlton and co enjoyed unprecedented success, but it didn't stop him doing commentary for RTÉ Radio during the Italia '90 World Cup. The fact that Beglin will again be working for the national broadcaster during this Saturday's Champions League final is a testament to the successful alternative career he has managed to forge for himself (he can also be frequently heard on BT Sport and NBCSN these days).
"What [the injury] did, unknowingly, was start my media career. I had no designs on chasing a media career. I wasn't leaning that way. All of a sudden, I was asked to do bits and bobs, so I had little bits of experience of it.
And then, I remember, when I was finally retiring at Leeds, [the manager] Howard Wilkinson said to me: 'What about a media career?' He was the one that kind of dropped it into my lap. As much as I'd done some work, I really hadn't been thinking in those terms. I was thinking about coaching and staying in the game. And it was a very uncertain and scary time. And then the phone started ringing and thank god, it's still ringing.
"So I just went off down that route. And I've really enjoyed it, I've been lucky. Nothing will ever replace the lost years because of my injury and what might have been. But you can't keep dwelling on that. I can't keep thinking in those terms, because all you do is get bitter. So I've had to find a way of putting it to bed.
"My son brings it up from time to time, and he will kind of get me going again. But essentially, it's one of those things. It happened, there's nothing I can do about it. I can't change what occurred, so I just have to move on and I did that a long time ago. And life has been kind to me, I've been lucky. I've always worked hard, I've always had a good attitude towards whatever I do — try to be the best at it and that's something I stick to. I like to think I've done my bit as well as having some good fortune."
While Beglin's career may not have panned out exactly as he would have hoped, his achievements in a relatively short space of time are pretty remarkable. Few players, even those with much lengthier careers in the game, ever get to be part of English double-winning sides or to compete in a European Cup final.
14. Conclusion
As our conversation approaches its conclusion, Beglin shares some invaluable advice that any aspiring footballer would do well to take onboard.
"I would say to anybody, no matter what level of sport you're at, to give everything you've got," he says.
"If you have a dream and you don't give everything to try to make it come true, and it might never come true, but at least you can look in the mirror down the line and say 'well, I didn't hold back, I gave all I had, I dedicated myself to it, I made sacrifices et cetera,' which you have to do to reach your goals.
My advice to anybody at any level is to have that determination and have that commitment and don't give up until you reach the day where you know it's gone, or it's not happening, or you've lived your dream one way or the other.
"And use criticism as a springboard, to bounce back. Don't ever just accept it and let it get you down.
"It's a hard world, nothing ever comes to you easily, so you have to be prepared to put the work in.
"Quitting on anything creates losers. I never wanted to be a loser and my family will tell you to this day, whether we're playing cards or whatever we're doing, I hate losing, I can't stand losing, I can cope with it a bit better now, I can act a bit more maturely, but I hate losing. I'm off for a game of golf now and I don't want to lose that."
Jim Beglin will be on co-commentary duty on RTÉ 2 for the Champions League final between Liverpool and Real Madrid tonight. Kick-off is at 7.45pm, with coverage starting at 7pm.
The42 is on Instagram! Tap the button below on your phone to follow us!