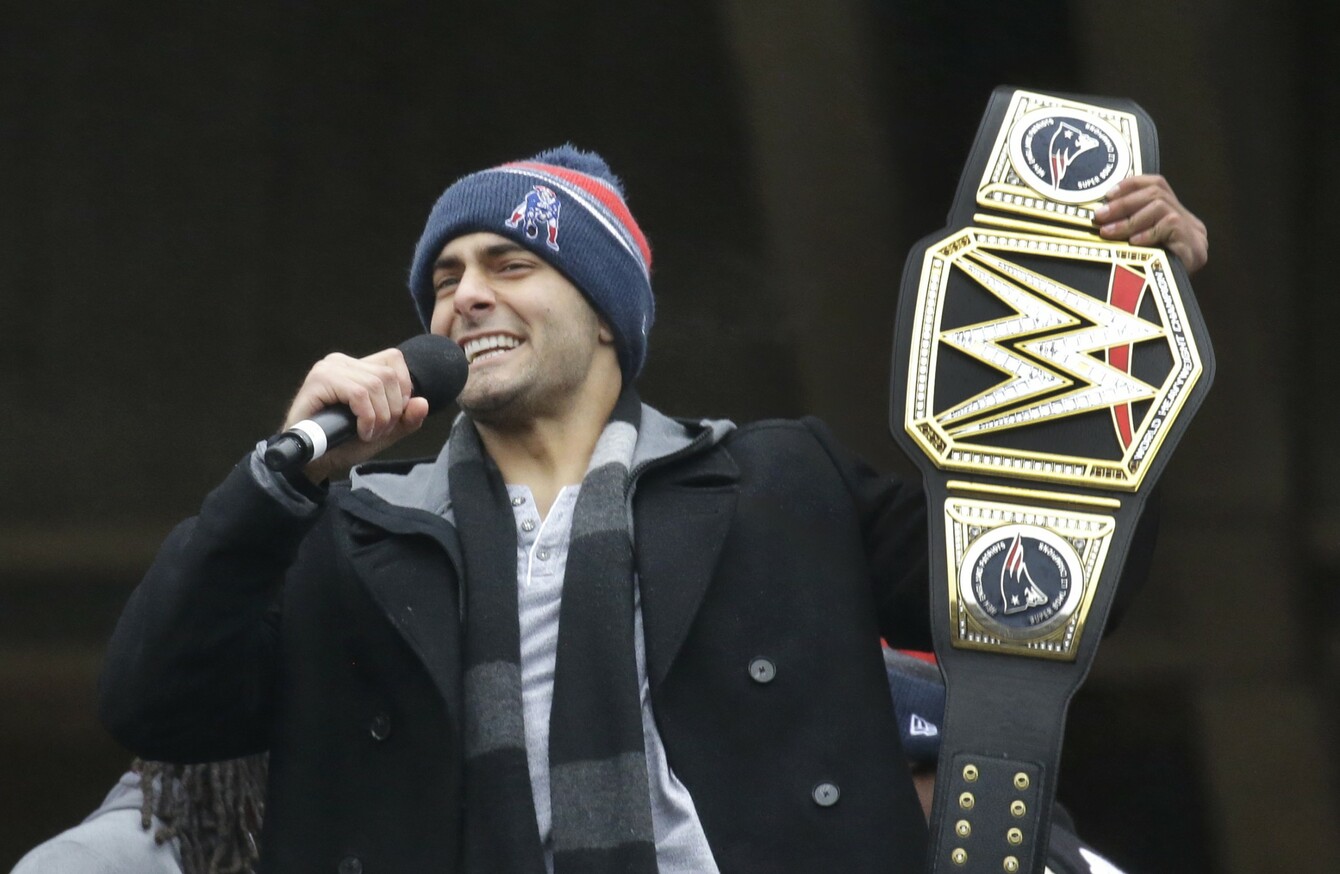 (Handsome) Jimmy G is the world champion at winning Super Bowls as a backup QB
Image: Elise Amendola AP/Press Association Images
(Handsome) Jimmy G is the world champion at winning Super Bowls as a backup QB
Image: Elise Amendola AP/Press Association Images
THE WAY SOME NFL scouts, GMs and fans talk about Jimmy Garoppolo, you would swear he is guaranteed to be Tom Brady, Brett Favre and Joe Montana all wrapped up in one Super Bowl winning package.
But, since he was drafted out of Eastern Illinois in 2014, Garoppolo has thrown just 94 passes in the NFL and only 80 of them were not in garbage time.
Of those 80 passes, he completed just 43 (53.75%) and Pro Football Reference classify all but four of those successful passes as 'short.'
Essentially, Jimmy G plays in the Alex Smith zone.
In his two games last season, before a shoulder injury put him out, he did fine, but didn't exactly scream 'future of the franchise' as some would have you believe.
Against the Cardinals in week one, Pro Football Focus graded him as the 25th best quarterback out of 32, as he connected on just four passes over ten yards.
That said, this 33-yard throw to Danny Amendola after doing a nice job of dancing around in the pocket was elite and gave a glimpse of what teams are falling in love with (apart from his incredible good looks, obviously):
Garoppolo was much better the following week against Miami — he was PFF's sixth graded passer that week — but he still only went six of 11 for 107 yards and two touchdowns while under pressure in that game.
He shouldn't come under pressure often because, what he does well, usually, is get rid of the ball quickly and more than 70% of his throws leave his hand in under 2.5 seconds which is why Josh McDaniels' game plan for him to date has been dink and dunk throws.
However, 2017 appears to be a weak QB class in terms of the NFL Draft so Garoppolo's value has rocketed.
With one year left on his contract, many of those 'in the know' — including Bleacher Report's Mike Freeman — say the Patriots are about to get an "offer they can't refuse" for the player.
As they've shown time and time again in the Bill Belichick era, trading a player away just before he is due a big pay day (see Collins, Jamie and Jones, Chandler) is definitely in their wheelhouse.
The Browns seem like the obvious destination if the Patriots are interested in seeing what they can get for Garoppolo.
They have four top-50 picks in this year's draft — the first, 12th, 33rd and 50th — while the Patriots only have the 32nd, 64th and 96th pick in the top 100.
With no fourth round pick in 2018, the Patriots could conceivably ask Cleveland for their 12th overall pick this year and their fourth round pick next season as compensation for Garoppolo.
But the Browns are far from the only team on the lookout for a new quarterback.
SEE SPORT
DIFFERENTLY
Get closer to the stories that matter with exclusive analysis, insight and debate in The42 Membership.
Become a Member
The 49ers, Bears and Texans are the other obvious landing spots though I'd be shocked if Garoppolo ended up in Houston given how big a threat that team would be to the Patriots with even a half-decent quarterback.
The Browns do have the most ammunition and have history of trading with the Pats, so they remain the favourites if he does move.
However, there is a compelling argument that Garoppolo should stay in New England.
Tom Brady turns 40 this year and, even though he says he wants to play until he's 42 in honour of his favourite website (only one part of that sentence is true), history tells us that Father Time remains undefeated, even if you are the greatest of all time.
The great Brett Favre threw 33 touchdowns at the age of 40 but died a death on the field at 41.
Peyton Manning broke the record for most passing touchdowns in a season with 55 at the age of 37 and by 39 the Broncos won a Super Bowl in spite of his quarterback play.
Quarterbacks tend not to have gradual decline. More often than not, they fall off a cliff.
There's not just anecdotal evidence for this, the statistics back it up.
Per ESPN, the final year of a quarterbacks's career averages a decline of 0.75 yards per attempt, about six times the age-related decline of every other year.
Therefore, having a competent back-up quarterback in-house who knows the playbook, who has a relationship with the receivers, linemen and coaches is really important.
Plus the Patriots can keep Garoppolo this year at very little cost, they don't have to do anything no matter what other teams offer.
Basically, New England have a relatively risk-free replacement in place if 40-year-old Brady is a ghost of the GOAT.
And, even if he proves not to be the successor some believe he is, the 2018 quarterback class is looking much stronger than this one so you could pick up your next franchise quarterback there.
As usual when it comes to New England, it's win-win.