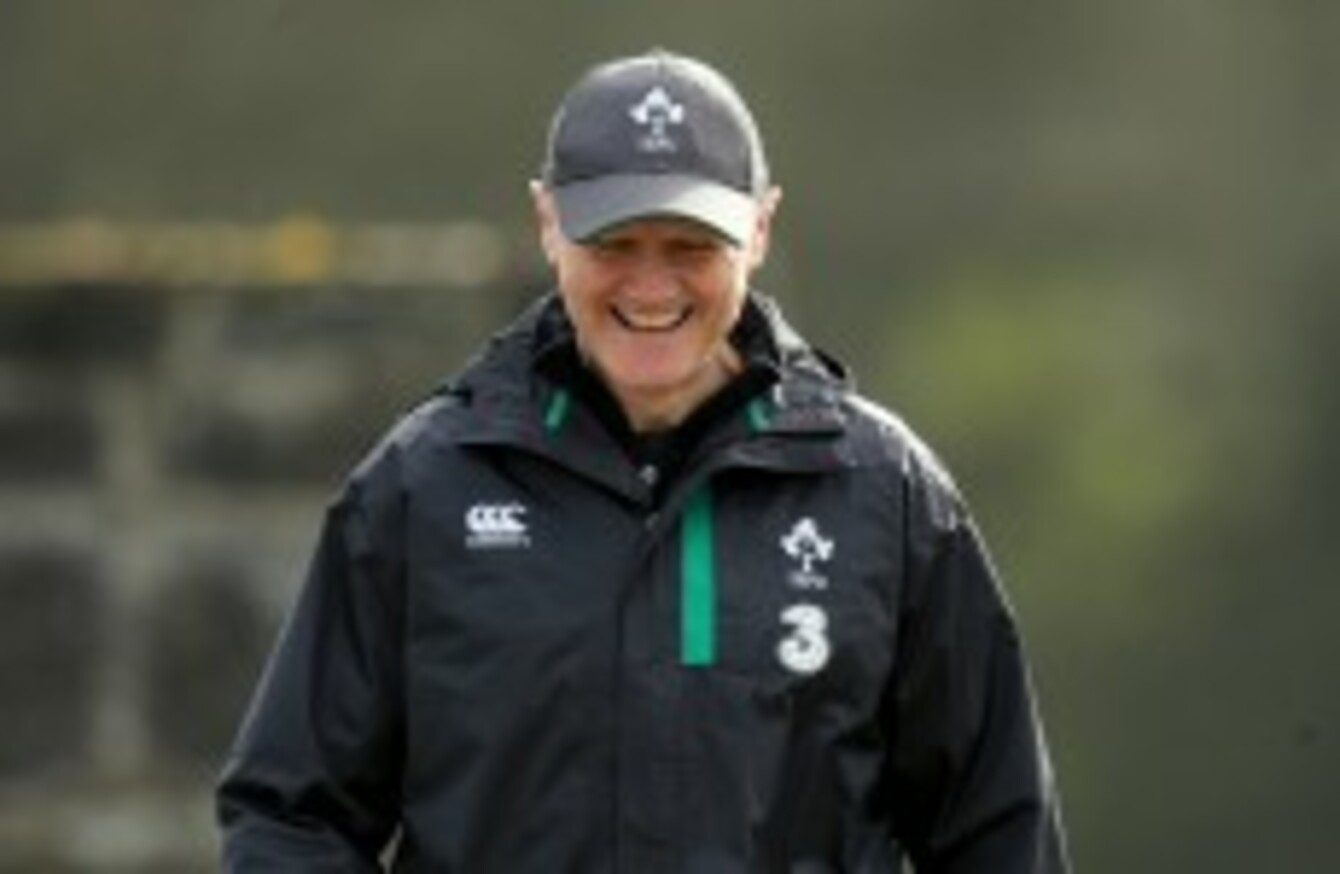 Image: Ryan Byrne/INPHO
Image: Ryan Byrne/INPHO
CIAN HEALY WILL have to 'muscle a way past' Jack McGrath to win back the Ireland number one jersey, head coach Joe Schmidt admitted after announcing his team to face England.
The 25-year-old McGrath has spent the majority of fledgling career in the shadow of his fellow loosehead. However, Healy's injury setback early this season afforded McGrath an opportunity for both club and country and he has grabbed it firmly with both hands.
With Healy adamant this week that he has built up enough fitness levels to last the pace of an international from the start, Schmidt was asked how tempting it was to bring Healy's power back into the front row.
"There's always temptation to change things up," says the Kiwi, "but Jack has done a super job. He was probably our stand-out player against South Africa - which is a very big pack. I thought he really did a great job that night; you know, he's played his way right through. I know the coaching staff have got genuine faith in him.
"Cian is still very short on game time and every time he gets a bit, he'll increase the amount of value."
While Schmidt initially side-stepped the notion that the shirt is McGrath's to lose, he did admit that it's increasingly difficult to drop a player who is consistently delivering the goods
"He's very correct at scrum-time. First poach of the game last week, Jack's the one who got it. His tackle stats are accurate… so both sides of the ball Jack has been very good for us.
"It's like some of the other decisions we made. There were temptations to tinker with other positions. But players who are performing and contributing in the slot they're accorded, it's hard to go past them and somebody else has to almost muscle their way past without ever a shirt being owned by anyone."
The other big decision Schmidt was faced with was how to fill the void left by Jamie Heaslip. The decision to again select Jordi Murphy at number eight was made easier for Schmidt after Iain Henderson was unable to train because of a 'knock on his knee' early this week.
"With a short turnaround post that, we thought it was best to go with Jordi who played there against Argentina and against Italy. It wasn't altogether unfamiliar to us and we felt Jordi played well against Italy.
Schmidt added: "Jordi doesn't really say a lot, he gets on with the job, he gets on with other people and he's a workaholic around the pitch.
"He gets through a lot of work on both sides of the ball, whether he's carrying or cleaning out or on the defensive side making tackles."
The third main bone of contention in what is otherwise a settled Ireland squad is the bench cover for the back three positions. Schmidt has once again rewarded the form of Felix Jones with the number 23 jersey, despite increasing pressure from Keith Earls, Dave Kearney and Luke Fitzgerald.
"I think Dave Kearney was one of our stand-out players in the Championship last year," enthuses the Ireland head coach.
"Probably hasn't had a massive amount of game time, but he's been getting better and better and that puts pressure on the guys that are there.
One of the things with Luke is that, it potentially could have given us three left-footers in the back field which isn't as good a balance as we'd like… if Tommy ever got tired and decided to take a rest. We're looking for that bit of balance and it's also very hard to equate outstanding performances against Zebre with a high performing England team.
"We had to re-assess in our meeting this week, just to have a bit of a spell and try to sort out our own thoughts about some of those tough decisions that we're talking about right now.
"That's a good position to be in in the squad, at the same, it does make it a headache, albeit a welcome one."