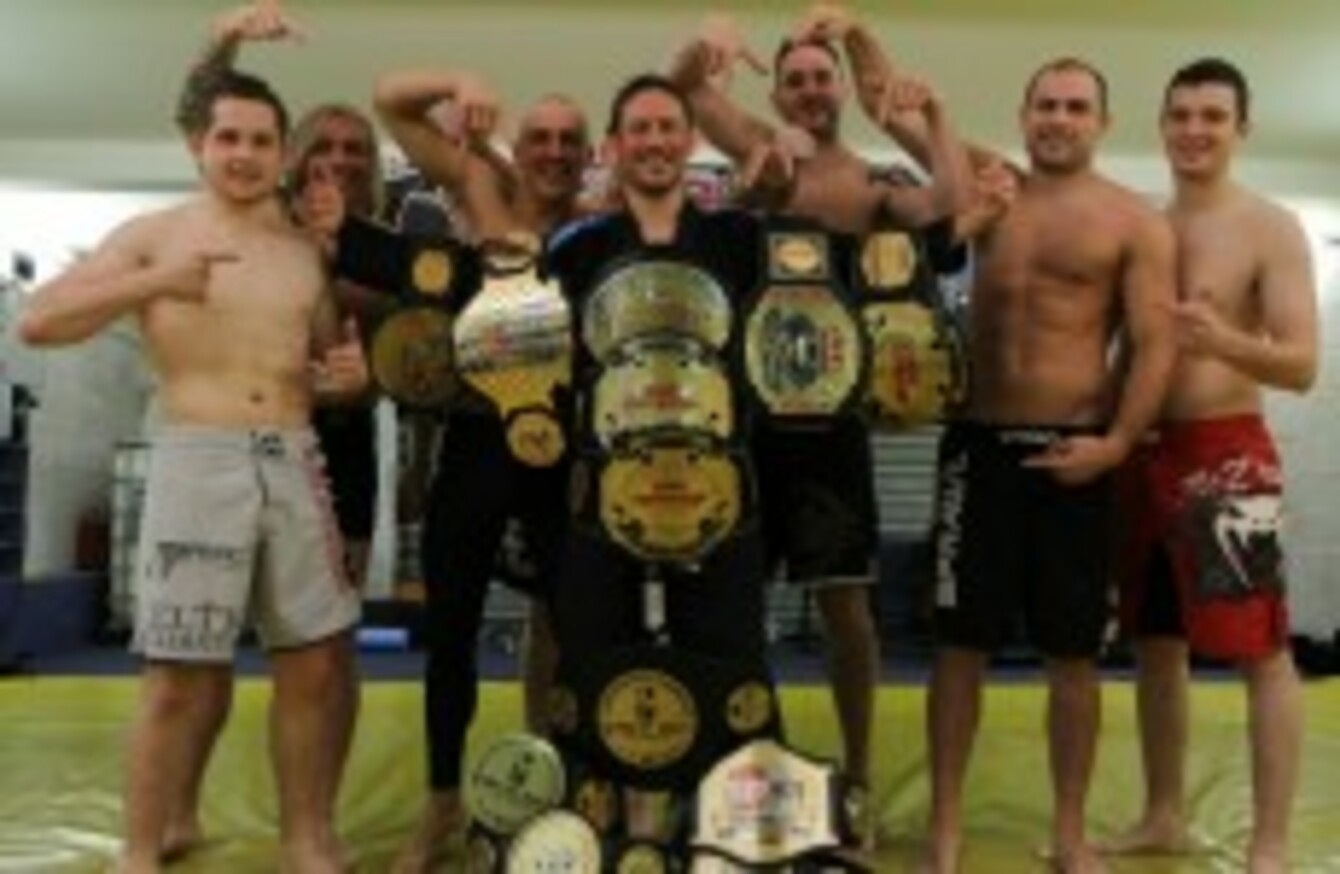 John Kavanagh (centre) and the SBG Ireland team.
Image: Ciaran Maher/SBG Ireland
John Kavanagh (centre) and the SBG Ireland team.
Image: Ciaran Maher/SBG Ireland
JOHN KAVANAGH MAY be recognised as Ireland's elite MMA coach today but he is the first to admit that it has been a rocky road to success.
The founder of Straight Blast Gym Ireland currently trains some of the country's best fighters – Iceland native Gunnar Nelsen won his second UFC bout on two weeks ago, Conor McGregor is a month away from his debut while the likes of Cathal Pendred, Chris Fields and Owen Roddy have been making waves in recent times.
When asked about the gym's humble beginnings, Kavanagh talks of wandering through a Laser Video store nearly 17 years ago and spotting a cover displaying eight men and a cage.
"I didn't even think it was real," he tells TheScore.ie. "I thought it was pro wrestling at first."
After instantly falling in love, he began training the very next day. With little or no knowledge of the sport, Kavanagh met a Judo player named Andy Ryan before being offered a fight in South Africa in 2000 thanks to a Dublin-born matchmaker living there.
Although he lost, Kavanagh struck up a relationship with his opponent's coach. Renowned trainer Matt Thornton had established Straight Blast Gym in the US back in 1992 and decided to take Kavanagh under his wing.
I went training with him and a lot of stuff that he said made sense to me. This was the beginning as everything I had learned before was wrong."
Returning to Dublin, Kavanagh set up SBG Ireland and endured a shaky first couple of years. Also studying mechanical engineering at the time, it was tough balancing the two and when he graduated, there was a decision to be made.
"I knew I wanted to do this but wasn't sure if there was a living in it. UFC itself was very small at the time. I said I'd give it three months and if it didn't work out I'd be an engineer. That was eight years ago and I'm still at it."
With the aim of building the reputation of the gym up slowly, coming into contact with a couple of individuals experienced in different aspects of sport helped enormously. Input from Eoin Lacey of the Irish Strength Institute saw them make huge changes in their approach to the strength and conditioning and nutrition side of things.
Then there was Kieran McGeeney. The former All-Ireland winning Armagh captain and ex-Kildare manager discovered Brazilian Jiu-Jitsu a couple of years back and is a regular visitor to SBG.
"I don't have any formal qualifications for being a coach so chatted a lot with him (McGeeney) about how to motivate players," explains Kavanagh. "Obviously we coach different sports, but it's the same idea right? He's probably one of the most intense human beings I've ever met."
Kavanagh (centre). Credit: SBG Ireland
Kavanagh, now a black belt in Jiu-Jitsu, states that around five years ago, SBG was on a par with several other gyms around Ireland. Since then, however, they've struck up connections in Iceland to add to the ones in New York and have taken a step or two above everyone else.
Ten years ago, if you saw someone walking down the street in Dublin with a UFC t-shirt on you would know who they were. The interest was so small. Now it's got so big that you see people wearing UFC apparel for fashion.
"I actually get people coming in here to buy SBG t-shirts who don't train. It's strange to me as I remember it being me and ten guys in one-car garage shed where the roof fell in on us one day. Now I'm travelling the world with fighters. Every now and again I have to pinch myself."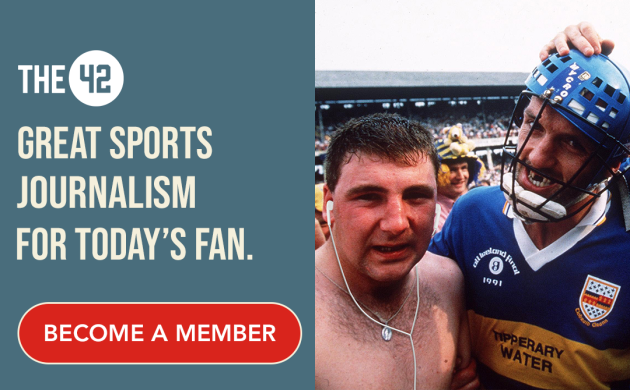 On April 6, Conor McGregor takes on Marcus Brimage in his first UFC fight in Stockholm and although Kavanagh admits that he might be slightly biased, he is expecting his protégé to take it by storm.
"He's going to make a big impact. For me, Conor is a different level to pretty much anyone in his own weight class in UFC. The champion Jose Aldo is fantastic and maybe I'm delusional but I couldn't see him being able to go three rounds with Conor at this stage.
"All this will be tested come April but he has an exciting fighting style, a great personality and the look. which he backs it up. I tell people when I'm going to corner Conor that I'm going to watch my favourite fighter and I've got the best seat. So it's fun for me.
"If you want to say this is year zero as a Dublin guy is involved in UFC, fast forward two years and how many thousands will be involved in because Conor McGregor is being spoken about for title contention in the UFC. I'm excited about that."
On opponent Brimage, Kavanagh adds:
We're not going to change anything with regard to preparation. The guy is pretty much a boxer which is usually bad news if they want to stand with Conor. He could try and take Conor down if he's clever.
"It doesn't matter whether he'll be fighting in front of 16 or 16,000 people like he will in April - it's still two fighters walking into The Octagon and that's all that matters. Conor just needs to relax, let it flow and hopefully get that knockout of the night bonus!"