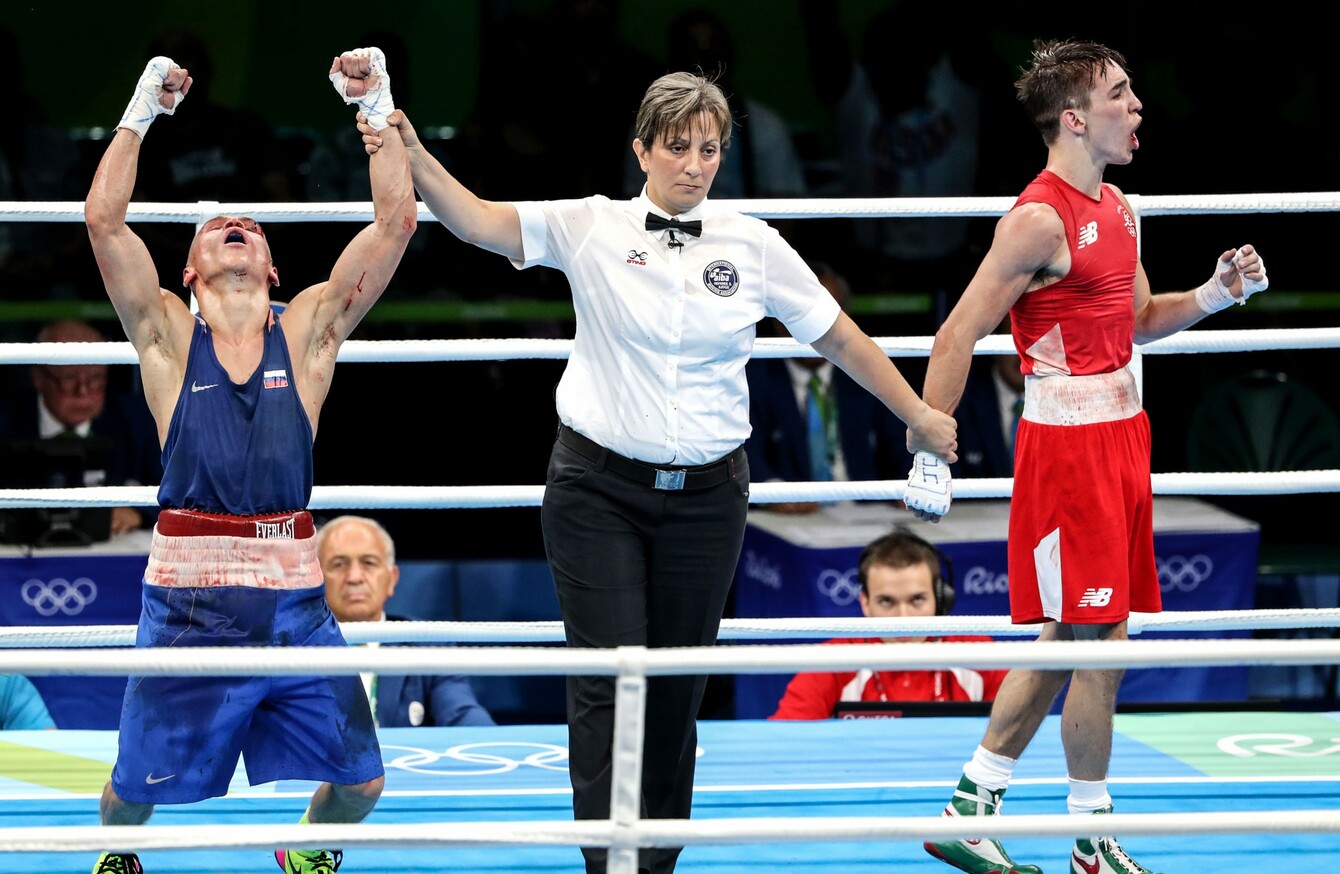 Michael Conlan has turned professional after Rio.
Image: Inpho
Michael Conlan has turned professional after Rio.
Image: Inpho
THERE WAS LITTLE doubt who emerged as the biggest loser from yesterday's publication of the 'Rio Review' report and Sport Ireland's funding for 2017.
While many national governing bodies left Dublin's O'Callaghan Hotel quietly satisfied with their allocation for the next twelve months, the Irish Athletic Boxing Association (IABA) had its high performance grant slashed by €200,000.
"We're in the business of funding national governing bodies that deliver and set targets for themselves," John Treacy, Sport Ireland CEO, said afterwards.
"They didn't deliver. It's quite clear that they didn't deliver."
The 212-page review into Ireland's Olympic and Paralympic campaign broke down the performance of each sport in Rio, but the inquest into the failure of the boxing team was particularly damning.
A record eight boxers qualified for the 2016 Games, including Michael Conlan, Paddy Barnes and Katie Taylor, but the team failed to live up to the high expectations as they returned home with no medals.
"Was this a blip in an otherwise outstanding success story or was the Rio result symptomatic of underlying failings in the high performance programme?" the review asked.
"The answer is unequivocally the latter. There are fundamental weaknesses that have been exposed by the Rio outcome."
While the IABA's core funding of €432,000 will remain the same for 2017, the upshot of it all is that the governing body's high performance grant has taken a significant hit, dropping from €900,000 to €700,000.
It now means boxing is behind athletics (€835,000) and sailing (€735,000) in the high performance programme funding, with both of those sports rewarded for fine performances in Rio.
Some of boxing's reduction in high performance funding can be attributed to the loss of Conlan, Barnes and Taylor to the pro ranks as the number of boxers receiving individual grants falls from 14 to just six.
Joe Ward is the only boxer to receive the 'Podium' level grant of €40,000, while Brendan Irvine, Steven Donnelly, David Oliver Joyce and Kellie Harrington receive €20,000.
Christina Desmond has been included on the grant system for the first time and will be given €12,000.
"A lot of the carded (funded) athletes we had in boxing last year have gone to the pros," Treacy explained.
"We had 14 athletes on the carding. It's now shrunk significantly so there's a readjustment in that as well in terms of support.
SEE SPORT
DIFFERENTLY
Get closer to the stories that matter with exclusive analysis, insight and debate in The42 Membership.
Become a Member
"They're still highly funded in terms of the Irish system and will get full support from us and we fully support the reform that they're implementing. If they kick on and win a few medals this year, we will readjust again."
As part of the review, Sport Ireland identified the key areas the IABA needed to address in their overhaul of the programme, and central to that was the appointment of a new high performance director to work alongside the head coach, Zaur Antia.
The IABA have already begun to implement over 30 recommendations as the organisation embarks on a period of transition following the disaster in Rio, but doing so with €200,000 less in the budget will force them to work within limitations.
For a sport which has delivered 16 of Ireland's 31 Olympic medals, questions can certainly be asked of Sport Ireland's decision to cut the IABA's funding so drastically on the back of one poor performance.
"We had informed them five, six months ago that this was the quantum of what it was and this was the space that we were in," Treacy insisted.
"We clearly support them now in terms of hiring a high performance director, and they're in the process of doing that. And we welcome that, it's very, very needed.
"We support what they're doing around the rulebook changes. That's a critical piece that needs to happen because, going off to the next Olympic Games, we need to make sure we have the right team structure, right leadership in terms of team manager going off to the Olympic Games."
The review, which suggested that Irish boxing now finds itself at a crossroads following the loss of several senior boxers from the programme, said that if lessons aren't learned from Rio and the key issues not addressed by the IABA, the decline of the high performance programme will continue into 2017.
Former Olympic boxer, and now Olympic Council of Ireland Executive Committee member, Darren O'Neill welcomed the 'hard-hitting' findings and admitted cracks started to appear as far back as after London 2012.
"It was hard-hitting, but I think it needed to be," he said. "Since 2008 onwards right up until this year, we had won a major medal every year. Cracks appeared probably after London.
"I think now that everyone seems to have realised that we are in a bit of bother. Hopefully, given that has been recognised and the problems being highlighted, I am hoping now that people will act on it because it needs to be done immediately. We can't go on the way we are much longer."
O'Neill added: "We need to look forward now, there is no point in looking back. We are in a bit of flux at the minute, the sport, and we need to see what is happening. The report says all the right things, highlights our problems but is it going to be acted upon? And when is it going to be acted upon?"
The42 is on Instagram! Tap the button below on your phone to follow us!