KATIE TAYLOR FANS need not be concerned that Amanda Serrano will face Erika Cruz for the undisputed featherweight title on 4 February: this was always part of the plan and, provided Serrano picks up the final piece of the 126-pound puzzle in the small room at Madison Square Garden next month, we're still game-ball for a Croke Park sequel to Taylor and Serrano's Big Apple classic last April.
Indeed, it augurs well for the prospect of a rematch that Serrano's February fight will take place under Eddie Hearn's Matchroom banner.
The Brooklyn-resident southpaw has teamed up with Taylor's promoter in pursuit of Puerto Rican boxing immortality: victory over Mexican Cruz will see Serrano become the first undisputed champion from her home island since light-heavyweight great José Torres in 1966, and the first ever to hold all four belts recognised in the modern era.
If she can achieve it, Serrano and her team are already at least verbally on board with the idea of heading next to Dublin, where Croke Park have circled a date in the second half of May for a once-in-a-lifetime Taylor homecoming bout.
In an ideal world, Croker would be signed, sealed, and officially announced from The Garden next month. Taylor could scoot down to New York in three hours from her home in the hills of Vernon, Connecticut. Her manager, Brian Peters, will be on site in any case with another of his boxers, Alycia Baumgardner, who fights Elhem Mekhaled for the undisputed super-featherweight title in the co-main event to Serrano-Cruz.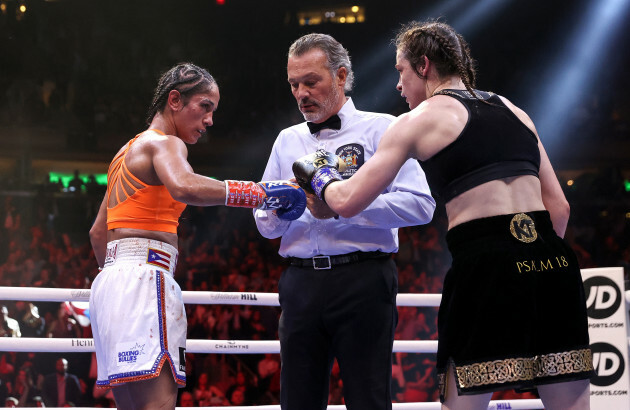 Gary Carr / INPHO Amanda Serrano and Katie Taylor are still on a Croke Park collision course. Gary Carr / INPHO / INPHO
The prospect of Taylor and Serrano kicking off the promotional campaign for their rematch downstairs from where they first waged war seems too perfect to turn down. Any announcement would take the roof off of MSG's Hulu Theater and at least a few of the Puerto Rican massive in attendance would head straight for Skyscanner on their phones.
That would leave just under four months for the mighty promotional heave required to sell 80-something-thousand tickets in Ireland, and to fill an undercard with a Venn diagram of Irish-boxing favourites and Matchroom prospects.
All of that remains, for now, just a prospect: there are still Ts to be crossed with Croker, with the Irish Department of Sport whom it's understood will lend a financial hand to the event, and with Serrano whose team have never been afraid of throwing a curveball in negotiations.
And Serrano must first conduct business in the ring against Cruz, her fellow featherweight beltholder who has opened as only a 2/1 underdog for their undisputed meeting.
But there is still a month, and 10 two-minute rounds in the MSG ring, to iron out the last of these wrinkles in perfect time for an announcement for which Irish boxing fans have waited years.
– First published 12.42, 5 January