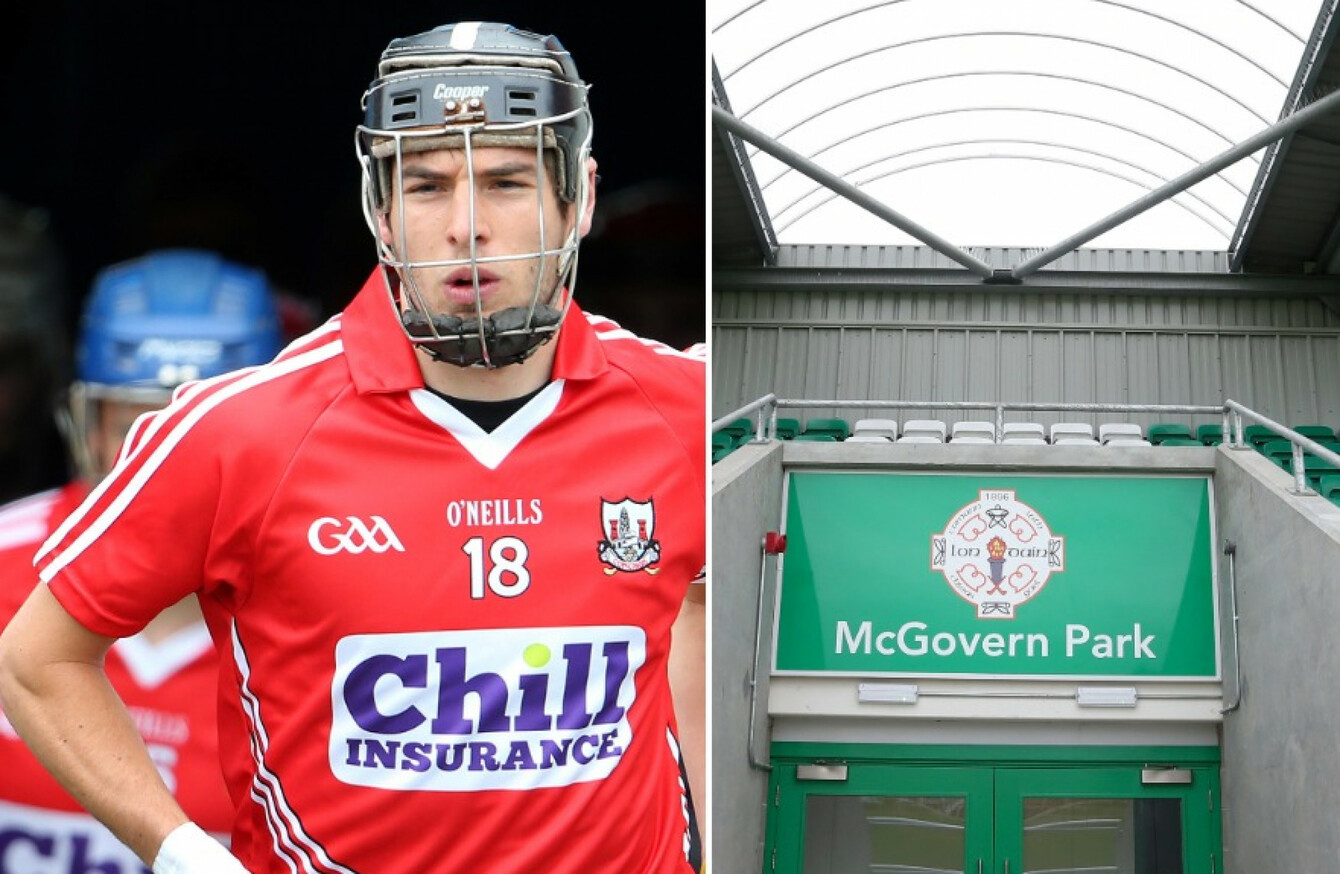 Former Cork hurler Killian Burke will be in London colours on Saturday.
Image: INPHO
Former Cork hurler Killian Burke will be in London colours on Saturday.
Image: INPHO
A SHIFT in hurling seasons but a return to familiar environs.
When Killian Burke steps out at Croke Park on Saturday afternoon, it will not be alien territory.
His most recent outing there was a marquee summer Sunday last August as part of Cork's hurling championship pursuit and thousands crammed into headquarters to witness them going toe to toe with Waterford.
A second-half goal rush from Jamie Barron and Austin Gleeson that day cut short Cork's 2017 aspirations.
Burke was a defender in reserve that day. Just over ten months later he will be in the rearguard from the start.
But if the scene is the same, the colours and the competition are different with his sporting life now with the London hurlers and his focus trained on getting his hands on the Christy Ring Cup.
"Absolutely, I dreamed of playing in Croke Park finals with Cork but now that I'm there with London, it's a little bit different. But really I'm happy to be there at the same time.
"We've got a couple of lads with London who've experience, I think there's three or four of us who have played there. Even the lads who haven't, it's a big deal for them.
"I came through a minor and U21 spell with Cork where wins were few and far between unfortunately. Hopefully the day out will be better than my last game where I was actually playing in Croke Park, 2016 league against Dublin, I think we lost by ten points that day."
Life off the pitch brought him to London. After his club season ground to a halt with Midleton in mid-September, he began to consider making the move.
"My girlfriend Emma had been living over here for the last five years. She went to college here, she's in the professional dance industry. She's from Midleton as well, there's not really much for her at home unfortunately so she's based here.
"I was kind of over and back whilst playing with Cork. Just came to the time last year where I decided I'd give it a go permanently. Moved over and happy ever since."
Burke had been working in DePuy Synthes, based in Ringaskiddy in Cork, for the last few years and they helped facilitate his move.
"I just went to them last year and explained I was going to be moving and that I'd love to stay with the company. It was all arranged for me to move over here.
"I do a lot of work with Europe and America anyway so being in Cork wasn't 100% critical. The company has been great in supporting me. I work in a hot desk office here in London, it's perfect, no real difference to me and you get to meet people in different industries."
Burke had planned to link up with the Robert Emmetts club before he landed in February and word had filtered through to London manager Fergal McMahon about the arrival of the two-time Munster senior hurling medallist.
"I just got asked to link in with the London hurlers and I was happy to do so. I think the day I arrived, I was down training the next night with London. That's where it started.
"I feel at home here now and the GAA has obviously played a big part in that. The people here are really passionate about the GAA, they really look after the players here."
He's embraced a different hurling environment. London's schedule has brought Burke to different venues and posed different challenges. They've had trips to Derry and Armagh, welcomed Down to Ruislip and played a semi-final against Wicklow in Carlow.
Aaron Sheehan from Mallow was a link from his Cork U21 days in the London setup and he quickly settled, adjusting to a different commute to training from his home in Stratford, a short puckout away from the Olympic Park.
"The travelling on the Tube is a bit different, you're an hour out, but it makes it worth it because when you get out there, the standard is actually very high.
"You're getting good training, a lot of the guys we have on the team have previous inter-county experience as well. In the Christy Ring, I've marked players that are definitely good enough for the top level. Even in our team, we've some players I think definitely if they were at home would be 100% in or around their inter-county squads.
"The people here are massively passionate about GAA. They really look after you. I think that's maybe lost a little bit at home, at the top level where it's so high pressurised. Here there's no negativity around you playing.
"It's just all support for guys who give their time to playing GAA over here. It's full on as well, we train four nights a week, which is like any inter-county setup but it's been great."
Be part
of the team
Access exclusive podcasts, interviews and analysis with a monthly or annual membership.
Become a Member
He finds it easier to switch away from a hurling environment as well. The move to London enabled him to keep a closer eye on the fortunes of his English soccer club of choice as well.
"I'm a Fulham fan, people seem to be surprised by it," laughs Burke.
"I was at the play-off final a few weeks ago which was a great day. I'm really looking forward to the next season starting. It's not just the soccer though, there's loads of stuff you can get involved in.
"I think when you're at home, your whole life is focused completely on training and matches whereas here it is to a sense but on the nights you have off, there's always something on to get away from it."
He may be immersed in the London hurling scene but is not oblivious to the progress of his former team-mates who are gearing up for another appearance in a Munster hurling showpiece.
"I'd four years with Cork, probably went through tough times but the last year was building up the great things they're going through right now as well.
"They're going into a Munster final, which I'm delighted for all the lads. I'd be onto Conor (Lehane) most days. All these Cork lads when I go home, I meet up with them.
"I've tracked all their results, haven't seen many of the games but absolutely delighted for John, Donal, Fraggy and all the lads in the backroom team. I'm delighted for them because they play such exciting stuff.
"I guess my life took me on a different journey. I'm heading to Croke Park with London and I'm very satisfied with that."
Severing ties with another hurling outfit was not as straightforward. He was part of all-conquering Midleton underage sides growing up in Cork and lined out at corner-back when they ended a 22-year for a county senior crown in 2013.
"Whatever about missing the Cork games, the Midleton game was on TG4, I got to watch the first round of that this year and that was very, very tough to see that," recalls Burke.
"The lads got a good win there. I probably will be going back to Midleton at some stage but it was tougher leaving the club than Cork."
The connection with his East Cork home remains though and they've been monitoring Burke's hurling journey this summer.
Saturday is a chance to cap it off on a note of glory.
"There's always massive support from Midleton and Cork. A lot of the Cork players get onto me as well, wishing me well.
"I think there's a good crew from Midleton hoping to travel up to the game as well so it'll be good in that sense. London have quite a good support when the games are back at home, families and all relatives travelling up.
"We've a great bunch this year and a great manager in Fergus who's really got it all right this year. It's great that all the three matches are on in the one day. There's three UK teams in the finals so there's a good buzz over here for that."
A different hurling landscape but the goal of success stays the same.
The42 is on Instagram! Tap the button below on your phone to follow us!