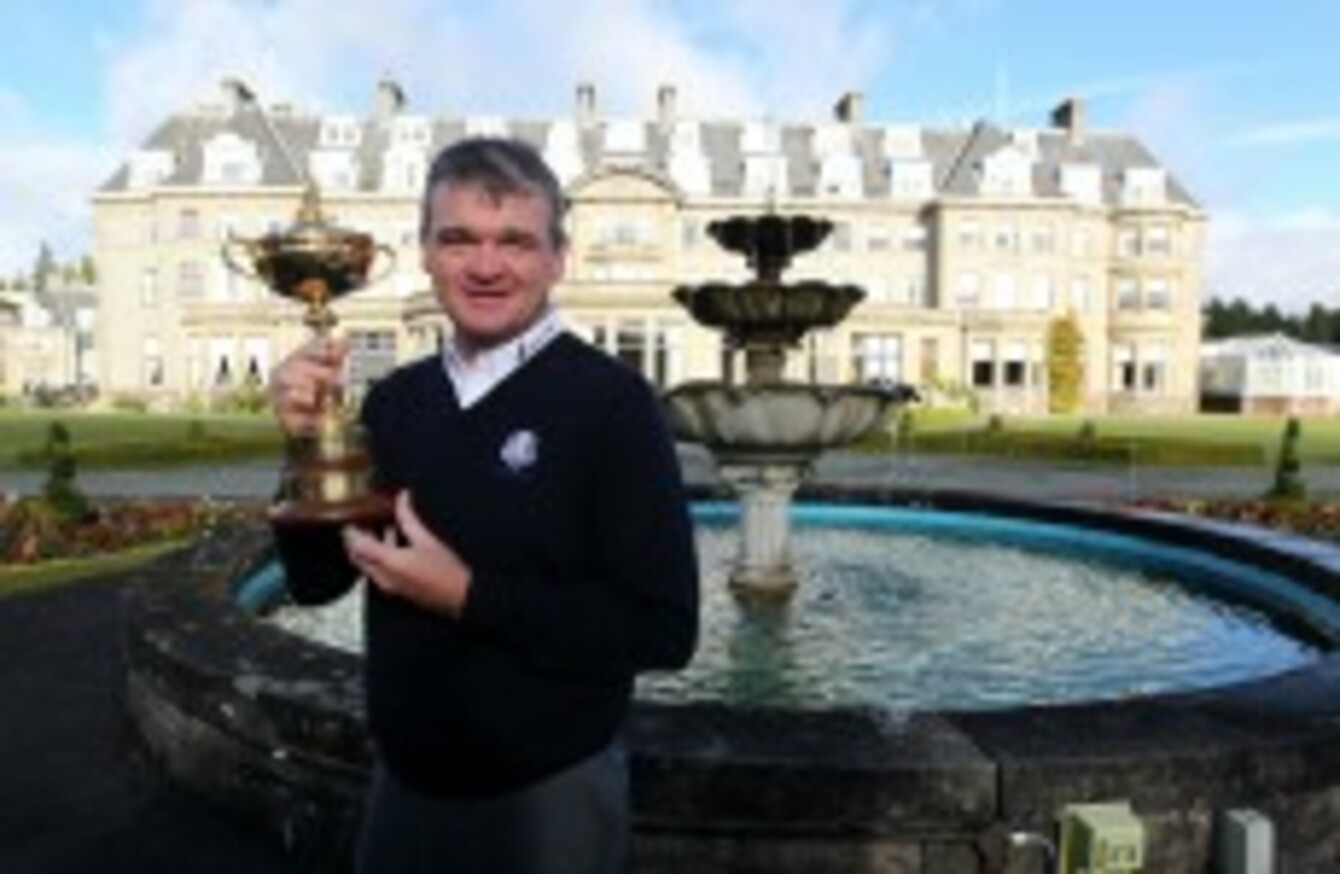 Paul Lawrie poses with the Ryder Cup at Gleneagles.
Paul Lawrie poses with the Ryder Cup at Gleneagles.
WHILE SAVOURING THE sweet taste of success, victorious European Ryder Cup team member Paul Lawrie returned home with the sour taste of poor sportsmanship from the US fans at the Medinah Country Club.
Lawrie, who is among four Ryder Cup players competing in this week's $US5m Alfred Dunhill Links Championship in Scotland, says the experience of Europe's win in Chicago was spoilt by unruly fans.
The 43-year old Scot said: "I didn't get abused, but you get comments like 'top it, shank it, you're going to lose', stuff like that on every shot you play.
"Every single shot you hit last week, that's what you get.
"That was the same the last time I played in the Ryder Cup in '99 and I think they (USA team) said it's the same when they come here.
"So apparently that's how it is, but I can't see that."
Lawrie revealed European Team captain, Jose Maria Olazabal dealt with the subject of crowd behaviour in the team meetings at the start of the week.
"Jose Maria made it clear, don't even look at them, don't take them on," added Lawrie.
"Certainly don't react. Don't make on as though it's hurting us. Just hit your shot and walk on.
"It's pretty tough when someone is screaming and blowing in your ear that you're a loser, but there's not much you can do.

"Which makes it all the more satisfying on Sunday night when you're standing there with the Ryder Cup in front of you they are not. It helps up to be fair."
Lawrie indicated he faces a 'huge' decision if asked early next year to captain the 2014 European Ryder Cup at Gleneagles.
Lawrie is among a number of players short-listed for the position however with Ireland's Paul McGinley firming as favourite to replace Olazabal.
"I don't know if I will be offered the captaincy but if they did, it's a tough decision to make because not many people would knock it back," said Lawrie.
"I would have to look at it and see that you're presently 28th in the world, so I'm not sure that's captain time.

"I am kind of thinking I want to play in that 2014 team. But if they do offer me, which I don't think they will, then that's a huge decision I would have to make at the time."
It is expected the European Tour will announce the 2014 captain early in the New Year.