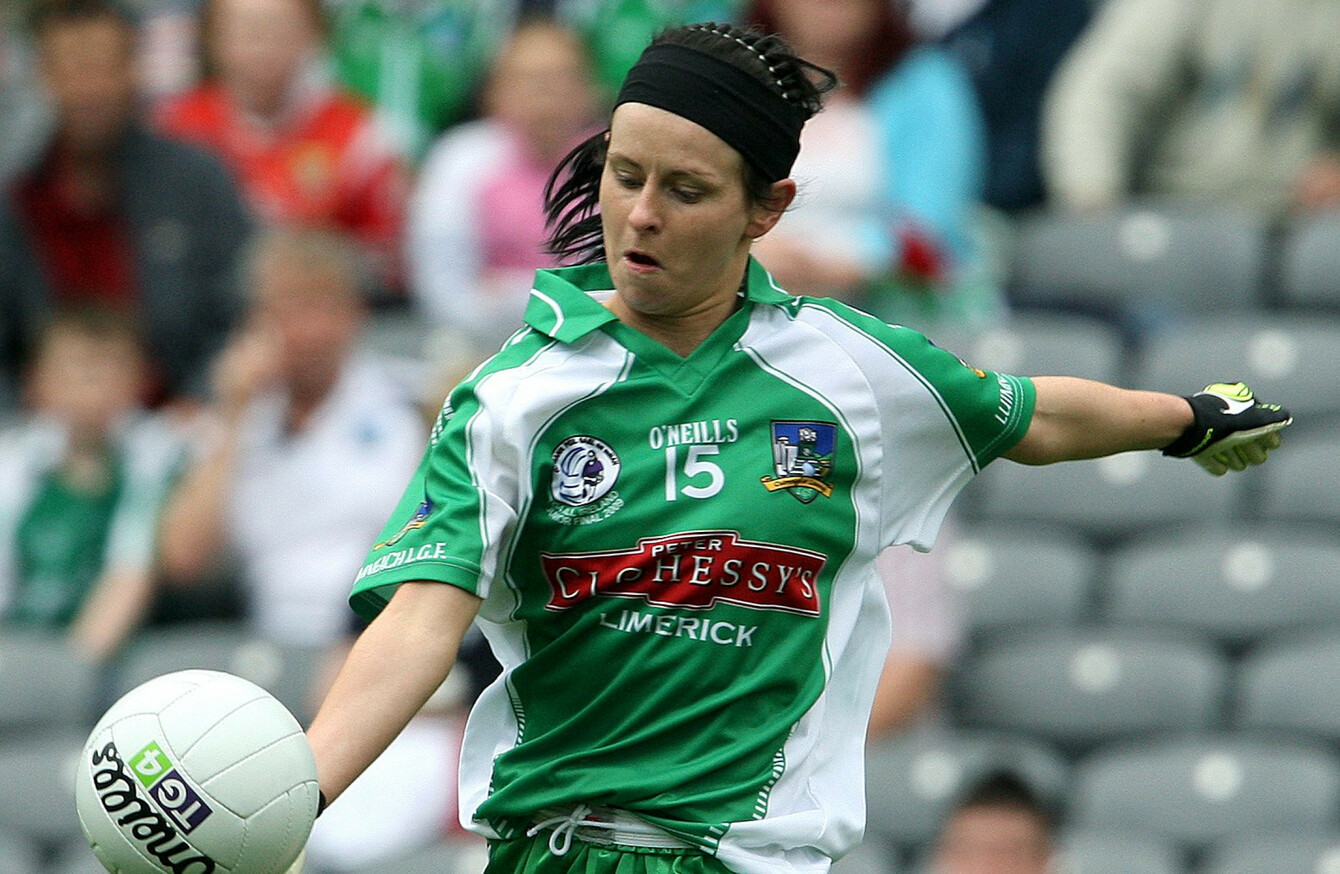 Dymphna O'Brien in action for Limerick: Gerald Griffins star says decision is 'comical'.
Image: Lorraine O'Sullivan/INPHO
Dymphna O'Brien in action for Limerick: Gerald Griffins star says decision is 'comical'.
Image: Lorraine O'Sullivan/INPHO
LIMERICK LADIES GAA officials say they had 'no option' after their decision to schedule a county football final for 9am on Saturday morning was slammed as 'comical'.
Groody Gaels and Gerald Griffins are set to meet in the junior decider this weekend, but the county board have come under fire for scheduling the bizarre throw-in time.
Groody Gaels made it known last month that, due to a clash with "an international women's rugby tournament", they would request a change of date if they reached the junior decider.
But the county board say that Gerald Griffins were unable to accommodate an alternative date before the end of the calendar year due to player availability, and so left them with little option but to schedule the early start.
"As the winners do not proceed into the Munster championship [and] there is no urgency in getting the fixture completed, Limerick Ladies football board would still welcome a new date being agreed between both clubs that would allow for the throw in to take place at a more suitable time," they said in a statement.
The controversy first came to light on Sunday afternoon when county veteran Dymphna O'Brien, who plays with Gerald Griffins, spoke out on Twitter.
"It says a lot about the respect that the powers that be at the county board have for players, supporters and their families when they schedule a county final for 9am in the morning (over an hr from one club and 25 mins from another) to facilitate a tag rugby event.
I have NO doubt that this type of COMICAL scheduling would not occur in any of the other major codes or in any other [county] only Limerick.
In their own statement issued on Monday, Limerick Ladies Gaelic football board said they "would like to clarify and provide context to the junior final fixture which has been fixed for next Saturday Sept 16th at 9am."
"At the August county board meeting, Groody Gaels notified all clubs that due to clash with an international women's rugby tournament, Groody Gaels would request a new date for the junior final, should Groody Gaels reach the final.
Every possible alternative date was suggested by Limerick Ladies Football board during protracted discussions at the September county board meeting, but Gerald Griffins could not accommodate any of several suggested new dates, between Sept 10th and Dec 31st – citing player availability. The county board were left with no option but to hold the final on Sept 16th.
"In light of this, and to give both teams the best opportunity to field at full strength, the final has been fixed for 9 am on Saturday Sept 16th.
"However, as the winners do not proceed into the Munster Championship, there is no urgency in getting the fixture completed, Limerick Ladies football Board would still welcome a new date being agreed between both clubs that would allow for the throw in to take place at a more suitable time."
Subscribe to The42 podcasts here:
" label="Android" ]