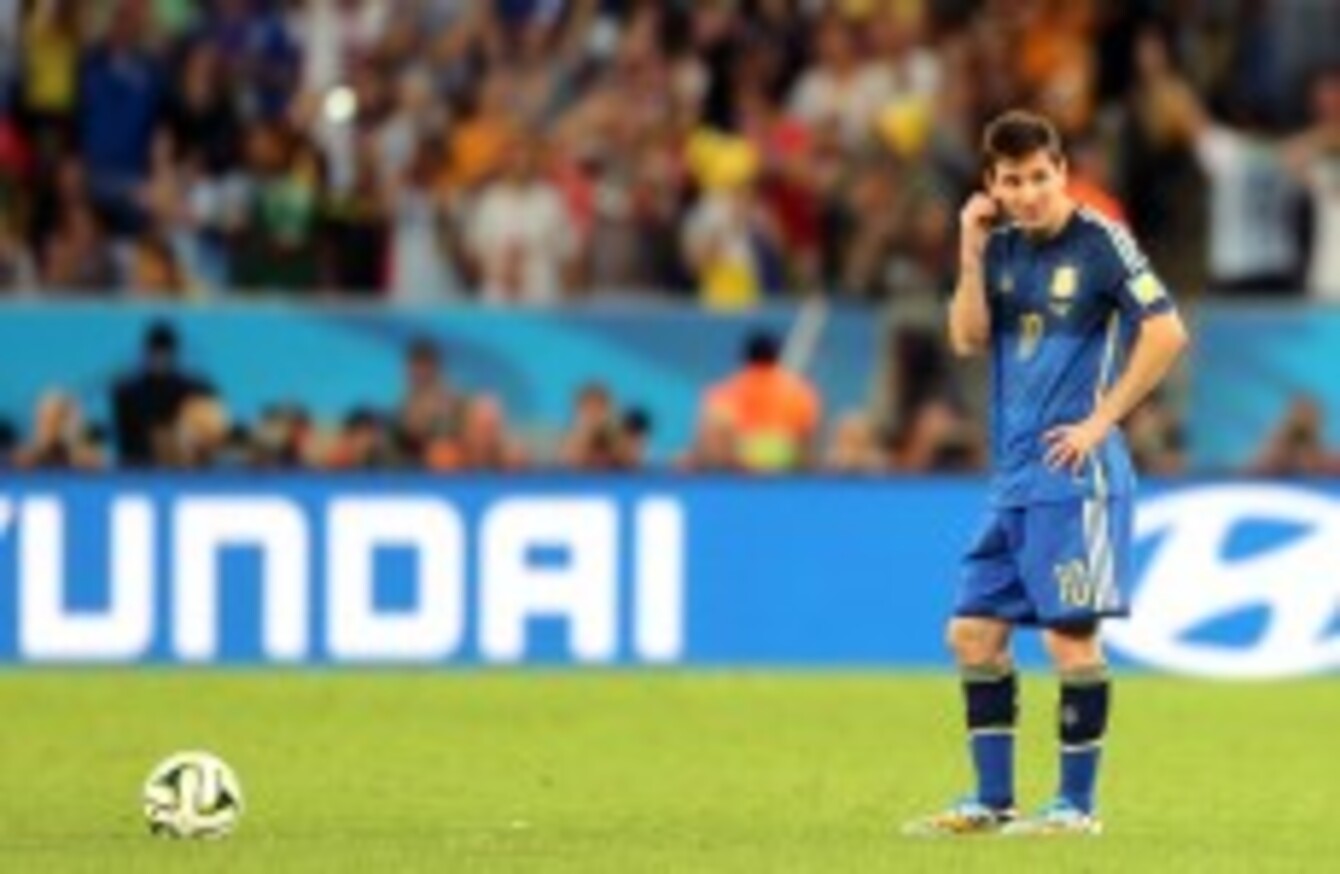 Lionel Messi waits to kick off after Argentina fell behind 1-0.
Image: Nick Potts
Lionel Messi waits to kick off after Argentina fell behind 1-0.
Image: Nick Potts
LIONEL MESSI LOOKED as happy with his Golden Ball award as a young boy who was wishing for a toy fire-truck on Christmas morning and unwrapped a bundle of twigs.
The Argentina playmaker started brightly in his country's World Cup final against Germany but, not for the first time in the tournament, was on the periphery in the closing stages. As he blazed over a last-minute free-kick, it was clear that no divine script had been written on his behalf. Argentina lost 1-0 and Messi cut a lonely figure as he climbed the Maracanã steps to pick up the FIFA 'best player' award.
It was well over an hour after the final whistle before Messi spoke with the world's media about an anguishing defeat. "Right now, nothing can console me – not the award or anything else," he said.
"Our only goal was to take home the World Cup and enjoy our victory with everyone in Argentina. We deserved a bit more after the game we played, and it was very painful to lose that way."
Much like Messi's personal performance, Argentina started brightly but Germany's fitness told as the game bled into extra time. The 27-year-old reasoned that while Germany had more of the ball, Argentina fashioned the 'clearer chances'. He added:
Those of us up front failed to convert them. We had three opportunities – one fell to me, one to Pipa [Gonzalo Higuain] and one to Rodrigo [Palacio]."
Before he took his leave of the dictaphones and cameras, Messi impressed upon those present that his team had achieved the country's best World Cup outing in 24 years. "Even so," he added, "we're leaving here disappointed not to win the trophy given the way the final played out.
"That leaves us feeling very annoyed and angry, but we now need to look to the future."