Liveblog
Good evening, and welcome along to The42's live coverage of today's Leinster SHC semi-final meeting of Wexford and Kilkenny at Innovative Wexford Park.
With throw-in at 7pm (Live on Sky Sports 3), there's all to play for with a provincial final spot on the line.
We'll be providing you with updates here and as always, we'd love to hear your thoughts on the game. You can tweet us @the42_ie, or leave a comment below.
Here's how the teams are named to start, as per programme. We'll keep you updated on any late changes though.
Kilkenny
1. Eoin Murphy (Glenmore)
2. Robert Lennon (Bennettsbridge)
3. Padraig Walsh (Tullaroan)
4. Conor O'Shea (Clara)
5. Conor Fogarty (Erin's Own)
6. Paul Murphy (Danesfort)
7. Kieran Joyce (Rower Inistioge)
8. Cillian Buckley (Dicksboro)
9. Paddy Deegan (O'Loughlin Gaels)
10. Lester Ryan (Clara)
11. Walter Walsh (Tullogher Rosbercon)
12. TJ Reid (Ballyhale Shamrocks)
13. Ger Aylward (Glenmore)
14. Richie Hogan (Danesfort)
15. Colin Fennelly (Ballyhale Shamrocks)
Wexford
1. Mark Fanning (Glynn Barntown)
2. Simon Donohoe (Shelmaliers)
3. Liam Ryan (Rapparees)
4. James Breen (Adamstown)
5. Shaun Murphy (Oulart-The-Ballagh)
6. Matthew Hanlon (St James)
7. Diarmuid O'Keeffe (St Anne's)
8. Eanna Martin (Carrickshock)
9. Aidan Nolan (Half-Way-House/Bunclody)
10. Jack O'Connor (St Martin's)
11. David Redmond ( (Oulart-The-Ballagh)
12. Harry Kehoe (Cloughbawn)
13. Conor McDonald (Naomh Eanna
14. Lee Chin (Faythe Harriers)
15. Paul Morris (Ferns St Aidan's)
Two changes for Wexford - Willie Devereux starts in place of Eanna Martin, while Jack Guiney is in for David Redmond.
Kilkenny start as per programme.
Penalty to Kilkenny from their first attack!
Kilkenny 1-0 Wexford 0-0
TJ Reid rattles the net.
Reid has the chance to tag on a free, but puts it wide.
Lee Chin has a free at the other end, but hits Wexford's second wide.
Kilkenny 1-0 Wexford 0-1
Diarmuid O'Keeffe gets Wexford off the mark with a lovely point.
Kilkenny 1-0 Wexford 0-2
Liam Ryan doubles Wexford's tally with a superb score, much to the crowd's delight.
Kilkenny 1-0 Wexford 0-3
Chin makes no mistake this time and opens his account. We're level for the first time.
Kilkenny 1-0 Wexford 0-4
Jack Guiney puts Wexford ahead with an incredible point.
Wexford's Paul Morris and Richie Hogan of Kilkenny in action. Source: James Crombie/INPHO
Kilkenny 1-0 Wexford 0-5
Wexford have really come into this game, and Jack O'Connor hits his side's fifth in-a-row.
Lester Ryan sees yellow for what looks like a slap, while TJ Reid misses another free. Frustration for the Cats.
Kilkenny 1-1 Wexford 0-5
Ryan scores his side's first since the opening penalty.
Kilkenny 1-2 Wexford 0-5
Fennelly's goal chance was stopped on the line, but the referee signaled advantage before the shot was struck. Reid splits the post with the free.
Kilkenny 1-3 Wexford 0-6
McDonald's point edges the hosts back in front, but Reid cancels the effort out with another free.
Kilkenny 1-3 Wexford 0-8
McDonald drills a free over the bar, the goal chance was on but the Kilkenny defence were happy to sacrifice a free. Lee Chin adds another long range free.
Kilkenny 1-3 Wexford 0-9
Aylward sees yellow for a foul on Sean Murphy, while McDonalds tags on another free. Wexford are up by three. They're playing with a strong wind.
Just four scores from 15 attempts for Kilkenny here, some disappointing wides. Liam Blanchfield is coming on for Padraig Walsh — a serious injury doubt coming into this game.
Kilkenny 1-3 Wexford 0-10
Four point lead for Wexford, McDonald splits the posts with another free. David Redmond is set to come on for Jack O'Connor.
Kilkenny 1-4 Wexford 0-11
Chris Bolger is on for Aylward, while Paddy Deegan and Lee Chin exchange scores. Chin adds another sweetly-struck score, and Wexford are up by four again.
Kilkenny 1-5 Wexford 0-12
Reid brings his tally to 1-3 with another free, but Paul Morris cancels it out at the other end. Deep into second minute of stoppage time now.
Half-time score:
Kilkenny 1-5 Wexford 0-12
Attendance in Wexford Park is 18,467.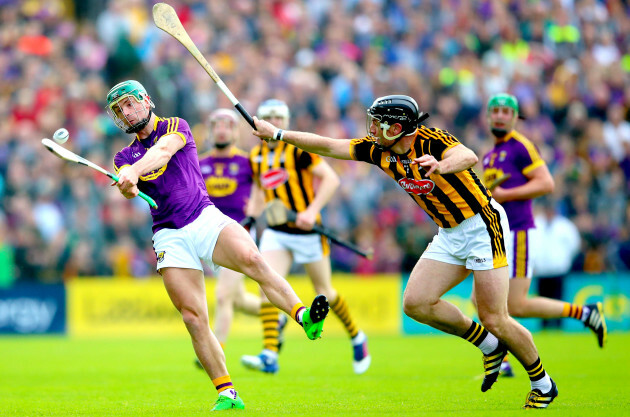 Wexford's Harry Kehoe and Kieran Joyce of Kilkenny. Source: James Crombie/INPHO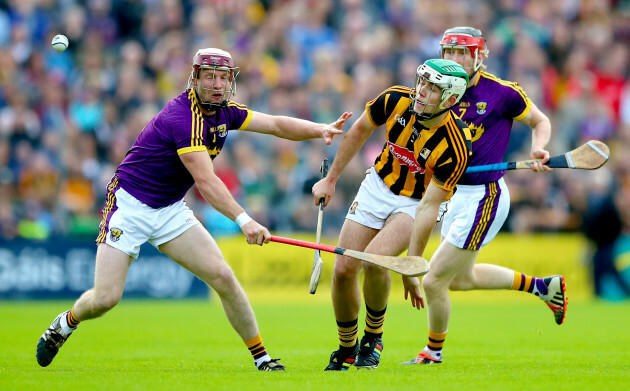 Wexford's James Breen and Diarmuid O'Keefe with Paddy Deegan of Kilkenny Source: James Crombie/INPHO
Kilkenny 1-5 Wexford 0-13
Paul Morris opens the second half scoring.
Kilkenny 1-5 Wexford 1-13
David Redmond finishes it off after a scramble around the goal.
Kilkenny 1-6 Wexford 1-13
TJ Reid records another free to keep the Cats in touch.
Kilkenny 1-7 Wexford 1-13
Colin Fennelly has been causing problems all evening for the Wexford defence, but they keep pulling him down. Liam Ryan is booked for persistent fouling. Reid adds another free.
Kilkenny 1-8 Wexford 1-13

Scrappy play in the Wexford defence and Walter Walsh punishes with a fine score.
Kilkenny have hit the last three points of this game, and they're building some momentum again. Wexford have a nice system of their own going, Lee Chin has been brilliant so far.
Kilkenny 1-8 Wexford 1-14
Paul Morris with his third from play.
Kilkenny 1-9 Wexford 1-15
TJ Reid and Conor McDonald exchange frees. Robert Lennon is booked for his foul on Morris.
Kilkenny 1-9 Wexford 1-16
Super block from Cillian Buckley to deny Jack Guiney, who nearly had a second goal for Wexford. Chin tags on another score.
Kilkenny 2-9 Wexford 1-16
It looked like Mark Fanning had deflected it over the bar, but it ends up in the back of the net. Could this be the lifeline the Cats need?
Kilkenny 3-9 Wexford 1-16
Fennelly dragged down, and Reid rattles the net yet again. 2-6 for him. It's game on!
Kilkenny 3-9 Wexford 1-17
This game has really come alive. Wexford needed a response after two huge goals at the other end, and Chin inspires with a massive point.
Scramble around the goal as Kilkenny are on the attack, but Wexford deal with the threat accordingly. Meanwhile, Shane Tomkins has come on for Aidan Nolan, and Podge Doran replaces Harry Kehoe.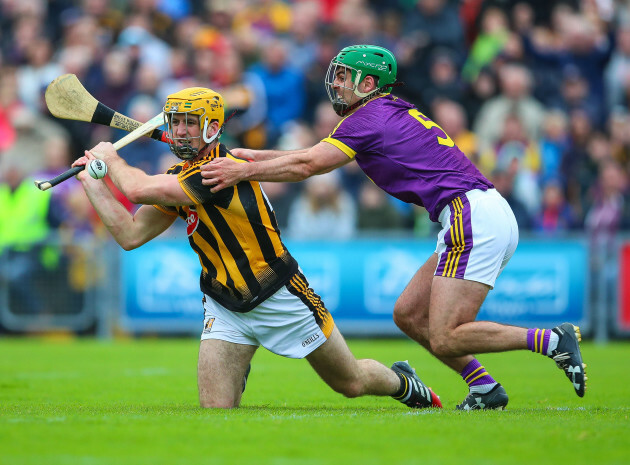 Kilkenny's Colin Fennelly and Shaun Murphy of Wexford. Source: James Crombie/INPHO
Kilkenny 3-10 Wexford 1-17
Lester Ryan makes it a one point game.
Kilkenny 3-10 Wexford 1-18
Chin puts two between the sides. Kevin Kelly is in for Kilkenny.
Kilkenny 3-10 Wexford 1-18
Conor McDonald misses a free, which would have put three in the difference. A big moment at this late stage. Kevin Foley is in for Morris.
Kilkenny 3-10 Wexford 1-19
Matthew Hanlon delivers a huge score for Wexford.
Richie Reid, Kilkenny's sub goalkeeper, has come on in the forward line. His brother, TJ was nearly in on goal there, but the Wexford defence deliver again.
Kilkenny 3-11 Wexford 1-19
TJ Reid with a free to put two between the sides again.
Kilkenny 3-11 Wexford 1-20
Substitute Shane Tomkins fires it over the bar. Meanwhile, it's a Kilkenny 65 at the other end. Fanning gets his body in the way of a goal chance.
We're into the final minute of stoppage time. Free out to Wexford.
Kilkenny 3-11 Wexford 1-20
Wexford are fouled in front of the goal, Conor O'Shea sees yellow. McDonald misses the free though, should be game over.
Full-time score:
Kilkenny 3-11 Wexford 1-20
Huge, huge night for Wexford hurling. The scenes in Wexford Park are incredible!
So that's that. A first Leinster final in nine years for Wexford. Davy Fitz will be back on the line for the Leinster decider, where they'll face either Offaly or Galway.
Brian Cody's Kilkenny head for the qualifiers.
That's all from me, but you can read a full match report on The42 in the coming minutes. Thanks for tuning in. Until next time!
Contribute to this story: