Liveblog
HERE WE GO then. Leinster will lay it all on the line against Wasps in the Ricoh Arena for the right to advance the the knockout stage of the European Cup as Pool 2 winners.
As always, we'd love to hear from you throughout the game. Send us your thoughts and comments via e-mail sean@the42.ie, tweet us @the42_ie, find us on Facebook, or leave a comment below.
You may need to manually refresh for embedded content to display correctly.
Good afternoon, European rugby fans. How was that brunch? Or was it just an early lunch? What's the difference anyway?
That's all beside the point, I suppose. Because Leinster can ensure the Irish flag keeps flying into the knockout stages with win over Wasps in this afternoon's pool decider in Coventy.
I'm Sean Farrell, I'll be guiding you through the game as it happens while in the Ricoh Arena Murray Kinsella will be offering his tuppence worth throughout on @Rugby_ie and then bring you lots of views and news post-match.
Hold on to your woolly hats and sunglasses, cos it's a grand day for rugby and we've plenty at stake today.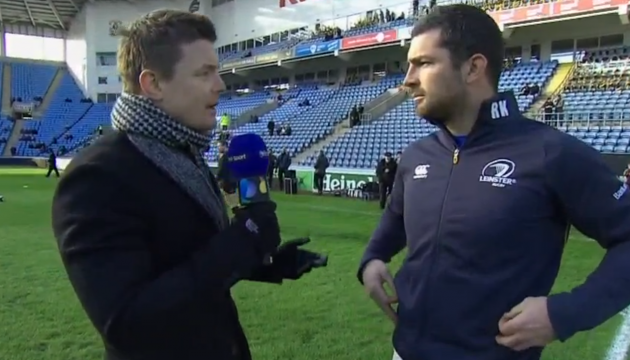 While BOD takes another step into the murky world of journalism and BT attempt to fill their pre-match hour, take a gander at a few of the pieces we used to preview this fixture.
Here's Murray Kinsella's view for the afternoon.
https://vine.co/v/OI3D9r0XTHg
With no changes reported yet in the storied Ricoh Arena, here are the teams that we will we watching do battle today.
Wasps
15. Rob Miller
14. Christian Wade
13. Elliot Daly
12. Ben Jacobs
11. Tom Varndell
10. Andy Goode
9. Joe Simpson
1. Matt Mullan
2. Edd Shervington
3. Lorenzo Cittadini
4. Bradley Davies
5. James Gaskell
6. Ashley Johnson
7. James Haskell (Capt)
8. Nathan Hughes
16. Carlo Festuccia
17. Simon McIntyre
18. Jake Cooper-Woolley
19. Kearnan Myall
20. Guy Thompson
21. Ed Jackson
22. Alex Lozowski
23. Andrea Masi
Leinster
15. Rob Kearney
14. Fergus McFadden
13. Luke Fitzgerald
12. Ian Madigan
11. Dave Kearney
10. Jimmy Gopperth
9. Eoin Reddan
1. Michael Bent
2. Sean Cronin
3. Marty Moore
4. Devin Toner
5. Kane Douglas
6. Dominic Ryan
7. Jordi Murphy
8. Jamie Heaslip (Capt)

16. Richardt Strauss
17. Jamie Hagan
18. Tadhg Furlong
19. Mike McCarthy
20. Jack Conan
21. Isaac Boss
22. Gordon D'Arcy
23. Darragh Fanning
Pffft! You can prove anything with stats these days.
Luke Fitzgerald doing his final few hip exercises when the camera pops up in Leinster's dressing room. Wasps players storming round getting pumped.
It's close now. Get ready.
As Brian O'Driscoll tells us that he's finally starting to miss playing rugby after seven months out, it's time for Andy Goode to kick us off in Coventry.
KICK-OFF! Ashley Johnson seems to have taken Dave Kearney out in the air and we're with the TMO already.
So careless.
SIN-BIN: That didn't take long, thankfully. Johnson just ignoring the need to protect the player in the air and running straight into the wing's shins as he leapt to catch the kick-off.
A Leinster maul off that penalty goes nowhere, but Gaskell gives them a little more momentum as he pops in at the side of the maul.
Flag
TRY! Wasps 0 Leinster 5 (McFadden '3)
So far, it's been the best two and a half minutes that Leinster could possibly have hoped for. Wasps are rattled by losing a man so early and Leinster had an advantage coming after rumbling towards the try-line. When the initial phase looks dead, Leinster sensibly go wide on the free play and quick hands create the overlap for McFadden to go in in the corner.
Madigan adds the extras.
Wasps 0 Leinster 7
An early chance to get back on track for Wasps and Andy Goode converts.
PENALTY! Wasps 3 Leinster 7 (Goode '7)
Dave Kearney has been replaced after that early fall. Darragh Fanning is in the game.
Here's the incident that earned what must be the fastest yellow card in European Cup history.
https://vine.co/v/OI39hTzlhWE
With the sin-bin time almost up, Leinster plough their way to a scrum penalty, cutting up a heap of turf in the process. Soft ground in Coventry. Could be a long day for scrummagers.
Ashley Johnson's big hair is back on the field and the crowd have a second reason to cheer as he comes on after Ian Madigan cuts a long range penalty wide of the posts.
Good hard carry from Sean Cronin forced Hughes to concede a penalty for not rolling away.
Again though, Madigan is off target from the kicking tee, curling a fairly straightforward effort right to left and wide.
He compounds the error by booting a touch-finder beyond the whitewash. All that Enda McNulty training needs to kick in for the Leinster utility back now.
Oh, much better looking play from Madigan, but Wasps are on the back foot and missing tackles after a good sweeping play was started by Gopperth with Rob Kearney strike-running and making ground up the left flank.
Madigan's break was in the 22 and within two phases he was trying to wriggle over from the five metre line.
Leinster attempt to build phases on the Wasps line, but they keep the pace high and eventually Kearney is bundled into touch.
Penalty! Wasps 3 Leinster 10 (Madigan)
There had been an advantage on the last play as Wasps tried to slow the ball down. A rare sign of weakness in Madigan's goal-kicking today, he's converted the latest chance but again it had a big right to left swerve before cutting just inside the post.
Another blow for Leinster as Eoin Reddan is forced off through injury. Isaac Boss is in the game. Leading away from home is probably the ideal scenario for his style of play.
SIN-BIN: Lorenzo Cittadini pinged for persistent Wasps infringement and Leinster have another shot at the posts.
Jimmy Gopperth took over the kicking tee for that one while Madigan took some treatment.
PENALTY! Wasps 3 Leinster 13 (Gopperth)
Again Wasps respond as Sean Cronin is penalised.
Penalty! Wasps 6 Leinster 13 (Goode)
Pleasant viewing for Leinster fans as it stands. Plenty of rugby to be played though.
Leinster back in the Wasps 22 after an excellent McFadden carry. The visitors rumble patiently for a handful of phases before Jimmy Gopperth wheels away and makes a lunge for the try-line.
The TMO is going to check two possible tries. Gopperth's effort looks a certainty.
TRY! Wasps 6 Leinster 18 (Boss)
The TMO called the initial effort good, and Madigan added the extras.
Wasps 6 Leinster 20
14 points down and Wasps just starting to cut loose and stretch the game, Wade makes a half break up the right flank and when Wasps rumble inside Garces pings Leinster.
SIN BIN! Kane Douglas is yellow carded for knocking Johnson to the ground. It was off the ball, but right behind the referee's shoulder.
HALF-TIME: Wasps 6 Leinster 20
Goode missed the opportunity to nudge his side within two scores before Wasps get a one-man advantage in the second half.
40 minutes, three yellow cards and crucially two Leinster tries.
Alright, then. We've had our half-time Bovril and we're ready to rock for the second half.
Leinster, remember, down to 14 men for the first nine minutes of this half after Kane Douglas lost his temper.
There's the extra man telling in the pack straight away as Wasps turn on the scrum power.
A shocking line-out malfunction from the home side and Jordi Murphy collects the ball at the tale before haring off into Wasps half.
Once they reach the final third through Fitzgerald, Leinster sensibly reign in the counter-attack, favouring patient possession rather than a risky play.
Oomph! Fergus McFadden with another big carry that almost brings him to the try-line but an obstruction pen goes against the roving white attack.
Danger here as Wasps stream forward. An open game is just the way they'd like to play out these final 35 minutes, but superb defence from Luke Fitzgerald forced the error and Leinster escape.
Boom. Johnson mows down Fanning and Simpons attempts to weave in and out. Leinster are in trouble as Wasps raid the 22 with the white shirts scrambling.
Wasps go wide to Varndell, but after he cuts in Fitzgerald claims he's obstructed by Hughes and the fans cheer for no reason as Varndell is called back.
That is a huge moment in this game. No try and now Kane Douglas' sin-bin period is up. Leinster restored to their full compliment and Wasps have seen 10 points slip out of their grasp while he's been away.
Marty Moore shows wisdom beyond his years to force Gaskell into conceding a penalty, but again Madigan's kicking lets him down. Wide.
Ironic cheers from the crowd in Coventry as Devin Toner, after a consult with the touch judge, is penalised for tackling without the ball.
The penalty sets Wasps up nicely in Leinster territory and they show a good backline shape going wide, but they need to go really deep to allow for some excellent line-speed from Matt O'Connor's D.
Eventually, after about 15 phases and 20 metres lost, the pressure tells as Wasps go wide to Varndell. McFadden bites in and hits the passer right on the money and Varndell can't hold the shaky ball flying his way.
Quins have racked up a bonus point in Castres to give themselves a wee chance of making the quarters.
TRY! Wasps 11 Leinster 20 (Mullan)
Andy Goode adds the extras after Wasps finally make pressure pay with the prop rumbling over.
Wasps within a score now. It's set to be a shoot-out for the top place in Pool 2.
Wasps 13 Leinster 20
Furlong and Strauss are on to bolster that Leinster front row as Wasps vow to put the squeeze on.
Here's a good example of how poor the field is for scrummagers.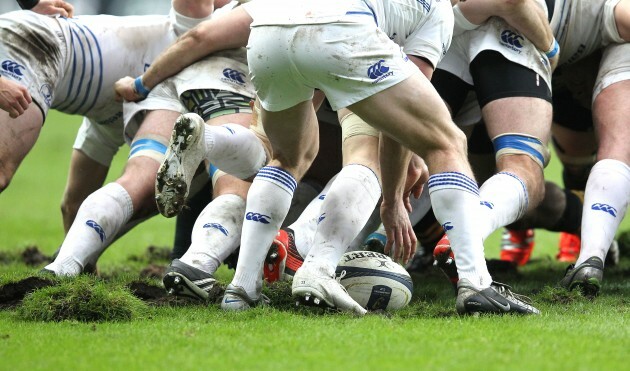 Source: Andrew Fosker/INPHO
After the latest scrum Varndell was sent in chase of a grubber kick. Kearney was in good position to cover, but as he stepped he was caught and was about to be pulled to touch. Fortunately, the fullback shovelled the ball away and there was a white shirt ready to collect.
Momentum has well and truly swung away from Leinster now. Wasps aim a penalty for the corner and the maul absolutely scythes through the white shirts before Hughes dots down.
TRY! Wasps 18 Leinster 20 (Hughes)
Disaster for Leinster.
Drama now as Leinster charge the conversion, Good takes it and hits the post so he gets another shot… AND MAKES IT.
Wasp 20 Leinster 20
Well, where's your money now?
A draw will do Leinster and will leave them top of the pool, but it's a mighty precarious position to be in.
Jimmy Gopperth lines up a droppy, but he doesn't catch it well at all and it takes the long route wide of the post.
Go easy on those fingernails. Grab a drink.
Daly penalised for going in at the side and Leinster will have a static opportunity to nudge back ahead.
Madigan making the most of the allotted time he has to take this kick. Time taken is almost as valuable as points in this case… but he's missed another one and Wasps have three minutes to steal this game.
Wasps taking risks now, trying to play out of their own 22 and almost getting caught, but they eventually clear their lines and get the reward as Jack Conan is tackled into touch.
100 seconds to go.
Again Wasps go with the maul and they march up to halfway. They look wide again, but Leinster drift nicely to cover off the gaps.
Inside the final minute and Wasps are eeking inches out of the gainline.
Andy Goode's in the pocket, but Wasps still ask Johnson to make more yards and they're in the 22…
FULL-TIME Wasps 20 Leinster 20
Goode had the drop-goal chance, but he hits it horribly and it trails right and wide.
LEINSTER ARE IN THE QUARTER FINALS OF THE CHAMPIONS CUP (just a-flippin-bout).
So here's two ways you can spin this, depending on what you're trying to prove.
A) Leinster held on to get what they needed out of the contest and, in seven ties, are the first Irish side who have not lost away to Wasps in the Heineken/Champions Cup.
B) Leinster almost threw away a 14-point lead and with it the pool.
The bottom line is, they're in the mix in the knock-out stages and I know three provinces who would swap places with them in a heartbeat.
Thanks for joining in the fun of the fair in the liveblog. It's been emotional.
Contribute to this story: