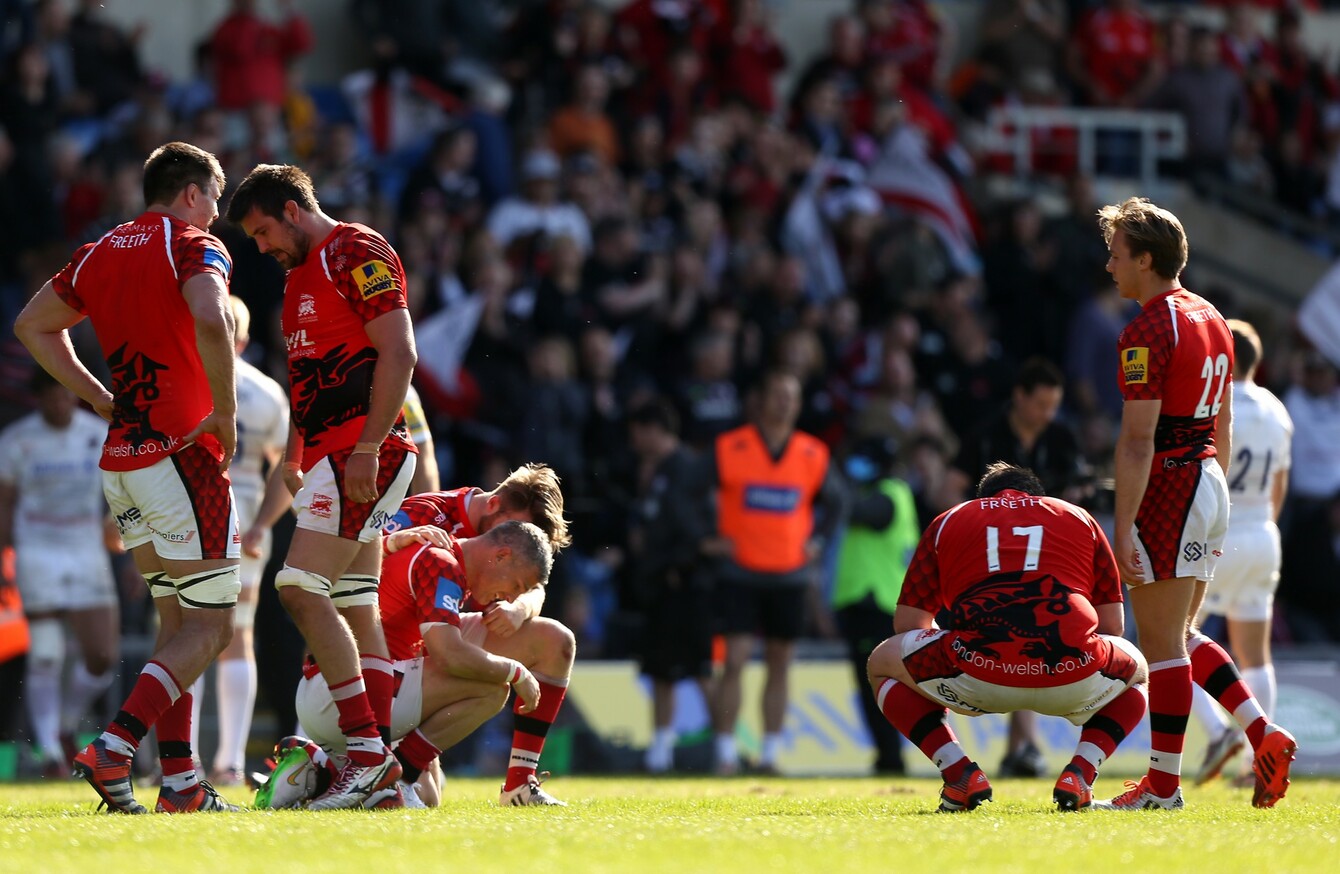 Players react after losing their 22nd game in the 22-match Aviva Premiership season in 2015.
Image: EMPICS Sport
Players react after losing their 22nd game in the 22-match Aviva Premiership season in 2015.
Image: EMPICS Sport
DEBT-RIDDEN LONDON Welsh were kicked out of professional rugby union today and removed immediately from England's second-tier Championship.
England's governing Rugby Football Union (RFU) said the club's "untenable" position left it with little alternative given London Welsh's failure to provide it with sufficient assurances about its finances.
On Monday a judge dismissed an attempt by British tax authorities to have London Welsh, once one of English rugby's major teams, wound up after the club went into liquidation in December. An earlier hearing was told the club owed more than £90,000 (€104,000) in tax.
London Welsh were granted a temporary licence that expired on January 21, with a new board asked to provide evidence of funds to pay creditors and a business plan.
But English rugby chiefs were unconvinced and RFU chairman Andy Cosslett said:
It is deeply regrettable that we should arrive at this point, but with London Welsh in liquidation and unable to satisfy conditions to compete in The Greene King IPA Championship as a professional club, participation in the competition became untenable.
"We know this will be an extremely disappointing day for everyone connected with London Welsh, including players, staff and supporters, and the sadness at the loss of this club from the professional ranks will be shared throughout the game."
Founded by a group of Welshmen living in London in 1885, London Welsh's greatest days came more than 40 years ago.
They supplied seven players to the victorious 1971 British and Irish Lions squad in New Zealand, a figure that remains a record for the number of players from one club in a Lions squad.
London Welsh greats John Dawes, JPR Williams, Gerald Davies, John Taylor and Mervyn Davies all starred for Wales during their golden era of the 1970s. But the club, now in English rugby's second-tier Championship, had two disastrous one-season stays in the elite Premiership – the most recent a 0/22 horror show.
These coincided with an ill-fated three-year spell in Oxford where they moved when their longstanding home of Old Deer Park in Richmond, southwest London — to which they have since returned — was deemed unsuitable for top-flight rugby.
Today's decision does not impact the status of London Welsh Amateur RFC, which will continue as a voting member of the RFU.
The42 is on Instagram! Tap the button below on your phone to follow us!