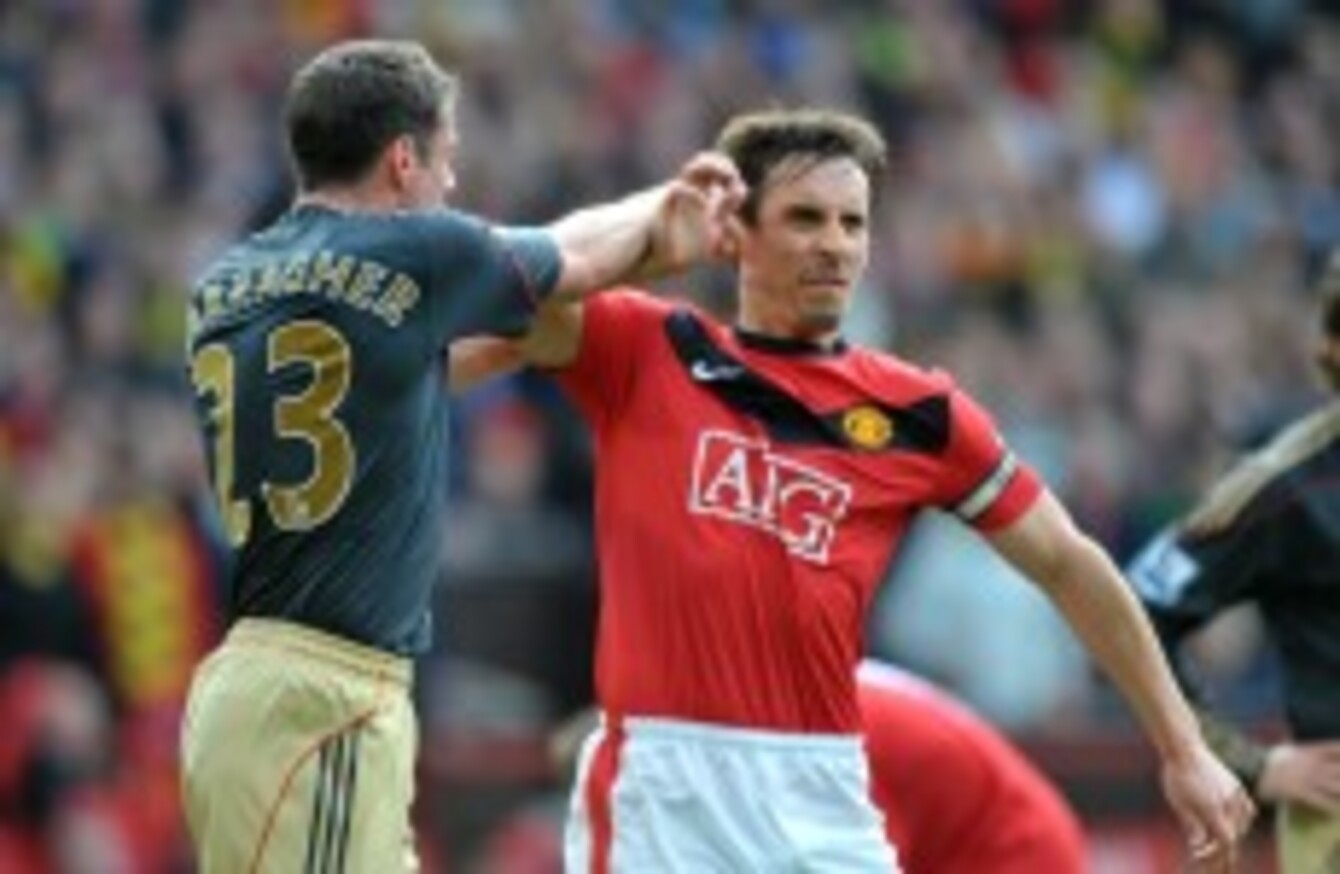 Gary Neville and Jamie Carragher weren't always best of buddies.
Image: EMPICS Sport
Gary Neville and Jamie Carragher weren't always best of buddies.
Image: EMPICS Sport
THIS WEEKEND SEES the first of this season's installments of the biggest rivalry in English top flight football as Manchester United welcome Liverpool to Old Trafford.
Both teams have had their problems this season and the game possibly doesn't take on such huge significance as it has in previous years but it is still sure to be enthralling. Here we take a look at five memorable times Liverpool have made the trip up the M62 to Old Trafford.
Manchester United 3-2 Liverpool, 19 September 2010
Just four games into the 2010/11 season United went into this tie having had a slow start to their campaign, only picking up eight points from their first four games. Liverpool had made an even slower start however, floundering three points behind United in the league table.
This was a game in which Dimitar Berbatov would showcase the immense talent he possesses, but is often absent from his performances. The Bulgarian scored either side of the half-time break — the second a stunning overhead kick — before netting a header with six minutes to go, to give United a narrow win over their fiercest rivals.
After the game Phil McNulty of the BBC said of Berbatov: "often derided as lacking passion — an Eric Cantona-lite — Berbatov has cast off the shackles to become the player Ferguson thought he was paying £30m for when he arrived from Tottenham."
Okay, so that didn't entirely work out in the end but the performance on that Sunday afternoon in Old Trafford was one of the best you'll see anywhere. It was as close to a single-handed victory you could get as United didn't even perform particularly well on the day — mainly down to defensive frailties that saw, the then inexperienced, Jonny Evans start in defence along with John O'Shea at right back.
Berbatov's three goals was the first hat-trick a United player had scored against Liverpool since 1946.
Source: ManchesterUnited NewsShqip/YouTube
Manchester United 1-4 Liverpool, 14 March 2009
A day of humiliation for Alex Ferguson's team, and Nemanja Vidic in particular, and a day Liverpool could hardly believe actually happened.
This was a week where Liverpool had already put four past Real Madrid and were looking to catch United at the top of the table. With Fernando Torres at his scintillating best Liverpool came to Old Trafford looking for a win, and they certainly got one.
Torres terrorised Vidic with his pace, eventually getting the Serb sent off after 76 minutes with the game at 1-2 and from there it went from bad to worse for the home side. This was despite the fact that Cristiano Ronaldo had put United ahead in the 23rd minute with a penalty.
Torres replied just five minutes later before Steven Gerrard netted a penalty just before half time. With the game looking tight in the second half United were pushing for an equaliser before Vidic saw red and Fabio Aurelio, followed by Andrea Dossena, ensured the three points would go to the Anfield side.
In the scheme of things the result mattered little though as United would go on to win the league title from Liverpool, as prophesied on the day by the ever-wise Chris Waddle: "I don't think the title race is on now. They've proved today they can more than match United, Liverpool, but their squad is the difference. It just isn't as good."
Manchester United 0-1 Liverpool, 17 December 2000
This was a game that's isn't remembered as a classic in terms of quality of play or excitement. It is one that's remembered fondly by Liverpool fans however as it ended their side's 10-game losing streak in North West derbies.
On top of that it also began a five-game winning streak for Liverpool over United. Not a very exciting game, it was decided by a fantastic Danny Murphy free-kick in the 85th minute.
Despite it being a game remembered a lot more fondly by Liverpool fans than United it still didn't stop United going on to win their seventh league title under Sir Alex Ferguson.
Source: Trond Jørgensen/YouTube
Manchester United 2-1 Liverpool, FA Cup, 24 January 1999
This was one of the most dramatic clashes between the sides in recent years as Liverpool looked to have broken their Old Trafford duck of no wins in nine years after Michael Owen put the visitors ahead in the second minute, only for Dwight Yorke and Ole Gunnar Solskjaer to strike late and break Liverpool hearts.
A slow start from United saw Owen meet a Vegard Heggem cross in the six yard box to steer a header past Peter Schmeichel. United soon went into the ascendancy, dominating possession but an equaliser simply would not come.
Roy Keane somehow managed to hit the bar and the post twice as United searched for an elusive leveler. Everything was going the way of the visitors to the extent that a miscue from Dominic Matteo was saved by the face of David James to prevent an embarrassing own goal.
It looked as though United weren't going to score and Andry Gray certainly thought so in the commentary box. "I told you, it's Liverpool's day", he said after Keane struck the woodwork for the third time.
But, like they did so many times in that treble winning season, United refused to give up and, eventually, reaped the rewards. With two minutes to go Andy Cole cushioned a header down for Yorke to tap in before Old Trafford erupted in injury time when Solskjaer's left-footed shot deceived David James to send United into the next round.
Source: unitedroad07/YouTube
Manchester United 2-2 Liverpool, 1 October 1995
A game not so much remembered for the result but for the side-note of Eric Cantona returning after an eight-month ban. Ten months earlier the French forward had succumbed to a moment of madness and kung-fu kicked Crystal Palace fan Matthew Simmons after Simmons had abused him from the stand.
What followed was one of the most memorable (and one of the shortests) press conferences ever seen and, ultimately, United being Cantona-less for the remainder of the 1994/95 season and the start of the following season.
The day of 1 October 1995 saw the Return of the King. Unsurprisingly Cantona would leave a mark on his return as he set up Nicky Butt to score United's first before converting a penalty to equalise after Robbie Fowler had put the visitors 2-1 ahead. The resulting celebration from Cantona of climbing the pole at the back of the goal will always be remembered.
The return of Cantona and everything that went with it meant that two remarkable strikes from Fowler were overshadowed. It should be noted however just how good those two goals were.
Source: ClassicMUFC/YouTube