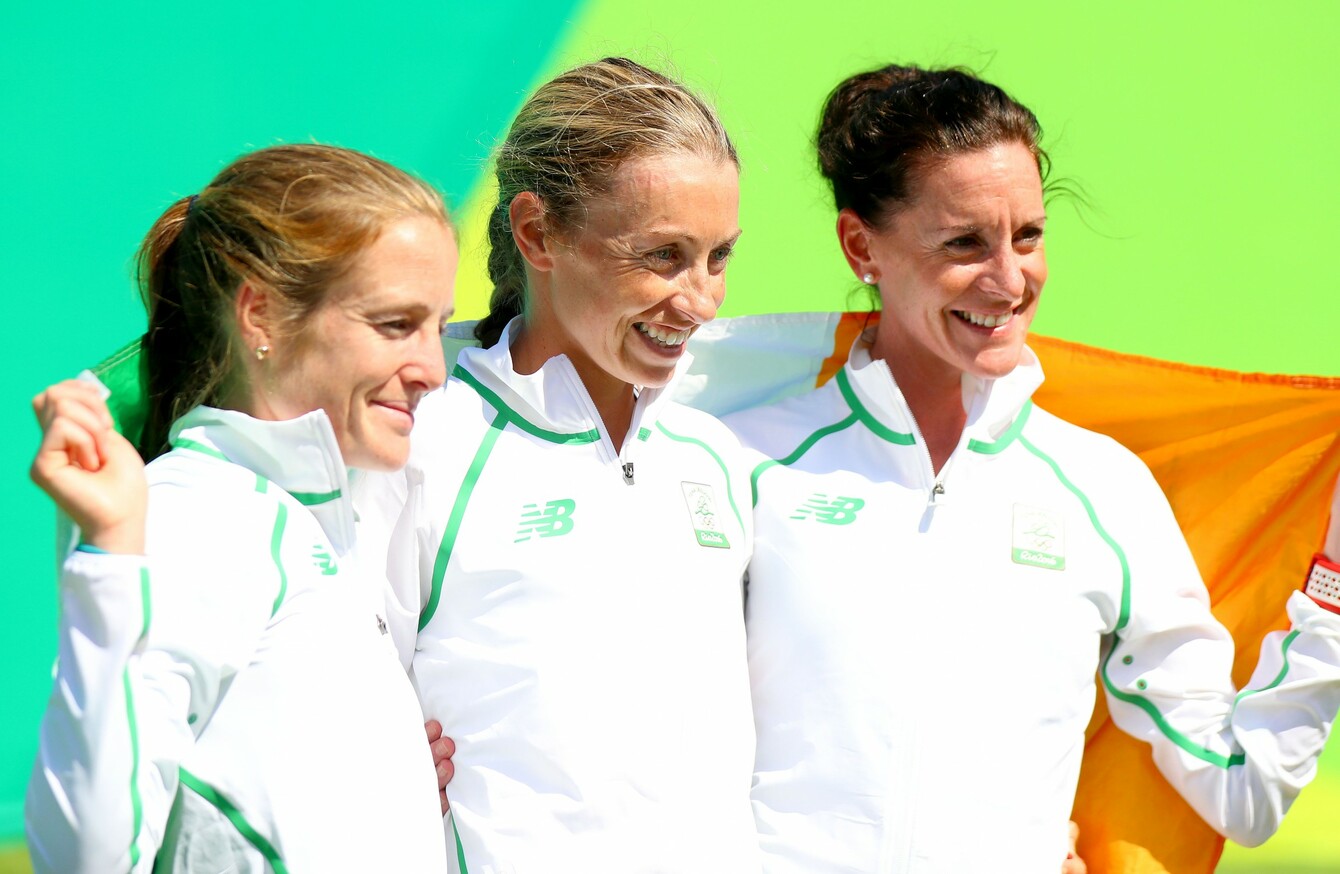 Image: James Crombie/INPHO
Image: James Crombie/INPHO
–Sinéad O'Carroll reports from Rio de Janeiro 
FIONNUALA MCCORMACK RUNNING her third ever marathon. Breege Connolly, at 38 years old, in her first ever Olympics. Lizzie Lee, a full-time employee of Apple, also in her first Olympics.
An eclectic and charismatic bunch, the Irish women's marathon team lit up the Irish area of the Sambodromo in Rio de Janeiro today as they came over the line, delighted with their performances – a PB, a sub 2:40 and a placing way above her rank.
McCormack expected to be at the top of the bunch and she was.
Her finishing place of 20th with a personal best of 2:31:22 an excellent result but not quite enough to send the Wicklow woman into celebration mode.
Top 20 is 'nice', but it's not where she wants to be.
"I think it was better than my other two Olympics," she says honestly, referring to outings in the 3,000m steeplechase in Beijing and the double 5,000m and 10,000m in London four years ago.
I think it was positive. I'm not sure what to make of it. Twentieth after where I started from is probably OK.
Her teammates were more effusive in their praise for both the 31-year-old Wicklow woman and the Olympic experience.
"It's brilliant. I'm thrilled, absolutely thrilled. I'm delighted for Fionnuala and Breege," exclaimed a pumped-up Lizzie Lee after coming across the line in 57th position and with a time of 2:39:57 in what she described as a 'horrendous race worse than childbirth'.
"We rocked it today, we really did. We did everything that we could have done.
"Top 60, sub 2:40 in those conditions… I cannot argue with that. You stand on the start line of a marathon and half of you just want to make sure you actually finish. Then when you get to 20 miles and you're in good knick, everything's fine and then you just dig in.
I'm just so proud, I'm just so happy. A 36-year-old full-time working mother and now I'm an Olympian.
"There's not one ounce of me left out there. In terms of effort, in my head I ran a PB out there today. I know I'm in PB shape. Looking at the girls – the Hahner sisters (Anna and Lisa from Germany) came in behind me and they're sub 2:30 girls. There were tonnes of girls in or around me who would have the same kind of times.
"I just dipped under the 2:40 and not one girl passed me from the 10k on…. except for [Anne] Baumeister (of Denmark) in the last 200 metres but we have a bit of a rivalry so that was a bit of craic.
"I've been quite emotional since I finished. I'm an Olympian. C'mon, said in a really Cork accent. But I'm an Olympian and no one can ever take that away from me. No matter what I do in inter-clubs or inter-counties or European cross country from now on, I'm an Olympian."
Connolly, at 38, was unperturbed about her placing.
"Is that good?" she asked the reporter who told her she had come in 76th.
"Yes," he said. "That's well above your ranking and you beat more than half the field (of 156)."
Considering her debut at the Games, she told the same reporter, "It's brilliant, I would highly recommend it" – as if qualication was attainable to anyone who fancied it.
Despite 'dreading' the race during the summer months of training and the pressure of performance, she said the past seven days have been the 'best running week of her life'.
Much of that has been down to the support the three women have received from their coaches, back-room team and families.
All three mentioned how fantastic the presence of many Irish people with their tricolours around the route were.
"The support was amazing, amazing for such a small country," said Connolly, while Lee was aware of the multiple Cork accents she could hear across the city, 12,000km from her home in Bishopstown.
"[There was] unbelievable support. I had about three different crews from home and they scattered themselves and they were everywhere. They were amazing. I could hear Cork accents all over the place. It was brilliant. I couldn't have asked for better support.
"I'm so happy. There are so many people behind this. You don't just rock up to a marathon."
And when they got to that start line in Brazil this morning, they were aware it was going to be a battle.
They say Ireland experiences four seasons in a day but Rio has been doing its best impression of the Emerald Isle this week.
"If this was two days ago, that would have been five minutes faster. It was raining and cold and cloudy," explains Lee.
But today was different – not a cloud in the sky, or a breath of breeze in the air. Temperatures soaring to 27 degrees Celsius.
"I didn't actually feel hot … the sponges and everything were brilliant… it's an accumulative effect. You know that it is happening and you're just slowing," said Lee.
McCormack, not one to shy away from heat or tough conditions, also knew she would have to pace herself to ensure the wheels didn't fall off.
"I slowed down anyway, it's just that other people around me probably slowed down more. It would have been nice to catch the Japanese girl at the end but, yeah, I think everyone knew you had to be a bit conservative at the start today and yet there are always going to be people who aren't.
"Then it's the Olympics so there are always people who will go off. I thought there would be a lot of people coming back and there's going to be carnage at some point. And you always hope it might be more than what it is."
The immediate aftermath of a gruelling 26-mile run isn't the best time to digest a result but Ireland's women were feeling the glow of the Olympics.
"I'll have to come back again now," said McCormack, the already-three-time Olympian.
Lee, meanwhile, can't wait to return to her "baby girl in Ireland in two days".
Three very different races, three very different athletes, one shared experience.
A pinnacle, perhaps, for Connolly and Lee; a learning curve for McCormack.
More from The42′s team in Rio: