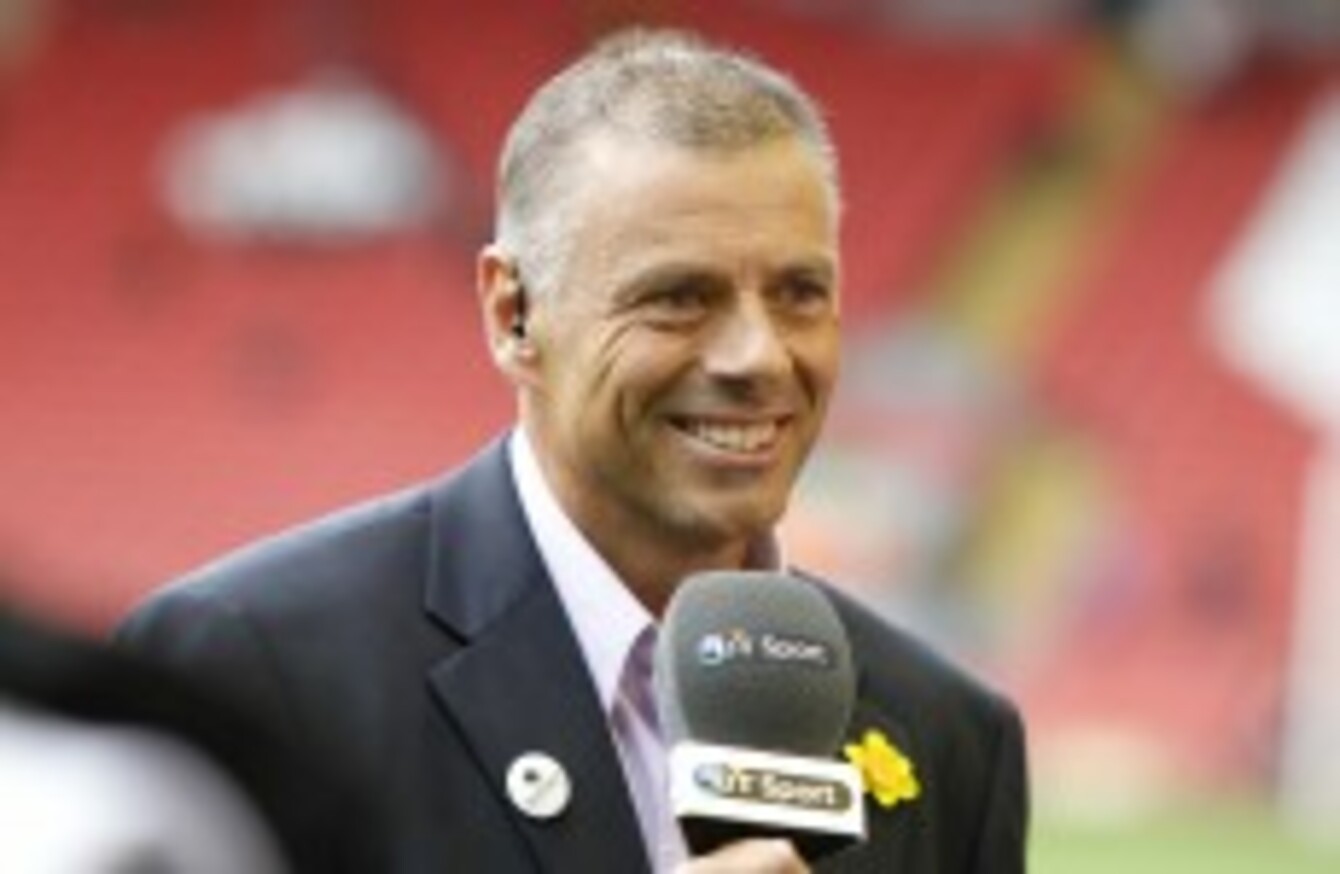 Former Referee Mark Halsey commentates for BT Sport during the Barclays Premier League match at Anfield, Liverpool.
Image: Peter Byrne/PA Archive/Press Association Images
Former Referee Mark Halsey commentates for BT Sport during the Barclays Premier League match at Anfield, Liverpool.
Image: Peter Byrne/PA Archive/Press Association Images
Quite possibly, referee memoirs are God's way of telling modern football it has too much money. But it is a mark of the English game's terminal self-regard that the overwhelming reaction to the former referee Mark Halsey's book is that he shouldn't have published it.
Ever since the first extracts of Added Time hit the news stands on Sunday, there has been a frantically censorious reaction to the revelations contained therein, which include Halsey's text buddydom with Sir Alex Ferguson and the fact that José Mourinho paid for him and his family to stay in a five-star Algarve hotel. I'd assumed the book was subtitled "I'm With The Band", but have discovered Mark went with "Surviving cancer, death threats and the Premier League". Or as the cover proclaims: "Foreword by José Mourinho".
The condemnation of the work has been swift and pained, with many wondering aloud why on earth referees should write memoirs. The answer, surely, is because they might say something like this.
In an age where one of the main complaints about football is how ruthlessly access to it is controlled, the more information we can get about how it happens, the better. Millions of us pay for it, one way or another, and the idea that we should be protected from knowing what sort of people play it or run it or officiate it seems ludicrous.
At the very least we're owed the sort of distasteful vignette that Halsey produces when he explains he called early time on the first half of a Manchester United game because he needed the bog. (If one more example could be found, we could unite them with Ferguson's diarrhoea defence in court for an hour-long documentary entitled Dumps That Changed The Premier League.)
The first thing in the book's favour is that the Premier League did not want Halsey to publish it, which should be enough of a kitemark for anyone who doesn't trust that radioactively self-important body to act in their best interests, and is instinctively amused by even the possibility that it might be irked by something.
That is not to suggest, however, that Halsey emerges as the plucky hero – one little guy who refused to be silenced, standing up to a system determined to deny him the recognition he deserves.
On the contrary, I'm afraid he emerges as – and forgive me for lapsing into technicalese here – a bit of a twazzock. Be it his needy sucking up to the managers, or imagining that he is playing the big power-broker when he calls Ferguson to get him to defend Mark Clattenburg over his wrongly alleged racist abuse of Mikel John Obi, Mark Halsey's account of Mark Halsey does him fewer favours than people are now speculating he did certain managers.
But Halsey's twazzockdom is his own lookout – publish and be damned, as the Duke of Wellington put it shortly after finishing Ashley Cole's 2006 memoir.
Isn't the most valuable public service such books perform to remind us how small and fallible many of the people associated with top-flight football are, despite all efforts to present the game as a sort of flawless mega-machine inhabited by superhuman personalities and run with unimpeachable protocols? I wouldn't miss anything that tells us the less edifying truth for the world.
Without ill-advised football books, we would never have had the crop of horrors that came out just after England hadn't won the 2006 World Cup, of which Cole's was but one. We would never have known that Ashley once nearly swerved his Aston Martin off the road in a row over an extra £5,000 a week, or that Frank Lampard was thinking "This is England's year" as he took that penalty in Gelsenkirchen, having apparently been watching a different tournament to the rest of us.
As far as officialdom's contribution to the memoir canon goes, we would never have known that Graham Poll repeatedly refers to himself in the third person as Polly, or that he panted up to Zinedine Zidane during a Champions League game, begging for his shirt and asking: "Am I good yet?" For their own sakes, of course, these men should have realised that a period of silence would have been politic in perpetuity – but their delusions gave the rest of us a mirthless laugh, and a more refined perspective on events than we might otherwise have had. More revolted, certainly, but more refined.
People in public life, or what passes for it, should always, always write books if they can possibly be bothered. Most of them are unreliable narrators, but they should absolutely be encouraged to march into print for the gaiety of the rest of us – or given a length of rope and told to write a book with it.
If they manage to cash in on their position or former position – and I'm not convinced thousands of copies of Added Time are actually going to be bought – it is a price worth paying for the general merriment of seeing them reveal themselves as they really are.
Even the most boring memoirs have the odd anecdote that gives us – fans, voters, whoever it may be – a unique glimpse of one moment, or a shade more insight into those who have power or influence over us. In this spirit, we must agree with Halsey when he self-effacingly describes his opus as a story "that deserved and needed to be told", because it is. Just not in the way he thinks.
This article titled "Mark Halsey scores an own goal with memoir of his time as referee" was written by Marina Hyde, for theguardian.com
© Guardian News & Media Limited 2014
Be part
of the team
Access exclusive podcasts, interviews and analysis with a monthly or annual membership.
Become a Member