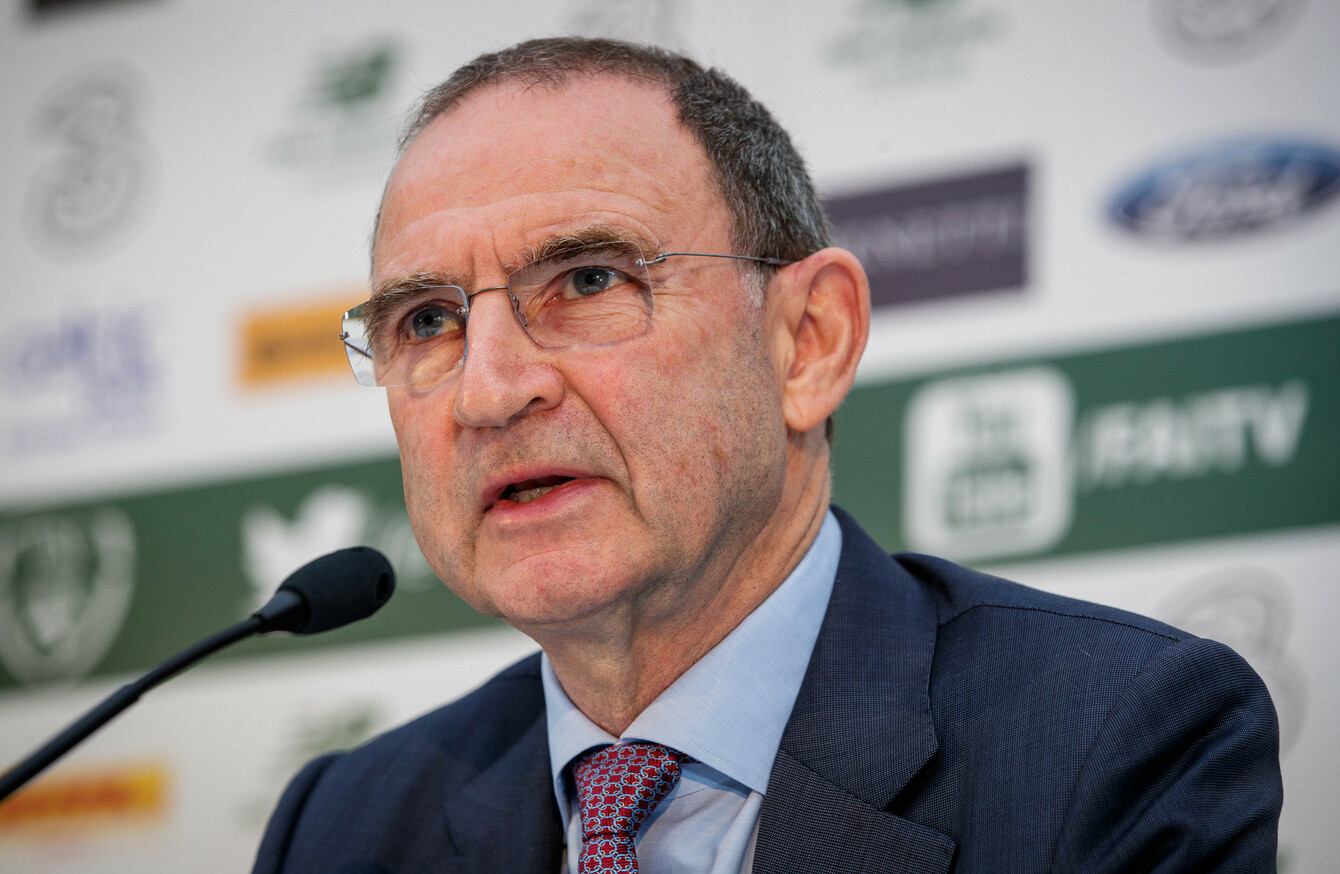 Ireland manager Martin O'Neill pictured speaking at Tuesday's press conference.
Image: Ryan Byrne/INPHO
Ireland manager Martin O'Neill pictured speaking at Tuesday's press conference.
Image: Ryan Byrne/INPHO
MARTIN O'NEILL DEFENDED the lack of League of Ireland players in his current squad at a press conference to announce the 36-man panel on Tuesday.
Dundalk winger Michael Duffy, once a youngster at Celtic, is likely to be rewarded with international recognition imminently. The 24-year-old is waiting on the necessary paperwork to be completed to confirm his switch from Northern Ireland, who he has represented at underage level, to the Republic.
However, some critics have suggested more domestic-based players deserve to be included in the Boys in Green's squad, with Dundalk midfielder Patrick McEleney one of the names mentioned as O'Neill was asked the question.
The Derry native, however, elaborated on his decision-making process, and perhaps with McEleney's brief Oldham stint among other instances in mind, suggested players who struggle to make an impact in English football before promptly returning to Ireland were unlikely to be looked upon too favourably.
"I think, more than any other Irish international manager, I've incorporated the League of Ireland very strongly," he said. "I've brought players through. Young [Graham] Burke was the first one in [40 years] to score a goal [for Ireland]. I think, on the strength of that, he got a move to Preston and got back in again.
"I'm not an agent for all these particular players, that's not my job, my job is to be impressed by players at the end of it all.
Some players have gone over to England, and for one reason or another, have not come through. It's not that they haven't come through in the Premier League, they haven't come through some of the lower levels and then you have to ask the question: 'What is it?' Is it something in their makeup? Did they not get on with their manager? It could be a combination of all these particular things."
He continued: "When someone goes over to England and comes back to Ireland quickly, it's not the perfect recipe for international football and trying to win games. So I do incorporate players from the League of Ireland. I go to a lot of matches too. I see a lot of games. Sometimes, as was the case with young [Sean] Maguire, when I saw him playing for Cork [in the 2016 FAI Cup final], he didn't play all that well in the game.
"Sometimes I have to go: 'Look, it's nice to see him doing well, he has a bit of something,' which you could feel he has, but you have to step up. So that's the case with a lot of players here — a lot of skillful players. Young Duffy is as skillful as any player you're likely to see playing in the League of Ireland, he's got really good ability.
"It would be nice to see [Duffy] coming through and incorporating him, I didn't just ask him did he fancy coming over. Hopefully he can do it, and I think he's got a chance, but some players have to do a little bit more.
"Playing at the highest level — the Premier League, the Bundesliga, La Liga or Serie A, those are the leagues, and then there are the leagues below them, so players have a lot of work to do. Just because someone does alright in one game doesn't mean they're an international player, regardless of what people think." 
O'Neill was also asked about the ongoing debate surrounding Ireland's style of play. In the past, Richard Dunne and others suggested playing in a direct fashion is part of Irish football's "DNA," whereas Dundalk boss Stephen Kenny has been among the people to reject these claims.
The 66-year-old coach, meanwhile, acknowledged that long-ball football has been Ireland's primary style for decades, while expressing hope that a possession-based game could be developed in the future.
"Even Roy Keane and Robbie Keane, speaking to them both, fantastic footballers, who've said it's always been a case with Ireland where no matter how many good players you might have, they always played that sort of way.
Not every side is capable of playing in a manner in which Barcelona and Real Madrid play, but like everything else, hopefully that will change maybe in the next number of years [with Irish] sides getting it down, playing it and being very comfortable with it. I think that's something over time that will surely have to be a good thing.
"To try to win football matches too, that's the idea. Ireland haven't qualified for too many competitions since the World Cup that time and the European Championships. It can't all be about the style of play, it has to be players, it has to be a lot of things, so there's a big mixture of everything."
Subscribe to our new podcast, Heineken Rugby Weekly on The42, here: