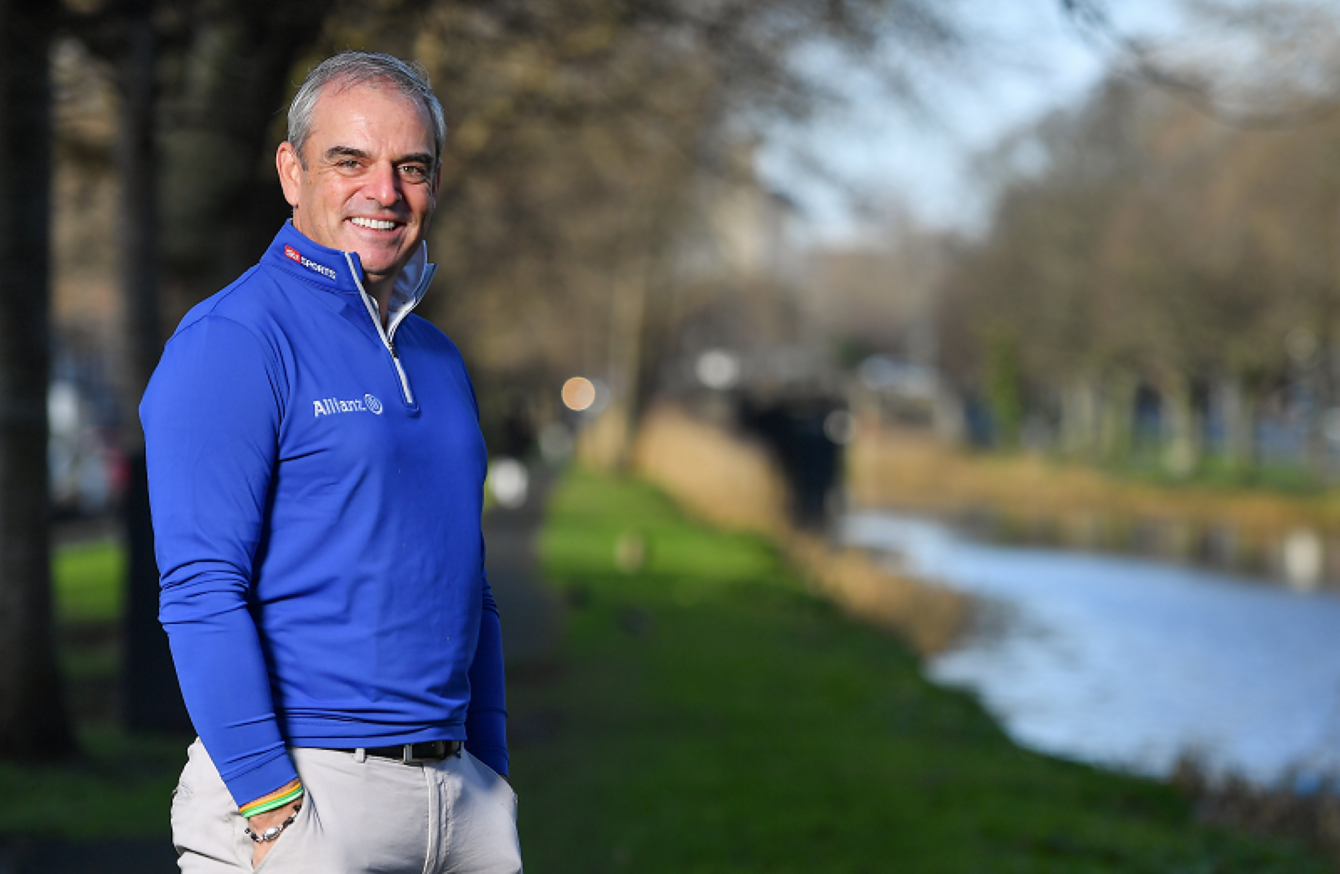 Sky Sports' four days of live tournament action will tee off on Thursday 6 April from 7pm.
Image: Brendan Moran/Sportsfile
Sky Sports' four days of live tournament action will tee off on Thursday 6 April from 7pm.
Image: Brendan Moran/Sportsfile
FORMER RYDER CUP captain Paul McGinley has only played one Champions Tour event — at Disney's Palm Golf Course in Orlando last month — but he did notice that some of his fellow competitors were wearing clothing adorned with logos for Trump Golf.
Perhaps for that reason, he is surprised at the ongoing controversy surrounding Rory McIlroy's decision to play a round of golf with the owner of The Trump Organisation — and, of course, current President of the United States — Donald Trump.
And though he's keen not to extend the controversy, McGinley says he certainly wouldn't be critical of the Northern Irishman.
"A lot of the players wear Trump on their clothing, they're sponsored by Trump. I guess it's the Trump brand. David Frost has got it on, Rocco Mediate too. I noticed two or three, maybe more had it on.
"It's a really tough one. Rory's trying to get ready to win and make history by joining the five people in the game that have ever done this and become a Grand Slam winner.
"I think it's disappointing that this noise doesn't seem to be abating. I was just looking at his press conference on Tuesday and it dominated it again. In preparation for the Masters, this is not a noise you want to have.
"He should be focusing on his injury and focusing on his game but he has walked into a storm. I certainly won't be critical of him. I think it's taken a lot of people by surprise, the vitriol he has received."
But does McGinley feel that the 27-year-old could have handled the situation differently?
"He was in a no-win situation. And that's the problem.
"When you get offered by the President of the United States to go and play a game of golf, it's very hard to say no. That's what Pádraig said and I agree fully with him.
"How do you turn down the office of the President of the United States?
If he hadn't played, he would have been taking a very strong political position, which would have created a lot of furore in the other direction."
McGinley also wondered why there was such a different reaction to Tiger Woods and others playing golf with Trump to what McIlroy has faced.
"The thing that surprises me is that Jack Nicklaus, the greatest player in the history of the game, very strongly came out in Trump's corner in terms of voting for him, made some strong political statements in his favour and, yet, there was no noise around that.
"Tiger Woods played with him, there was no noise around that. Ernie Els has come out strongly in favour of Trump as well, and played golf with him and there was no noise around that.
"I think it's really unfortunate that Rory seems to have caught the flack for this."
The 49-year-old believes that the quicker the controversy dies down, the better.
"I think Rory was caught unawares. A lot of us have been surprised about how strongly negative the reaction has been against him.
"I'd like to see this fire dying as quickly as possible because I'd like to see him getting back focused, back from his injury, getting some tournaments under his belt and trying to join the only five people in the world who have ever achieved a Grand Slam.
Be part
of the team
Access exclusive podcasts, interviews and analysis with a monthly or annual membership.
Become a Member
"He's right on the threshold of that, he doesn't need this noise at this time.
"The more people talk about it, the more it keeps going and that's why I'm very reluctant to get involved.
"I saw Shane (Lowry), for example, at the weekend being asked a question about it and you could see he was very uncomfortable and he gave a completely non-descript-middle-of-the-road-I'm-not-saying-yes-and-I'm-not-saying-no answer.
"And the headline is 'Shane weighs in with his view' and that adds more fuel to it.
"So trying to get it to abate is very important for Rory because he has big things on the horizon in the golfing sense and hopefully people will move away from the noise and the talk of him playing golf with Donald Trump."
However, despite the distractions, the 49-year-old believes McIlroy's willingness to speak openly is a good thing, but not necessarily ideal preparation for any golf tournament, never mind a Major.
"Rory has taken a position in the media, a very strong position of being open and honest about a number of issues and a number of things and he's entered into a lot of debates which is great, because it gives us a great insight into Rory.
"On the downside, it opens up conversations that mightn't necessarily help him when it comes to winning golf championships. Now, he's made that decision but there are pros and cons to taking that position and that's where we're at.
"And of course that's a worry. He got involved with a debate about the Olympic Games just before the British Open and of course it affected his performance in the tournament, I mean, it can't help.
"Although he came fifth, he didn't really contend.
"You look to Tiger and what he did in his career. He was purely focused on winning golf tournaments.
"I'm not being critical of Rory. I think the position he's taken with the media is great because he's so insightful and so honest and I think he opens up a lot of questions and that makes him a very interesting character."
Somewhat forgotten in recent weeks is the fact the former world number one is recovering from an injury. Does McGinley think a four-week run-in is enough to finally don the green jacket?
"For Rory it is. For other players, maybe not necessarily so. Rory's game comes around very quick and he relies a lot on confidence, he relies a lot on his game being in a decent place and being inspired.
"He likes challenges and he likes it being put up to him and he's often at his best when it is being put up to him.
"Certainly, with the wins that all the young guys have had this year — and he hasn't — he likes that question being asked and showing them who's boss."
Paul McGinley was speaking as he promoted Sky Sports' live coverage of the 2017 Masters in Augusta. Coverage gets underway on Monday 3 April from the Augusta practice range.