Athletics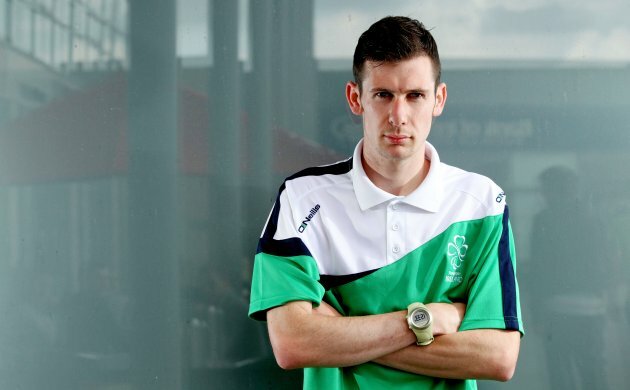 Michael McKillop. Credit: INPHO/James Crombie
Jason Smyth – The Derry sprinter is a 100m & 200m Paralympic champion and world record holder who narrowly missed out on a place at the London Olympics. Known as "the fastest Paralympian on the planet".
Michael Mc Killop – From Antrim, 22-year-old will compete in the 800 and 1500m, which he is the reigning Paralympic and world champion in.
John McCarthy – Competing in this third Games, the Cork native won silver in 2004 and bronze in 2006 and is ranked fourth in the world in the discus.
Nadine Lattimore – The Dubliner, who is the current Irish record holder, competes in the shot put and discus.
Ray O'Dwyer – From Hugginstown in Kilkenny, Ray O'Dwyer will represent Ireland in the discus, javelin and shot put.
Catherine O'Neill – One of the most experienced members of the team, 36-year-old O'Neill has won gold in the discus and silver in the club at a world championships in New Zealand last year.
James McCarthy It is 16 years since McCarthy competed at a Paralympics in the shot put, but he is vying to make a successful return in London.
Orla Barry – Cork's Orla Barry set a new European record in the discus last year and comes into these Games in fine form.
Heather Jameson – Competing in the 100m, 200m and the long jump, at just 15 Heather James makes her Paralympic debut.
Ailish Dunne Discus and shot put competitor Ailish Dunne is ranked fifth and seventh in the world in her respective disciplines.
Boccia
Padraic Moran. Credit: INPHO/Presseye/Jonathan Porter
Johnny Cronin – From Mallow in Cork, Johnny Cronin comes into his third Games attempting to emulate a gold medal in the BC3 pairs in 2000.
Padraic Moran – Taking part in the BC1/BC2 team event, Bray's Padraic Moran makes a second consecutive appearance at the Paralympics.
Tom Leahy - 54-year-old Tom Leahy arrives at Games No.7  with three golds, three silver and two bronze in the bag.
Roberta (Bobbie) Connolly - The Dubliner will look to better a quarter-final appearance in Beijing in the BC2 mixed individual.
Gabriel (Gay) Shelly – A previous gold medallist, Gay Shelly is keen to put recent injuries behind him and give a good showing in the BC1/BC2 mixed team.
Cycling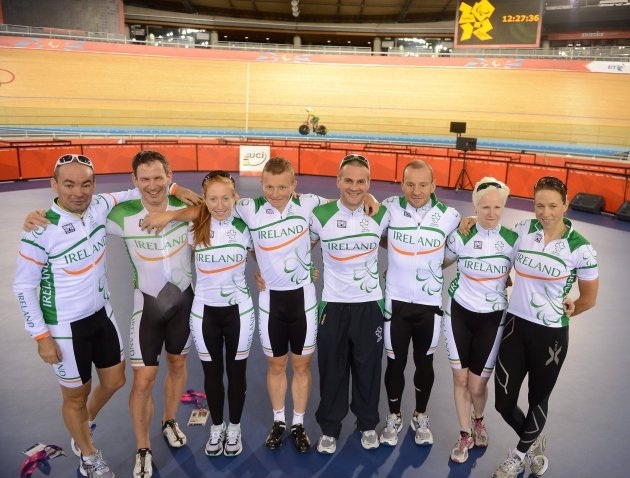 Ireland's Cycling team. Credit: Brian Lawless/Sportsfile
Catherine Walsh – Walsh won bronze in the pentathlon before moving to tandem cycling in 2007 and is one of the favourites in her events (track: 1km time trial, 3km individual, time trial and road race).
Cathal Miller – A second Games for the Dublin rider, who was close to a podium finish in Beijing.
Francine (Fran) Meehan – The Offaly native is a sighted pilot for Catherine Walsh as part of Ireland's most successful tandem pairing.
James Brown – From Stonehouse in the UK, 47-year-old James Brown has competed in athletics, skiing and biathlon in the past but is currently focused on cycling.
Colin Lynch – A relatively new Paralympian who will contest four events at his first Games.
Damien Shaw – From Mullingar, Shaw is sighted pilot for James Brown and makes his Paralympic debut.
Enda Smyth - Recent results in the UCI World Paracycling championships suggest Santry's Enda Smyth will do well in London.
Katie-George Dunlevy – Another British-based, multi-talented athlete, the 30-year-old represents Ireland in the time trial, individual pursuit and road race.
Sandra Fitzgerald - Sighted pilot for Katie George Dunlevy, Fitzgerald has improved dramatically over the last 12 months.
Mark Rohan – A current world champion, big things are expected from the the former Westmeath U21 footballer.
Equestrian
Eilish Byrne – Riding Youri, Eilish Byrne was Ireland's only equestrian representative four years ago and finished 8th in the freestyle and 11th in the championship event.
Helen Kearney – The 23-year-old from Dunlaven, Co Wicklow, is one of the country's most promising talents.
Geraldine (Gerry) Savage – Originally from Dublin but living in York, Gerry Savage competes in the team test, individual championship and freestyle.
James Dwyer - These days living in the US, Waterford's James Dwyer enters his first Paralympics with his horse Orlando.
Power Lifting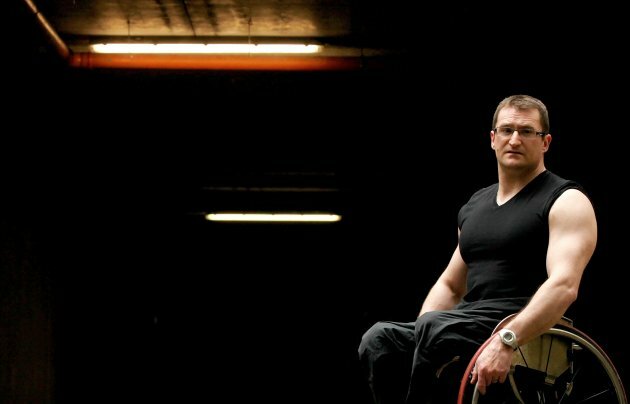 Roy Guerin. Credit: INPHO/James Crombie
Roy Guerin – The Kerry weightlifter comes into his third Games as Ireland's only representative in the event.
Rowing
Anne-Marie McDaid – Donegal native Anne-Marie McDaid competes in the mixed cox four bow seat in her third year competing in the sport. Part of Ireland's first boat to compete at a Paralympics with the rowers profiled below.
Kevin Du Toit – London-based Kevin du Toit will take the lead stroke seat on the team.
Shane Ryan – Limerick's Shane Ryan is the youngerst member of the team at 23.  i
Sarah Caffrey – The Clare native rows at two seat in the boat.
Helen Arbhutnot – 27-year-old Helen Arbuthnot is cox of the mixed cox four boat.
Sailing
Anthony Hegarty – The sailor, from Mallow, Co Cork, is part of the three-man sonar with John Twomey and Ian Costelloe.
John Twomey – It's a tenth consecutive Games for Twomey, who has won medals in table tennis before switching to sailing.
Ian Costelloe – A member of Kinsale Yacht Club, Ian Costelloe makes up the team.
Shooting
Sean Baldwin – A local of Newbridge in Kildare, Sean Baldwin is a member of the Irish Defence Forces and becomes Ireland's first ever target rifle shooter at a Paralympics.
Swimming
Daragh McDonald (centre) and some Ireland team-mates training on Tuesday. Credit: Sportsfile/Brian Lawless
Darragh Mc Donald – The 18-year-old won silver in Beijing at continued on that form with silver and bronze in the following European championships.
Bethany Firth – Co Down's Bethany Firth is the youngest member of Team Ireland at 15 and makes her Paralympic debut.
Ellen Keane – Four years on from her first appearance at the Games, Ellen Keane, from Clontarf in Dublin, competes in the 200m individual, 100m butterfly and 100m breastroke.
James Scully – The Meath student won Swim Ireland's Disability Swimmer of the Year in 2011 and had some good results in the European championships in the run-up to London 2012.
Laurence Mc Givern – A personal best of 1.07.30 in June gave Down's Laurence McGivern the A standard he needed for selection to Team Ireland. He competes in the 100m breastroke.
Jonathan Mc Grath – With a world and European championships behind him, Clare's Jonathan McGrath will race in the 400m freestyle at his first Paralympics.
Table Tennis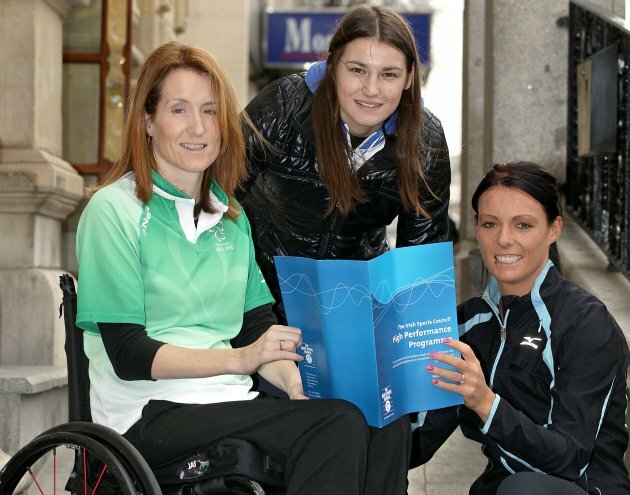 Eimear Breathnach (left) with Katie Taylor and Marian Heffernan. Credit: INPHO/Morgan Treacy
Eimear Breathnach – From Ballinteer in Dublin, Eimear Breathnach has won a series of titles around the world and came third in her singles event four years ago.
Rena McCarron – 47-year-old Rena McCarron Rooney won Irish and Costa Rican Open titles in 2011 and is currently ranked 9th in the world.
Philip Quinlan – Having clinched gold in the US Open last year, Dubliner Philip Quinlan is bidding to make a real impact at the London Paralympics.
Ronan Rooney – Galway's Ronan Rooney makes an appearance at his sixth consecutive Games.