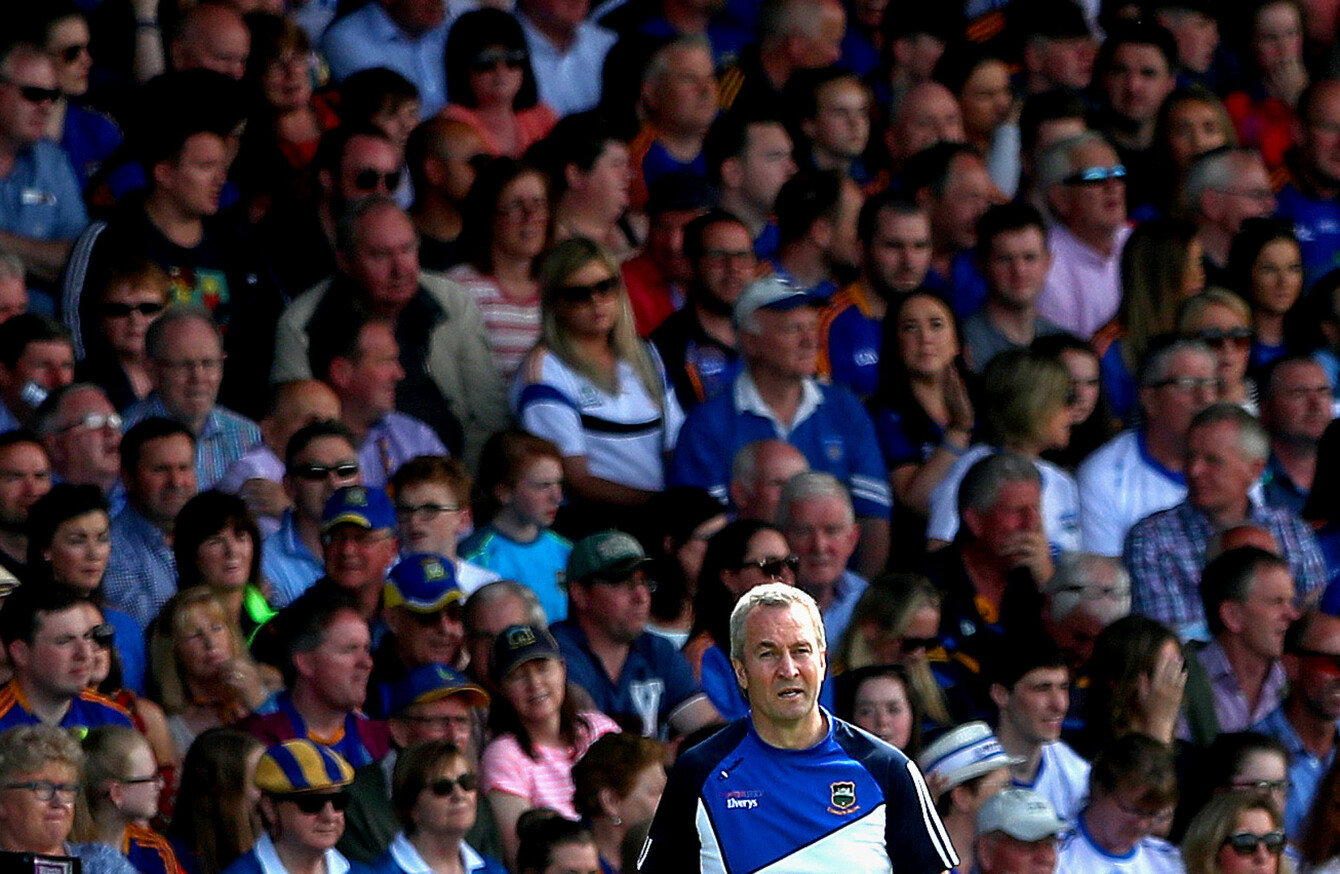 Tipperary manager Michael Ryan in the Gaelic Grounds.
Image: James Crombie/INPHO
Tipperary manager Michael Ryan in the Gaelic Grounds.
Image: James Crombie/INPHO
NO WINS FROM three games and yet Tipperary are still alive in the Munster hurling championship.
They may have been aided by the fortune of an umpiring decision that saw them awarded a dubious goal in the Gaelic Grounds yesterday but their refusal to quit on a seemingly impossible cause was evident for the second time in a week.
Nine points down against Cork the previous Sunday and trailing by eleven points at one juncture yesterday against Waterford.
But Tipperary managed to secure a draw on both occasions and now a must-win tie against Clare lies in store next Sunday.
"We don't give in, we won't give in," said a defiant Tipperary boss Michael Ryan afterwards.
"Look if that's just thickness, fair enough, we're just thick. But that's what we are. We didn't have a choice. It was fold the tents and get nothing out of this game or fight it out. That's not in their DNA. They don't do it, they just give and give and give.
"Look it we salvaged a draw again, I'd say in the last 20 seconds of the game and just great credit goes to a group that will keep trying. They are so honest but you know we really do need to start playing better than we did.
"That's to take nothing away from Waterford and their commanding lead at half-time. We made two really poor mistakes to let them in for two goals.
"For the 10, 15 minutes after half-time, the game was played on Waterford's terms and they had the legs and they had the extra player when they needed it and they used the ball better than we did. But we finally found a bit of a rhythm and fought our way back into the game."
Ryan had no view on the controversial decisions that saw a goal awarded to Jason Forde and a point to Ronan Maher in the finale.
"I couldn't comment on that and that's just being honest with you. Just sheer elation that it (the goal) came. It was a terrible goal to give away, but we gave away a couple of terrible ones are totally uncharacteristic of that back line.
"I haven't a clue (on the point), not a clue. I'll just trust the umpires, trust the ref for that kind of thing and in fairness I think it was the ref that overruled that so clearly he had the best view of it, he was in the middle of the field.
"Look, we rode our luck, there's no doubt at all. When you come out of a game like that and you get a draw, you've rode your luck, 100%. Plus the goalmouth incident where your man stepped back in behind the goal.
"Look, if we didn't get those bounces, I wouldn't be here talking to you. Well I'd be here talking to you alright but I'd be crying!"
The Tipperary boss believes defender Michael Cahill was harshly treated in being sent-off in the opening period.
"Indeed it looked harsh from where I was looking too. I think the technicality was that he did clip the Waterford chap's helmet.
"The ball also went over the bar and there was nothing at all in it only an attempt to intercept the ball. He already picked up a yellow and the ref applied the rules, but I thought it was awfully harsh. The rules are the rules, and it had a big impact on the game, let's face it.
"I thought our fellows were just outstanding in that second half. It's really was a 20-man effort. I think the collective gave a really honest attempt to get something out of that match and got a point.
"Look, we've given ourselves a glimpse of a lifeline and that's enough to bring us to training next week, and we'll go as hard as we possibly can."
The42 is on Instagram! Tap the button below on your phone to follow us!