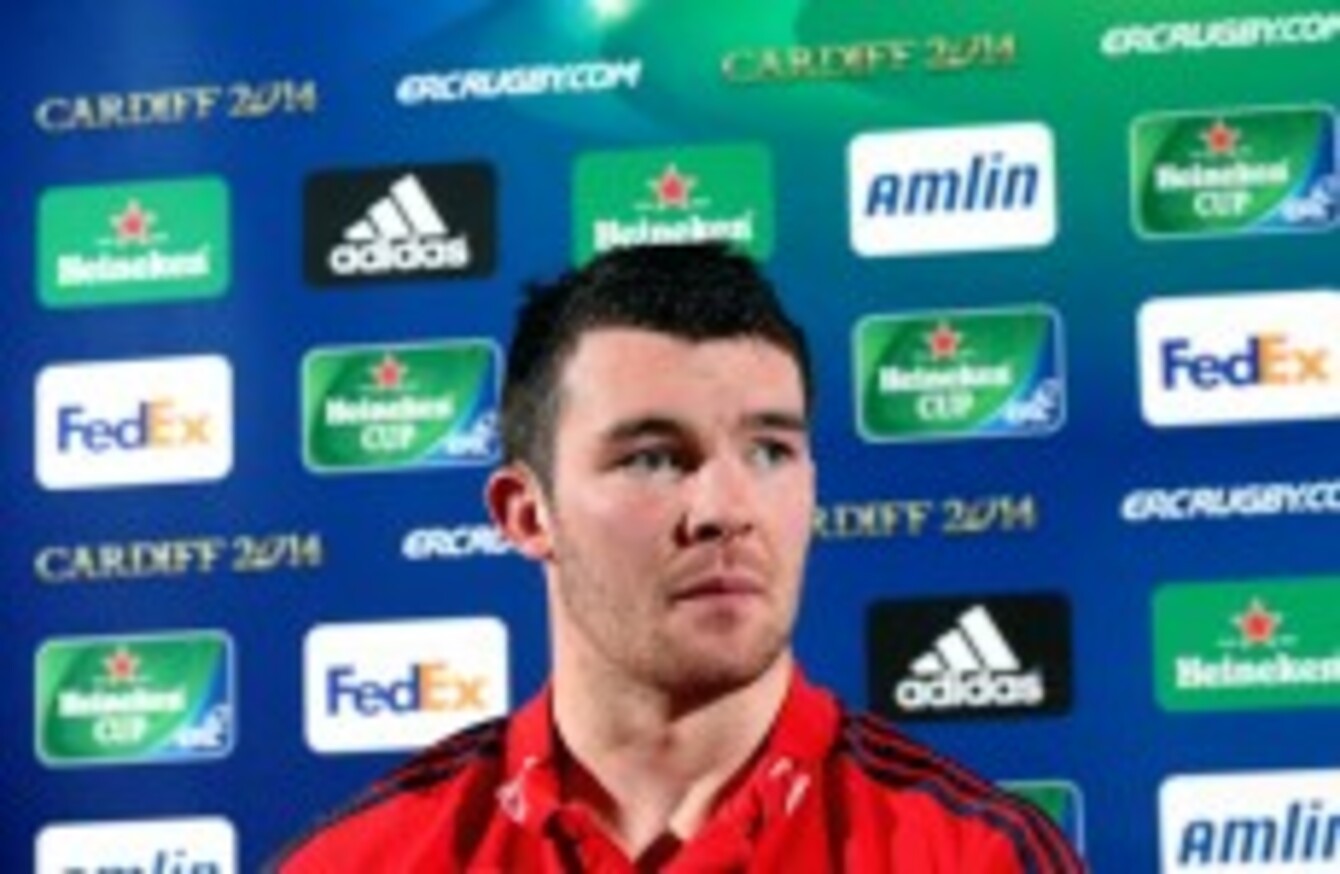 O'Mahony is pleased with Munster's developing defence.
Image: ©INPHO/James Crombie
O'Mahony is pleased with Munster's developing defence.
Image: ©INPHO/James Crombie
THE BREAKDOWN HAS become perhaps the decisive area in top-level rugby in recent years, meaning Munster are in a good place.
Whatever about the permutations being for or against Rob Penney's side this weekend in the Heineken Cup, winning the battle in the ruck area will be a key focus against Edinburgh. No professional rugby team likes turning in as sloppy and unfocused a performance as Munster did in Murrayfield in the clash between the sides in round one of the group stages.
One area they were beaten that day was at the breakdown, but ever since, the southern province have greatly improved. Captain Peter O'Mahony says that is down to both the knowledgeable work of their coaches, and the quality of forwards in the Munster set-up.
I think we are lucky with some of the players we have obviously. Damian Varley, Tommy O 'Donnell, Sean Dougall, James Coughlan, these kind of guys. Obviously Paulie too, who for a big man gets himself in a good position to get those turnovers.
"We are lucky with the personnel, but we do do a lot of work on it. Axel [Foley] does a lot of our breakdown stuff and he's very good at it. We've been doing a lot of it over the last couple of months, so it's good to see us getting a couple of turnovers."
Another element of Munster's game that has seen improvement since that day in Edinburgh is their defence. While one still fears what a side like Clermont or Toulon in full stride could do to them, Penney's men have shored up notably.
O'Mahony swats off the challenge of Freddie Burns last weekend. ©INPHO/Dan Sheridan.
Gloucester failed to turn long spells of possession into tries last weekend against Munster, although it must again be pointed out that the Premiership side are not of a particularly noteworthy quality. O'Mahony admits that defending in the manner Munster did in Kingsholm can be just as enjoyable as running in tries.
"Yeah, it is. Obviously everyone prefers attacking with the ball but at times that just doesn't go your way. Gloucester had their tails up and they were playing very well. When we knocked them into touch, I think it was about 68 minutes in, that gave us such a lift and it must have been crushing for them because they were hammer and tongs at our line for a long period at that stage.
For us just not to budge and for everyone to make decisions and knock them off into touch, it was a big boost."
Both improving aspects of Munster's game will again be crucial tomorrow against the Scottish side. O'Mahony stresses that his side must focus on their own game, particularly in attempting to enjoy a larger share of the ball. Still, the Cork man admits there will be some bitterness there too.
"Yeah, that's what it has to be really, you know? We're still hurting and disappointed with the way it went in the first game. It would be silly of us not to have that in the back of the mind this week.
"Obviously the nature of the beast is that we want to get revenge and get back, but this week of all weeks, we have to put that to one side and implement the game plan, be physical this weekend and have a good performance at home."