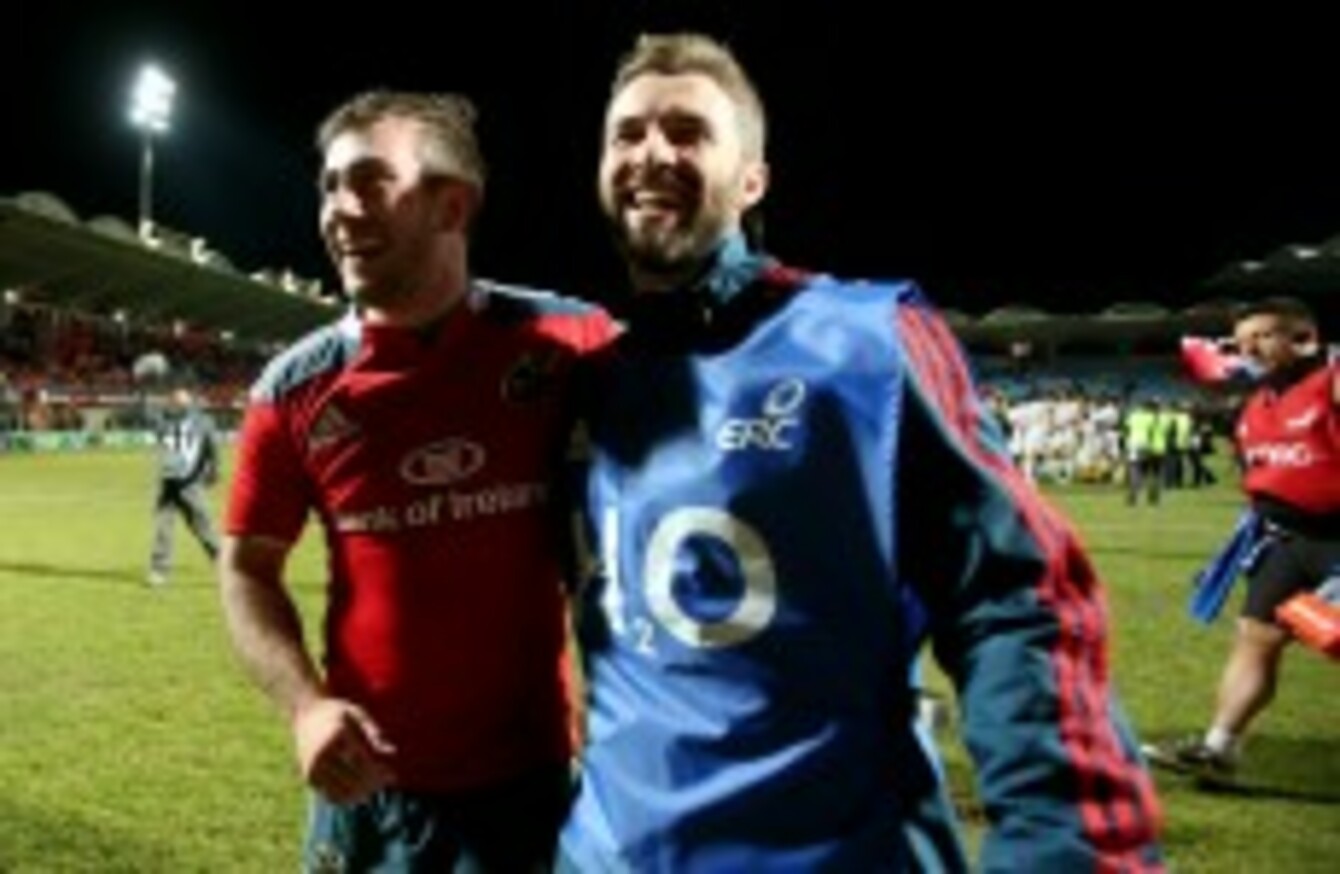 JJ Hanrahan celebrates with Munster strength and conditioning coach Aled Walters.
Image: INPHO/Dan Sheridan
JJ Hanrahan celebrates with Munster strength and conditioning coach Aled Walters.
Image: INPHO/Dan Sheridan
LIKE A MODERN DAY St. Patrick, Aled Walters began his journey in Wales, had oodles of adventures, converted some naysayers and settled in Ireland.
Munster's strength, conditioning and rehab coach may not have ran any snakes out of Ireland but he has certainly put scores of Irish rugby stars through their paces. Walters has been working in the area of S&C since 2004 and has worked with Llanelli Scarlets, the Brumbies, Taranaki and the Welsh national team.
He worked with established Welsh stars Jonathan Davies and Rhys Priestland when they were coming through the Scarlets Academy and is not surprised that they are thriving at Test rugby. In the lead-up to a Munster strength and conditioning course at UCC this weekend, Walters told TheScore.ie about the science and sweat that goes into priming athletes to compete with the best.
"The way many of the coaches see it, the players are ours in pre-season. That is when we get the most time with players. When the season starts, we leave the rugby to them," said Walters. The Welshman says the S&C influence is evolving, however, and he would now have a say on how certain players train. "Ultimately it is about player availability," he said. "That is what you and the coach are striving for."
Walters joined Munster in 2012 and was faced with one of the toughest tasks of his decade-long career. Having returned from knee surgery that had hindered his 2011/12 season, bulging discs in Paul O'Connell's back required invasive procedures. O'Connell confessed to TheScore.ie before the Lions Tour that he was not sure if he would ever play again following the operation on New Year's Eve 2012. Walters said:
I'll be honest with you, there were times when Paul didn't seem to be getting any better. I was questioning whether we were doing the right thing to keep pushing and working him. But that is the measure of the guy. Jesus, he wasn't going to be the one to wave the white flag."
O'Connell returned to star in Munster's drive for the Heineken Cup final and travelled with the Lions to Australia. Walters says GPS tracking was vital in working out a rehab training programme for the lock to return to action. O'Connell is now aware of how he should manage himself in a game. As Walters explains, he does not need to be clocking up miles and miles per game as long as his runs and drives are channelled in the right direction and making an impact.
Walters believes a clear sign of OConnell's return to full strength was the fact that he played an away game for Munster against Newport Dragons less than a week after he featured in Ireland's gut-wrenching loss to New Zealand. He added, "It's never a case of telling him to crack on. It is one of those things where we know what could stir [his war wounds] up so we know how to manage it."
Walters puts Keith Earls through his paces. INPHO/James Crombie
Munster were set to be without Simon Zebo and Damien Varley for their crucial Heineken Cup game with Edinburgh earlier this month. Both made miraculous recoveries from injury and while Walters pays credit to Munster's medical and coaching staff, he feels the team "culture" is a driving force. "During a Heineken Cup period," he says, "everyone wants to play, no-one wants to let the side down. It is our job to ensure they are fully ready to return."
While Tommy O'Donnell and Conor Murray are two of the province's greatest athletes, in Walters' opinion, Keith Earls has the most remarkable powers of recovery. "He has been so unfortunate with injury but he is like a rubber ball the way he heals," Walters remarked. That said, he does not expect the winger, who damaged knee ligaments against Edinburgh, to feature in this year's Six Nations.
Walters has worked closely in the past with Wales' S&C coach Adam Beard and says a cryotherapy chamber — famous in the Welsh Valleys for adding player recovery — is on his wishlist for Munster. He notes, too, that many of the Welsh players do [hypoxic] altitude training.
The issue of rugby players taking supplements to boost body and muscle mass is one that has divided many fans of the game. Walters has no issues with Munster players, senior or academy, taking supplements as long as they have been approved by the province's nutritionist. "The only issue would be if they were going to get their stuff from a local supplement store and not running it by us. I'm not saying that [the practice] is a bad thing but it would need to be checked out," said Walters. During his time at Scarlets, he adds, players as young as 16 were introduced to supplements 'but not the full range'.
Be it supplements, cryotherapy, altitude training or preventing any more of Paul O'Connell's 'toothpaste coming out of an onion', the world of player welfare and conditioning is ever-evolving. "When I started out," Walters recalled, "there was only one S&C coach with the senior team. Now, we need our own bench."
*Places are still available for Munster's Strength and Conditioning course at the Mardyke Arena, University College Cork from 9am this Saturday. For more on the course click here >>>