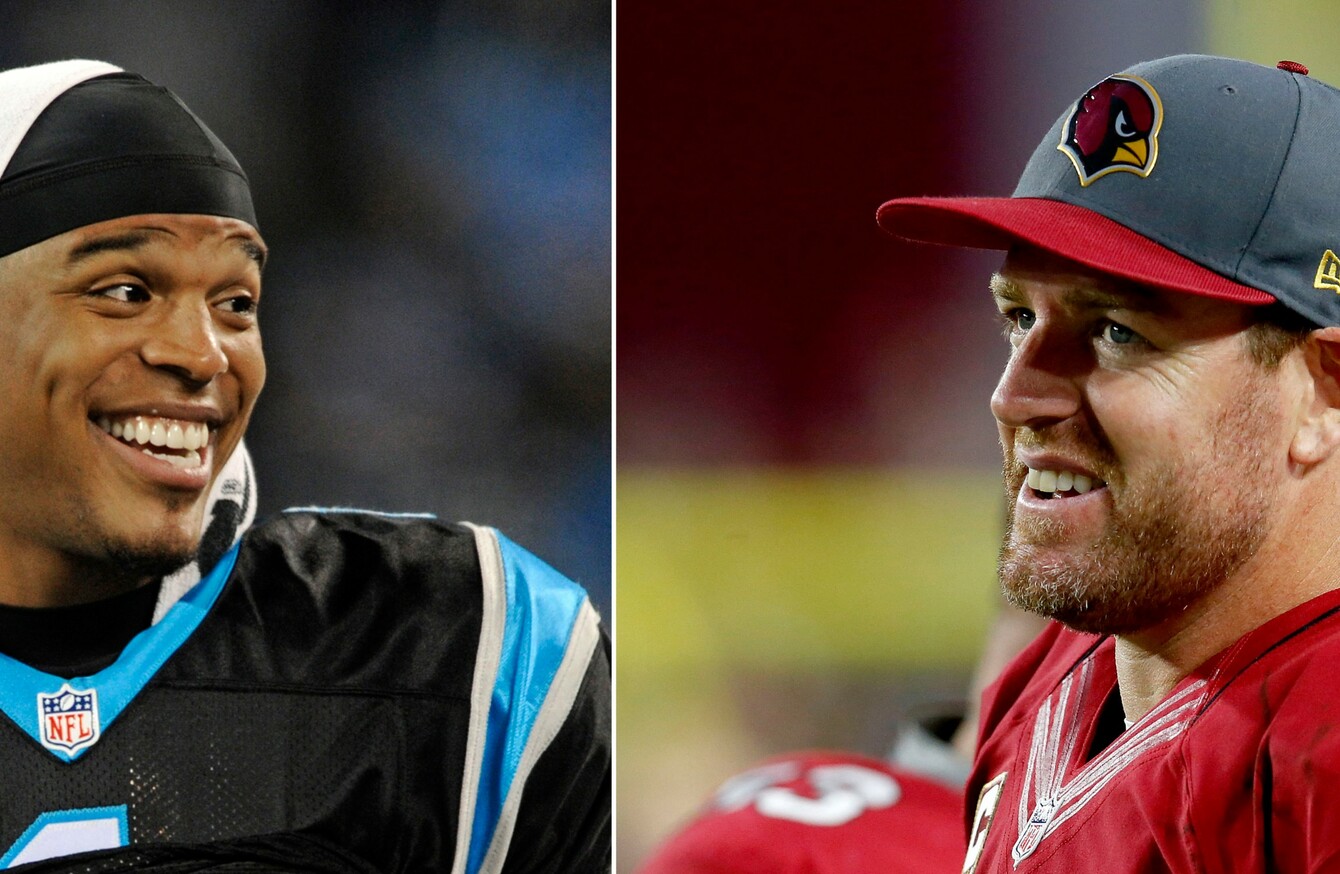 Who's going to Super Bowl 50?
Image: AP/Press Association Images
Who's going to Super Bowl 50?
Image: AP/Press Association Images
Arizona Cardinals @ Carolina Panthers
Sunday, 11.40pm
How the Cardinals can win
Get the ball into the hands of its trio of wide receiving threats.
THE LAST TIME the Arizona Cardinals reached a Super Bowl, they did so by winning an NFC playoff game in Charlotte, defeating a Panthers team that had been unbeaten at home up to that point in the season.
Back in January 2009, Larry Fitzgerald went into the game on the back of a then franchise record (for a playoff encounter) 166 yards in his previous outing.
Last week, the future Hall of Fame receiver broke his own record by hauling in eight passes for 176 yards — including this monster 75-yard grab — and he faces a defence that is previously unbeaten at home this season, albeit coming off the back of an uncharacteristically poor (by their own high standards) game.
Fitzgerald is part of a receiving corps that is among the best in the league and, alongside Michael Floyd and John Brown, the trio combined for 16 catches, 284 yards and three touchdowns… and that's before you consider the threat David Johnson can pose from the backfield, averaging nearly 7.2 yards per catch on six targets against the Packers.
The Carolina secondary had some struggles last Sunday, particularly as the Seahawks attempted to mount a second half comeback. Their best defensive back, Josh Norman, was only targeted five times in the game but gave up all five catches for 57-yards and a touchdown.
Robert McClain allowed seven receptions for 63 yards and a touchdown on the 14 balls thrown his way while nobody had as long an afternoon as Kurt Coleman. The free safety gave up six receptions on just seven targets for 93 yards and a touchdown.
One player whose statistics looked okay — and certainly better than I expected — was Cortland Finnegan who caught an interception and only gave up three receptions when covering Doug Baldwin man-on-man in the slot, two of which went for 29-yards on back-to-back plays late in the fourth as Seattle were in hurry-up mode.
The first of these shows Finnegan (blue) at his worst, playing the coverage far too soft and giving up a ridiculously easy first down to Baldwin (red).
He doesn't do much better on the next play — this time lined up on the opposite side of the field — giving up 16 yards.
It might not look like much, but those two plays alone allowed the Seahawks into field goal range, which they successfully converted to make it a one-score game. Seattle failed to recover the onside kick so we can't begin to speculate how much Finnegan would have been targeted on any ensuing drive.
However, Finnegan's statistics look much better because he can count on the league's top coverage linebacker, Luke Keuchly, to make plays like this one when he had to bail his team-mate out on another blown assignment on Baldwin.
Let's just say, whoever lines up on the slot for the Cardinals will be really will be really looking forward to the football coming their direction.
How the Panthers can win
Pound. The. Rock.
When your first play from scrimmage goes for a 59-yard gain on the ground, you can be confident you're going to have a good day at the office. That's exactly what happened for the Panthers last week with Jonathan Stewart adding a further 47 yards and two touchdowns on the ground with his next 18 attempts.
Eddie Lacy didn't exactly has a stellar day running the football against Arizona last week, making 89 yards on 12 attempts, 61 of which came on just one run that really, really, should have resulted in a touchdown.
As you can see below, the play was remarkably similar to his one big run against the Cardinals when the two teams met in the regular season.
Here's that run:
And here's the same angle of his run this past weekend with the only difference being that Lacy escaped the second-level tackling in the early hours of Sunday morning to gain an extra 36 yards:
The right hand side of the Cardinals defensive line is vulnerable to these big runs… and just look where the Panthers went to on their biggest run of the game against the Seahawks:
Also in the Panthers' favour is the fact their offensive line runs a zone blocking scheme — I looked at what that entails last season when the Cowboys ran it so successfully — which helps the read option offence that gives them the triple threat of Cam Newton running with the ball, handing it off to Stewart in the backfield or firing a deep shot down field on any given play.
The impact of this triple-threat can be seen above as the Seahawks have to respect the passing game and the fact that any one of Newton (blue), Mike Tolbert (red), and Stewart (yellow) could take off running.
That's an awful lot of factors to keep into consideration at any one time and with Carolina running an average of 66 offensive plays per game, it's going to take an impressive level of concentration for them not to get burned the way the Seahawks were for a big game.
And with both teams so level, even one such big gain could prove crucial.
Who will advance to the Super Bowl?
The Panthers are three-point favourites going into the game but that's just home field advantage. Vegas can't separate them and there's very little I can think of to separate them either.
Top to toe, the Cardinals have probably been the best team in the NFL this season but home advantage could well prove crucial. This is a coin-toss game and, because it's in Charlotte, I'm going to give the nod to the Panthers, but only just.
However, it's worth keeping in mind that last week's second-half stutterin was far from unique.
The Panthers threw away a 17-point lead over the Colts before winning in overtime, were ahead of Green Bay by as many as 23 points in the fourth quarter before winning by just one score and, of course, needed a field goal as the clock hit zero to beat the New York Football Giants despite holding a 28-point lead at one stage.
Ron Rivera will hope his side don't have to get away with such a capitulation for the fifth time this season to advance to Super Bowl 50.
Verdict: Carolina by 3 or less.
– First published 23.16, 23 January